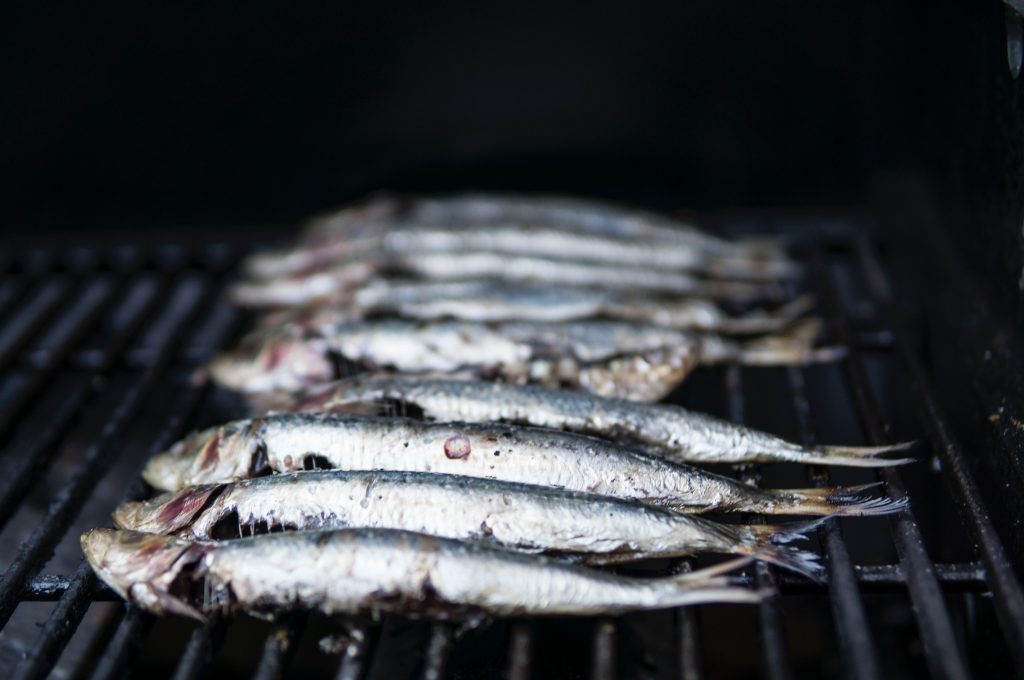 When it comes to seafood, sardine fish often don't receive the attention they deserve. These tiny, silver fish contains a powerhouse of nutrients that can greatly contribute to your overall health and well-being.
In this blog, we'll take a deep dive into the world of sardines to uncover their nutritional value and explore the numerous health benefits they offer.
Sardines are small, oily fish that belong to the herring family. They have a distinct flavor and are often found in cans, making them convenient and easily accessible. Sardines have been a part of human diets for centuries, and their popularity extends across various cultures and cuisines.
In this blog, we aim to shed light on the nutritional profile of sardines and uncover the remarkable health benefits they offer.
We'll explore their rich content of omega-3 fatty acids, protein, vitamins, and minerals. By the end, you'll have a comprehensive understanding of why sardines are a valuable addition to your diet and how they can positively impact your overall well-being.
So, let's dive in and discover just how good sardines are for you!
Nutritional Profile of Sardines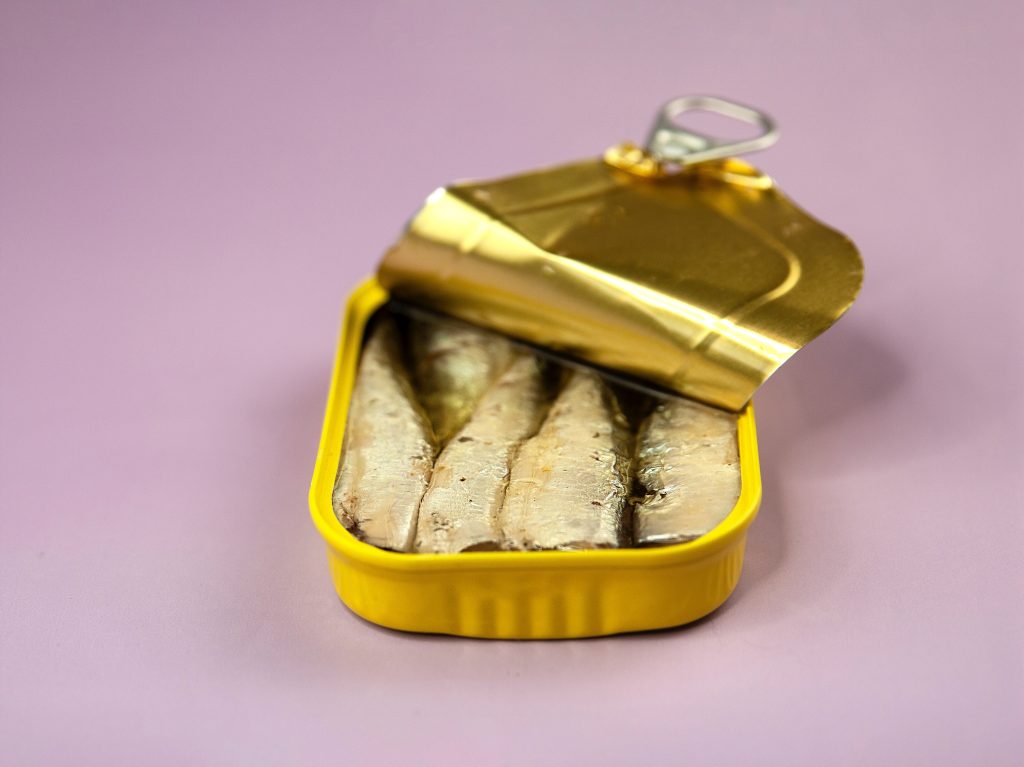 When it comes to macronutrients, sardines deliver a powerful punch. These little fish contain high-quality protein, heart-healthy fats, and minimal carbohydrates.
A typical serving of sardines, approximately 3.5 ounces or 100 grams, contains around 20 grams of protein, making them an excellent source of this essential nutrient.
Protein is crucial for the growth, repair, and maintenance of our body tissues, and sardines provide a convenient and delicious way to meet your protein needs.
In terms of fats, sardines are an abundant source of omega-3 fatty acids, specifically eicosapentaenoic acid (EPA) and docosahexaenoic acid (DHA). These fatty acids play a vital role in supporting heart health, reducing inflammation, and promoting brain function.
Sardines also contain monounsaturated fats, which are known to have a positive impact on cholesterol levels.
Sardines as a rich source of essential vitamins and minerals
Sardines are a nutritional goldmine when it comes to essential vitamins and minerals. They are particularly rich in vitamin B12, which is crucial for the production of red blood cells and the maintenance of a healthy nervous system.
In fact, just a single serving of sardines can provide over 100% of your daily recommended intake of vitamin B12.
Sardines are also an excellent source of calcium, a mineral essential for maintaining strong bones and teeth. They also contain significant amounts of selenium, phosphorus, and vitamin D, which all play important roles in supporting overall health.
One of the standout features of sardines is their omega-3 fatty acid content.
These healthy fats are known for their anti-inflammatory properties and have been linked to numerous health benefits, including improved heart health, brain function, and reduced risk of chronic diseases such as cardiovascular disease and Alzheimer's.
Sardines vs other fishes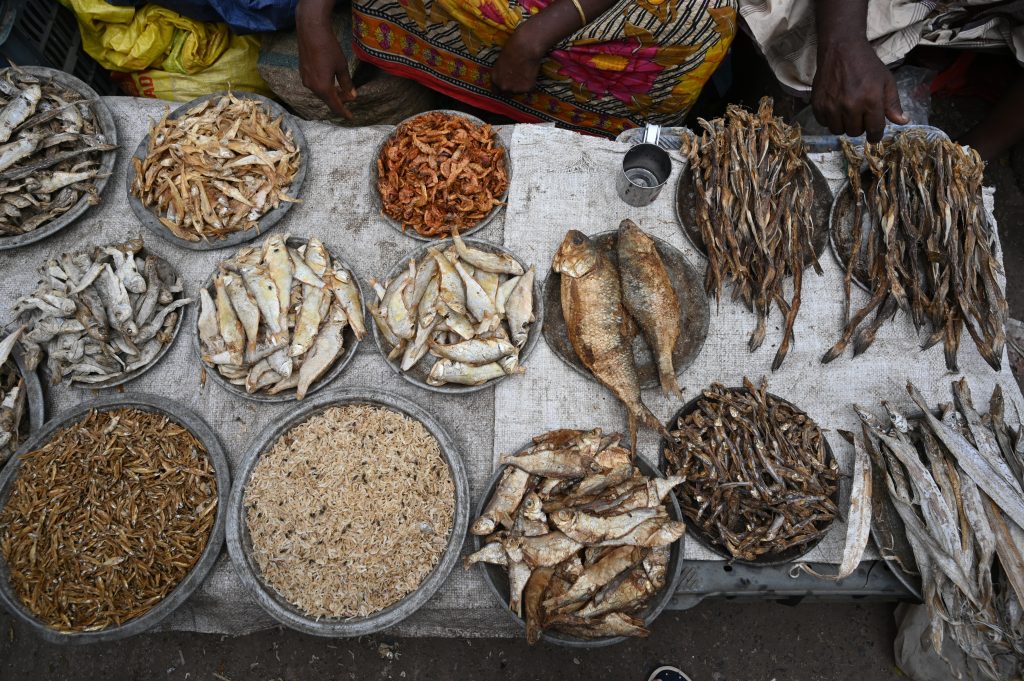 When compared to other fish varieties, sardines stand out for their impressive nutritional advantages. While larger fish like salmon and tuna also provide omega-3 fatty acids, sardines offer these beneficial fats in a more concentrated form.
Also, sardines have the advantage of being low on the food chain, which reduces their risk of accumulating toxins like mercury.
Compared to leaner fish, such as cod or tilapia, sardines are higher in heart-healthy fats, which makes them an excellent choice for individuals looking to increase their omega-3 intake.
Their abundance of essential vitamins and minerals also makes sardines a nutrient-dense option that can support various aspects of your health.
Benefits of sardines as a source of Omega-3 fatty acids
Impact on heart health and reducing cardiovascular risks: Sardines are a remarkable source of omega-3 fatty acids, particularly EPA and DHA. These healthy fats have been extensively studied and are known for their positive impact on heart health.
Regular consumption of omega-3s from sardines has been linked to reducing the risk of cardiovascular diseases, including lowering blood pressure, reducing triglyceride levels, and decreasing the risk of blood clot formation.
By incorporating sardines into your diet, you can actively support the health of your heart.
Role in brain development, cognitive function, and mental health: Omega-3 fatty acids are crucial for optimal brain function and development, and sardines provide a concentrated source of these essential fats. The DHA present in sardines is a key component of brain tissue and plays a vital role in maintaining cognitive function throughout life.
Studies have shown that regular consumption of omega-3s from sources like sardines can enhance memory, improve mood, and reduce the risk of neurodegenerative diseases such as Alzheimer's and dementia.
Benefits of sardines as a valuable protein source
Contribution to muscle growth and repair: Sardines are not only a rich source of omega-3 fatty acids but also provide high-quality protein. Protein is essential for muscle growth, repair, and maintenance.
By including sardines in your diet, you can provide your body with the necessary amino acids to support muscle recovery after exercise and promote the growth of lean muscle mass.
This makes sardines an ideal food choice for athletes, fitness enthusiasts, and those looking to improve their body composition.
Importance for overall body function and energy levels: Protein plays a crucial role in various bodily functions beyond muscle health. It is involved in enzyme production, hormone synthesis, and immune system function.
Including sardines in your meals helps ensure an adequate protein intake, which can support overall body function and energy levels. By providing a steady supply of amino acids, sardines contribute to sustained energy throughout the day and help keep you feeling full and satisfied.
Benefits of sardines as a source of vitamin and mineral content
Role in supporting bone health and preventing osteoporosis: Sardines pack a powerful punch when it comes to essential nutrients necessary for maintaining strong bones. Their rich calcium content, combined with vitamin D and phosphorus, supports bone health and can help prevent conditions like osteoporosis.
Regular consumption of sardines can contribute to bone density and reduce the risk of fractures, particularly in individuals at higher risk, such as postmenopausal women.
Boosting immune system function and reducing inflammation: Sardines are loaded with essential vitamins and minerals that are crucial for a robust immune system. The combination of vitamin B12, selenium, and omega-3 fatty acids in sardines supports the proper functioning of the immune system, helping to ward off infections and protect against diseases.
Also, the omega-3 fatty acids found in sardines have anti-inflammatory properties, which can help reduce inflammation in the body and alleviate symptoms associated with chronic conditions like arthritis.
Sardines in a Balanced Diet
Sardines are incredibly versatile and can be incorporated into a variety of delicious meals to create a balanced diet. Here are some recipe ideas to inspire you:
Sardine and Avocado Toast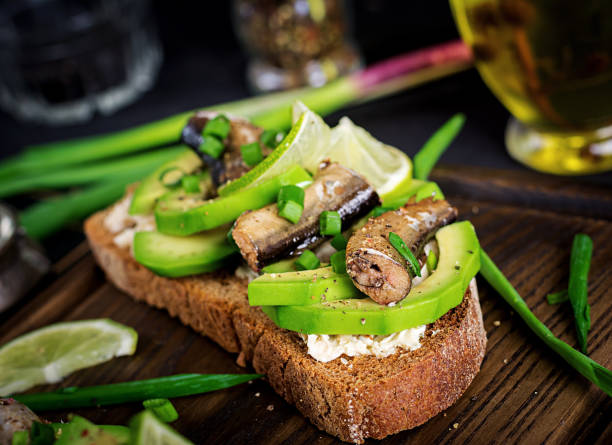 Toast a slice of whole grain bread until crispy.
Mash half an avocado and spread it on the toast.
Top with sardine fillets, sliced cherry tomatoes, and a sprinkle of sea salt and black pepper.
Optional: Drizzle with lemon juice or balsamic glaze for added tanginess.
Sardine and Vegetable Stir-Fry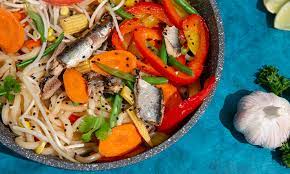 Heat some olive oil in a pan or wok over medium heat.
Add sliced bell peppers, snap peas, thinly sliced carrots, and chopped broccoli.
Stir-fry the vegetables until tender-crisp.
Add flaked sardines and a splash of soy sauce or tamari for seasoning.
Serve over steamed rice or quinoa for a satisfying and nutritious meal.
Sardine and Olive Pasta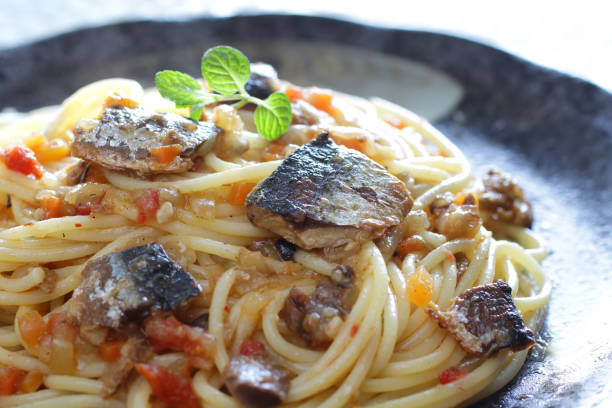 Cook your favorite pasta according to package instructions.
In a separate pan, heat olive oil and sauté minced garlic until fragrant.
Add a can of diced tomatoes and a handful of pitted Kalamata olives.
Stir in flaked sardines and season with dried oregano, red pepper flakes, and salt.
Simmer the sauce for a few minutes.
Toss the cooked pasta in the sauce and garnish with chopped fresh parsley.
Sardine and Chickpea Salad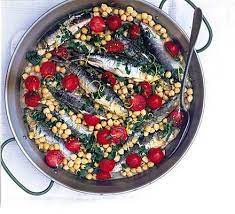 In a mixing bowl, combine rinsed and drained chickpeas, halved cherry tomatoes, sliced cucumber, chopped red onion, and chopped fresh parsley.
In a separate bowl, whisk together lemon juice, olive oil, Dijon mustard, and a pinch of salt and pepper to make the dressing.
Add the dressing to the salad and toss to coat.
Gently fold in flaked sardines and crumbled feta cheese.
Serve chilled as a refreshing and protein-packed salad.
Sardine and Spinach Stuffed Potatoes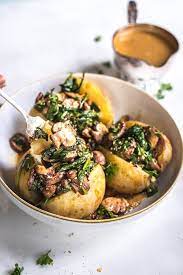 Preheat your oven to 400°F (200°C).
Bake whole potatoes until tender. Once cool, slice off the tops and scoop out the flesh, leaving a potato shell.
In a bowl, mash the potato flesh with cooked spinach, minced garlic, grated Parmesan cheese, and flaked sardines.
Season with salt, pepper, and a pinch of nutmeg.
Stuff the potato shells with the mixture and place them on a baking sheet.
Bake for about 15-20 minutes until the tops are golden and crispy.
Serve as a delicious and nutritious appetizer or main course.
Sardine and Tomato Tartine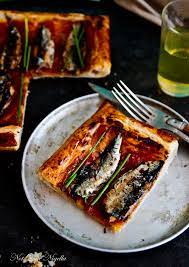 Toast slices of crusty bread until golden brown.
Spread a layer of creamy goat cheese or ricotta on each slice.
Top with sliced ripe tomatoes, flaked sardines, and a sprinkle of fresh basil or parsley.
Drizzle with balsamic glaze or a drizzle of olive oil for added flavor.
Sardine and Quinoa Stuffed Peppers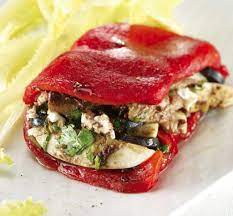 Preheat your oven to 375°F (190°C).
Cut the tops off bell peppers and remove the seeds and membranes.
In a bowl, mix cooked quinoa, chopped roasted red peppers, diced red onion, chopped fresh herbs (such as parsley or cilantro), and flaked sardines.
Season with salt, pepper, and a squeeze of lemon juice.
Stuff the mixture into the bell peppers and place them in a baking dish.
Bake for about 20-25 minutes until the peppers are tender and the filling is heated through.
Sardine and Cucumber Roll-Ups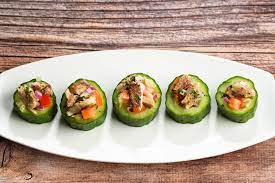 Slice cucumbers lengthwise into thin strips using a mandoline or a vegetable peeler.
Spread a layer of cream cheese or Greek yogurt on each cucumber strip.
Place a sardine fillet and a few strips of roasted red pepper or sliced avocado on one end of each strip.
Roll up tightly and secure with toothpicks if needed.
Serve as a refreshing and low-carb appetizer or snack.
Culinary tips for enhancing the flavor of sardines
While sardines have a distinct flavor that many enjoy, there are ways to enhance their taste and make them even more appealing:
Grilling: Brush sardines with a little olive oil and season them with herbs and spices like thyme, paprika, or cayenne pepper. Grill them for a few minutes on each side until they are lightly charred and serve them with a squeeze of lemon juice for a smoky and flavorful twist.
Marinating: Create a simple marinade using ingredients like lemon juice, garlic, olive oil, and herbs such as rosemary or dill. Let the sardines marinate for at least 30 minutes before grilling or pan-searing to infuse them with extra flavor.
Pairing: Combine sardines with complementary ingredients like tangy citrus fruits, briny olives, or sweet roasted red peppers to balance their flavor. Experiment with different combinations to find your favorite flavor profiles.
Dietary considerations and potential risks
Mercury levels and guidelines for consumption: As with any seafood, it's important to be mindful of mercury levels when consuming sardines. Fortunately, sardines are low on the food chain and have lower mercury levels compared to larger predatory fish.
This makes them generally safe for regular consumption. However, it is still advisable to follow general guidelines for fish consumption, especially for pregnant women, nursing mothers, and young children.
These guidelines suggest limiting intake to 2-3 servings of low-mercury fish, including sardines, per week.
Allergy concerns and precautions for sensitive individuals: While sardines are a nutritious option for most people, it's essential to be aware of potential allergies and sensitivities. Some individuals may have allergies to fish, including sardines.
If you have a known fish allergy, it's important to avoid sardines and other fish products to prevent an allergic reaction. Also, individuals with gout or kidney conditions may need to moderate their intake of purine-rich foods like sardines.
It's always a good idea to consult with your healthcare provider or a registered dietitian if you have specific dietary concerns or health conditions before incorporating sardines into your regular diet.
They can provide personalized recommendations based on your individual needs and ensure that sardines are a suitable and beneficial addition to your balanced eating plan.
Frequently Asked Questions
Are canned sardines good for you?
Yes, canned sardines are good for you! They are a great source of protein and essential fatty acids like omega-3s. Sardines are also low in mercury, making them a safe seafood choice.

Eating canned sardines can help reduce inflammation, improve heart health, and boost brain function due to their high levels of antioxidants and vitamins. They are also an excellent source of calcium and other minerals like phosphorus and selenium.
Are sardines in tomato sauce good for you?
Yes, sardines in tomato sauce can be a healthy and nutritious meal. Sardines are an excellent source of protein and omega-3 fatty acids, which are important for heart health.

They also contain vitamins and minerals like calcium, iron, vitamin B12, and selenium. The tomato sauce adds additional nutrients like lycopene, which has been linked to reduced risk of certain cancers.
What are canned sardines health risks?
The main health risk is the presence of mercury in some canned sardines. Mercury is a toxic heavy metal that can accumulate in the body and cause serious health problems.

Therefore, it's important to pay attention to where your canned sardines come from and what type of fish they contain. Some types of fish have higher levels of mercury than others, so it's best to opt for low-mercury varieties such as anchovies or herring.
Are sardines good for weight loss?
Yes, sardines can be a great addition to any diet that is focused on weight loss. Sardines are low in calories and high in protein, making them an excellent source of lean protein that can help you feel full and satisfied without consuming too many calories.
Are sardines better in water or oil?
It depends on your preference!
Sardines in water tend to be lighter and milder in flavor. They are usually canned with just salt or other seasonings, so they have a relatively neutral taste. If you're looking for something light and subtle, then sardines in water would be a good choice.

On the other hand, sardines in oil tend to be richer and more flavorful. The oil can help bring out the natural taste of the fish and also provide extra flavor from herbs and spices that are often added to the canning liquid.

If you're looking for something with more robust flavor, then sardines in oil might be a better option.
Related articles
the-ultimate-guide-to-subways-highest-protein-sandwich-options/
7-correct-potato-salad-recipes-for-your-next-bbq/
from-sea-to-plate-40-iconic-seafood-dishes-across-america/
from-sea-to-plate-40-iconic-seafood-dishes-across-america/
is-eating-canned-chicken-safe-find-out-how-it-alters-your-body/
Conclusion
In conclusion, sardines are indeed a powerhouse of nutrition and offer numerous health benefits. They are packed with essential nutrients, including high-quality protein, omega-3 fatty acids, vitamins, and minerals.
Incorporating sardines into your diet can support heart health, brain function, muscle growth, and overall well-being.
Moreover, sardines provide a sustainable seafood option. By choosing sustainably caught sardines, you not only enjoy their nutritional value but also contribute to the preservation of marine ecosystems and the conservation of marine biodiversity.
Remember to consider any dietary considerations or potential risks associated with sardines, such as mercury levels and allergies, and make informed choices based on your individual needs and preferences.