Air Fryer Turkey Thighs are an easy and delicious way to enjoy this Thanksgiving classic. Instead of the typical oven-baked Thanksgiving turkey, why not try something a bit more unique with your Air Fryer? This dish is sure to be a hit among friends and family alike!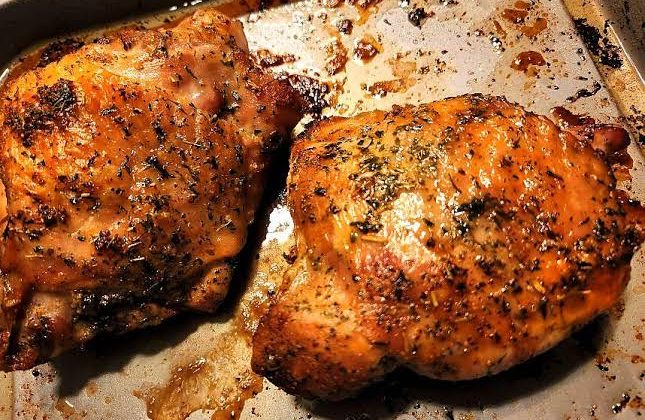 With an Air Fryer, you can get deliciously crispy turkey thighs in no time with minimal mess. You'll get all the flavor and texture of traditional oven-roasted turkey thighs without having to turn on your stove or heat up your kitchen for hours. Plus, you won't have to worry about dealing with hot oil or flare-ups from the pan like you would if you were frying in a skillet!
The process couldn't be simpler: just season your turkey thighs, place them in your air fryer basket, and set the timer.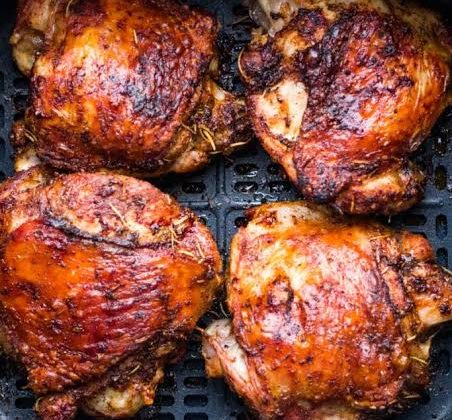 Air Fryer Turkey Thighs Recipe
Now, are you looking for a fast dinner on busy weeknights or something fast but delicious for thanksgiving dinner? You can place a bet on this air fryer turkey thigh. I love making it for my family because it is very easy to make and requires few ingredients. In addition, I love my turkey crispy. So, you can imagine my joy when I get to make this effortlessly all-in-one pot for clean-up.
How To Make Air Fryer Turkey Thighs
To make crispy and juicy turkey thighs, you don't need a lot of ingredients. The combination of aromatics, bouillon cube, and a few herbs will make a divinely delicious turkey thigh. Here are my foolproof steps to help you make a perfect turkey thigh:
Tools needed for this recipe:

Air Fryer
Quick read thermometer
Small bowl
Paper towel.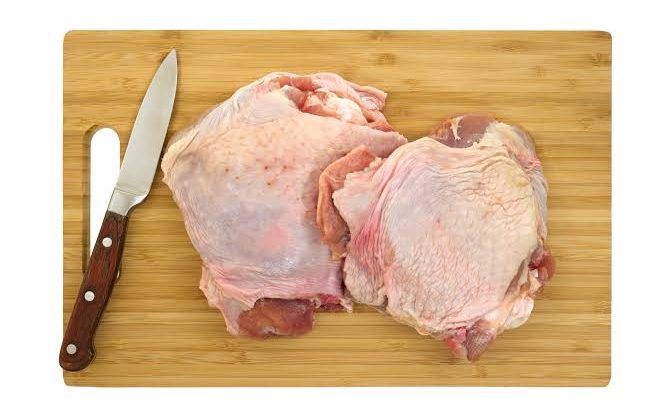 Ingredients
2 pounds turkey thighs bone-in skin-on
¼ to ½ teaspoon salt or add to taste
¼ teaspoon black pepper
1 teaspoon onion powder
¼ teaspoon garlic powder
½ teaspoon thyme dry
2 teaspoons paprika
1 teaspoon bouillon powder or cube
1 tablespoon Extra virgin olive oil
4 tablespoons vinegar or lemon juice for washing optional.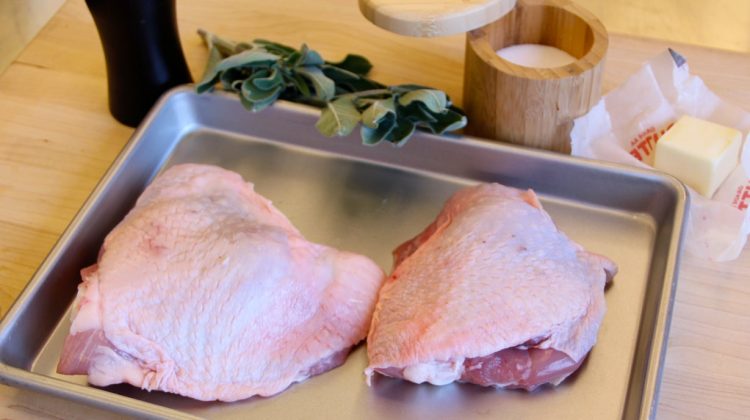 Step By Step Guide.
Wash the turkey thighs very well using water and lemon/vinegar (if desired).
Pat them dry with paper towels to remove any excess moisture. This will help you get some crispy skin.
Combine all the seasoning in a small bowl.
Then, first rub the oil all over the thigh, followed by the seasoning mix. Be sure to rub some under the skin too.
Cover and allow the thighs to marinate for 30 minutes. If short of time, you can cook immediately.
Air fry at 375°F skin side up for 40-45 minutes or until the skin is crisp and golden and a thermometer reads 165 degrees in the thickest part of the thigh. Depending on the size of your thighs, the time may vary slightly.
After the meat is cooked, let it rest for five to ten minutes before serving.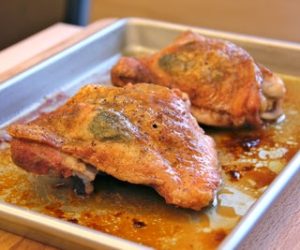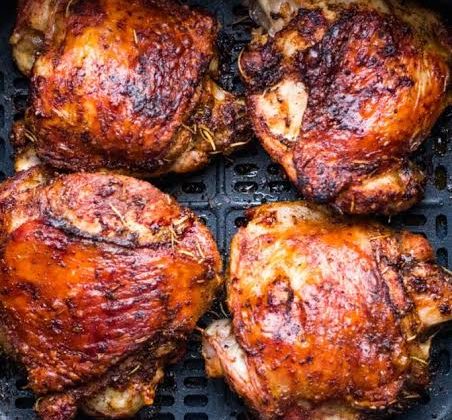 Internal Temperature
Whenever I am air frying my turkey thighs. The internal temperature gives me the assurance that my turkey is well done and juicy on the inside. When the internal temperature of your turkey is between 165 – 170°F, it is cooked to perfection.
What To Do To Leftovers Air Fryer Turkey Thighs
For those looking for a quick and delicious meal, leftovers air fryer turkey thighs can be the perfect answer. This unique cooking method utilizes an air fryer to quickly cook leftover turkey thighs to crispy perfection. With just a few simple steps, you can transform your leftovers into an entirely new dish!
To start, preheat your air fryer to 375°F and lightly coat the turkey in olive oil. Place the turkey in the air fryer basket and cook for 15 minutes or until it reaches 165°F when tested with a meat thermometer.
Once fully cooked remove from the basket and add any desired herbs or spices before returning to the basket. Cook an additional 10-15 minutes until golden brown and enjoy.
Leftover air fried turkey is great served on its own or as part of a larger meal like tacos, salads, or sandwiches.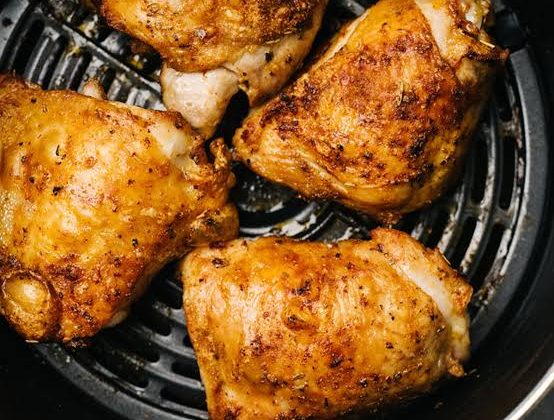 Where do you check a turkey thigh temperature?
Cooking a turkey can be an intimidating task, especially if you're not sure how to tell when it's done. The key to a safe and delicious turkey dinner is checking the internal temperature of the bird.
A great place to check for doneness is the thigh meat. To accurately measure the temperature of a turkey thigh, you need to use an instant-read thermometer.
When checking the temperature of your turkey thigh, insert the thermometer deep into the thickest part, away from any bone or fat pockets. Be sure that you are inserting it all the way through until you reach an area where there's no remaining resistance.
After taking several readings at different locations in each thigh, take note of whichever reading was highest – this will be your final temperature result.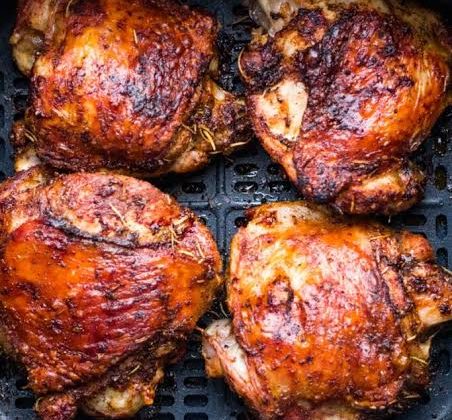 Can I Air Fry Frozen Turkey Thighs?
Of course, you can air fry frozen turkey thighs. I ensure that season the thigh once they start to defrost. Place the thigh in the air fryer basket and cook at 390 degrees. After 10 minutes of cooking, drain the liquid collected from the thawing process of the turkey and season as desired. If you want your frozen turkey thigh to come out crispy, you must drain the water. Leaving the water will make the air fryer steam your turkey thighs instead of frying them.
Is an air fryer turkey juicy?
The air fryer is an amazing tool for cooking turkey. The finished product is incredibly juicy, flavorful and ready in less than an hour. It is much easier and faster than roasting in the oven, and does not require any additional fat or oil to achieve a succulent turkey.
Air frying also requires no preheating, making it even more convenient. This method of cooking turkey is definitely worth a try for anyone looking for a quick and delicious result.
How Long do you Cook a Turkey Thigh in an Air Fryer?
Cooking a turkey thigh in an air fryer can be a delicious and convenient way to prepare a meal for yourself or your family. It's no secret that air fryers reduce the amount of time it takes to cook food, but how long do you need to cook a turkey thigh in one?
The answer depends on the size and temperature of your air fryer. Generally, it will take between 30-35 minutes to cook a large turkey thigh in an air fryer set at 350°F (175°C)- 375°F
To get the best results from your cooked turkey thighs, it's important to use fresh or frozen thighs that are free from any additives. It is also recommended that you lightly coat them with olive oil before placing them into the preheated air fryer basket.
How long does it take to air-fry a turkey per pound?
In conclusion,air-frying a turkey is an excellent way to achieve moist and delicious results. Depending on the size of the bird, it can take anywhere from 1.5 – 3 hours for a 12-pound turkey.
To get the best air-fried turkey possible, ensure that your bird is properly thawed and seasoned before cooking, as well as checking it regularly to make sure that it doesn't overcook.
Nutrition
Calories: 788kcal | Carbohydrates: 3g | Protein: 86g | Fat: 46g | Saturated Fat: 13g | Polyunsaturated Fat: 12g | Monounsaturated Fat: 17g | Cholesterol: 281mg | Sodium: 2535mg | Potassium: 1164mg | Fiber: 1g | Sugar: 1g | Vitamin A: 1010IU | Vitamin C: 1mg | Calcium: 49mg | Iron: 7mg
Other Recipes You Might Love Yo Check.
How Long To Bake Chicken Wings At 375 • 2023 Edition
How To Make Party Jollof Rice Nigeria/(Ingredients For Cooking half bag of Rice) In 2023
Crispy & Tender Air Fryer Chicken Fried Steak
35 most popular Italian foods that will captivate you 2023
Top 29 Italian Foods That Will Make Your Mouth Water.
How to tell if sweet potatoes are bad; Ultimate guide 2023.
25+ authentic Italian side dishes for your your main course.
How To Make Nigeria Pancake | Diet.
The Juiciest And Easiest Air Fryer Meatloaf
Conclusion
In conclusion,air fryer turkey thighs are a delicious, easy-to-make meal that can be enjoyed by all. Not only is it healthy, but it also requires minimal prep and cooking time.
With the addition of a few seasonings and vegetables, this dish can be tailored to each individual's taste.
Plus, the air fryer ensures that the turkey is perfectly cooked and juicy every time! Finally, this meal can easily be adapted to feed larger groups of people by simply increasing the ingredients.