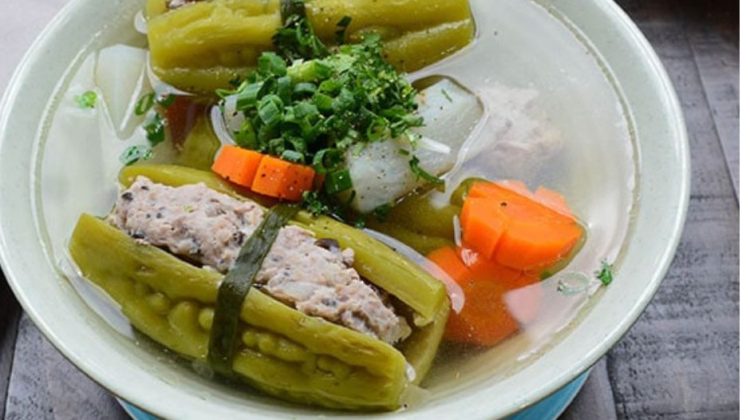 Healthy Stuffed Bitter Melon Soup (Canh Kh Qua Nh i Th t) is a delicious and nutritious dish widely enjoyed in Vietnam. It is made up of a variety of ingredients, including stuffed bitter melon, pork, and various aromatics. This soup is packed with flavor featuring sweet, savory, and sour notes from its ingredients.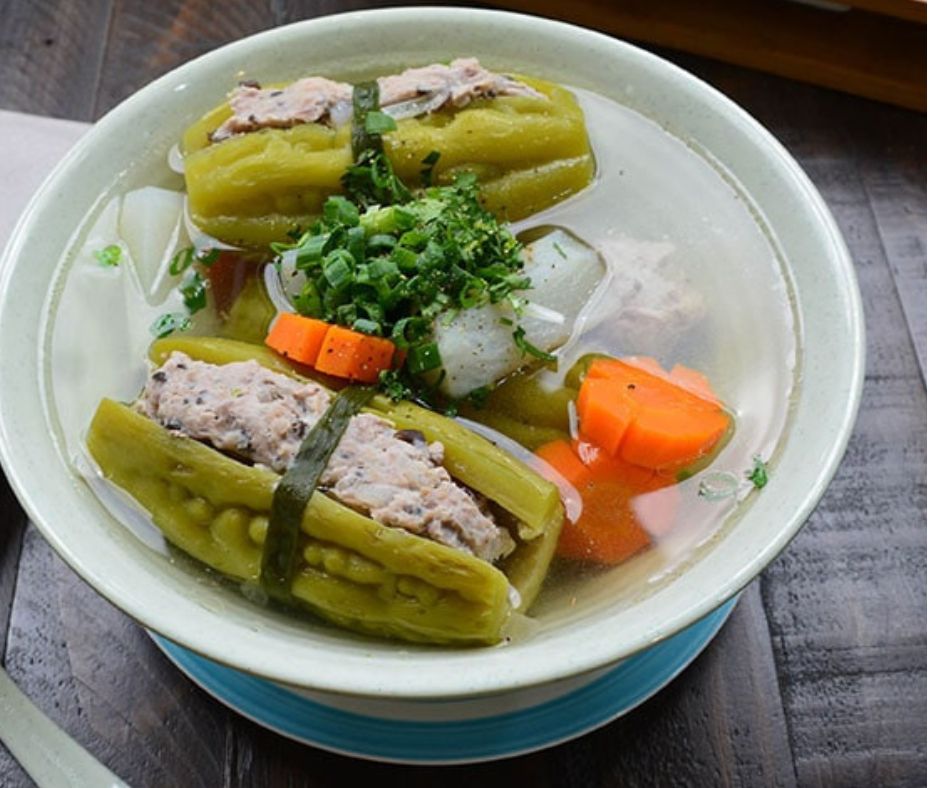 If you're looking for a delicious, healthy meal option, look no further than Healthy Stuffed Bitter Melon Soup (Canh Kh Qua Nh i Th t). This traditional Vietnamese dish is not only tasty and nutritious, but it's also incredibly easy to prepare.
I know that this soup diet may seem a little intimidating due to the word "bitter" in its name, but so long as I follow the steps in today's post, you shouldn't have any problem at all experiencing a pleasant, unrestrained dining experience.
However, Kho Qua (bitter melon) itself is not that bitter. This gourd is nevertheless very bitter when prepared after blanching or after having a tasty meat-based filling.
Gourds, when properly prepared, have unique flavors that when mixed in various ways can make your dish remarkable. And when it's a hot day, it's an excellent source of vitamins and minerals. And because it's been said that Kho Qua serves as a remedy for migraines and overheating, it's also said to have cooling properties.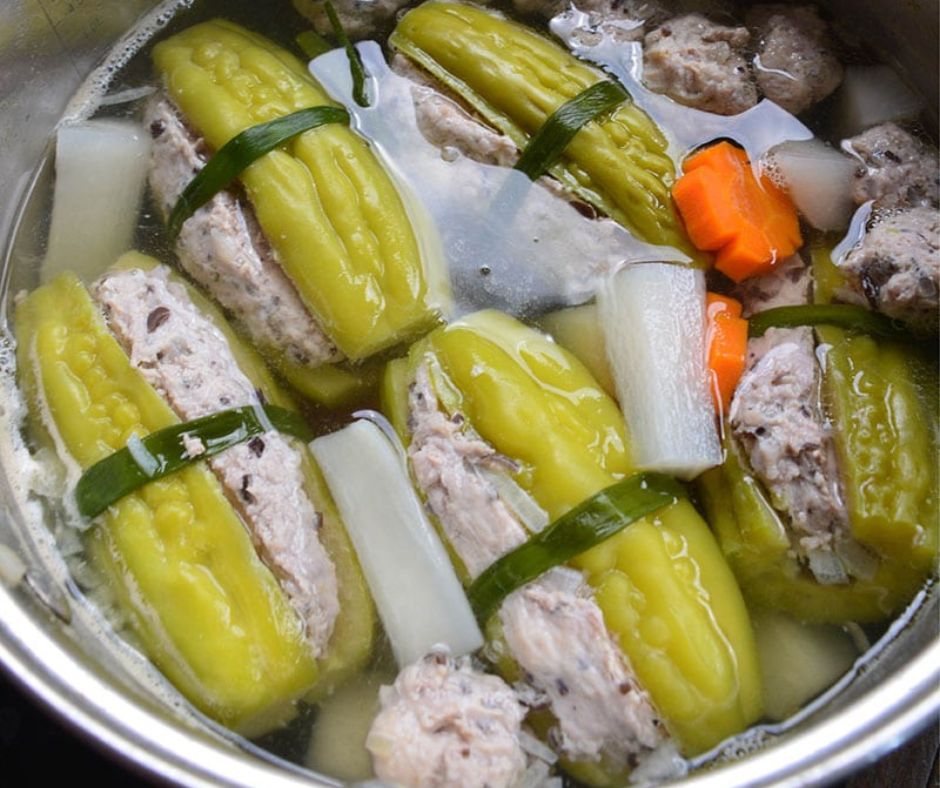 Canh Kho Qua is something that is essential during the Tet Festival Holiday (Lunar New year's holiday) in Northern Vietnam. This is because Kho Qua can be translated as hardship has passed; thus, the New Year is filled with hope for a better year.
As a side note, if you enjoy Canh Kho Qua, I recommend Canh Chua, an excellent soup that perfectly balances sweetness and sourness. Both of these dishes fall into the Canh category, a beloved part of everyday Vietnamese recipes.
Ingredients for bitter melon soup recipe easy
0.64 pounds (300 grams) ground pork
0.42 pounds (200 grams) pork paste
4 bitter melons
1-2 medium or small carrot
1 teaspoon ground pepper
2 teaspoons brown sugar
2 teaspoons soup powder
5 teaspoons salt.
1 medium or small daikon
10.5 cups (2.5 liters) pork bone broth
1 ounce (30 grams) wood ear mushrooms
1 onion
1.8 ounces (50 grams) scallions
1.8 ounces (50 grams) cilantro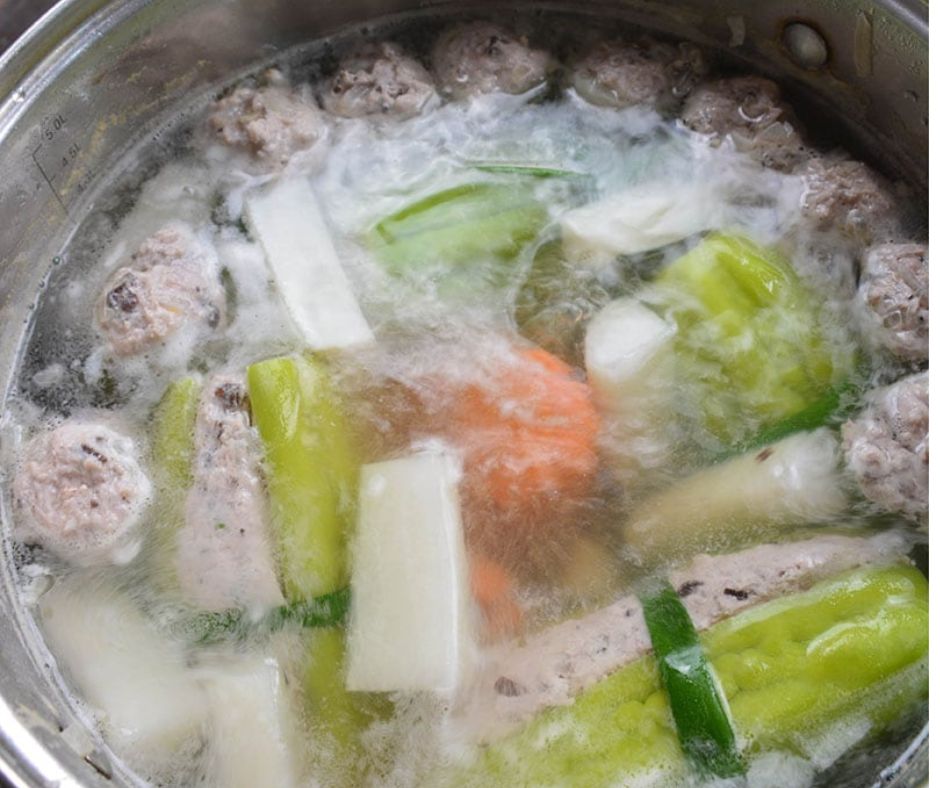 Bitter melon soup recipe easy ingredients
Ground pork: You can do ground pork if you have a food processor, and buying pre-ground pork is not a substandard option.
Pork paste: Works as a binder for the filling. You can also use fish paste or eggs.
Bitter melons: By picking long and slim, bitter melons more efficient for stuffing.
Carrot and daikon: Reduce the bitterness of the gourd and slightly sweeten the broth. When choosing a gourd, it is best for you to pick small and round.
Scallions and cilantro: For decoration. Also use this allium for securing the stuffing.
Spices: Ground black pepper, brown sugar, soup powder, and salt.
Pork bone broth: If you want to make the best-tasting soup, I recommend preparing some pork bone broth in advance and using it as the liquid base. Nonetheless, you can also use pre-packaged broth or just plain water.
Onion: It adds aroma and a bit of sweetness to the filling.
Wood ear mushrooms: Add the umami and texture of the filling in the dish so that it's not too meaty. Substitute them with mushrooms that you like.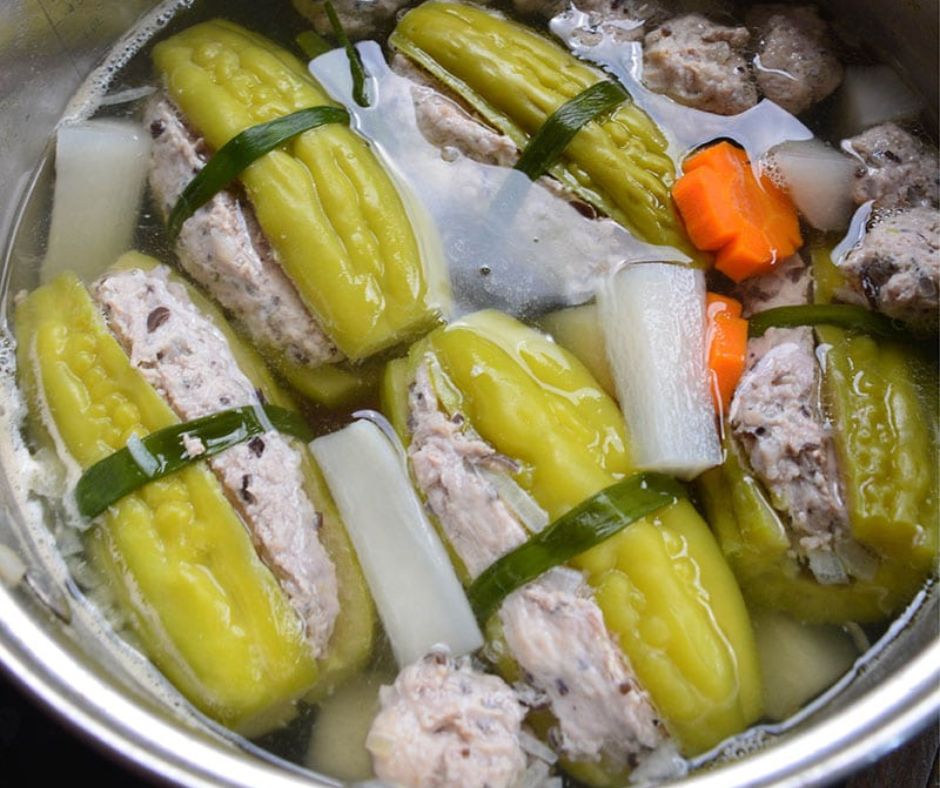 Bitter melon soup recipe easy | Step-by-step-guide
Wash the vegetables thoroughly and allow them to air dry. Soak the wood ear mushrooms in warm water for 10 to 15 minutes then, mince them. Chop the cilantro, onion, and scallions into small pieces.
Leave some scallion leaves intact to use as binders for the bitter melons. Cut the carrot into petals or long and thin pieces. Chop the daikon into large chunks.
Use a knife to cut off both ends of the bitter melons. Then, slice them open lengthwise. Use a tsp or a spoon to scrape the seeds from the edge of the gourds.
Mix the ground pork with the ground pork paste, onion, and wood ear mushrooms in a bowl.
Season the mixture with one teaspoon of sugar, one teaspoon of salt, and one teaspoon of ground pepper. Mix well with a wooden spoon or your hand.
Place the saucepan in a bowl of warm water, and put the salt inside it to make 1 teaspoonful.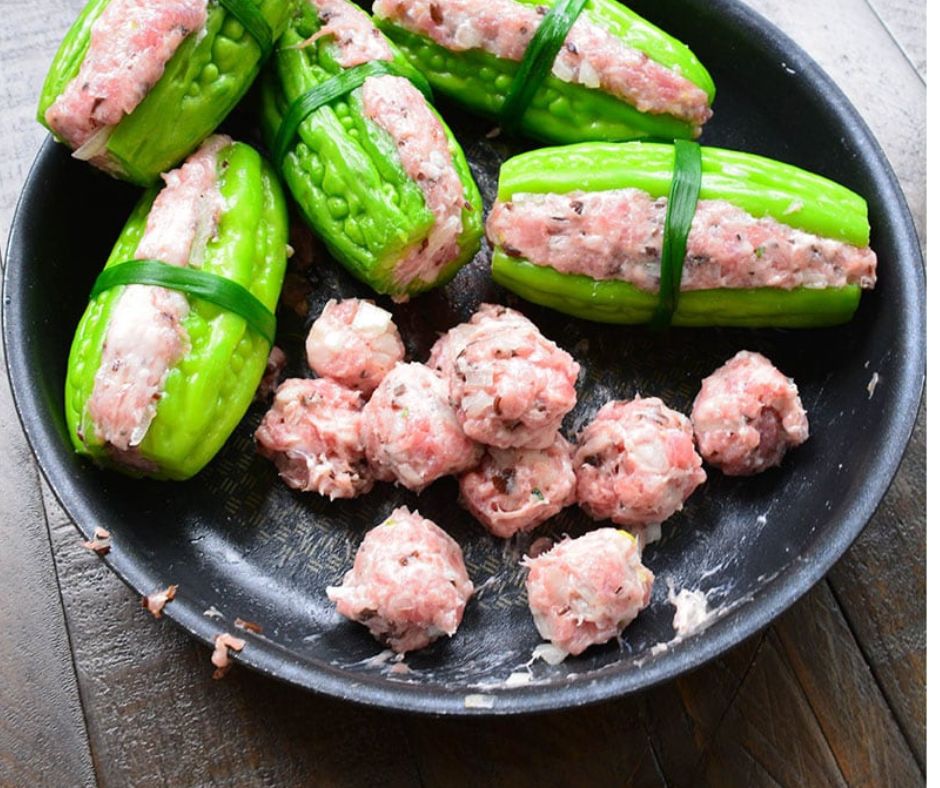 How do you make bitter melon taste better?
Transfer the bitter melon into the boiling water and add 1 whole scallion. After preparing it, move the melon into the ice bath.
Stuffing the bitter melon filling into the flesh will aid in the process. Tie a scallion stalk around each bitter melon to keep the filling from falling out during cooking. Roll the unused filling into meatballs.
Add about 10 cups (2.5 liters) of pork bone broth to the stockpot. Bring this to a boil. When it's boiling, add all the ingredients to the pot. Cook it until the heat registers 200 degrees Fahrenheit for 20 to 25 minutes.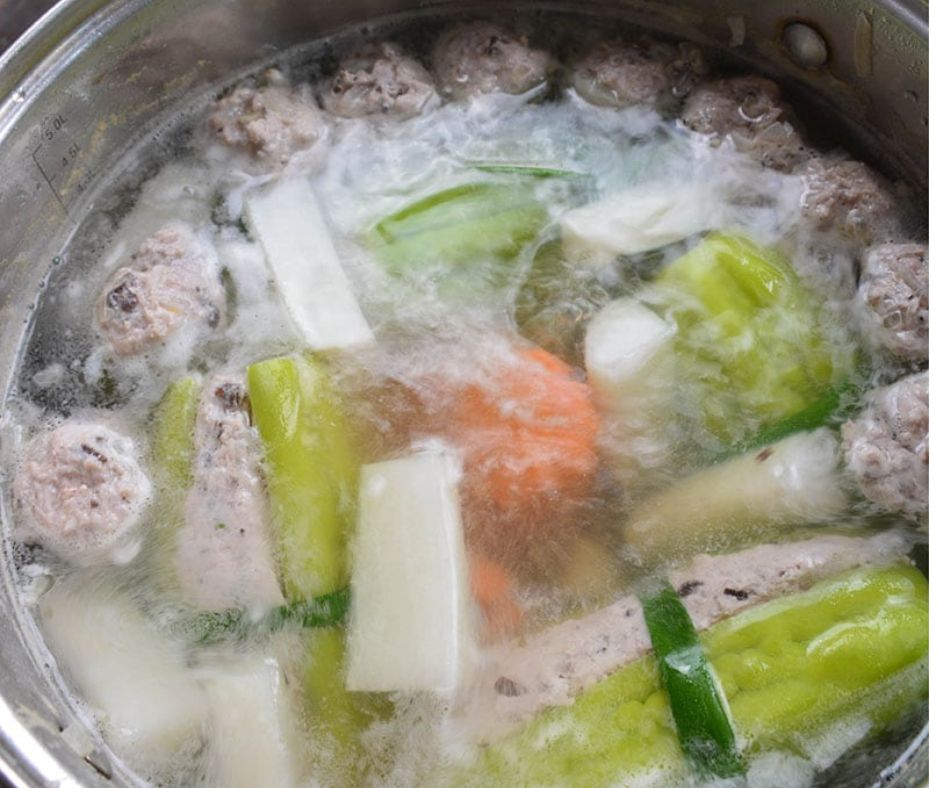 After 20 to 25 minutes, season the soup with 2 teaspoons of soup powder, 3 teaspoons of salt, and 1 teaspoon of sugar. Add additional seasonings as desired. Allow to boil for another 5 minutes , turn off the heat now.
Add scallions, cilantro, and a touch of pepper to the soup. Ladle the soup into a bowl and serve with hot steamed rice.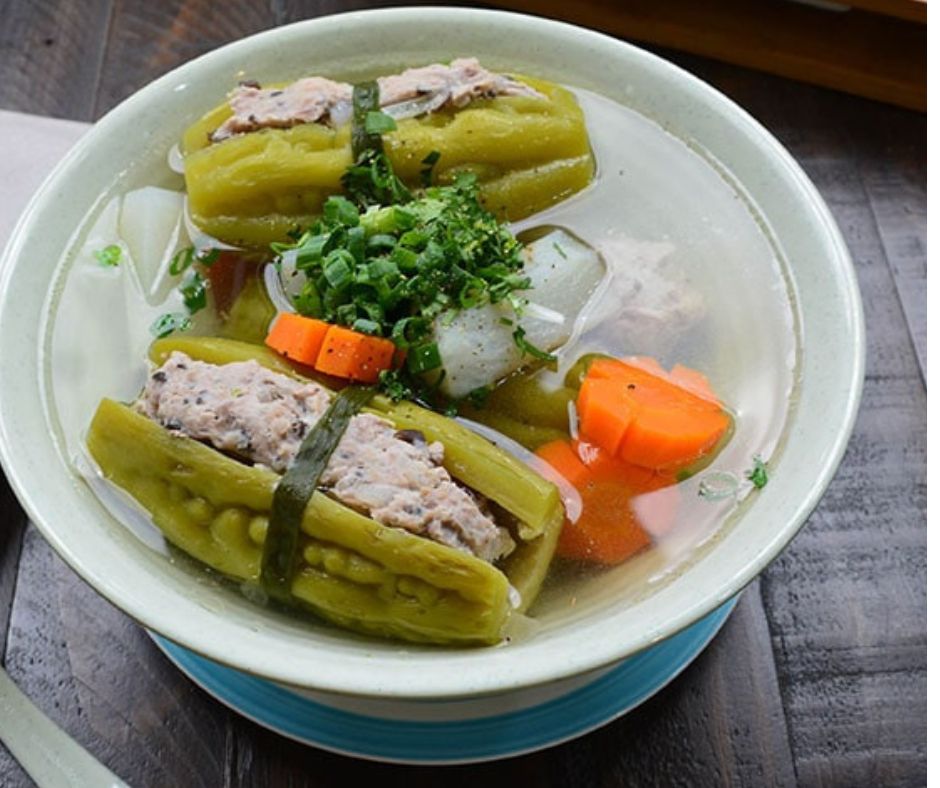 Try dipping the bitter melon in garlic and chili soy sauce for a unique blend of taste.
What are the benefits of bitter melon soup?
Firstly, bitter melon soup can be a great aid in managing blood sugar levels. Research shows that this vegetable has insulin-like properties that can help lower high blood glucose levels.
Additionally, it contains compounds called charantin and vicine which function as an insulin replacement and mimic some of its effects on the body. This makes it an excellent choice for people with diabetes or those aiming to prevent it.
Secondly, drinking bitter melon soup regularly can also promote better digestion due to its high fiber content.
Can bitter melon lower blood pressure?
Bitter melon contains compounds that may help relax blood vessels and improve circulation, which can lead to lower blood pressure levels.
Additionally, some research suggests that consuming bitter melon on a regular basis may reduce the risk of developing high blood pressure in the first place.
However, it's important to note that bitter melon should not be used as a sole treatment for hypertension without consulting with a healthcare provider.
Overall, incorporating bitter melon into your diet may offer some potential health benefits beyond just its unique taste and texture.
Why is my bitter lemon not bitter
There are several reasons why this could happen, from changes in the recipe to differences in the fruit itself.
One possible explanation is that the lemon used to make your bitter lemon simply isn't as tart as it once was. Lemons can vary greatly in flavor depending on factors such as climate, growing conditions, and ripeness.
If the lemons being used to make your favorite beverage are less acidic than before, this could result in a milder flavor overall.
Another possibility is that there have been changes made to the recipe or formula for your preferred brand of bitter lemon.
ake, and it's sure to be a hit with your guests. So go ahead and give it a try – you won't be disappointed.
Other Recipes You Might Love To Check.
How Long To Bake Chicken Wings At 375 • 2023 Edition.
Does Baileys Irish cream go bad?
Nigeria/(Ingredients For Cooking half bag of Rice) In 2023
Crispy & Tender Air Fryer Chicken Fried Steak
35 most popular Italian foods that will captivate you 2023
How to tell if sweet potatoes are bad; Ultimate guide 2023
25+ authentic Italian side dishes for your your main course.
The Ultimate Guide To Creating A Delicious Santa Fe Salad
The Juiciest And Easiest Air Fryer Meatloaf.
Healthy, Easy, Tender And Juicy Air Fryer Naked Chicken.
Homemade Apple And Cinnamon Cake.
Health Benefits of Onion Consumption.
Conclusion
In conclusion,bitter melon soup is an incredibly nutritious, delicious and easy dish to make. With a few simple ingredients and a few steps, you can enjoy a flavorful bowl of Canh Kho Qua Nhoi Thit. When cooked correctly, this soup can be enjoyed any time of year and provides many health benefits. Not only do the bitterness and sourness provide relief from hot weather, it is also known to help lower blood sugar levels, reduce inflammation and improve digestion.