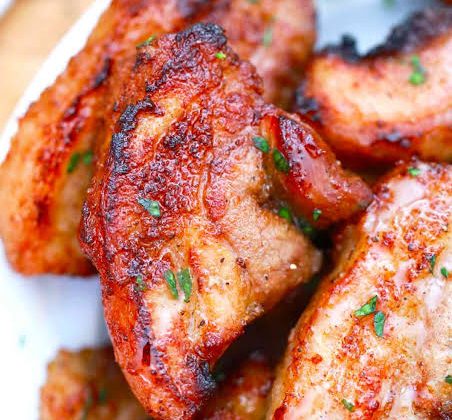 Are you looking for a delicious recipe that can be easily prepared in your air fryer? Air Fryer Pork Belly is the perfect dish to make! The combination of succulent pork belly and crispy crackling makes this meal an absolute delight. Not only is it easy to make, but it also packs a flavor punch with its marinade before entering the air fryer.
This recipe is ideal for those who are after an impressive entree or main course. The pork belly will come out tender and juicy, while the crackling remains wonderfully crisp and crunchy.
Marinading the pork beforehand allows all of the flavors to really seep into the meat, so each bite yields maximum taste satisfaction! Cooking times will vary depending on how large your cut of pork is.
In this article, we will guide you through the process of making your own crispy crackling, tender meat-filled pork belly in an air fryer at your comfort zone.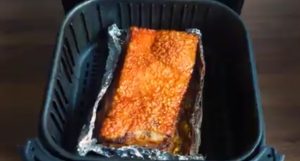 Tools Needed For Making Air Fryer Pork Belly
Air fryer: There are many air fryer brands to choose from on the market. But you can try the COSORI Pro II, which is an upgraded version.
Knife and chopping board: A sharp knife is one of the best investments to make for your kitchen. It will help you slice through fatty pork belly.
Cooking oil sprayer: Helps you grease the air fryer.
Small pot with lid: For marinating the meat. You can also use a food container or plastic wrap.
Ingredients Needed For Making Air Fryer Pork Belly
Pork: Choose the best quality cut you can afford. Get one that is a healthy bright-pink color, has a white layer of fat, and a firm pork rind on top.
2. Seasoning: The simple seasoning here residue just consists of salt. I like to roast the pork belly on its own without seasoning, then use sauce to add flavor once it's cooked.
If you prefer you can add some other seasoning before cooking. Try a simple spice mix of garlic powder, onion powder, chili powder, black pepper and salt.
3. Oil: You'll need to cook pork belly until it's crispy to enable the taste buds to ascertain all of the flavor. It's essential to use light olive oil, but you could substitute another cooking oil with a higher smoke point (avoid extra virgin olive oil when using an air fryer).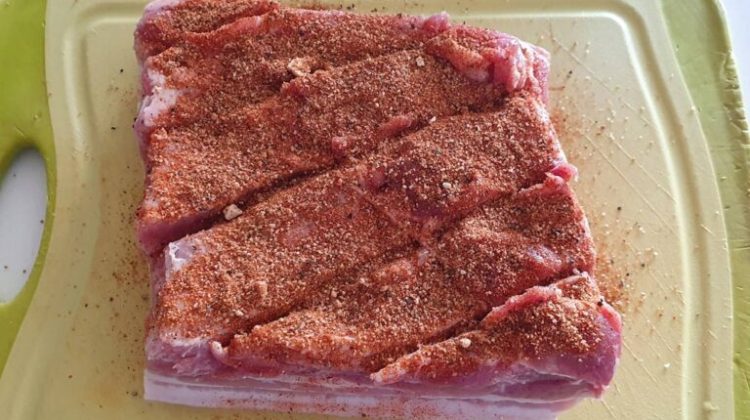 Step By Step Guide Needed For Making Air Fryer Pork Belly
To recover the moisture at the skin of pork belly so that it caramelizes optimally during cooking, you should allow it to cool slightly and pat it dry with some paper towels.
You will then need to make a line in a crisscross fashion about 1 inch deep into the rind with a sharp knife You need to be careful just to score the skin, and not cut through to the meat.
After that, rub salt into the skin of the pork, and set it aside for 10 to 20 minutes (it is not expected that you let it remain in place all night as some recipes require).
You will observe that moisture forms on the surface of your skin of pork. Wipe this off with a paper towel utilizing the skin to get the meat as dry as possible.
Add the oil and the salt to the mashed morsels on a plate. Roll the pork belly in it to coat it on all sides. Season the pork belly with olive oil and salt, and any other spices you want to add.
Preheat the air fryer 320 °F (160 °C). Place the pork belly in the air fryer, skin side up, and air-fry for 30 minutes.
When the fire alarm sounds, turn the heat up to 390 F 195 C and air fry the pork belly for additional 5-10 minutes.
Wait 5 minutes and check to see if the crackling is done to your liking. For detailed instructions on cook times, see the following section.
How Long To Cook Pork Belly In An Air Fryer.
To roast pork belly with enough smokiness and crispiness, get it very tender and succulent through slow roasting at low heat, followed by a quick burst at high heat.
When cooking pork belly, the internal temperature should reach 165 degrees (F). However, to ensure your pork gets fall to the meat, it should be cranked up to as high as 195-200 (F).
Storing And Reheating Of Pork Belly
When it comes to pork belly, proper storage and reheating are key for the best taste and texture. Pork belly can be stored in the refrigerator for three to four days, or up to a month in the freezer.
When storing pork belly, make sure that it is wrapped tightly in aluminum foil or placed in an airtight container so as not to contaminate other foods.
Reheating pork belly requires a slightly different approach than when you originally cooked it. It's best to avoid microwaving your pork belly due to the uneven heat distribution that can cause the meat to become tough and rubbery.
Instead of using a microwave, try slicing and pan-frying your pork belly until heated through or roasting it at 400 degrees Fahrenheit for 20-25 minutes until hot throughout.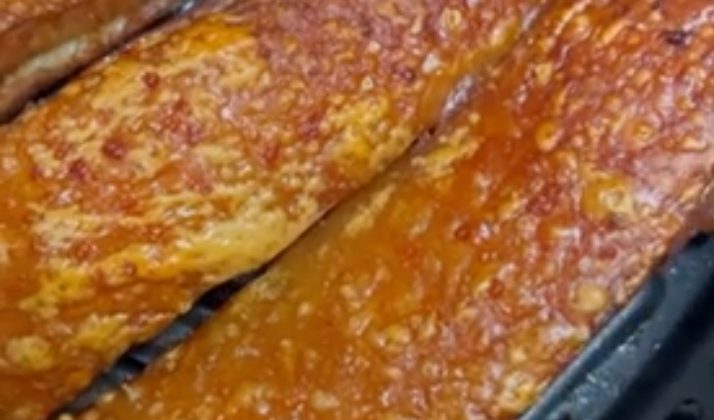 How To Serve Pork Belly.
Pork belly is one of the most delicious and versatile meats to cook with. Whether you're looking for a way to switch up your dinner routine, or want to try something new, pork belly is sure to please.
Here we will discuss how to serve pork belly so that it is juicy and flavorful.
First, start by choosing your cut of pork belly. Look for a thick piece with plenty of fat on it so that when you cook it, you can render out some of the fat for more flavor.
Next, season the pork belly generously with salt and pepper before putting in the oven or over an open flame. Roasting or grilling are great ways to get that perfect crispy outside while maintaining a juicy inside.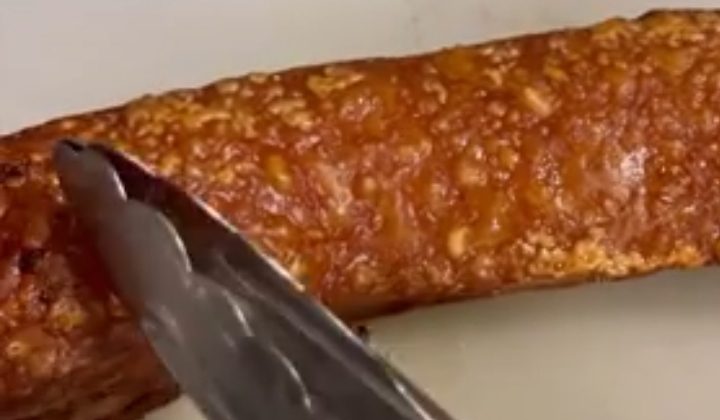 Nutrition Facts
servings per container
---
Amount Per ServingCalories532
% Daily Value *
Total Fat30.7g48%
Cholesterol 131mg44%
Sodium 2422mg101%
Potassium 279mg8%
Total Carbohydrate2.4g1%

Dietary Fiber 0.5g2%
Sugars 0.2g

Protein 52.6g106%.
---
How do I get good crackling in my air fryer?
If you're looking for a delicious and crispy crackling, then you need to know how to get it right in your air fryer. This cooking appliance is a great way to make a tasty meal without deep-frying the food in oil.
To help you get the best out of your air fryer, here is some advice on how to create perfect crackling every time.
The first step is to ensure that you choose the correct cut of pork skin. It should be thickly-cut so that it doesn't overcook quickly in the air fryer. You can buy this at most grocery stores or butcher shops.
Once you have your pork skin, dry it very thoroughly with paper towels, making sure to remove any excess moisture from both sides of the skin before continuing.
Does pork belly get more tender the longer you cook it?
Pork belly is a delicious cut of meat, popular for its tender texture and succulent flavor. But does pork belly get more tender the longer you cook it?
While some cuts of meat may become tougher if overcooked, pork belly can actually become even more tender when cooked for an extended period of time.
The key to cooking pork belly until it becomes incredibly tender is to use a low and slow method. Slow roasting or braising are two popular methods used to ensure that the pork belly is cooked through while still retaining its natural juiciness.
For those looking for an even more melt-in-your-mouth texture, cooking your pork belly in a pressure cooker can result in an extremely tender and flavorful dish.
Frequently Asked Questions
Why is my pork crackling not crispy?
For the perfect roast dinner, crispy crackling is a must. However, if your pork joint comes out of the oven with limp and soggy crackling, it can be both disappointing and frustrating.

So why is your pork crackling not as crunchy as you'd like?
First of all, there may not have been enough fat on the joint. For successful crackling, pork needs to be scored and melted lard or oil rubbed into the skin prior to cooking. If this step has been skipped then it's unlikely you'll get great results.

Secondly, make sure the oven temperature is hot enough – ideally over 200°C – so that when placed in the oven the skin will start to bubble up and crisp immediately.
What does boiling water do to pork crackling?
Pour a cup or more of boiling water over the skin. This will shrink the rind, allowing the incisions to open and enabling the heat, salt, and oil to penetrate deeper. Try to only pour the boiling water over the rind and not over any exposed meat on the roast, as this will dry the pork out.
Does baking soda make pork crispy?
Baking soda is an effective way to make pork crispy, as it has a high alkalinity content that helps to tenderize the meat and give it a delicious crunch. It also adds a subtle flavor that pairs well with many seasonings and spices.

Although some people may prefer using baking powder to achieve a more elevated texture, baking soda can still be used successfully when combined with other ingredients like sugar or oil. Ultimately, the choice of which ingredient to use depends on the desired outcome and individual preferences.
Air fryer pork belly strips Korean
Air fryer pork belly strips Korean is a delicious and nutritious meal that can easily be made at home.

Not only does it save time, but you can also customize it to your liking by adding your favorite seasonings and sauces.

It is an excellent choice for anyone looking for a healthier alternative to greasy takeout food. This dish makes a great addition to any dinner or lunch table and is sure to please everyone in the family!
Cook 1kg pork belly air fryer
Cooking a 1kg pork belly in an air fryer is an easy and delicious way to enjoy the popular dish. With the right techniques and ingredients, you can create a succulent and flavorful pork belly that's sure to impress.

Air frying helps keep the meat juicy and tender while reducing the amount of fat used in comparison with traditional cooking methods. Plus, it's much simpler than having to roast or deep-fry the pork belly!
How to cook pork belly in Ninja air fryer
Pork belly is a delicious and flavorful way to add something special to a meal.

If you have a Ninja air fryer, you can use it to cook pork belly in no time at all. With the right steps, you can have crispy and succulent pork belly cooked up in your Ninja air fryer with ease.

Begin by seasoning one side of the pork belly with your favorite spices or rubs. Place the seasoned side down into your preheated Ninja air fryer basket and close the lid.

Set the temperature to 350°F and let it cook for 15 minutes before opening the lid and flipping over the meat. Add another 5 minutes of cooking time – checking on it until it is golden brown on both sides and crispy around the edges.

Finally, allow 10-15 minutes of rest before slicing into thin strips and serving it up!
Other Recipes You Might Love Yo Check.
How Long To Bake Chicken Wings At 375 • 2023 Edition
How To Make Party Jollof Rice Nigeria/(Ingredients For Cooking half bag of Rice) In 2023
Crispy & Tender Air Fryer Chicken Fried Steak
35 most popular Italian foods that will captivate you 2023
Top 29 Italian Foods That Will Make Your Mouth Water.
How to tell if sweet potatoes are bad; Ultimate guide 2023.
25+ authentic Italian side dishes for your your main course.
How To Make Nigeria Pancake | Diet.
The Juiciest And Easiest Air Fryer Meatloaf
Conclusion
In conclusion,air frying pork belly is a quick and tasty way to enjoy this delicious protein. With minimal ingredients and easy-to-follow instructions, air frying pork belly yields great results in a fraction of the time.
Not only does it taste great but the high temperature from air frying seals in moisture, making for an incredibly succulent dish.
From start to finish, the whole process can be completed within just 15 minutes so that you can enjoy your meal in no time at all.