McDonald's has always been known for its innovative Happy Meal toys and this time they have partnered with Hasbro Gaming to take it up a notch.
From today until September 20th, children will be able to find a new toy from their favorite Hasbro games in their Happy Meals every Thursday.
This exciting collaboration brings together two giants in the industry, aimed at bringing joy and entertainment to kids all around.
With a range of classic Hasbro board games like Monopoly, Connect Four, and Operation, McDonald's is giving kids the chance to bring their favorite games right to the dining table.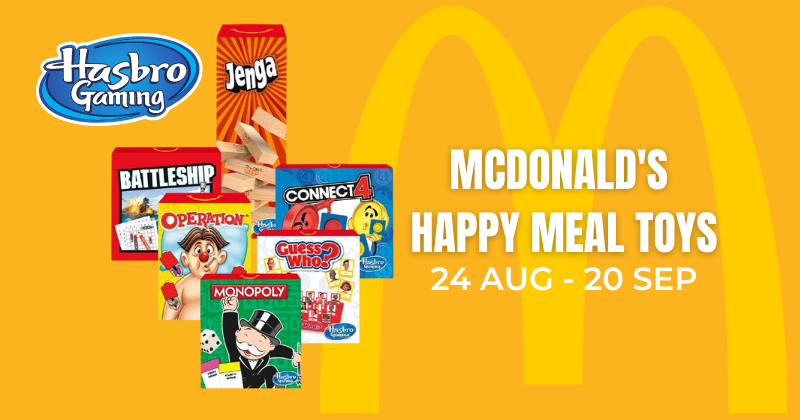 These iconic games have stood the test of time and are enjoyed by children and adults alike. Not only will these toys bring hours of fun, but they also encourage social interaction and critical thinking skills among young minds.
What sets this collaboration apart is that each new toy release on Thursdays will keep kids excited about collecting them all.
With new surprises each week, it creates an element of anticipation that keeps youngsters eagerly waiting for their next Happy Meal adventure.
Additionally, this partnership introduces children to different types of gaming experiences beyond just video games or mobile apps. It promotes a healthy balance between screen time and engaging play that can be enjoyed with friends or family members.
So whether you're reconnecting with your childhood favorites or introducing your little ones to these timeless classics for the first time, make sure you head over to McDonald's before September 20th.
Related: Unveiling the Magical Collaboration: McDonald's New Happy Meal Toys that Delight Disney Fans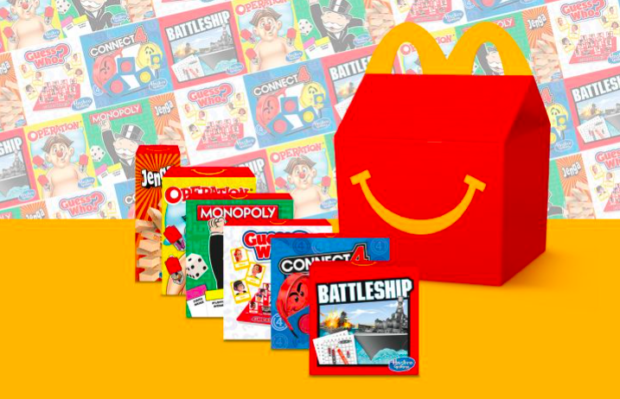 McDonald's latest Happy Meal features NERF till 23 Aug, new toy every Thursday
| | | | |
| --- | --- | --- | --- |
| Starts | 24 Aug 2023 (Thu) | Ends | 20 Sep 2023 (Wed) |
| Location | McDonald's | | |
What are in the McDonald's Happy Meals?
Hasbro Gaming McDonald's Happy Meal Toys
FREE with every

Happy Meal.
Collect via Dine-In, Takeaway,
McDelivery or Drive-Thru.
Choose from a book or toy in every Happy Meal®, while stocks last!
New
design available

every Thursday, 11am
24 – 30 Aug

CONNECT4
GUESS WHO

31 Aug – 6 Sep

TWISTER
JENGA

7 – 13 Sep

MONOPOLY
THE GAME OF LIFE JUNIOR

14 – 20 Sep

BATTLESHIP
OPERATION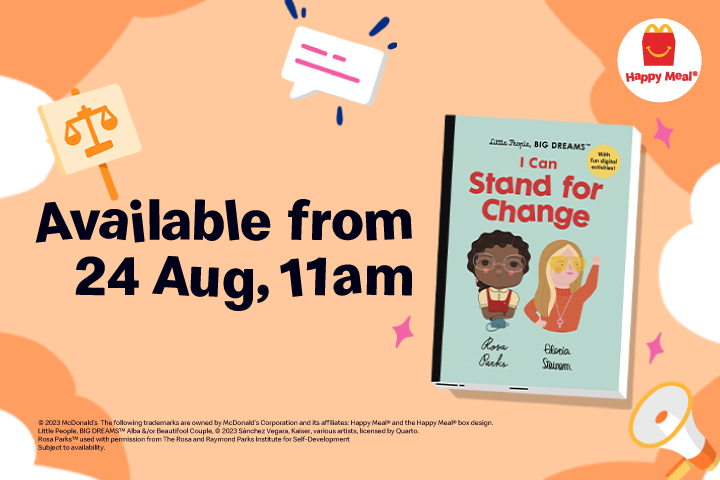 Mcdonald's happy meal toys 2023
The new toys may not be available at all McDonald's outlets yet – check before placing your order!
Or you can choose from a Happy Meal Readers book!
Inspire your kids to dream big with the 4th

Happy Meal®
Readers series –
I Can Dream Big!
McDonald's has partnered with Little People Big Dreams
to bring you the 'I Can' series, introducing children around
the world to inspirational figures and
dreamers who each made a big impact in the world around them to show kids that they can.
Discover
the
childhoods of famous people
and find out what inspired them to dream big when they were younger in each of the 12 books, exclusively created for McDonald's.
Keep an eye out for new book releases to learn more
about each of their journeys
to achieve
their dreams!
Book 9: I Can Stand for Change
Read about two of
 the world's greatest change-makers. From Rosa's determination, to

 Gloria's campaign
 for feminism, each had their own unique dream.
Disclaimer
Quantities are limited, available while stocks last.
Visit any McDonald's restaurant to enquire which book or toy is available.
Find your nearest McDonald's outlet here or order McDelivery at 
www.mcdelivery.com.sg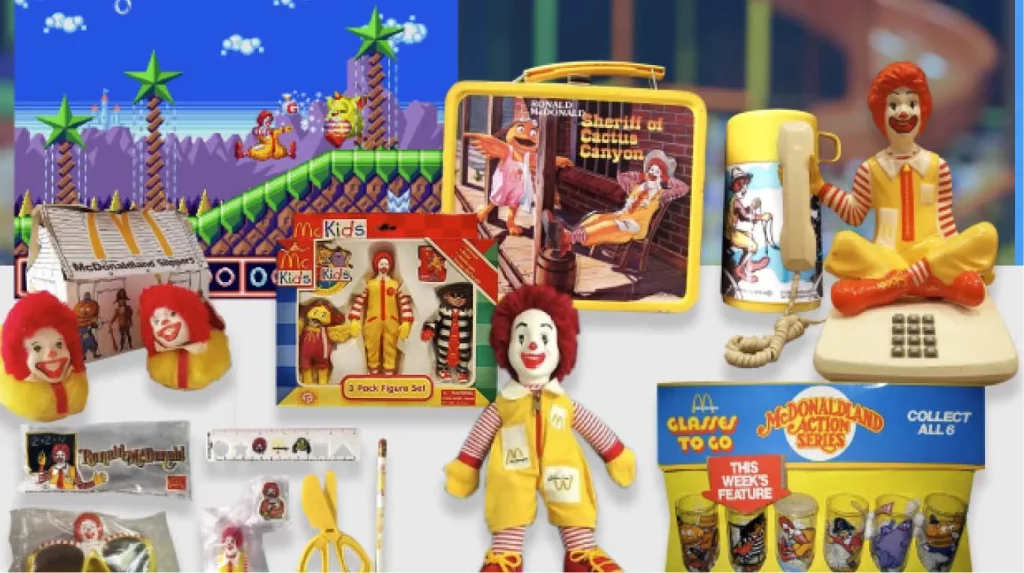 How much is McDonald's Happy Meal with toy?
As of my last update, the price of a McDonald's Happy Meal with a toy can vary depending on the location and the specific promotion they have at the time.
Generally, a Happy Meal was priced around $3 to $5 USD, but again, this can vary. For the most accurate and up-to-date pricing, I recommend checking the official McDonald's website or contacting your local McDonald's restaurant.
Read More
McDonald's Closes American Offices Ahead Of Layoffs
McDonald's Chicken Big Mac is returning
McGriddles vs. McDonald's: The Protein Showdown
McDonald's Announces New Cardi B & Offset Meal: A Flamin' Collaboration
McDonald's Is Bringing Back the Chicken Big Mac
Best 31 Healthy Restaurants in America | Locations
Sweet Tomatoes Restaurant Is Reopening Locations
Top Starbucks Menu With Price List Philippines 2023
17 delicious Spanish breakfast foods to start your day off right
Start to Finish: Homemade Sausage Rolls
Copycat Starbucks Medicine Ball Recipe
What is the new McDonald's Happy Meal called?
The new McDonald's Happy Meal has been given a fresh and exciting name – the Happy Meal+. This revamped version of the classic children's meal is aimed at providing a more balanced and nutritious option for kids.
With a variety of healthier choices such as apple slices, yogurt, and grilled chicken, it is clear that McDonald's is making an effort to cater to changing consumer preferences.
The introduction of the Happy Meal+ reflects a broader shift in society towards more mindful eating habits and encourages parents to make healthier choices for their children.
So next time you visit McDonald's, why not give the Happy Meal+ a try? Your kids will be happy and healthy.