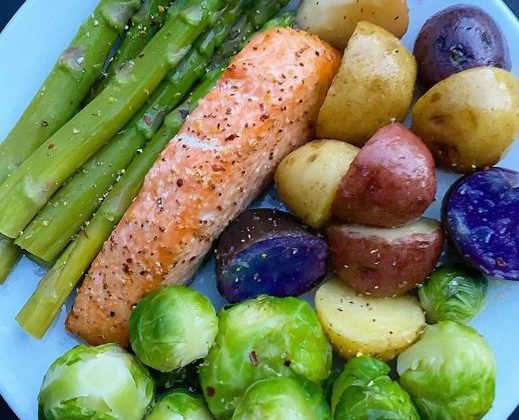 Are you ready to embark on a delicious culinary adventure with one of nature's finest green gifts? Say hello to asparagus, a fantastic vegetable that can be transformed into a mouthwatering dish in so many ways.
Cooking asparagus doesn't have to be a complex, gourmet affair. We're here to guide you through seven simple and delightful methods that anyone, regardless of their cooking expertise, can master.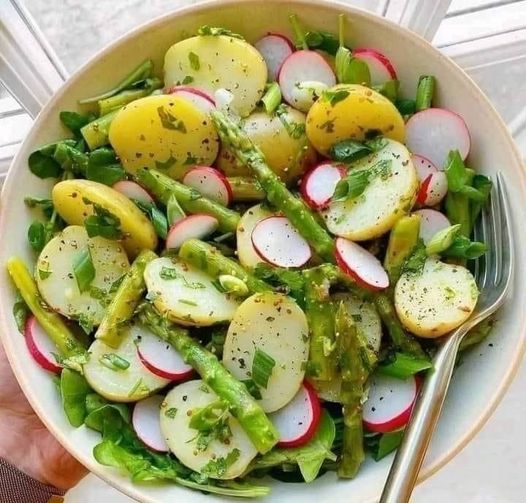 Imagine crispy, tender spears of asparagus that have been perfectly seasoned and prepared to your liking. Whether you're a kitchen novice or a seasoned home cook looking for new ideas, this guide has got you covered. (Read also: How To Cook Bacon In The Oven)
From basic techniques like steaming and roasting to more adventurous options like grilling, stir-frying, and even making creamy asparagus soup or a savory asparagus risotto, we'll show you how to make each dish step by step. (Read also: How To Cook The Best Stuffed Pepper Soup)
So, let's roll up our sleeves, grab some asparagus, and get ready to elevate your culinary skills with these seven amazing ways to cook this versatile and delicious vegetable.
Whatis Asparagus
Asparagus, a green perennial plant, is a versatile vegetable. Its tender spears are delicious steamed, roasted, or grilled, offering a crisp texture and earthy flavor. Rich in vitamins, minerals, and fiber, asparagus makes a healthy addition to various dishes. Its unique taste and culinary adaptability make it a favorite choice for many cuisines worldwide.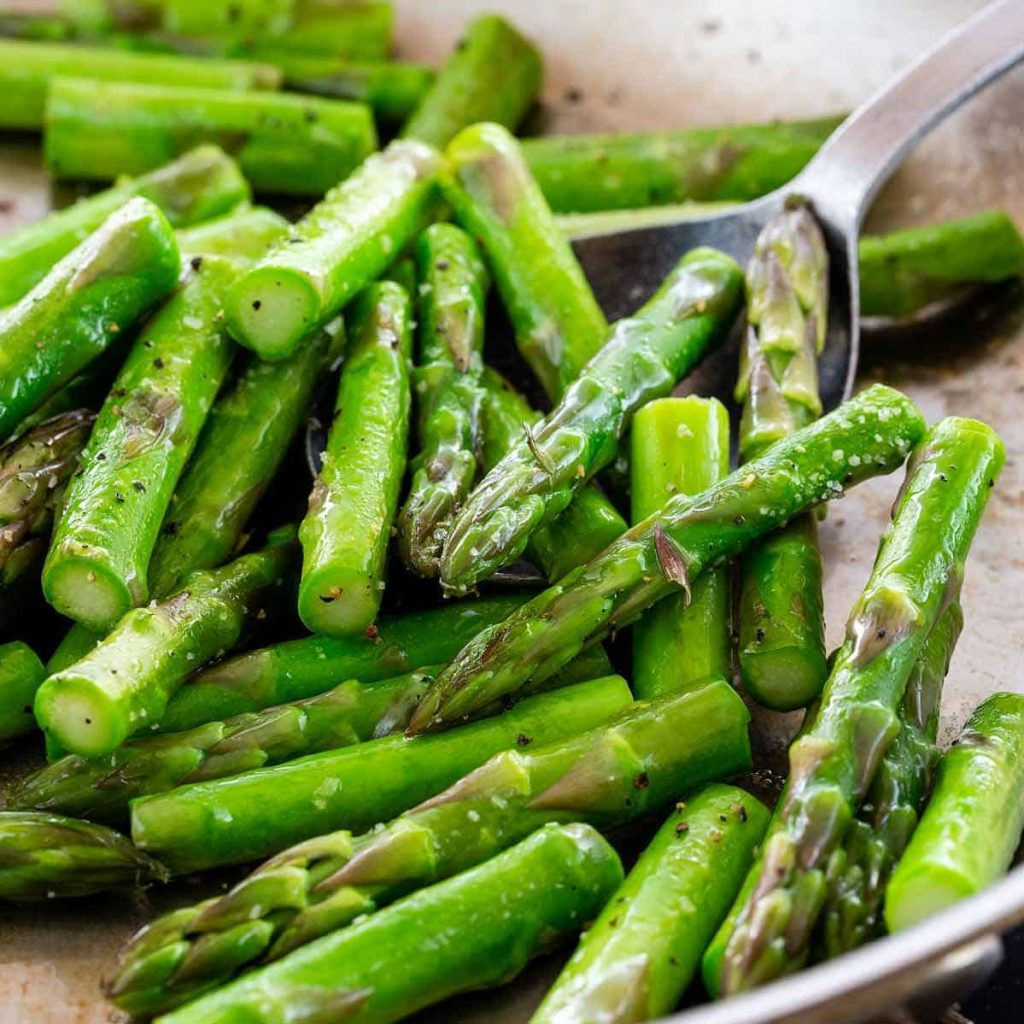 Read More
How to cook Ripe and Unripe plantain Porridge in Less than 40 mins.
How to Cook Afang Soup | Step By Step Guide it
How To Make Roasted Garlic Parmesan Asparagus Recipe
1 bunch of fresh asparagus, trimmed
2 tablespoons olive oil
3-4 cloves garlic, minced
1/4 cup grated Parmesan cheese
Salt and pepper to taste
Zest of 1 lemon (optional, for a citrusy kick)
Step by step guide on how to make roasted Asparagus
Preheat the Oven: Begin by preheating your oven to 400°F (200°C). This temperature ensures that the asparagus roasts to perfection.
Prepare the Asparagus: Wash and trim the tough ends of the asparagus. If the spears are thick, consider peeling the lower half to ensure even cooking.
Season and Toss: In a large bowl, combine the trimmed asparagus with olive oil, minced garlic, and a pinch of salt and pepper. Toss to ensure each spear is coated with the flavorful mixture.
Arrange on a Baking Sheet: Line a baking sheet with parchment paper for easy cleanup. Arrange the seasoned asparagus in a single layer on the baking sheet.
Roasting Time: Place the baking sheet in the preheated oven and roast the asparagus for 10-15 minutes. The roasting time will depend on the thickness of the spears. The asparagus should be tender yet slightly crispy on the outside.
Add Parmesan Cheese: About 5 minutes before the asparagus is done, sprinkle grated Parmesan cheese over the spears. Return the baking sheet to the oven and continue roasting until the cheese is melted and slightly golden.
Lemon Zest (Optional): For a burst of freshness, zest a lemon over the roasted asparagus just before serving. The lemon zest adds a zing that beautifully complements the other flavors.
Serve and Enjoy: Carefully remove the baking sheet from the oven and transfer the roasted garlic Parmesan asparagus to a serving dish. Garnish with additional grated Parmesan cheese if desired.
Asparagus is a versatile and delicious vegetable that can be prepared in various ways to suit different tastes and occasions. Here are seven different methods for cooking asparagus: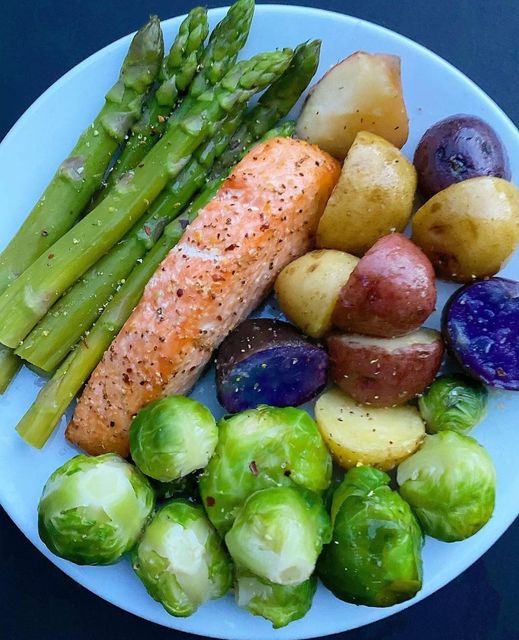 How TO Make Steamed Asparagus
Trim the tough ends of the asparagus spears.
Place a steamer basket in a pot with a few inches of water.
Bring the water to a boil, then add the asparagus to the steamer basket.
Cover and steam for 3-5 minutes until the asparagus is tender but still crisp.
Season with salt, pepper, and a drizzle of olive oil or a sprinkle of grated Parmesan cheese.
How tO make Grilled Asparagus
Preheat your grill to medium-high heat.
Trim the tough ends of the asparagus and drizzle with olive oil, salt, and pepper.
Place the asparagus spears directly on the grill grates.
Grill for 2-4 minutes per side until charred and tender.
How TO Make Blanched Asparagus:
Trim the asparagus and prepare a large bowl of ice water.
Bring a pot of water to a boil, add salt, and blanch the asparagus for 1-2 minutes until bright green.
Immediately transfer the asparagus to the ice water to stop the cooking process.
Serve cold as a refreshing appetizer with a dip or in salads.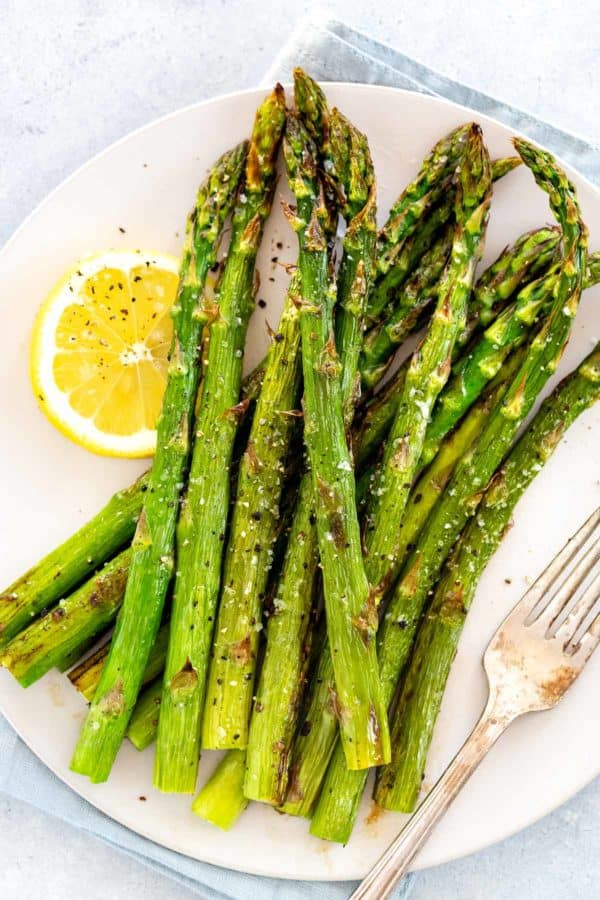 How TO Make Stir-Fried Asparagus
Cut the asparagus into bite-sized pieces.
Heat a skillet or wok over high heat with some oil.
Add the asparagus and stir-fry for 3-5 minutes until tender-crisp.
Season with soy sauce, garlic, ginger, or your favorite stir-fry sauce.
How TO Make Asparagus Soup
Trim and chop the asparagus into small pieces.
Sauté onions and garlic in a pot, then add the asparagus and vegetable broth.
Simmer until the asparagus is tender.
Blend until smooth, then season with salt, pepper, and a dash of cream for a creamy soup.
Read More: How To Cook Ofada Rice And Stew| Easy Guide
How TO Make Asparagus Risotto
Sauté chopped onions and garlic in a large pan with olive oil.
Add Arborio rice and cook for a couple of minutes.
Gradually add hot chicken or vegetable broth, stirring constantly until absorbed.
Stir in chopped asparagus pieces and continue adding broth until the rice and asparagus are tender.
Finish with grated Parmesan cheese and a squeeze of lemon juice.
Read More: How to Cook Chicken Pepper Soup
These methods showcase the versatility of asparagus and can be adapted to suit your taste preferences. Whether you prefer the simplicity of steamed asparagus or the bold flavors of grilled or stir-fried versions, there's a way to enjoy this delightful vegetable in every season.
Tips and Variations
Customize the recipe by adding chopped fresh herbs like thyme, rosemary, or parsley before roasting.
If you're looking to cut down on dairy, consider using nutritional yeast instead of Parmesan for a cheesy flavor.
Drizzle a balsamic reduction or glaze over the roasted asparagus for an extra layer of sweetness and tanginess.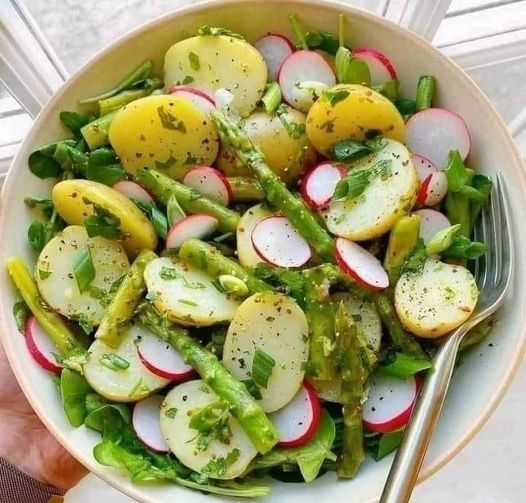 white asparagus recipes
White asparagus, known for its milder flavor and tender texture, can be prepared in various delicious ways:
Creamy White Asparagus Soup: Simmer white asparagus with onions, leeks, and broth, then blend until smooth. Finish with cream and a hint of nutmeg.
White Asparagus with Hollandaise: Steam or boil white asparagus and serve with classic hollandaise sauce for an elegant side dish.
White Asparagus Risotto: Incorporate chopped white asparagus into a creamy risotto, adding a delicate, earthy flavor.
White Asparagus Salad: Blanch white asparagus and toss it with vinaigrette, fresh herbs, and Parmesan for a light and refreshing salad.
Grilled White Asparagus: Coat with olive oil, grill until tender, and sprinkle with lemon juice and grated pecorino cheese.
Stir-Fried White Asparagus: Quickly stir-fry with garlic and ginger, then drizzle with soy sauce for a simple Asian-inspired dish.
White Asparagus with Prosciutto: Wrap blanched white asparagus with prosciutto and bake until crispy for an appetizer or elegant side.
Pickled White Asparagus: Preserve the delicate flavor by pickling white asparagus in a vinegar-based brine for a tangy treat.
how to can asparagus recipes
To can asparagus, wash and trim spears, pack them into sterilized jars, and add a boiling brine solution (typically vinegar, water, and salt). Seal the jars and process in a boiling water bath for the recommended time, ensuring a safe, shelf-stable preservation method for your asparagus.
Can asparagus be home canned?
Yes, asparagus can be home-canned using a pressure canner for safety. To do so, clean and trim asparagus spears, pack them into sterilized jars, add a boiling brine, and process in a pressure canner at the appropriate pressure and time according to a trusted canning recipe. This preserves asparagus for long-term storage.
How do you preserve asparagus?

To preserve asparagus, choose methods like canning (pressure canning for safety), freezing (blanch first), or pickling. Store fresh asparagus in the refrigerator with the cut ends in water, covered with plastic wrap or a damp cloth.
Do you cook asparagus before canning?
Yes, it is recommended to blanch asparagus before canning to preserve its quality and safety. Blanching involves briefly immersing the asparagus in boiling water, then cooling it in ice water before packing it into canning jars.
What is the secret to asparagus?
The secret to asparagus is simplicity. Keep it fresh, cook it briefly, and season it well. Its natural flavors and textures shine when prepared with minimal fuss and high-quality ingredients.
how to cook asparagus healthily
To cook asparagus healthily, choose methods like steaming, roasting with minimal oil, or grilling. Avoid overcooking to retain nutrients. Season with herbs, lemon, or a light drizzle of olive oil for flavor.