When it comes to comfort food, few things hit the spot quite like tater tots. Those crispy, golden nuggets of potato perfection have been a beloved staple in our lives for generations.
But what if I told you there's a way to take tots to a whole new level of deliciousness?
Enter Domino's Loaded Tots – a mouthwatering creation that combines the beloved simplicity of tater tots with a generous helping of toppings and flavors that will leave your taste buds dancing with joy.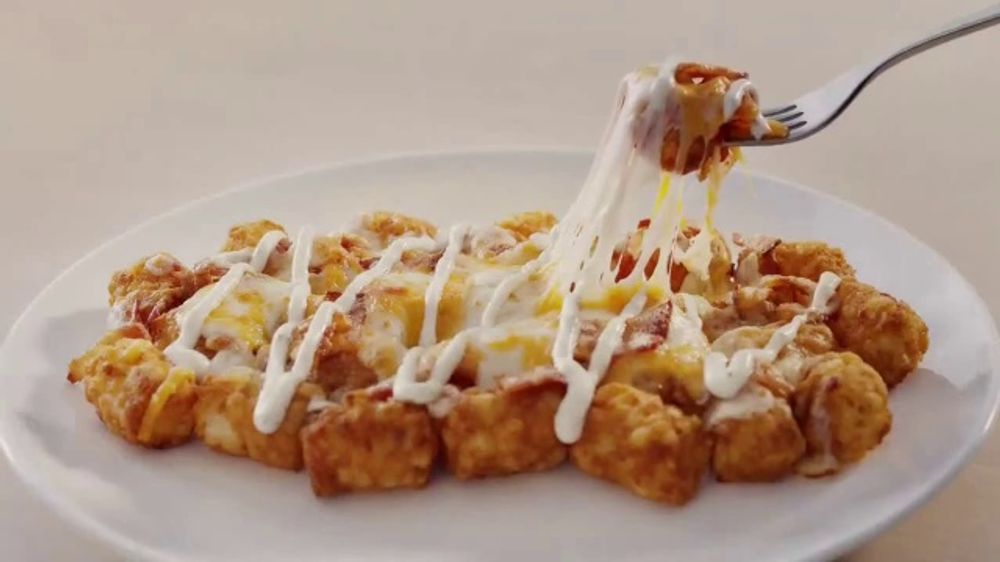 Here, we'll take you on a tantalizing journey through the world of Domino's Loaded Tots. We'll explore the different varieties, from classic favorites to innovative new creations, and discover what makes these tots a must-try treat for food enthusiasts everywhere.
So, whether you're a seasoned tot lover or new to the game, get ready to savor every bite of these delectable loaded tots from Domino's.
When it comes to indulging in tasty treats, Domino's Loaded Tots are making waves in the world of comfort food. These tots, available in three mouthwatering varieties, promise a tantalizing fusion of flavors that will leave your taste buds craving more.
In this tasty journey, we'll take a closer look at the nutrition facts and savor the delicious flavors and smells of these loaded tots.
1. Melty 3-Cheese Loaded Tots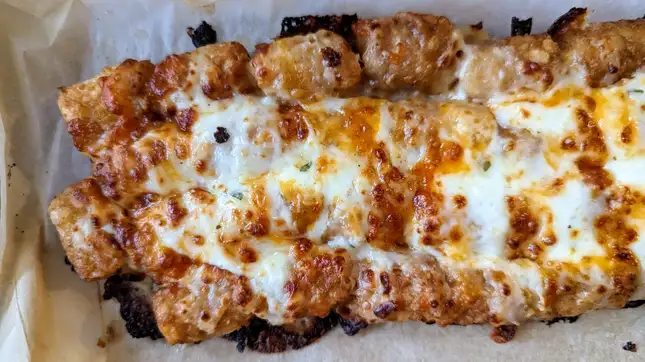 Each 1/4 serving of these tots contains 210 calories, with 13g of fat (6g saturated fat), 510mg of sodium, 17g of carbs (1g fiber, 1g sugar), and 6g of protein.
The star of the show here is the trifecta of melted mozzarella, cheddar, and provolone cheese, generously drizzled over crispy tots and complemented by a creamy Alfredo sauce. The aroma is an appetizer in itself, promising a cheese lover's paradise.
The taste? Cheese takes center stage, harmoniously blending the flavors of the three cheeses, with the Alfredo sauce providing a delightful interlude.
While the crispy tots add a textural contrast, you'll find yourself happily lost in a sea of molten cheese. These tots are often suggested as a pizza topping, but be prepared for a rich and hearty experience—perhaps a sprinkle of green onions can provide some freshness.
2. Cheddar Bacon Loaded Tots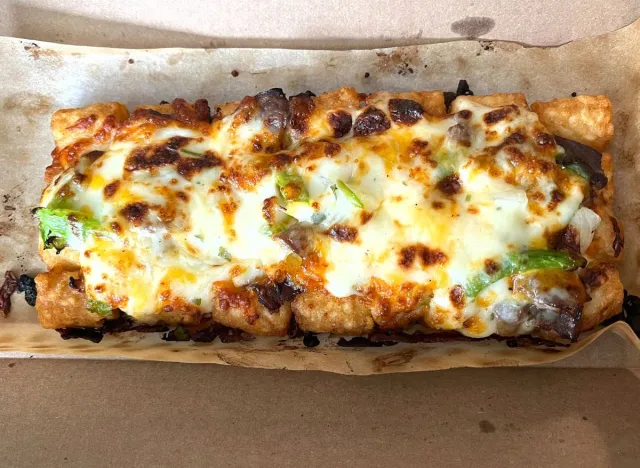 With 240 calories per 1/4 serving, 16g of fat (5g saturated fat), 590mg of sodium, 17g of carbs (1g fiber, 1g sugar), and 7g of protein, the Cheddar Bacon Loaded Tots are a flavor-packed delight.
These tots feature a layer of toasty tots generously topped with smoky bacon, a cheddar-mozzarella blend, and a drizzle of garlic Parmesan sauce.
The presentation is impressive, with a savory aroma that hints at the bacon's presence. Crispy tots play peek-a-boo, while the bacon takes center stage. The Parmesan drizzle adds an artistic touch to these carefully crafted tots, showcasing Domino's attention to detail.
In terms of taste, bacon lovers will rejoice as substantial chunks of bacon steal the spotlight. The cheddar infuses the dish with a bacon cheeseburger essence, while the mozzarella keeps everything together.
The Parmesan sauce adds a refreshing note of coolness to round off this flavor-packed ensemble.
3. Philly Cheese Steak Loaded Tots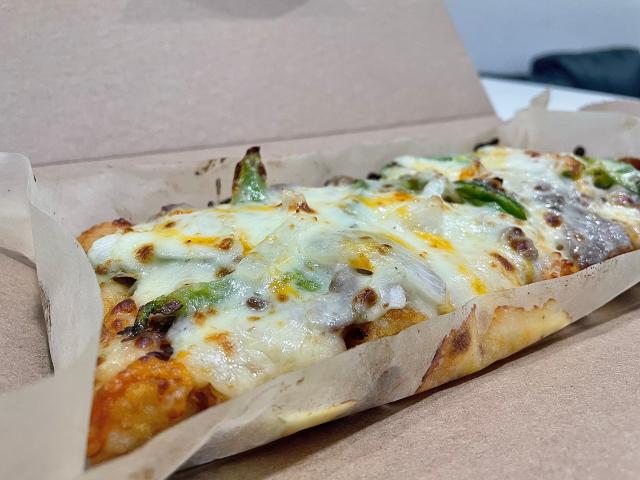 With 200 calories per 1/4 serving, 12g of fat (5g saturated fat), 530mg of sodium, 18g of carbs (1g fiber, 1g sugar), and 6g of protein, the Philly Cheese Steak Loaded Tots offer a savory twist. These tots feature thin slices of steak, Alfredo sauce, onions, green peppers, and a mozzarella and cheddar cheese blend.
Once again, Domino's nails the presentation, ensuring each tot is thoughtfully placed and topped with colorful peppers and onions. The enticing aroma sets the stage for what's to come.
In terms of taste, the thin strips of steak are perfectly sized for a delightful, chew-free experience. The peppers and onions provide a refreshing contrast missing in other tots, while the cheese blend offers a harmonious combination of cheddar and mozzarella.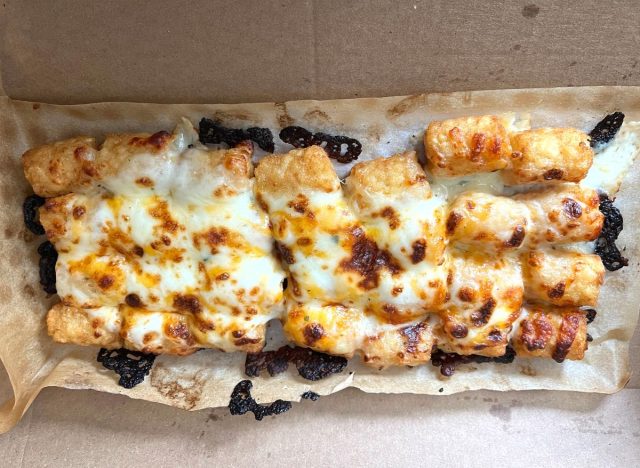 Read More
McDonald's Closes American Offices Ahead Of Layoffs
McGriddles vs. McDonald's: The Protein Showdown
McDonald's Announces New Cardi B & Offset Meal: A Flamin' Collaboration
McDonald's Is Bringing Back the Chicken Big Mac
Best 31 Healthy Restaurants in America | Locations
In summary
Domino's Loaded Tots are a treat for the senses. While these appetizers may require a fork to enjoy fully, they make a delightful addition to any party spread.
If you're unsure which to try, the Philly Cheese Steak variation steals the show, but experimenting with all three is a tasty adventure your guests will relish.
So, why not elevate your game day with a Domino's Loaded Tots tasting experience? Your taste buds will thank you.