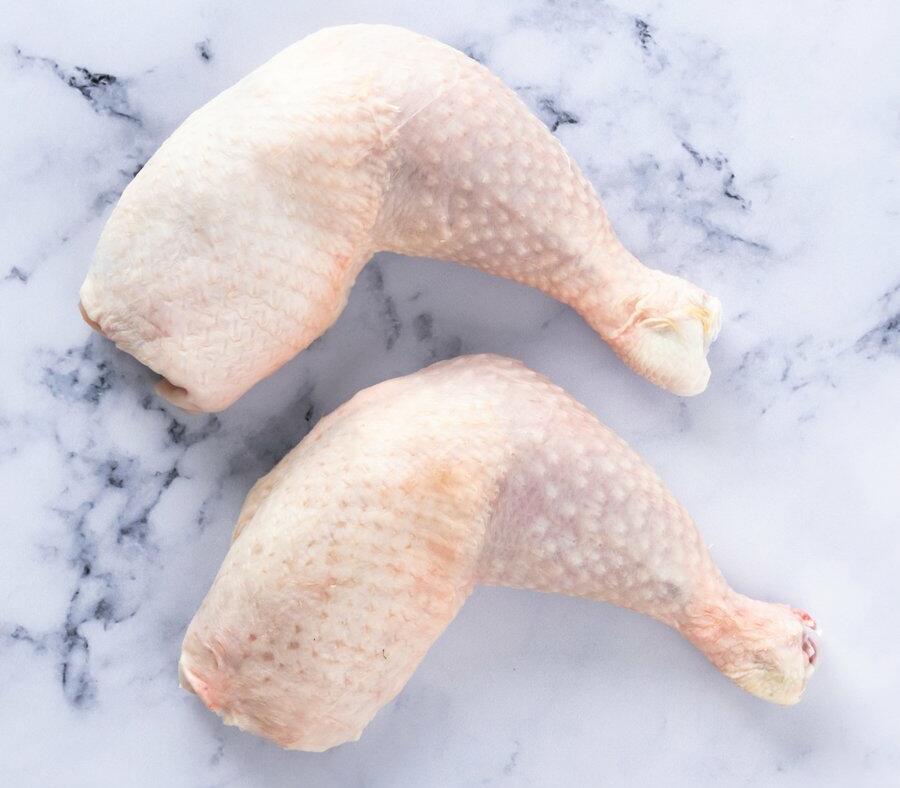 Chicken legs, with their mouthwatering taste and culinary versatility, have earned a special place on our plates.
But just how much protein do they bring to the table? Join us as we delve into the protein-packed world of chicken legs, uncovering not only their deliciousness but also the nutritional benefits they offer.
Whether you're a fitness enthusiast or a foodie aiming for a balanced diet, understanding the protein content of chicken legs can offer valuable insights. Let's embark on this journey to unveil the protein power of everyone's favorite poultry delight.
The Nutritional Profile of Chicken Legs.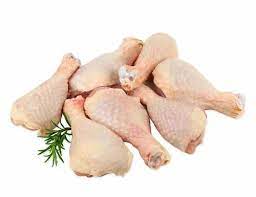 The nutritional profile of chicken legs provides a fascinating insight into the balance of essential nutrients found within this beloved poultry cut.
Comprising the thigh and drumstick, chicken legs offer a combination of flavors and textures that make them a culinary favorite worldwide.
The thigh, known for its tender and succulent meat, boasts a slightly higher fat content, while the drumstick offers a satisfyingly meaty bite.
This duality of components allows chicken legs to shine across an array of cooking methods, from grilling and roasting to frying and braising.
Their versatility in the kitchen has earned them a central place in diverse cuisines, proving that their nutritional richness extends beyond mere taste.
The Protein Content in Chicken Legs.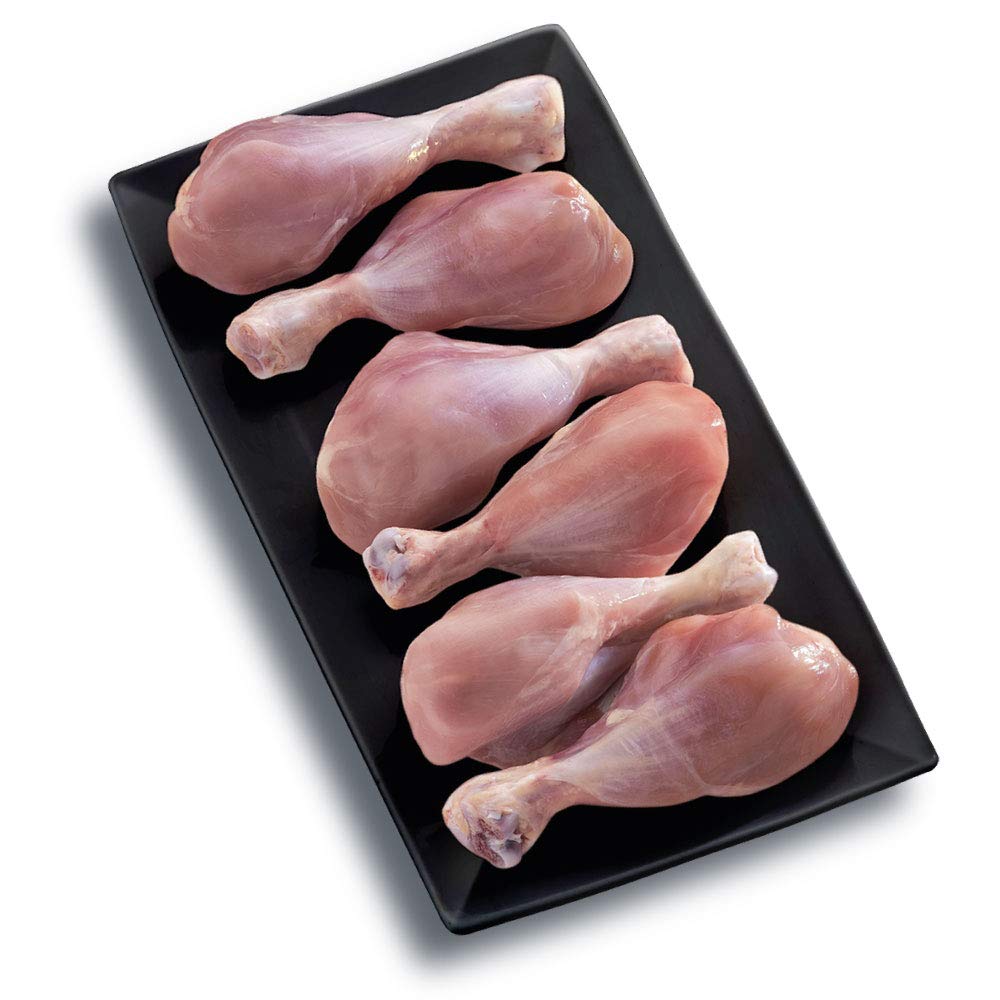 Chicken legs, with their delectable blend of flavors, also boast a commendable protein content that contributes to their nutritional appeal.
On average, a standard-sized chicken leg contains approximately 21 to 24 grams of protein.
To put this into perspective, this protein-packed portion accounts for about one-third of the daily recommended protein intake for an average adult.
When compared to other popular poultry parts, chicken breasts typically offer higher protein content per ounce, often ranging from 25 to 30 grams of protein.
Meanwhile, chicken wings contain slightly less protein, averaging around 6 to 9 grams per wing. Understanding these protein proportions assists in making informed dietary choices and tailoring meals to specific nutritional needs.
Factors Influencing Protein Content of Chicken Leg.
The protein content in chicken legs is influenced by several key factors.
The chicken's diet, age, and breed play a significant role in determining the protein concentration in its meat.
Diets rich in protein sources and younger chickens generally lead to higher protein content.
Moreover, cooking methods such as grilling, baking, or frying can affect the moisture content, indirectly impacting protein concentration.
Seasonings and marinades can also alter the overall protein-to-weight ratio of the prepared chicken leg. Understanding these factors highlights the nuanced nature of protein content and its sensitivity to both natural and culinary influences.
Why is Chicken Leg a good source of protein?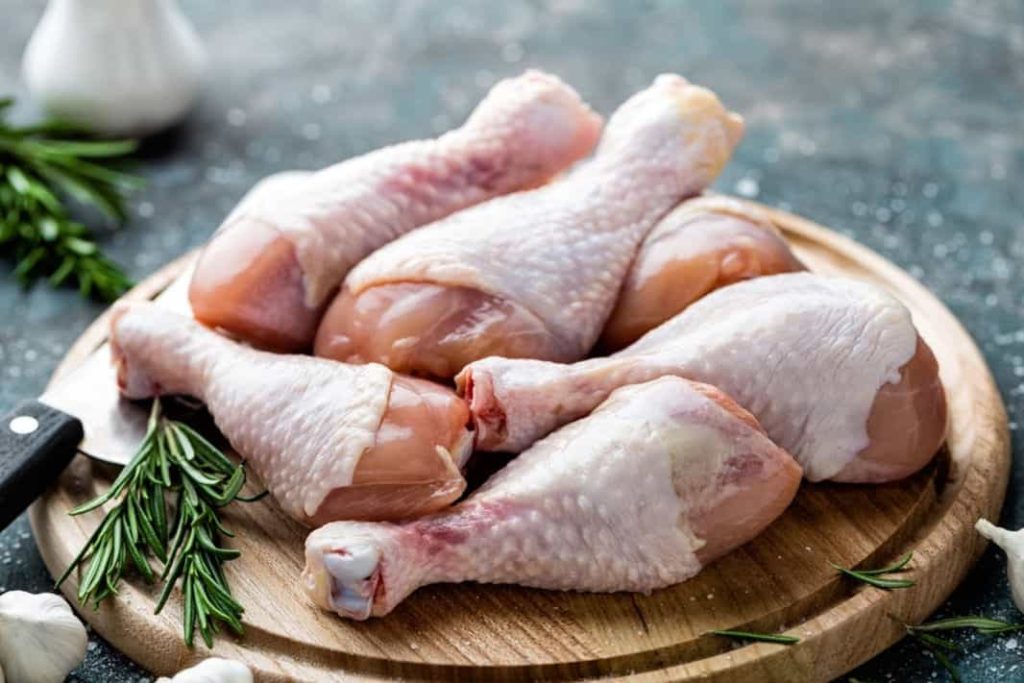 Chicken legs are a commendable source of protein for several compelling reasons.
They offer a complete protein profile, encompassing all essential amino acids necessary for various bodily functions.
This completeness ensures a well-rounded amino acid intake, crucial for optimal health.
Moreover, the protein in chicken legs boasts a high biological value, signifying its efficient utilization by the body for tissue repair and muscle growth.
Its balanced amino acid composition, including essential branched-chain amino acids, further enhances its appeal for supporting fitness goals.
Notably, chicken leg protein is readily digestible, allowing the body to absorb and utilize it effectively.
The versatility of cooking methods adds to its value, accommodating diverse dietary preferences.
Beyond protein, chicken legs also provide essential vitamins, such as B vitamins, and important minerals like iron and zinc.
In essence, their protein content, combined with these attributes, positions chicken legs as a versatile and wholesome option to meet protein needs while embracing broader nutritional benefits.
Recipes that incorporate chicken legs as a protein source.
Oven-Roasted Lemon Herb Chicken Legs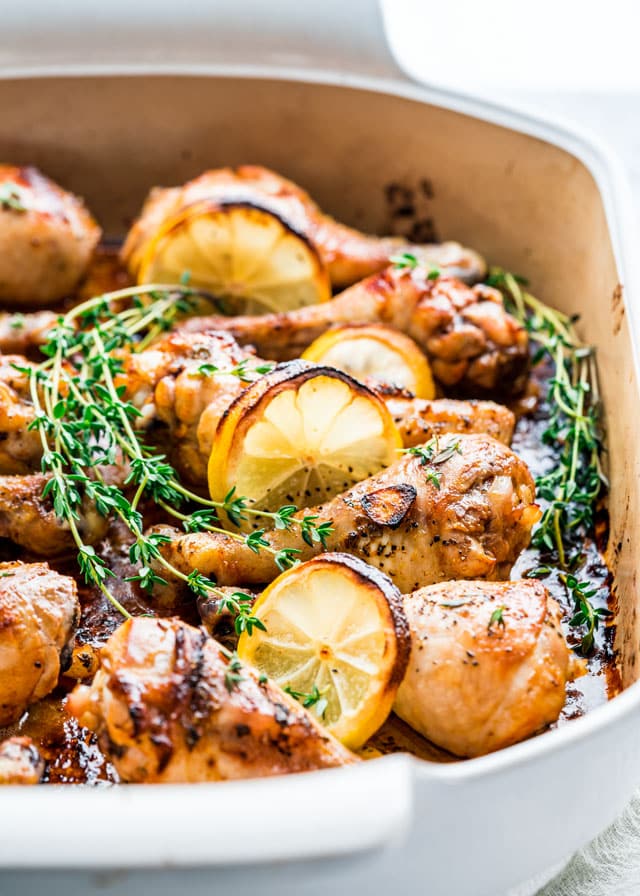 Marinate chicken legs in a mixture of lemon juice, olive oil, minced garlic, fresh herbs (such as rosemary and thyme), salt, and pepper.
Allow the chicken to marinate for at least 30 minutes. Preheat the oven to 375°F (190°C) and place the marinated chicken legs on a baking sheet.
Roast for about 40-45 minutes, until the chicken is cooked through and golden brown. Serve with roasted vegetables and a side of quinoa for a balanced meal.
Honey-Soy Glazed Chicken Legs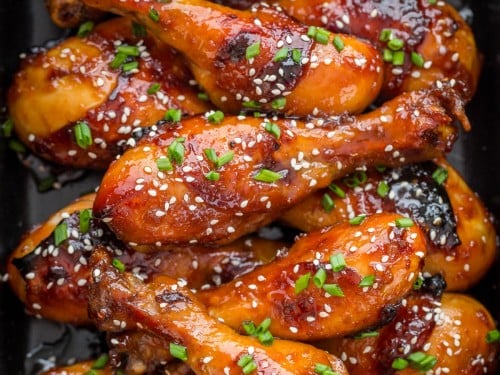 Create a marinade by combining soy sauce, honey, minced ginger, minced garlic, and a splash of sesame oil.
Marinate the chicken legs for at least an hour. Preheat a grill or grill pan over medium-high heat.
Grill the chicken legs for about 6-8 minutes on each side, basting with the remaining marinade as they cook.
The glaze will caramelize, giving the chicken a deliciously sweet and savory coating. Serve with steamed broccoli and brown rice.
Coconut Curry Chicken Legs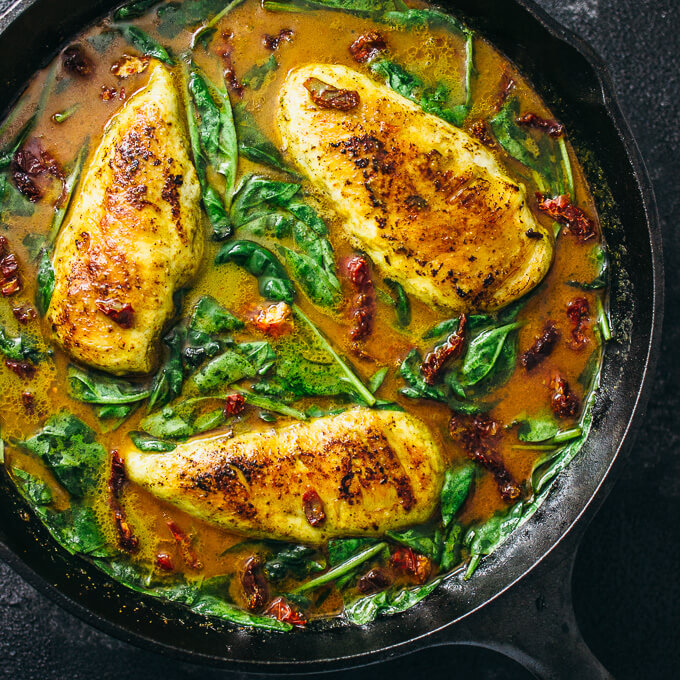 In a large pot, sauté chopped onions, garlic, and ginger in coconut oil until fragrant.
Add curry powder, cumin, and coriander, and cook for another minute.
Add chicken legs, coconut milk, diced tomatoes, and a bit of chicken broth. Simmer for about 30-40 minutes, until the chicken is cooked through and the flavors meld together.
Serve the curry over cooked basmati rice and garnish with fresh cilantro.
Frequently Asked Questions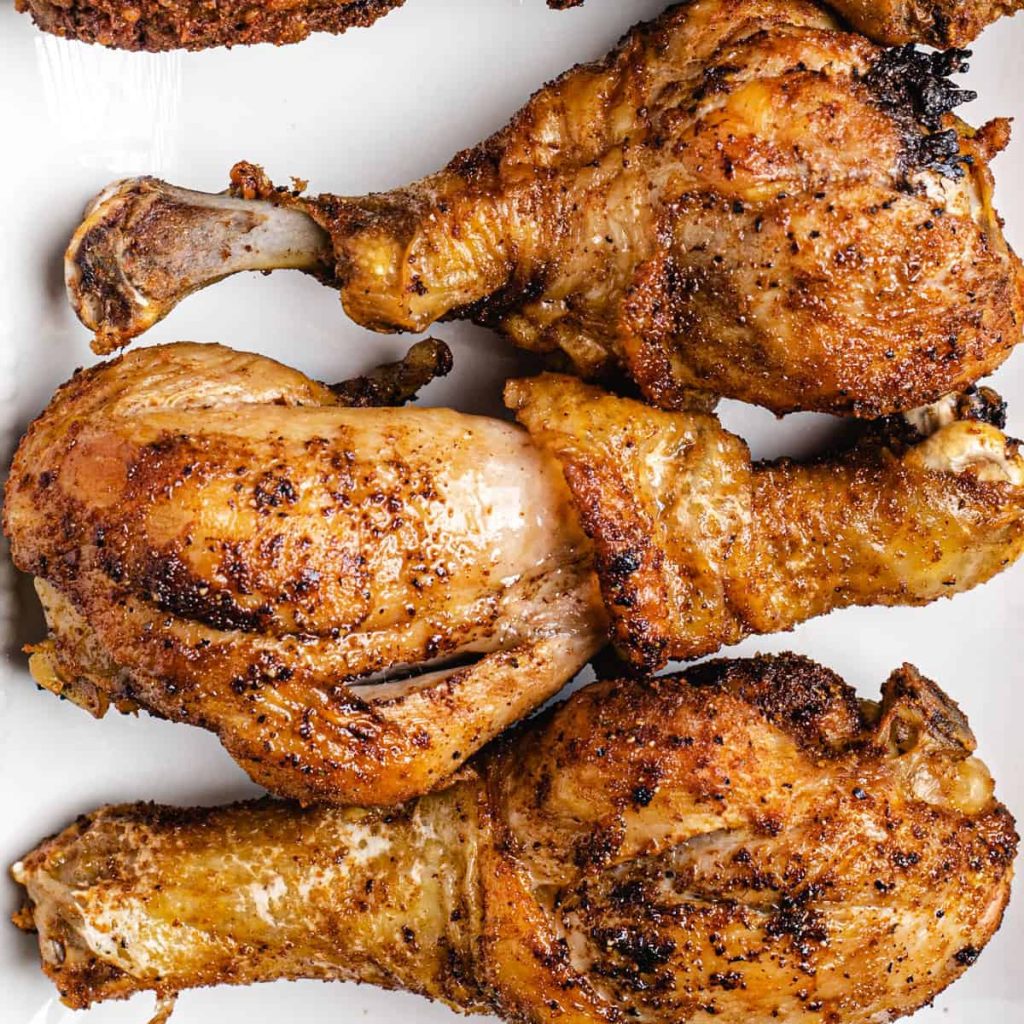 On average, a fried chicken leg, including the coating, provides around 20 to 25 grams of protein.
The exact amount can vary based on factors like size and breading. Remember that frying adds calories and fat, so moderation and balance are key when enjoying fried chicken.
Which Cut of Chicken should you eat for maximum benefit?
For maximum benefits, opt for lean cuts like skinless chicken breast due to its high protein, low fat, and minimal saturated fat content.
While chicken legs and thighs offer flavor and nutrients like iron, they're higher in fat.
Balance your choice based on your goals – chicken breast for low calorie and fat, or skinless dark meat for a richer option in moderation.
What should be your daily intake on protein?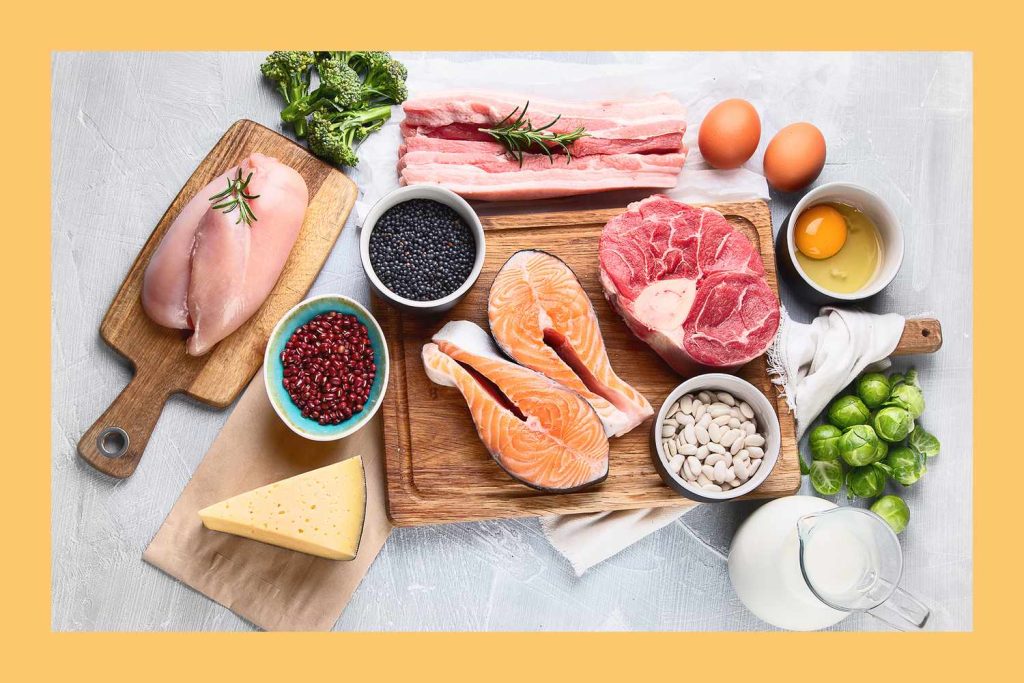 Your daily protein intake depends on various factors such as age, activity level, and goals.
However, a general guideline is to consume around 0.8 to 1.2 grams of protein per kilogram of body weight.
If you're highly active or aiming for muscle gain, you might need more. Balancing your protein intake with a well-rounded diet rich in fruits, vegetables, whole grains, and healthy fats is essential for overall health and well-being.
Consulting a healthcare professional or registered dietitian can help determine your specific protein needs.
Which cut of chicken is best for weight management plans.
For weight management plans, skinless chicken breast is often considered the best cut of chicken.
It's lean, high in protein, and low in fat, making it a favorable choice for those looking to control their calorie intake while still meeting their protein needs.
The low fat content in chicken breast aligns well with weight loss goals, as it provides essential nutrients without contributing excessive calories.
How much protein is in a chicken leg and thigh?
On average, a chicken leg with thigh (which includes both the drumstick and the thigh) provides approximately 20 to 25 grams of protein.
The exact protein content can vary based on factors such as the size of the chicken and its specific nutritional profile.
However, this range gives a good estimation of the protein content you can expect from a standard-sized chicken leg with thigh.
How much protein is in a chicken leg quarter?
A chicken leg quarter typically consists of the thigh and drumstick attached together.
On average, a chicken leg quarter provides around 20 to 25 grams of protein.
This estimation considers the combined protein content of both the thigh and the drumstick.
Keep in mind that the actual protein content can vary depending on factors like the size of the chicken and its specific nutritional characteristics.
How can chicken leg protein support fitness goals?
Chicken leg protein can significantly support fitness goals due to its nutritional value.
Packed with essential amino acids, including muscle-building BCAAs, and boasting a high biological value, it aids in muscle repair, growth, and recovery.
With its lean nature, chicken leg protein fits well into calorie-conscious diets, promoting satiety and weight management.
Its versatility in preparation provides various meal options, catering to different dietary preferences.
The nutrient density of chicken legs contributes to overall health, making them a valuable addition for anyone pursuing fitness objectives.
How much protein is in a chicken leg bone?
The amount of protein in a chicken leg bone is minimal and negligible.
The bone itself consists mainly of collagen and minerals like calcium and phosphorus, but it contains very little protein.
The majority of the protein content in a chicken leg is concentrated in the meat and surrounding tissues.
If you're looking for protein, the meat of the chicken leg is where you'll find the significant protein content.
Which part of chicken is rich in protein?
The chicken breast is one of the richest parts of the chicken in terms of protein content.
It's known for its high protein density and relatively low fat content, making it a popular choice among individuals seeking to increase their protein intake while managing their calorie and fat consumption.
Chicken breasts are often recommended for those focusing on fitness, muscle building, or weight management due to their excellent protein-to-calorie ratio.
Is chicken more protein than egg?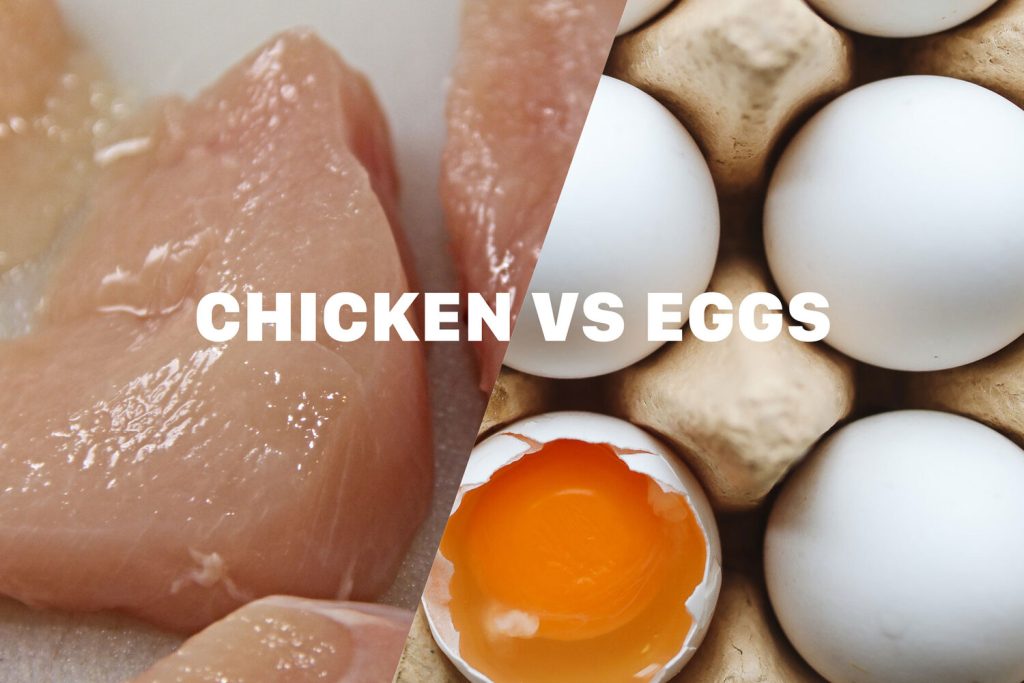 Yes, chicken generally contains more protein than eggs on a per-gram basis.
The protein content in chicken breast is typically higher than that in eggs.
For example, 100 grams of cooked chicken breast may provide around 31 grams of protein, while a large egg contains approximately 6 grams of protein.
However, keep in mind that eggs offer other essential nutrients like vitamins, minerals, and healthy fats, making them a valuable part of a balanced diet alongside chicken and other protein sources.
How much protein do I need to build muscle?
To build muscle, recommended protein intake varies based on factors like age, activity level, and goals.
Generally, aim for 1.2 to 2.0 grams of protein per kilogram of body weight (or 0.54 to 0.91 grams per pound) daily.
For instance, a person weighing 70 kilograms might aim for around 84 to 140 grams of protein daily.
Alongside proper workouts and overall nutrition, meeting protein goals supports effective muscle growth. Consulting experts can provide personalized guidance.
Which protein is best for muscle gain?
The ideal protein sources for muscle gain are those that offer high-quality protein with all essential amino acids.
Lean meats like chicken, turkey, and fish, along with eggs, dairy products, and plant-based options such as beans and tofu, are excellent choices.
These sources provide the building blocks necessary for muscle development.
It's important to maintain a balanced diet that meets your protein needs, alongside effective training and recovery strategies, to achieve optimal muscle growth.
How many eggs can I eat a day?
The recommended daily intake of eggs varies, but most dietary guidelines suggest that consuming up to 1 to 3 eggs per day is generally considered safe and can be a part of a healthy diet for most individuals.
Are fried eggs healthy?
Fried eggs can be a healthy option when cooked with minimal oil and balanced with nutritious accompaniments.
What meat has the most protein in it?
Chicken breast and turkey breast are among the meats with the highest protein content.
Is Rice high in protein?
No, rice is not considered high in protein; it's primarily a carbohydrate source.
Related Articles
The Healthiest Breads To Eat for Weight Loss, According to Dietitians
Chicken Tenderloin Vs. Breast – Which Is The Best Cut?
How Many Calories in Chicken? Exploring the Caloric Content of Different Cuts
McDonald's Spicy Chicken McNuggets returns along with new Honey Butter McShaker
20 Delicious Things to Eat Together When You're Pressed for Food Options
McDonald's Spicy Chicken Sandwich.
Is chickpea pasta healthy at all?
Conclusion