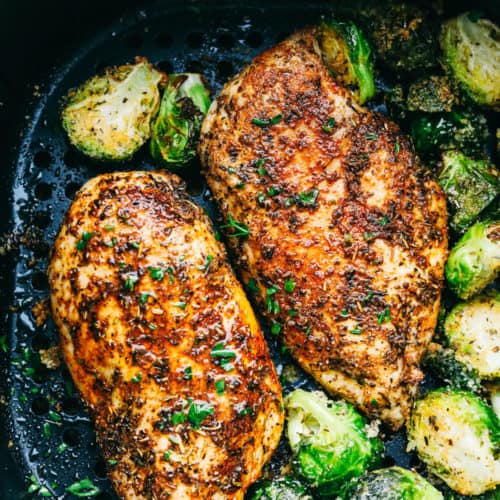 Air Fryer Chicken Breast Recipe is a game-changer, allowing you to enjoy the savory goodness of chicken breast without compromising on flavor or texture.
Whether you're a seasoned home cook or just starting your culinary journey, the air fryer is a must-have appliance in your kitchen.
Say goodbye to the hassle of lengthy cooking times and excessive oil usage; with the air fryer, you'll be savoring perfectly cooked chicken breast in no time.
Now, let's embark on a culinary adventure as we explore the benefits, step-by-step instructions, mouthwatering variations, and expert tips for achieving chicken breast perfection in your air fryer. (see also: Healthy, Easy, Tender And Juicy Air Fryer Naked Chicken.)
In this comprehensive guide, we'll cover everything you need to know to master the art of air frying chicken breast, from selecting the right ingredients to perfecting your cooking technique.
So, whether you're a busy parent looking for a quick weeknight dinner solution or a food enthusiast eager to experiment with new recipes, this blog post is your ticket to culinary success.
Now, without further ado, let's dive into the world of air fryer chicken breast recipes and discover how to make mouthwatering meals that cook in less time, using your trusty air fryer. (see also:Easy, Quick, And Juicy Air Fryer Hamburgers)
Benefits of Using an Air Fryer for Chicken Breast
If you're wondering why you should embrace the air fryer craze for cooking chicken breast, let's explore the myriad of benefits that make this method a true kitchen game-changer.
1. Reduced Oil Usage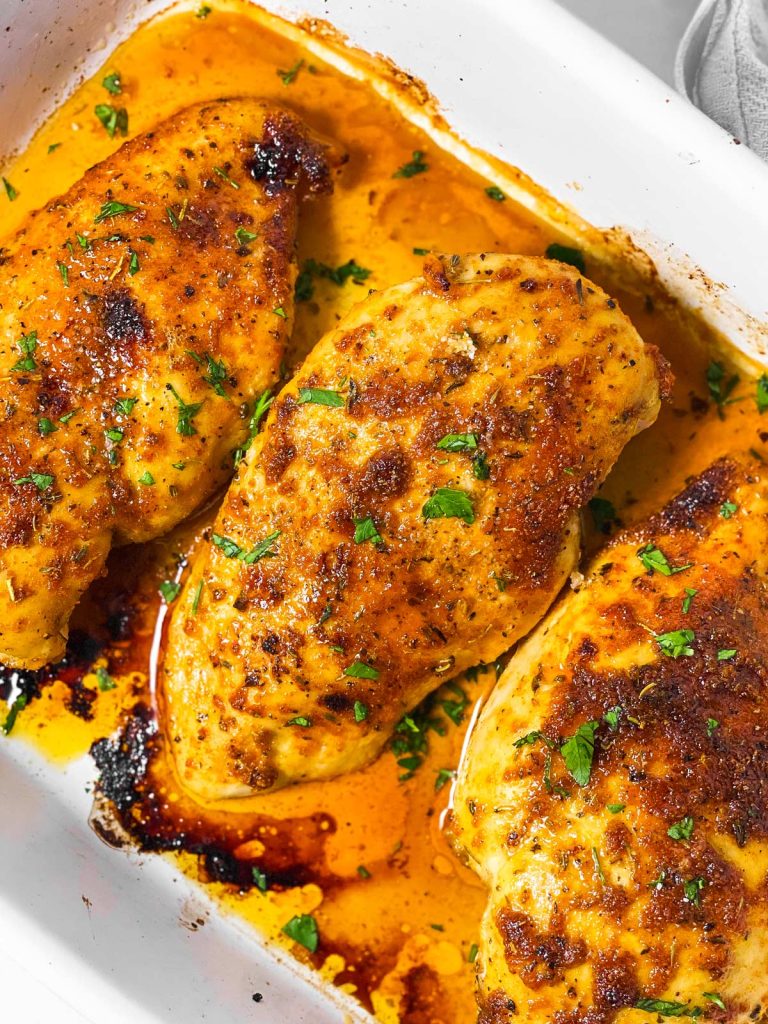 One of the most significant advantages of air frying is the dramatic reduction in oil usage compared to traditional frying methods.
With an air fryer, you can achieve that delightful crispy exterior with just a fraction of the oil you'd typically need.
This not only makes your meal healthier but also reduces unnecessary calories and saturated fats, making it a wise choice for those conscious of their dietary intake.
2. Quicker Cooking Times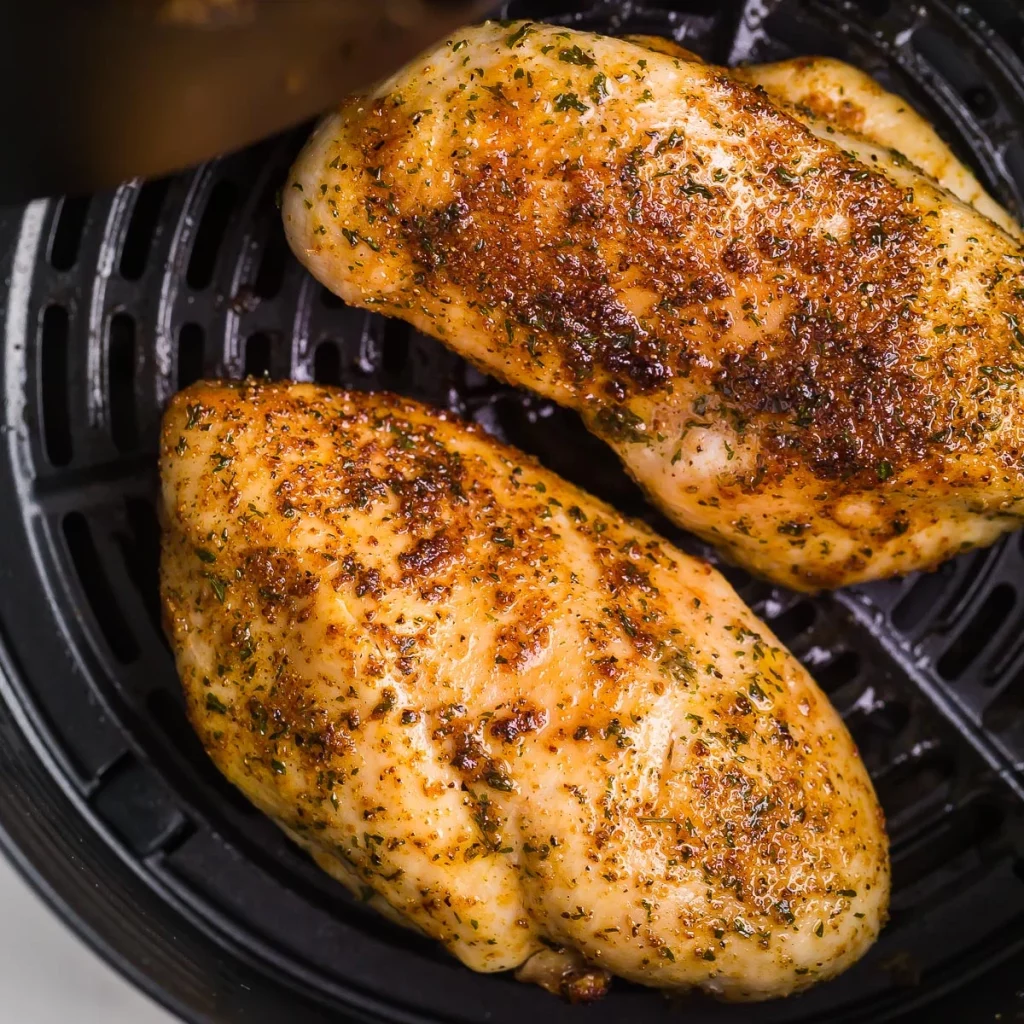 Time is precious in today's fast-paced world, and the air fryer respects that.
When it comes to cooking chicken breast, the air fryer is your best friend.
It cooks your chicken breast in record time, significantly faster than conventional oven baking.
Say goodbye to long preheating and waiting for your chicken to cook through—it's all about efficiency. (see also: The BEST Way to Air Fry Trader Joe's Orange Chicken: A Step-by-Step Guide)
3. Crispy Exterior, Juicy Interior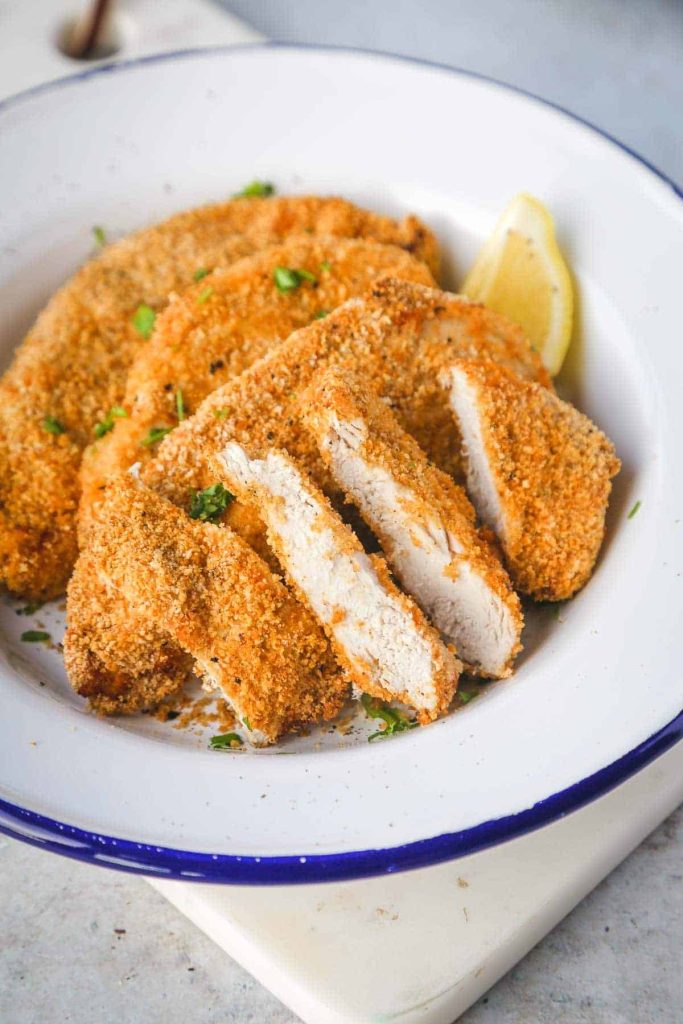 One of the culinary wonders of air frying is its ability to create a crispy, golden-brown exterior while locking in the juices, ensuring your chicken breast remains tender and succulent on the inside.
It achieves this by circulating hot air around the food, creating that crave-worthy texture that rivals deep frying, but without the excess oil.
4. Health Benefits of Using Less Oil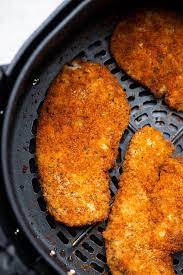 By using significantly less oil, air frying aligns with health-conscious cooking.
It minimizes the consumption of unhealthy fats while preserving the natural flavors of your ingredients.
Your chicken breast retains its nutritional value and tastes better than ever.
5. Easy Cleanup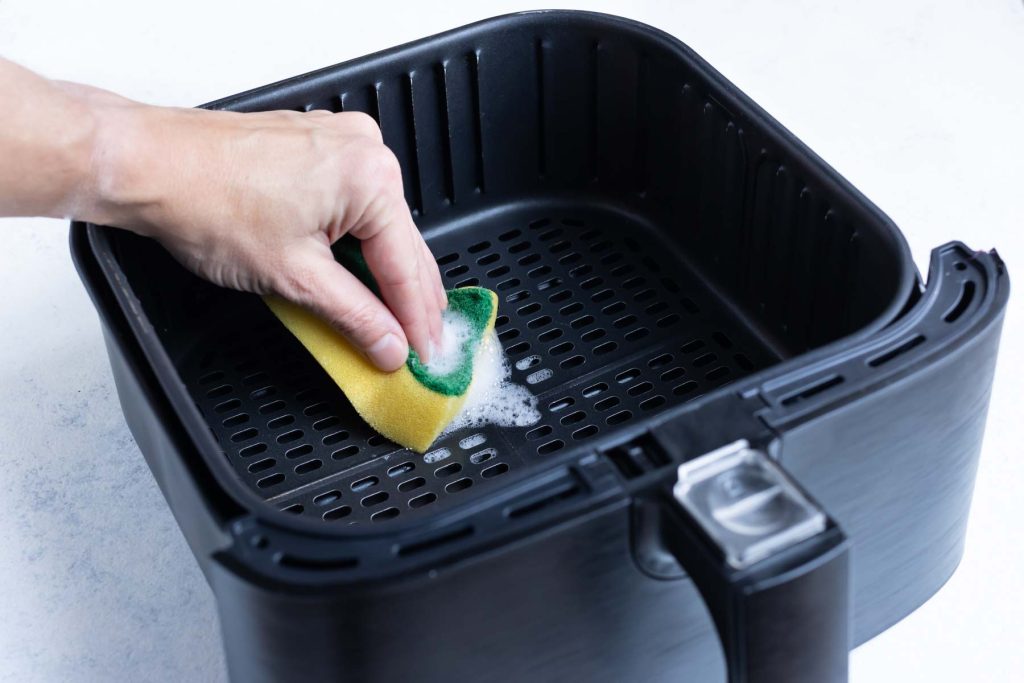 Cleaning up after cooking can be a chore, but not with an air fryer.
The minimal use of oil means there's less splattering and mess to contend with.
Plus, many air fryer components are dishwasher safe, making cleanup a breeze.
6. Versatility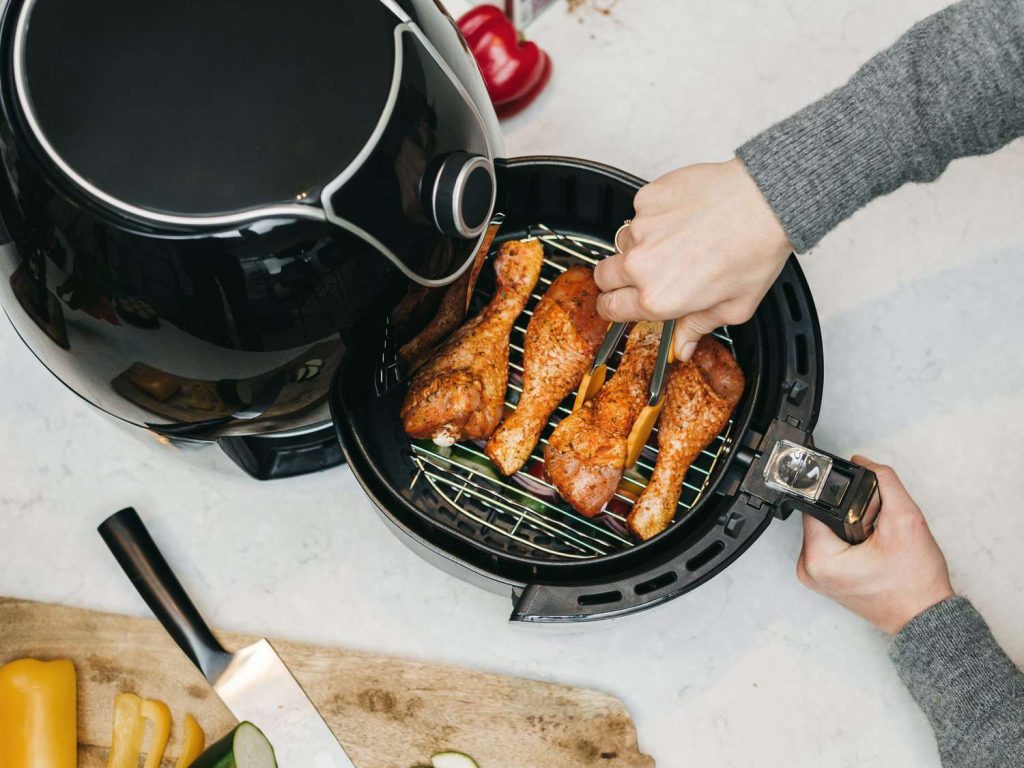 While we're focusing on chicken breast today, it's important to note that air fryers are incredibly versatile appliances.
You can use them to cook a wide variety of dishes, from crispy fries to perfectly roasted vegetables and even delectable desserts.
Step-by-Step Cooking Instructions
Now that we've gathered our ingredients, it's time to dive into the heart of our air fryer chicken breast recipe. Follow these detailed step-by-step instructions to achieve chicken perfection in your air fryer.
Step 1: Preheat Your Air Fryer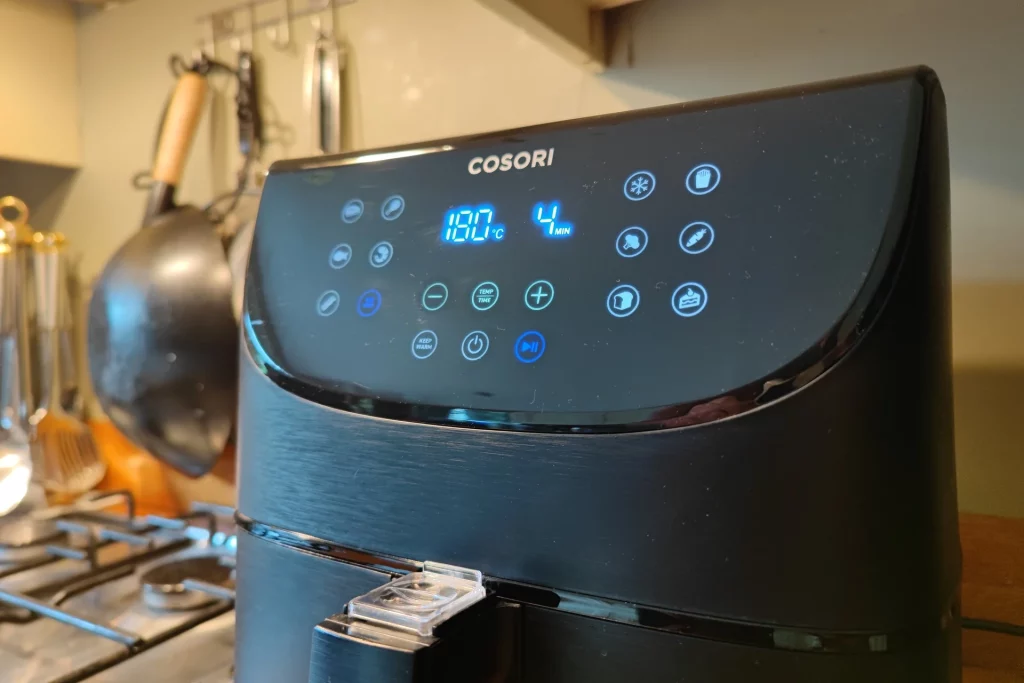 Preheating your air fryer is essential for achieving that perfect crispiness. Set the temperature to 375°F (190°C) and allow it to preheat for about 3-5 minutes.
Step 2: Prepare the Chicken Breast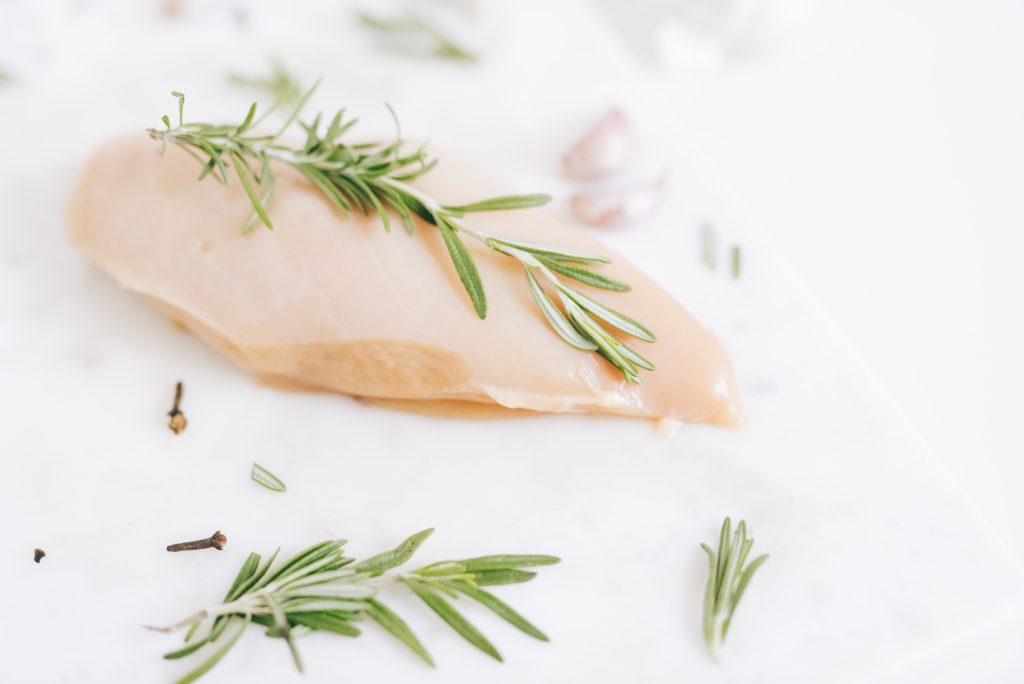 Start by ensuring your chicken breasts are at room temperature. This allows for even cooking.
If you want to make breaded chicken, dip each chicken breast into beaten egg and then coat it in your choice of breadcrumbs or Parmesan cheese. Press the coating firmly onto the chicken to ensure it sticks.
Step 3: Season Your Chicken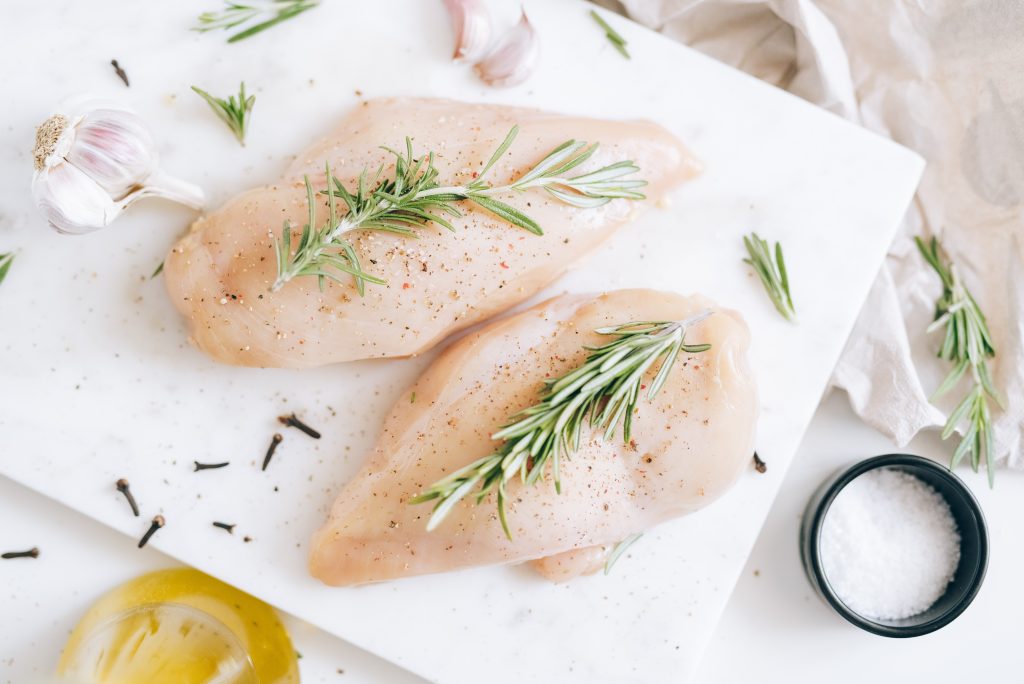 Season your chicken breast generously with your chosen seasonings. For a basic recipe, a sprinkle of salt, black pepper, and a light drizzle of olive oil will do the trick. For more adventurous flavors, use your preferred seasoning mix.
Step 4: Arrange in the Air Fryer Basket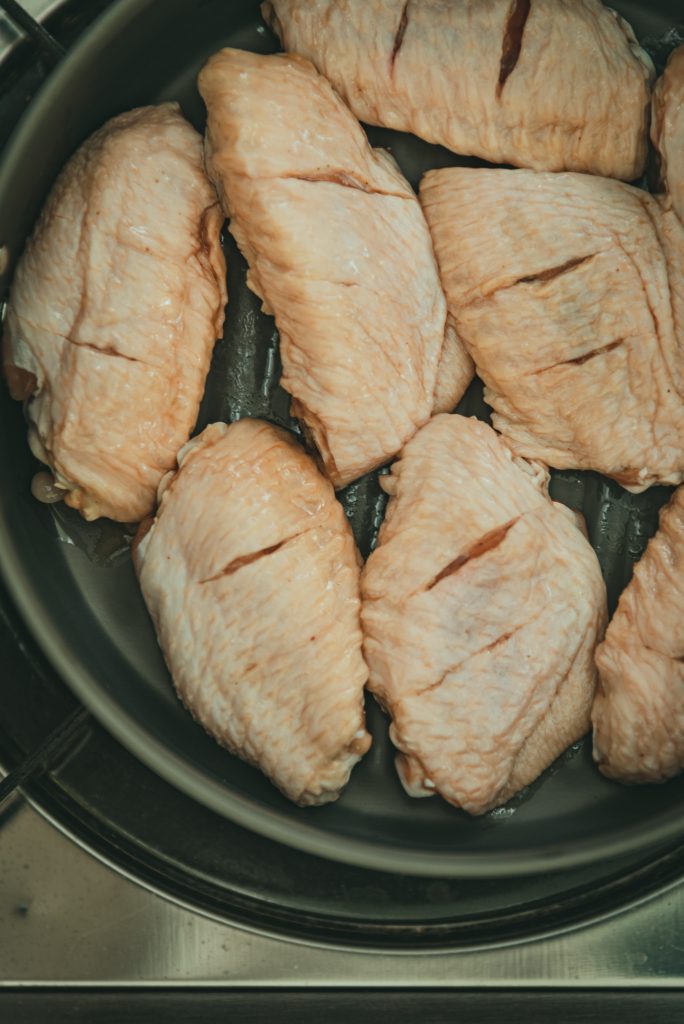 Lightly grease the air fryer basket or tray to prevent sticking.
Place the seasoned chicken breasts in the basket, ensuring they're not overcrowded. If necessary, cook in batches to maintain proper airflow for even cooking.
Step 5: Air Fry Your Chicken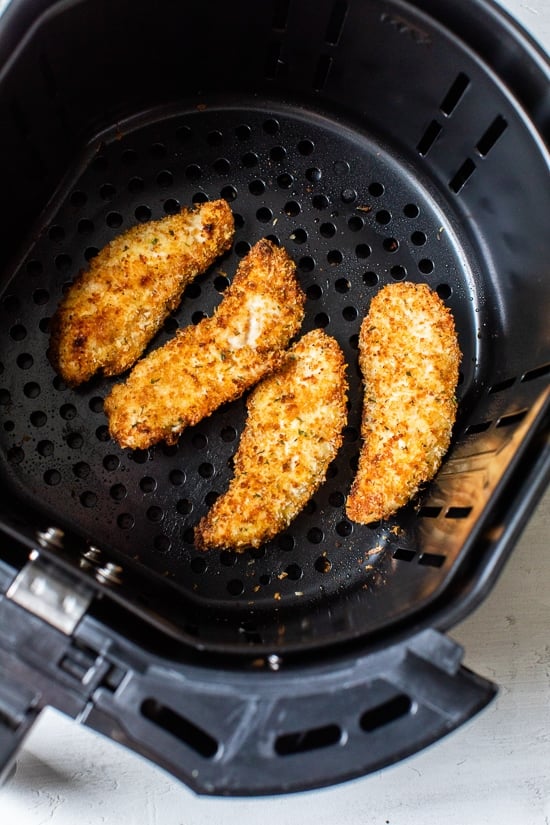 Set the air fryer to 375°F (190°C) and cook the chicken breasts for 20-25 minutes, flipping them halfway through. Cooking times may vary slightly based on the thickness of your chicken breasts and the specific model of your air fryer.
To ensure your chicken is perfectly cooked, use a meat thermometer to check the internal temperature. It should reach 165°F (74°C).
Step 6: Rest and Serve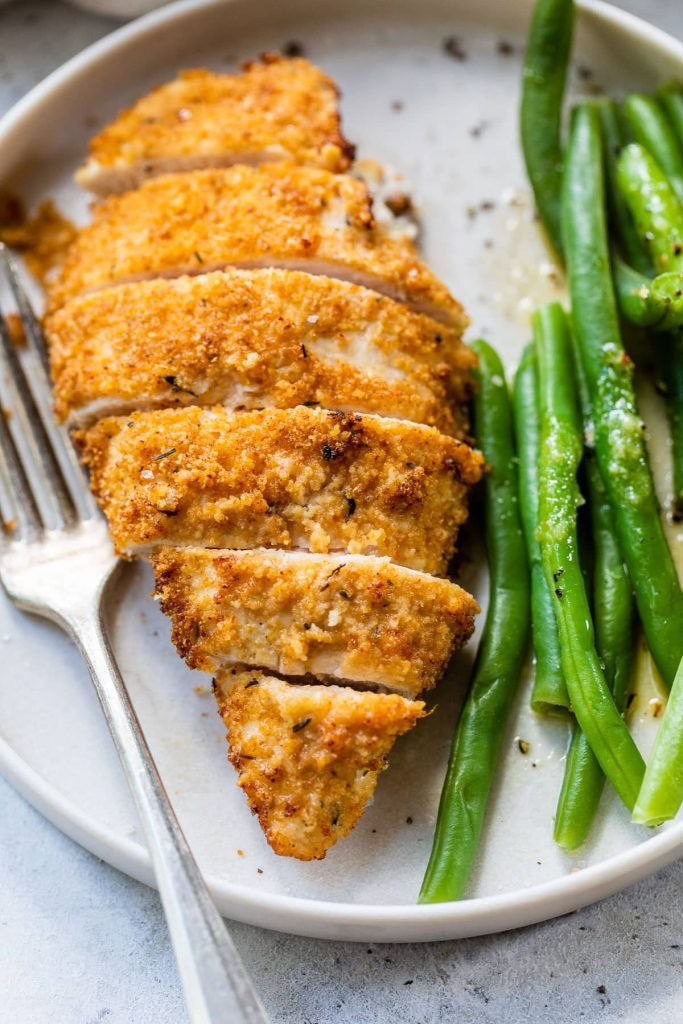 Once your chicken reaches the desired temperature, remove it from the air fryer and let it rest for a few minutes. This allows the juices to redistribute, ensuring a juicy bite with every bite.
Garnish with fresh herbs, a squeeze of lemon or lime, or any additional toppings you desire.
Remember that air fryer models may vary slightly in temperature accuracy and cooking times, so it's essential to keep an eye on your chicken as it cooks, especially the first time you try this recipe.
The result should be perfectly crispy on the outside and tender on the inside, with a burst of flavor from your chosen seasonings.
With these step-by-step instructions, you're well on your way to mastering the art of air fryer chicken breast.
It's a quick, hassle-free, and delicious way to enjoy this versatile protein, and the preheating step is key to achieving the best results.
So, fire up your air fryer and savor the magic of perfectly cooked chicken breast in less time than you ever thought possible.
Tips for Perfectly Cooked Chicken Breast
Cooking chicken breast in an air fryer is a breeze, but to ensure your meal is a resounding success, let's delve into some expert tips to help you avoid common pitfalls and achieve perfectly cooked chicken breast every time.
1. Avoid Overcooking or Undercooking
Overcooking can result in dry, tough chicken breast, while undercooking can be unsafe to eat. To strike the perfect balance, follow recommended cooking times, and always check the internal temperature (more on this below).
2. Use a Meat Thermometer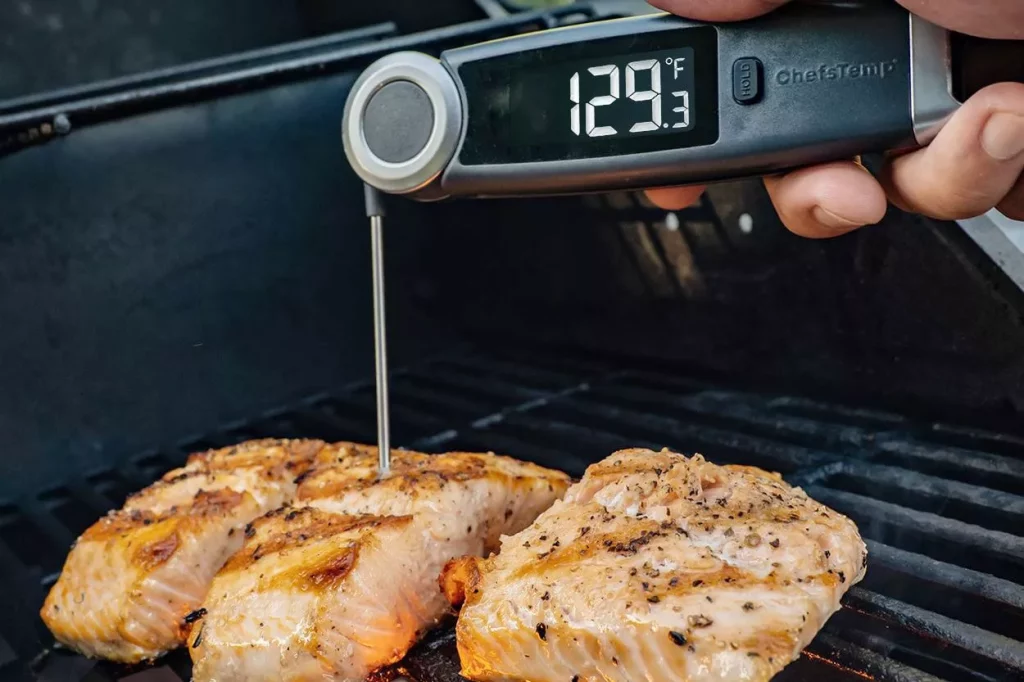 Invest in a reliable meat thermometer; it's your best friend in the kitchen. Check the thickest part of the chicken breast to ensure it reaches an internal temperature of 165°F (74°C). This temperature guarantees that your chicken is both safe to eat and perfectly juicy.
3. Patience Pays Off
Resist the temptation to constantly check on your chicken while it's cooking. Opening the air fryer prematurely can disrupt the cooking process and affect the outcome. Trust the timer and let the air fryer work its magic.
4. Let It Rest
After your chicken reaches the desired internal temperature, remove it from the air fryer, and let it rest for 3-5 minutes. This resting period allows the juices to redistribute within the meat, ensuring a moist and tender result when you cut into it.
5. Adjust for Thickness
Thicker chicken breasts may require slightly longer cooking times. If your chicken breasts are on the thicker side, consider pounding them to a uniform thickness or adjusting the cooking time accordingly.
6. Properly Season
Don't skimp on seasoning. Season your chicken generously to infuse flavor into every bite. Whether you're using a simple salt and pepper combo or a more complex seasoning mix, season both sides of the chicken evenly.
7. Lightly Oil the Chicken
While air frying requires less oil, a light drizzle of olive oil over the chicken before seasoning can enhance crispiness and flavor.
8. Monitor Airflow
Ensure that your chicken breasts are not overcrowded in the air fryer basket. Proper spacing allows for better airflow, leading to even cooking. If needed, cook in batches.
9. Experiment with Seasonings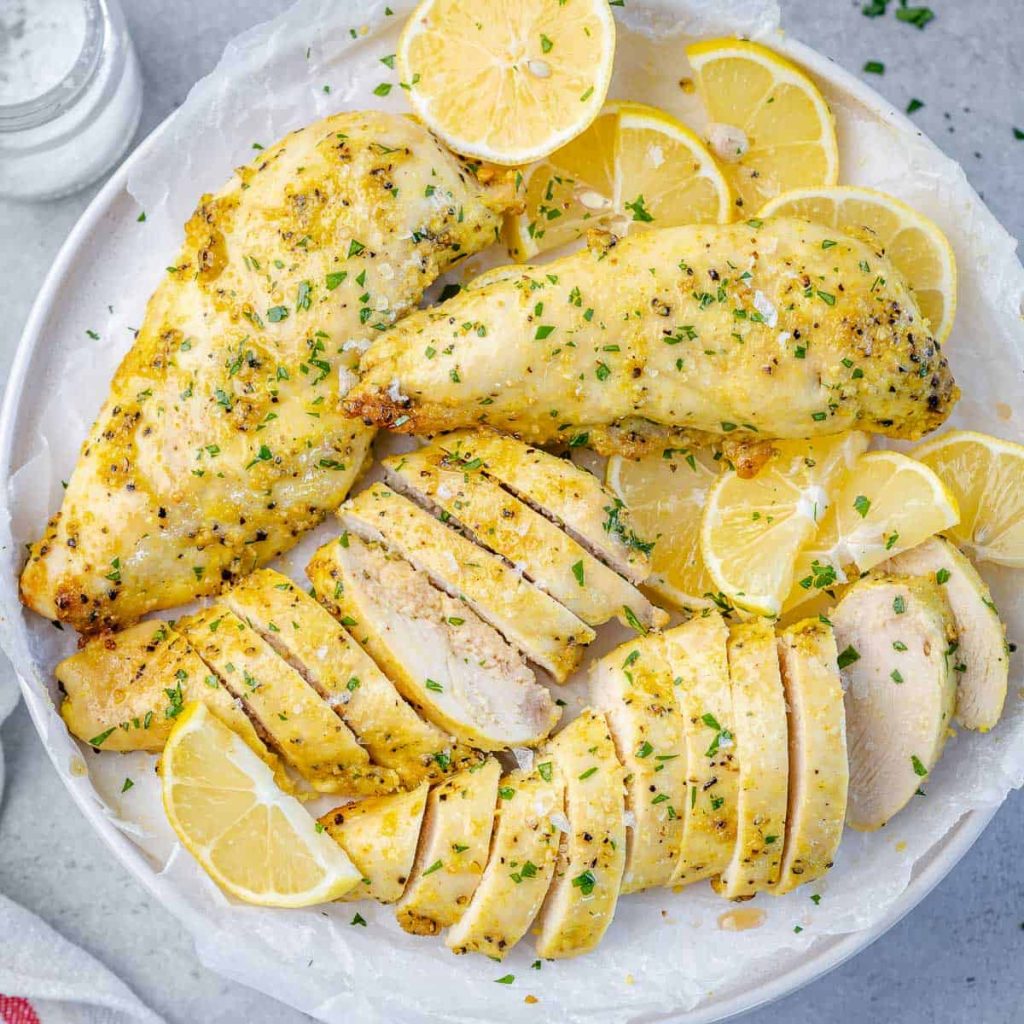 Get creative with your seasoning choices to keep your chicken breast recipes exciting. Try different spice blends, herbs, or marinades to discover new flavors.
10. Practice Makes Perfect
Don't be discouraged if your first attempt isn't flawless. Air fryer cooking can vary depending on the model and thickness of the chicken. Adjustments may be needed to find your perfect cooking time.
By following these tips, you'll be well-prepared to avoid the common pitfalls of overcooking or undercooking your chicken breast in the air fryer.
Remember that achieving the ideal internal temperature with a meat thermometer is your ultimate key to success.
With practice, you'll become a pro at creating perfectly cooked, juicy chicken breast that's sure to impress your family and friends.
So, don't hesitate to put these tips into action and elevate your air fryer chicken breast game to new heights.
Serving Suggestions
Now that your air-fried chicken breast is perfectly cooked and bursting with flavor, it's time to explore a variety of delectable side dishes, sauces, and salads that will elevate your meal to a culinary masterpiece.
Let's dive into some creative serving suggestions that will tantalize your taste buds and ensure a complete and satisfying dining experience.
1. Classic Pairings: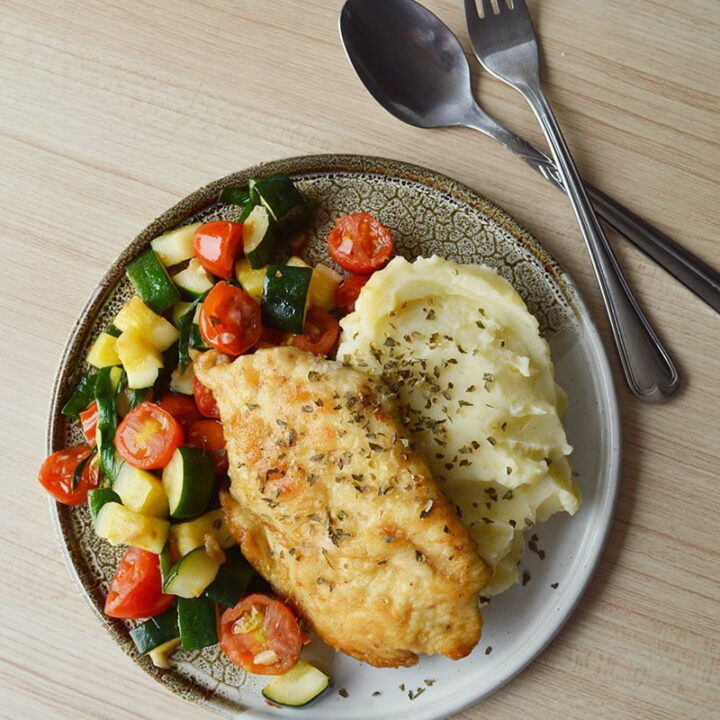 Mashed Potatoes: Creamy mashed potatoes complement the savory goodness of chicken breast beautifully.
Steamed Vegetables: A medley of steamed broccoli, carrots, and green beans adds color, nutrition, and a crisp contrast to your meal.
Gravy: Pour a generous ladle of rich, homemade gravy over your chicken for a comforting touch.
2. Mediterranean Flavors: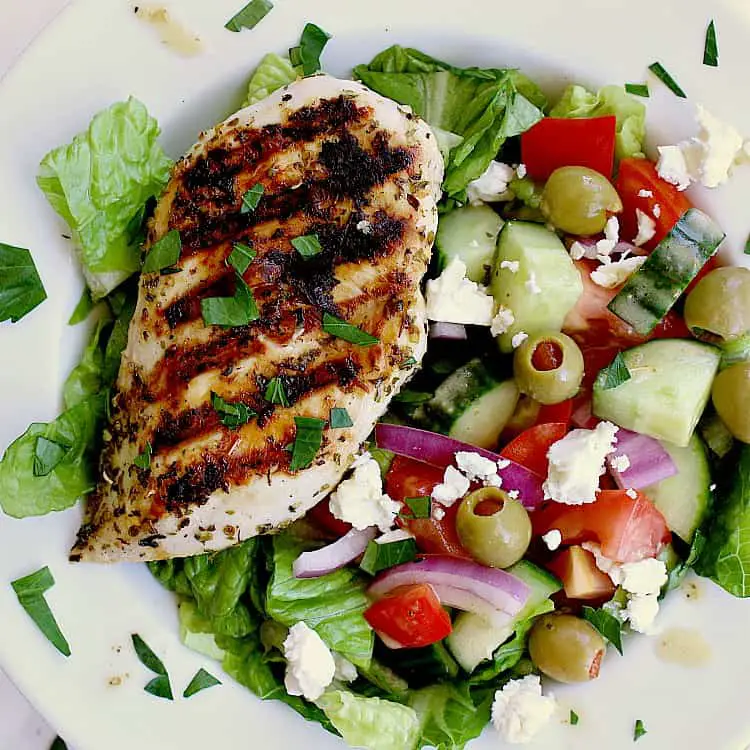 Greek Salad: A refreshing Greek salad with cucumbers, tomatoes, olives, and feta cheese drizzled with tzatziki sauce provides a tangy contrast to your chicken.
Hummus and Pita Bread: Serve with warm pita bread and creamy hummus for a Middle Eastern twist.
3. Asian Inspirations: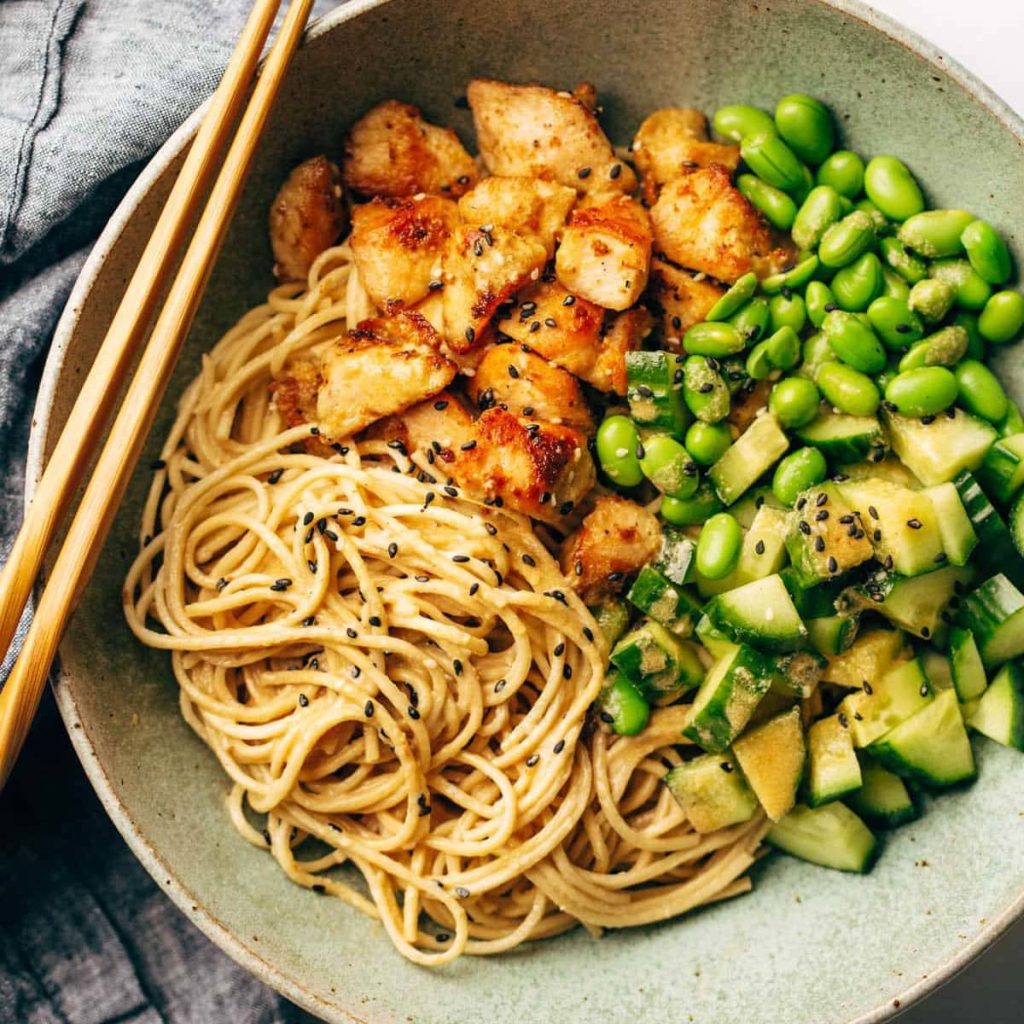 Stir-Fried Veggies: Create a quick stir-fry with bell peppers, snap peas, and carrots in a savory soy sauce.
Sesame Noodles: Pair with sesame noodles tossed in a flavorful sesame dressing.
4. Tex-Mex Fiesta: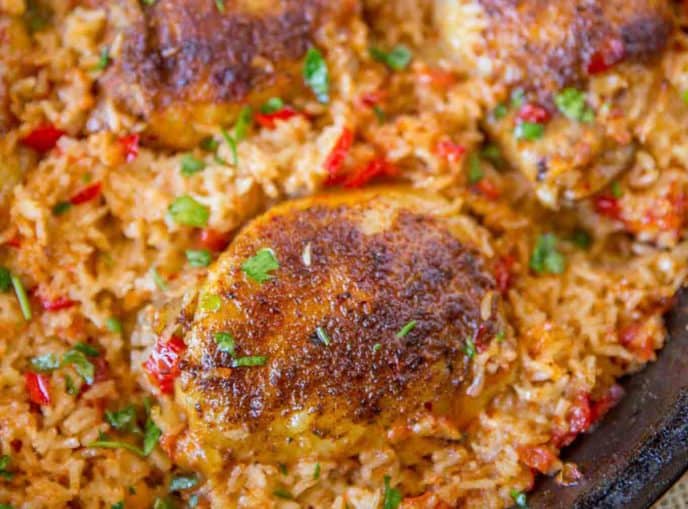 Mexican Rice: A side of flavorful Mexican rice with black beans and corn makes for a satisfying meal.
Guacamole and Salsa: Dive into fresh guacamole and salsa for a burst of zesty flavors.
6. Sauces and Condiments: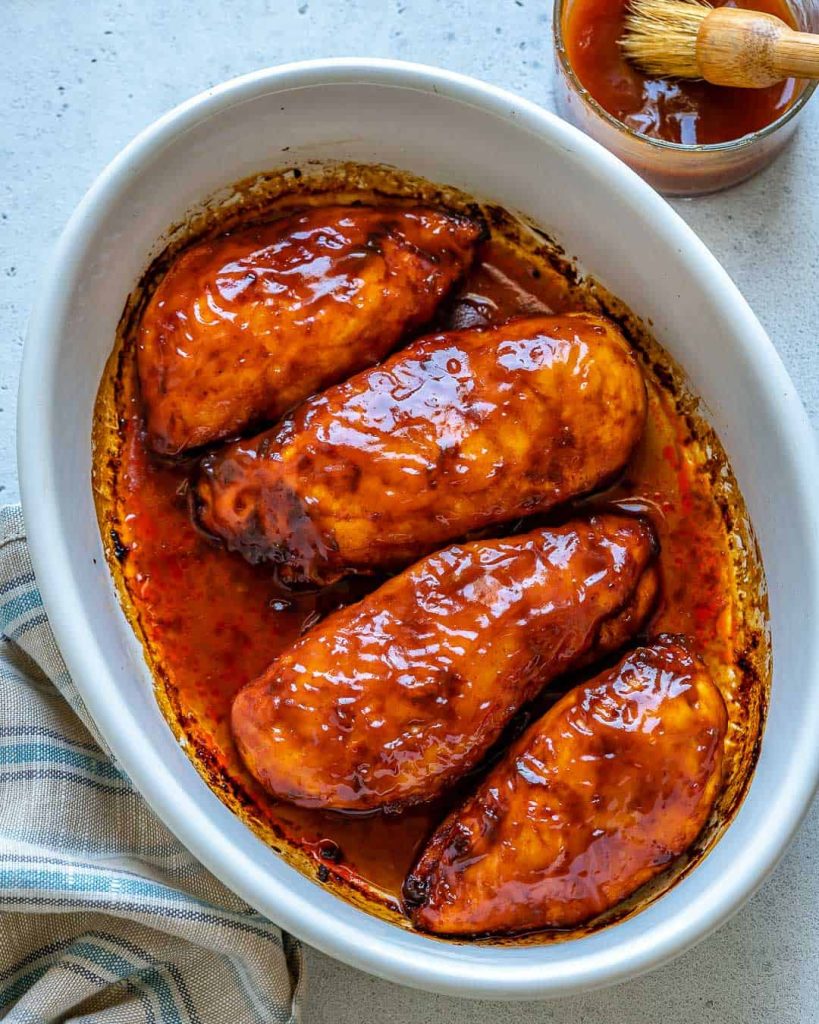 Barbecue Sauce: Brush on your favorite barbecue sauce for a smoky, tangy kick.
Honey Mustard: A sweet and tangy honey mustard sauce complements the chicken's flavors beautifully.
Buffalo Sauce: If you crave some heat, toss your chicken in buffalo sauce and serve with celery sticks and ranch dressing.
7. Bread and Rolls: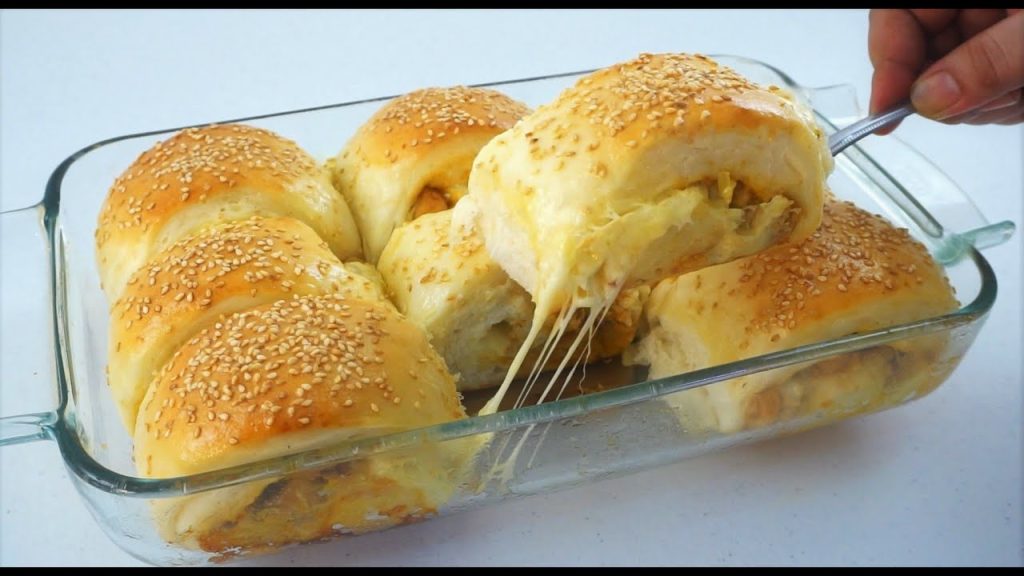 Freshly Baked Dinner Rolls: Warm, fluffy dinner rolls or crusty bread are excellent for soaking up any leftover sauce or gravy.
8. Beverages: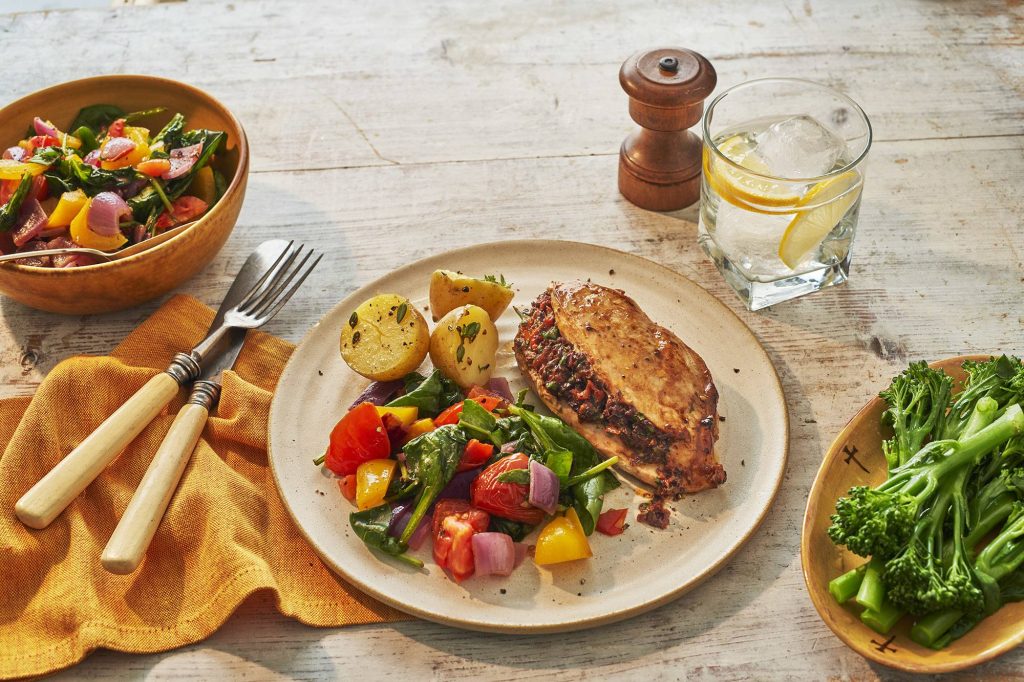 Iced Tea: A glass of iced tea, whether sweetened or unsweetened, is a refreshing choice.
White Wine: For an elegant touch, pair your meal with a crisp white wine like Chardonnay or Sauvignon Blanc.
Frequently Asked Questions
How long does it take chicken breast in air fryer?
On average, it takes about 15-20 minutes to cook a chicken breast in an air fryer at a temperature of 375°F (190°C).
How does an air fryer cook chicken so fast?
An air fryer cooks chicken so fast due to its unique cooking method. Unlike traditional deep frying, which requires submerging the food in oil, an air fryer uses hot air circulation to cook the chicken.
Can you put raw chicken in an air fryer?
Yes, you can put raw chicken in an air fryer.
Does air fryer cook chicken faster than oven?
Yes, an air fryer does cook chicken faster than an oven. The main reason for this is the air circulation in an air fryer.
What is the best air fryer chicken breast?
The best air fryer chicken breast is one that is crispy on the outside and juicy on the inside.

Can i cook stuffed chicken breast in air fryer?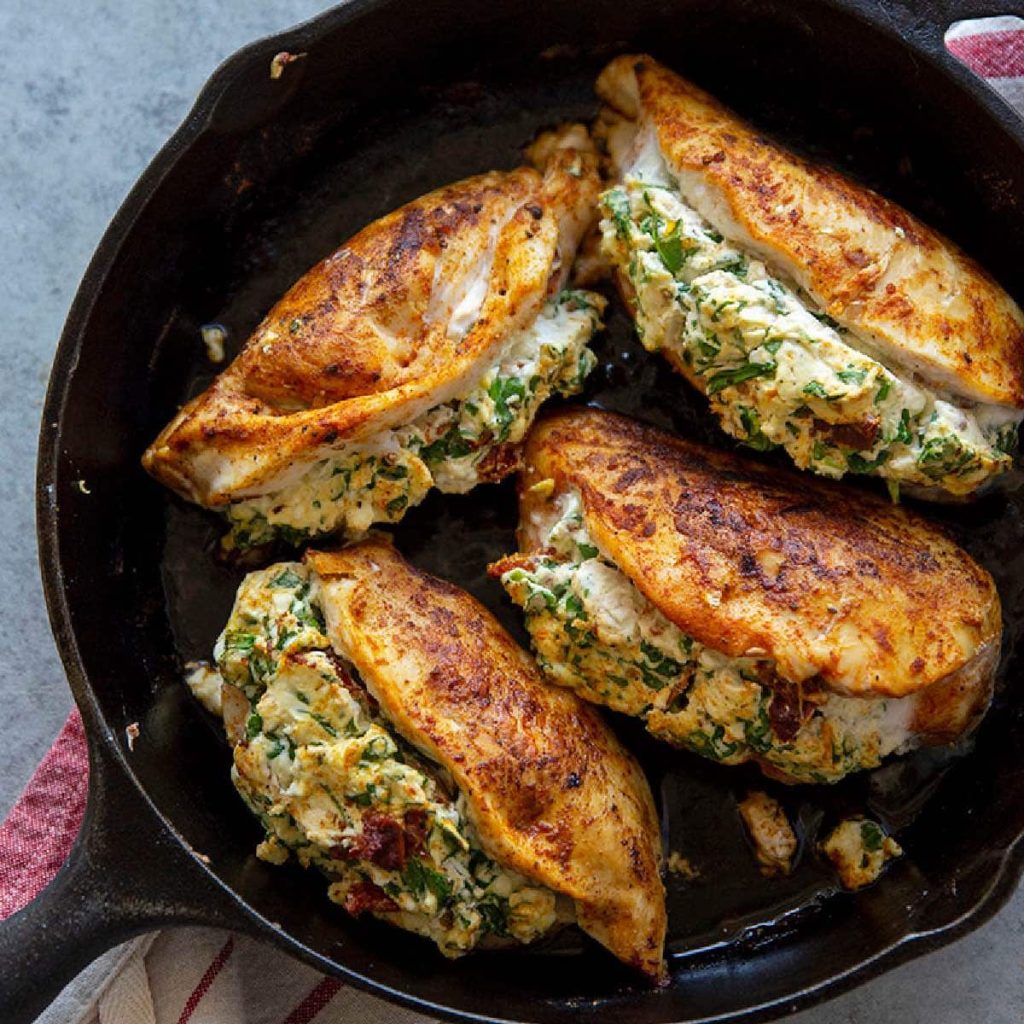 Yes, you can definitely cook stuffed chicken breast in an air fryer. The air fryer is a versatile kitchen appliance that can be used to cook a variety of dishes, including stuffed chicken breast.
Is it faster to air fry or bake chicken?
The cooking time for chicken can vary depending on the method used. However, in general, air frying tends to be faster than baking when it comes to cooking chicken.

Can I cook chicken fillets in air fryer?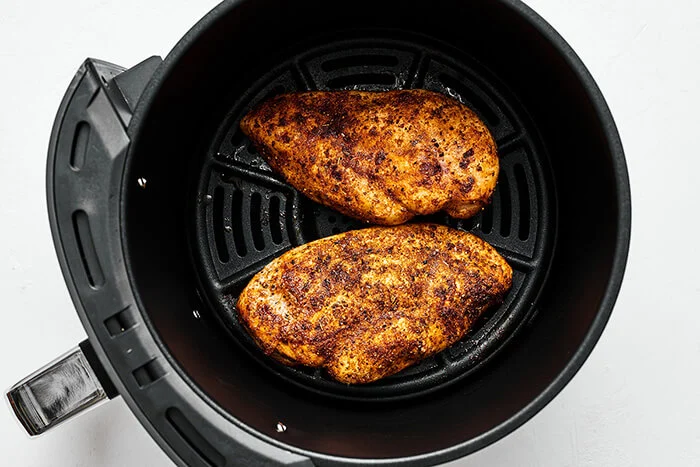 Yes, you can definitely cook chicken fillets in an air fryer. In fact, cooking chicken fillets in an air fryer is a great way to achieve a crispy and delicious result without using excessive oil.
Related Articles
The BEST Way to Air Fry Trader Joe's Orange Chicken: A Step-by-Step Guide
Quick and Tasty Air Fried Pork Belly
Perfect Air Fryer Orange Chicken Everytime
Crispy & Tender Air Fryer Chicken Fried Steak
McDonald's Spicy Chicken McNuggets returns along with new Honey Butter McShaker
McDonald's Spicy Chicken Sandwich.
Conclusion
Now, it's your turn to take the reins in the kitchen and experiment with different flavors and seasonings.
The versatility of air fryer chicken breast recipes allows you to create culinary masterpieces that suit your taste buds and dietary preferences.
So, don't hesitate to fire up your air fryer and try our mouthwatering chicken breast recipe today.
Whether you keep it classic or venture into exciting flavor combinations, we guarantee that your taste buds will be delighted.