The heart of every home is undoubtedly the kitchen, and at the center of that kitchen is often the unsung hero: the oven. From baking mouthwatering treats to preparing hearty family meals, the oven plays a pivotal role.
However, over time, it accumulates layers of grease, burnt food, and mystery residue that can be intimidating to tackle. Fear not, for we've crafted a comprehensive guide that unveils 17 untapped oven cleaning hacks suitable for every home.
In this simple guide, we're go through the secrets of transforming your oven from grimy to gleaming without the hassle. You can also check our 13 Bakery Rules And Regulations.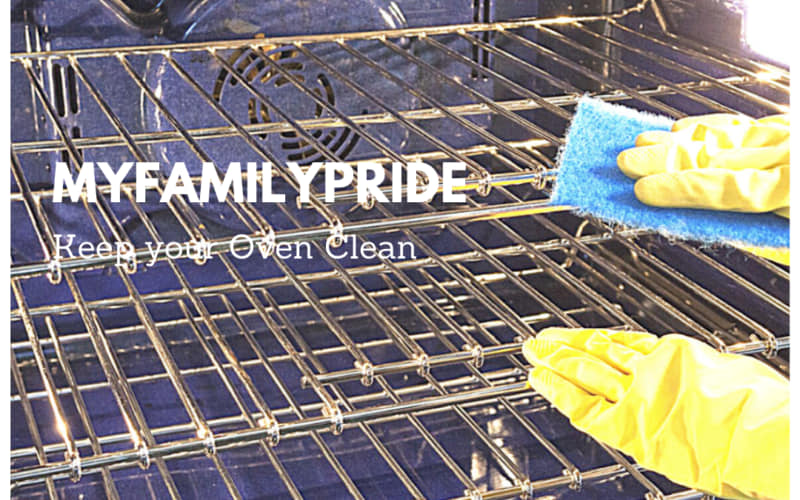 From easy-to-find household ingredients to innovative techniques, you'll discover a treasure trove of methods that make oven cleaning a breeze.
Whether you're a seasoned home chef or a busy parent, our hacks are tailored to simplify your life and leave your oven looking as good as new.
Say goodbye to scouring and scrubbing, and say hello to a cleaner, more efficient kitchen with these tried-and-tested hacks.
Join us as we unveil the power of natural solutions and innovative approaches, ensuring your oven not only cooks your meals to perfection but also shines like a star in your culinary haven. It's time to embark on a journey of oven-cleaning enlightenment – let's dive into these 17 game-changing hacks.
1. Baking Soda and Vinegar
Create a paste by mixing baking soda and water. Spread it over the interior surfaces of the oven, avoiding the heating elements.
Spray white vinegar over the baking soda to create a fizzing reaction that helps loosen grime.
Let it sit for a few hours or overnight.
Scrub away the residue with a sponge or cloth.
2. Lemon and Water
Place a heat-resistant bowl filled with water and lemon slices in the oven.
Preheat the oven to a low temperature (around 250°F or 120°C) for about 30 minutes.
Turn off the oven and let it cool slightly.
Wipe away loosened debris with a damp cloth.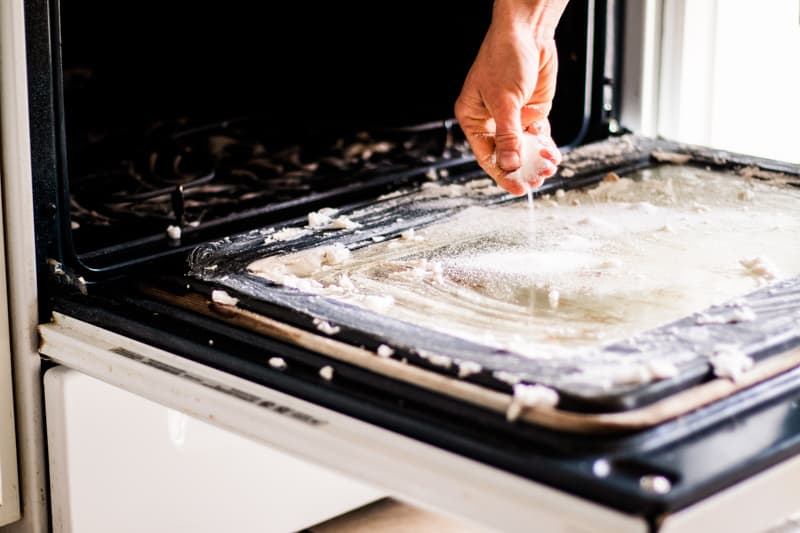 3. Commercial Oven Cleaner
Put on gloves, eye protection, and open windows for ventilation. Ensure oven is cool before starting.
Take out racks and trays. Follow instructions on the label, avoiding heating elements.
Let cleaner sit for recommended time. Gently scrub with brush or pad. Use damp cloth to wipe down surfaces.
Follow label instructions for rinsing.
Put racks and trays back.Follow disposal instructions.
Keep area well-ventilated.Prioritize safety and follow instructions closely.
4. Use of rubber gloves
Put on sturdy rubber gloves before cleaning your oven to protect your hands. Choose gloves that fit well and cover your wrists.
Use them to apply cleaning agents, scrub away grime, and rinse surfaces. When finished, peel off gloves from wrists down.
Rinse gloves and store for future use. Wash your hands after removing gloves to ensure cleanliness. Using rubber gloves prevents direct contact with chemicals and dirt, keeping your hands safe and clean during the cleaning process.
5. Ammonia Fumes
Place a small bowl of ammonia in the oven overnight, being careful not to spill any.
The fumes will help soften grease and grime.
Wipe down the oven's interior the next day.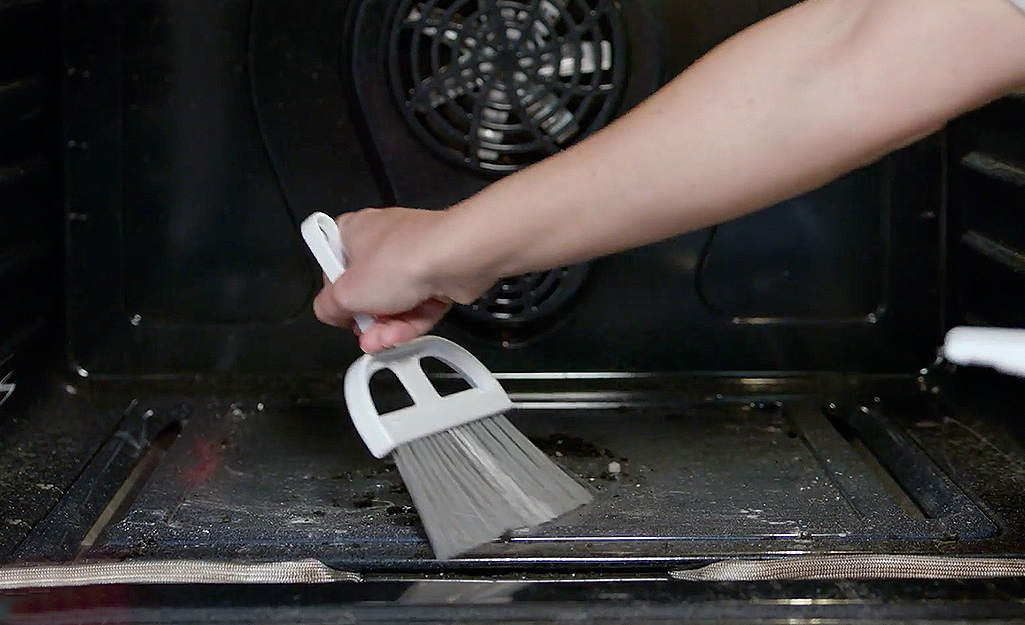 6. Dish Soap and Baking Soda
Create a paste by mixing dish soap and baking soda until you get a thick, spreadable consistency. Ensure the oven is cool. Remove racks and trays.
Spread the paste on oven surfaces, focusing on greasy areas. Avoid heating elements. Let the paste sit for at least 15-30 minutes, allowing it to break down grime.
Gently scrub with a soft brush or sponge, working the paste into dirtier spots.
Use a damp cloth or sponge to wipe away the paste, taking the grime with it. If needed, wipe down surfaces with clean water to remove any residue.
Put back the racks and trays. Wear gloves for protection. Test in a small area first to check for any adverse reactions.
7. Clean with towel
Put towels in your tub to keep from scratching.
Put racks in bottom, cover them with hot water as hot as you can get it.
Add three tablespoons of liquid or powder dishwasher detergent and soak for four hours. Use a microfiber towel or sponge and it literally wipes off.
8. Steam Cleaning
Steam cleaning is a highly effective and environmentally-friendly method for cleaning your oven.
Its high temperature and pressure allow for deep penetration into tough grease and grime, resulting in a thorough clean without the need for harsh chemicals.
Not only does steam cleaning save you time and effort, but it also ensures that your oven is free from any harmful residue that traditional cleaning methods may leave behind.
So, say goodbye to scrubbing and hello to the power of steam! Try using steam cleaning on your oven today and experience the difference for yourself. Your oven will thank you, and you'll be able to enjoy cooking in a clean and healthy environment once again.
9. Salt and Vinegar
For a natural and effective way to clean your oven, look no further than salt and vinegar. These common household ingredients work together to remove stubborn grease and grime, leaving your oven looking spotless.
Start by mixing equal parts salt and white vinegar in a spray bottle. Sprinkle the mixture generously over the interior of the oven, making sure to cover all dirty areas.
The salt acts as an abrasive agent, scrubbing away tough stains while the acidity of vinegar cuts through grease with ease. Allow the solution to sit for about 30 minutes before using a damp sponge or cloth to scrub away the dirt.
Rinse thoroughly with water once you're done scrubbing, ensuring that all traces of the cleaning solution are removed from your oven's surfaces.
Not only is this method eco-friendly and cost-effective compared to store-bought oven cleaners, but it also eliminates harsh chemicals from coming into contact with your food during cooking. Say goodbye to toxic fumes and hello to a sparkling clean oven that will make you excited about baking again.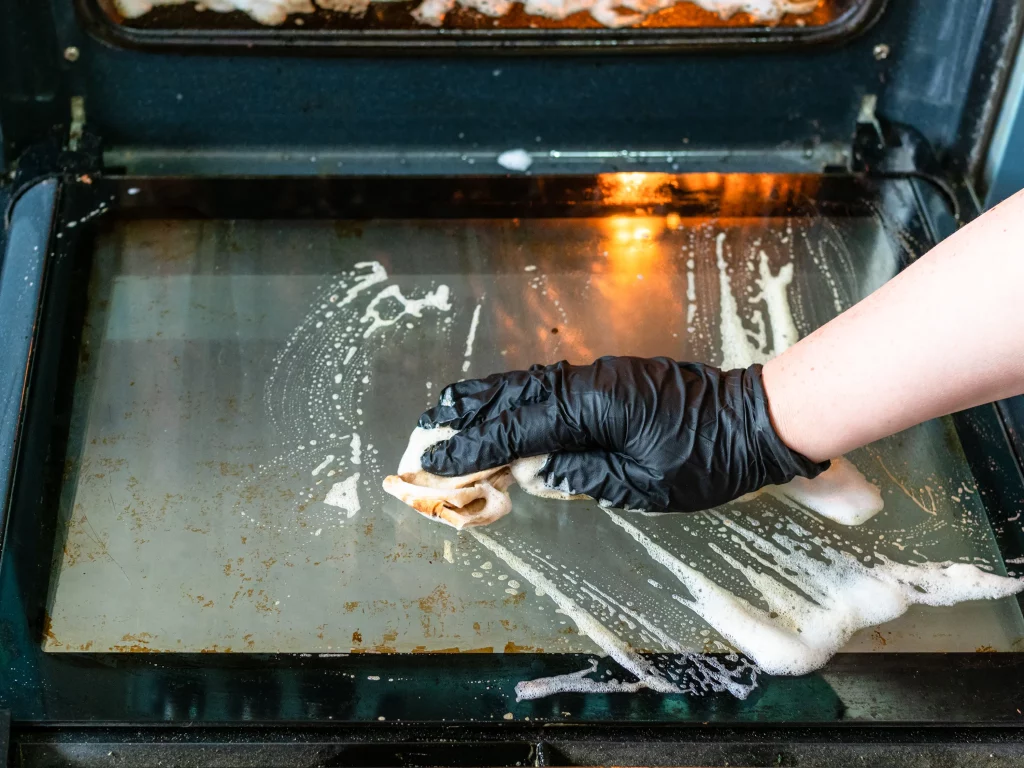 10. Razor Blade Scraper
Using a razor blade scraper to clean your oven can be a highly effective method for removing stubborn grime and baked-on food. By following the steps outlined in this article, you can ensure a safe and thorough cleaning process.
Remember to always exercise caution when handling the scraper and wear protective gloves to prevent any injuries.
With regular maintenance and proper cleaning techniques, your oven will not only look sparkling clean but also function optimally. So why wait? Grab your razor blade scraper and get started on giving your oven the deep clean it deserves today!
11. Self-Cleaning Function
Utilizing the self-cleaning function on your oven can be a game-changer when it comes to maintaining a clean and hygienic cooking environment.
By following these simple steps and taking some precautions, you can easily take full advantage of this feature without any worries.
Remember to remove any large food particles or spills before activating the self-cleaning mode and ensure proper ventilation in your kitchen during the process.
Lastly, always read the manufacturer's instructions for your specific model for best results. So go ahead, give your oven a much-needed deep clean and enjoy the benefits of a sparkling kitchen!
12. Aluminum Foil Balls
Using aluminum foil balls to clean your oven is a simple yet effective method that can save you time and effort.
By creating these balls and placing them on the oven rack, they help to absorb and break down grease and grime during the heating process. The gentle abrasion from the foil also helps to remove stubborn residue without scratching the surface of your oven.
Additionally, this method is affordable and environmentally friendly, as it avoids harsh chemical cleaners. Give it a try and see the difference it can make in keeping your oven clean and shining. Take advantage of this easy cleaning hack today!
13. Hydrogen Peroxide and Baking Soda
Make a paste by combining hydrogen peroxide and baking soda.
Apply the paste to the oven's interior and let it sit for a while.
Scrub away residue with a sponge or cloth.
14. Oven Liners
Oven liners are a simple and effective tool to keep your oven clean and free from spills and drips.
By using an oven liner, you can easily catch any food debris or grease that may fall during cooking, preventing them from sticking to the oven surface.
This not only saves you time and effort in cleaning but also extends the lifespan of your oven by reducing the need for harsh scrubbing.
proper care and maintenance, oven liners can be reused multiple times, making them a cost-effective solution. So why wait? Get yourself an oven liner today and enjoy a hassle-free way to keep your oven sparkling clean.
15. Vinegar and Water Spray
Create a cleaning solution by mixing equal parts white vinegar and water in a spray bottle.
Cool the oven, remove racks, and spray the solution over the oven's interior, focusing on greasy areas. Let it sit for 15-30 minutes.
Gently scrub with a damp cloth or sponge. Wipe down surfaces to remove grime. Rinse with clean water if desired. Ensure proper ventilation while cleaning.
16. Warm Soapy Water
To clean your oven with warm soapy water, ensure it's cool and unplugged. Mix warm water with a few drops of dish soap in a basin. Remove oven racks and trays.
Dip a cloth or sponge into the soapy water and wring it out. Wipe down the oven's interior, focusing on areas with residue. For stubborn spots, let the soapy water sit for a few minutes before scrubbing gently.
Rinse the cloth or sponge and wipe away soapy residue. Use a clean, damp cloth to wipe down surfaces again. Dry thoroughly before using the oven. Dispose of dirty water following local regulations.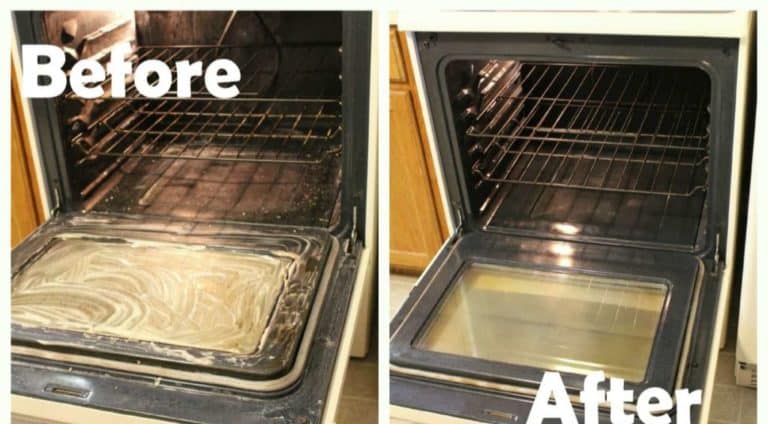 17. Regular Maintenance
Clean up spills and crumbs as they occur to prevent buildup. Take out oven racks, trays, and other removable parts.
Soak racks in warm soapy water. Scrub with a brush or sponge to remove grime. Mix warm water and dish soap in a basin. Dip a cloth or sponge, wring, and wipe interior surfaces.
Wipe with clean water to remove soap residue. Once dry, put back racks and trays. Wipe down the exterior and control panel.
Keep the area well-ventilated for drying.
Frequently Asked Questions (FAQ)
How do you clean a filthy oven naturally?
Cleaning a filthy oven naturally requires a bit of time and effort, but it can be done effectively using natural ingredients. Here's a step-by-step guide:
Materials You'll Need:
Baking soda
White vinegar
Water
Dish soap
Spray bottle
Rubber gloves
Scrubbing brush or scouring pad
Damp cloths or sponges
Step-by-Step Guide:
Ensure the oven is cool and unplugged. Put on rubber gloves to protect your hands.
Take out oven racks, trays, and other removable parts.
Mix a 1/2 cup of baking soda with a few tablespoons of water to form a thick paste.
Fill a spray bottle with white vinegar. Spray the vinegar over the baking soda paste, causing it to fizz and react.
Allow the mixture to sit for several hours or even overnight. This allows the combination to break down the grime and grease.
Use a damp cloth or sponge to wipe away the baking soda mixture and loosened grime.
Rinse the cloth or sponge frequently.
Dampen a clean cloth or sponge with water and wipe down the oven's interior to remove any remaining baking soda or vinegar residue.
Soak oven racks in warm soapy water. Scrub racks with a brush or pad to remove grease and grime. Rinse and dry thoroughly.
What is the best oven cleaning trick?
The baking soda and vinegar method is widely considered the best oven cleaning trick. Sprinkle baking soda inside the oven, spray with white vinegar, let it fizz and sit overnight.
Gently scrub and wipe away grime the next day. This natural technique effectively tackles stubborn grease and burnt-on stains, leaving your oven looking refreshed without harsh chemicals.
How do you clean an oven quickly without oven cleaner?
To quickly clean an oven without oven cleaner, mix a paste of baking soda and water. Spread it inside the oven, avoiding heating elements, and let it sit for 15-20 minutes. Then, scrub with a damp cloth or sponge. For burnt-on residue, use a razor blade to gently scrape it off. Wipe down with a clean, damp cloth. This natural method cuts through grease and grime for a quicker clean.
Certainly! Here are 10 frequently asked questions (FAQs) about some of the craziest oven cleaning hacks that actually work:
What are these crazy oven cleaning hacks?
These crazy oven cleaning hacks are unconventional yet effective methods that go beyond traditional cleaning techniques to efficiently clean your oven.
Can I use these hacks on a self-cleaning oven?
Yes, most of these hacks can be used on self-cleaning ovens. Just avoid abrasive methods that could damage the self-cleaning coating.
Read More
8 Healthy dessert To pick On The Grocery Shelves
6 Major Differences Between Costco and Sam's Club Right Now
Where is costco opening new stores in 2023
7 Fast-Food Restaurants That Serve the Best Patty Melts
Best 31 Healthy Restaurants in America | Locations
101 Best Restaurants Downtown Dallas That Locals Eat 2022
39 foods that lower blood sugar immediately
30 Best healthy lunch ideas for weight loss
Unveiling the Nutritional Marvels: Exploring the Remarkable Health Benefits of Cashews
Best 31 Healthy Restaurants in America | Locations
20 healthiest butter substitutes
The top 33 foods for keeping your kidney healthy
20 Healthy Chips You Can Eat When You're Trying To Lose Weight
Are these methods time-consuming?
Not necessarily. While some methods might take more time, others are quick and efficient, making your cleaning process faster.
Can these hacks remove stubborn burnt-on stains?
Yes, many of these hacks are designed to tackle tough stains, such as the baking soda and vinegar method.
Do these hacks eliminate oven odors?
Yes, several hacks involve ingredients like baking soda and lemon that help absorb odors and leave your oven smelling fresher.
Will these methods damage my oven?
No, these methods are chosen for their gentleness. However, always perform a spot test to ensure compatibility with your oven's finish.
Can I use these hacks for regular maintenance?
Absolutely, these hacks are suitable for both deep cleaning and regular maintenance to keep your oven in top shape.
Can I use these methods on oven racks and trays?
Yes, some of these hacks are effective for cleaning racks and trays as well.
Are these hacks eco-friendly?
Yes, many of these hacks focus on using natural ingredients, making them eco-friendly alternatives to chemical cleaners.
These frequently asked questions provide insights into how these unconventional yet effective oven cleaning hacks can simplify your cleaning routine and revitalize your oven.