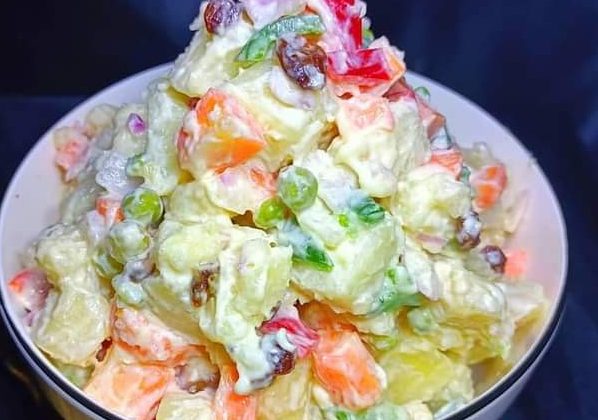 Nigerian cuisine is renowned for its rich flavors and vibrant culinary traditions. One dish that perfectly exemplifies the country's diverse and delicious food culture is the Nigerian salad.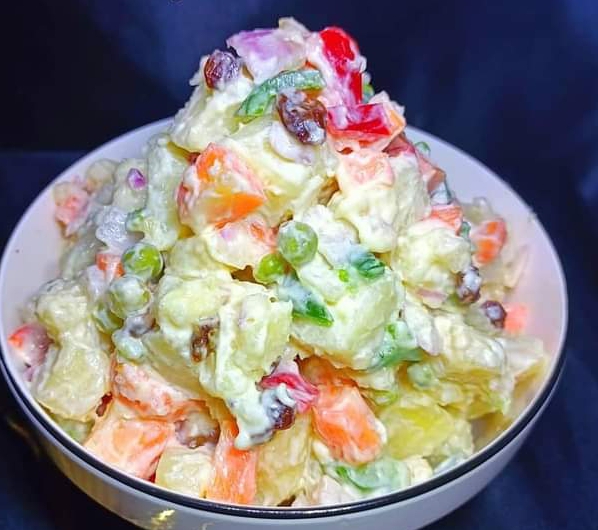 Packed with fresh vegetables, juicy fruits, and a tangy dressing, this salad is a delightful combination of textures and tastes.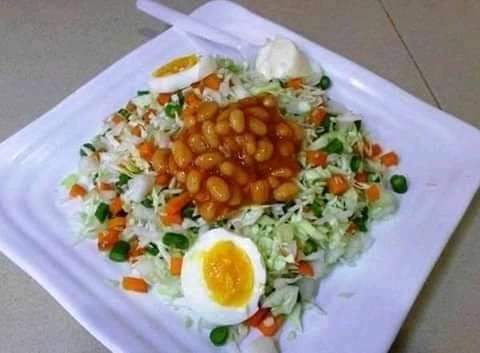 Whether you're new to Nigerian cuisine or a seasoned food enthusiast looking to expand your culinary repertoire, this step-by-step guide will walk you through the process of creating an authentic Nigerian salad in your own kitchen.
From sourcing the ingredients to carefully assembling the salad, we will cover each stage with detailed instructions and helpful tips.
You'll learn how to choose the freshest vegetables, slice them into perfect bite-sized pieces, and combine them with the right balance of flavors to create a salad that is both visually appealing and incredibly satisfying.
We have written some amazing salad recipes such as 13 Healthy Salad Dressings To Buy 2023 and Easy Mango Avocado Shrimp Salad.
Throughout this journey, we will explore the key components of a Nigerian salad, including the popular additions of boiled eggs, baked beans, and sweet corn.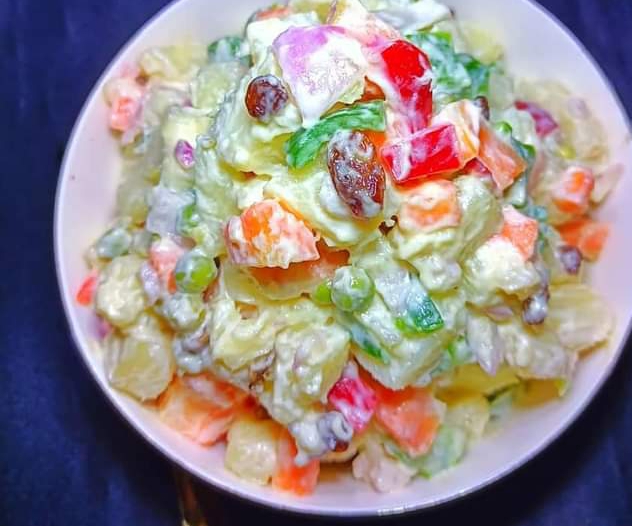 We will also dive into the secrets behind the dressing, which gives the salad its signature tanginess and enhances the overall taste experience.
By the end of this guide, you will not only have a delicious Nigerian salad to enjoy but also a deeper understanding of the ingredients, techniques, and cultural significance behind this beloved dish.
So, grab your apron, sharpen your knife, and let's embark on a culinary adventure as we discover how to make a mouthwatering Nigerian salad that will impress your taste buds and leave you craving more.
Nigerian Salad Ingredients
1 medium cabbage
1 medium bunch lettuce (optional)
5 medium carrots
4 small pcs Irish potatoes
2 medium cucumbers
Red and green bell peppers
3 medium eggs
1 415g tin Baked Beans in tomato sauce
200g sweet corn
5 plum tomatoes (Jos tomatoes)(optional)
Salad Dressing: the classic Heinz Salad Cream or Bama cream works best with the Salad recipe.
1 can medium can green peas
BEFORE YOU PREPARE SALAD
Wash and cook the Irish potatoes till done. The eggs should be hard boiled. To save time, these two can be cooked in the same pot as they need almost equal amount of time to get done.
All the vegetables need to be washed, Cut the lettuce into thin shreds and set aside (optional) i won't be using it.
Scrape and shred the carrots using a grater.
Shred the cabbage
Peel and cut the boiled potatoes into sizeable cubes.
Peel, remove the seeds and cut the cucumber as shown. If you want more green color in your salad, you may peel the cucumber in stripes.
Remove the seeds from the plum tomatoes and cut into small pieces.
Place all the cut vegetables in separate containers.
Open the sweet corn and green peas and drain the preservation water. Rinse the seeds and set aside. Also open the baked beans tin and set aside.
Remove the shells of the hard boiled eggs, slice thinly and set aside. An egg slicer is perfect for this job.
Clean the red and green bell peppers by removing the seeds. Cut into cubes and set aside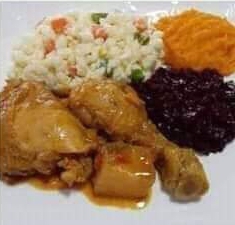 How To Assemble Nigerian Salad Together
With the exception of the egg, start putting the ingredients in small batches into a big salad bowl till all are exhausted.
Now, place the sliced eggs on the salad, covering the top.
Cover the bowl and place in the fridge for at least one hour. This is to allow all the ingredients to mix well (optional)
Serve with a salad dressing of your choice but the Heinz Salad Cream works best with this recipe, seconded by a Bama cream.
Note: The quantities of ingredients stated are what will give you a typical taste of the Nigerian Salad. The quantities can be halved or multiplied and the same taste will be achieved.
Read more
13 Healthy Salad Dressings To Buy 2023
Easy Mango Avocado Shrimp Salad
The Ultimate Guide To Creating A Delicious Santa Fe Salad
42 Easy Meal Prep Salads You Can Eat All Week
Easy Guide On How To Make Carrot Cauliflower Rice And Salad with Avocado Cream Dressing.
How To Make Salads Ahead Of Time For A Stress-Free Lunch
Frequently Asked Questions
What vegetables are typically used in Nigerian Salad 🥗?
Nigerian salad typically includes ingredients like lettuce, cabbage, carrots, bell peppers, onions, and tomatoes. However, you can personalize it by adding other vegetables like cucumber or radishes based on your preference.
Can I use canned beans instead of baked beans?
Yes, you can substitute canned beans for baked beans in Nigerian salad. Rinse and drain the canned beans before adding them to the salad for a similar texture and taste.
What dressing is traditionally used for Nigerian salad?
The traditional dressing for Nigerian salad consists of a combination of mayonnaise, mustard, and a tangy ingredient like vinegar or lemon juice. This dressing adds a delightful zing to the salad.
Can I make Nigerian salad ahead of time?
Yes, you can prepare the vegetables and dressing ahead of time and refrigerate them separately. Combine them just before serving to maintain the salad's freshness and crunch.
Can I add proteins like chicken or shrimp to Nigerian salad?
Absolutely! Nigerian salad can be customized to include proteins like grilled chicken, shrimp, or boiled eggs. These additions can turn the salad into a more substantial and satisfying meal.
Can I make a vegan version of Nigerian salad?
Yes, you can make a vegan Nigerian salad by using plant-based mayonnaise and omitting the eggs. You can also explore adding vegan protein alternatives like tofu or tempeh.
Remember, these answers serve as general guidelines, and you can always adjust the recipe to suit your preferences. Enjoy the process of making Nigerian salad and let your creativity shine in this delicious culinary adventure!
Conclusion
Congratulations! You've reached the end of our step-by-step guide on how to make Nigerian salad.
By following our detailed instructions, you've learned the art of selecting fresh ingredients, mastering the perfect chopping techniques, and creating a delightful dressing.
Now, armed with this knowledge, you can confidently bring the flavors of Nigeria into your home and impress your loved ones with a colorful and delicious Nigerian salad. Enjoy this culinary adventure and savor the vibrant tastes of Nigerian cuisine!