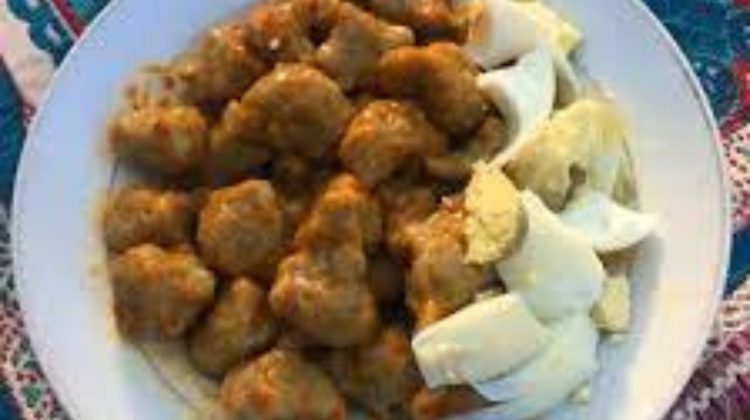 Dan Wake, which literally means Son of Beans, is a Northern Nigerian recipe. You can call Dan Wake Beans Dumplings in English because the preparation is similar.
Dan Wake is believed to be tasteless like fufu meals, and it will require a sauce or a side dish for its taste just as the Fufu meals depend on Nigerian Soups for their tastes.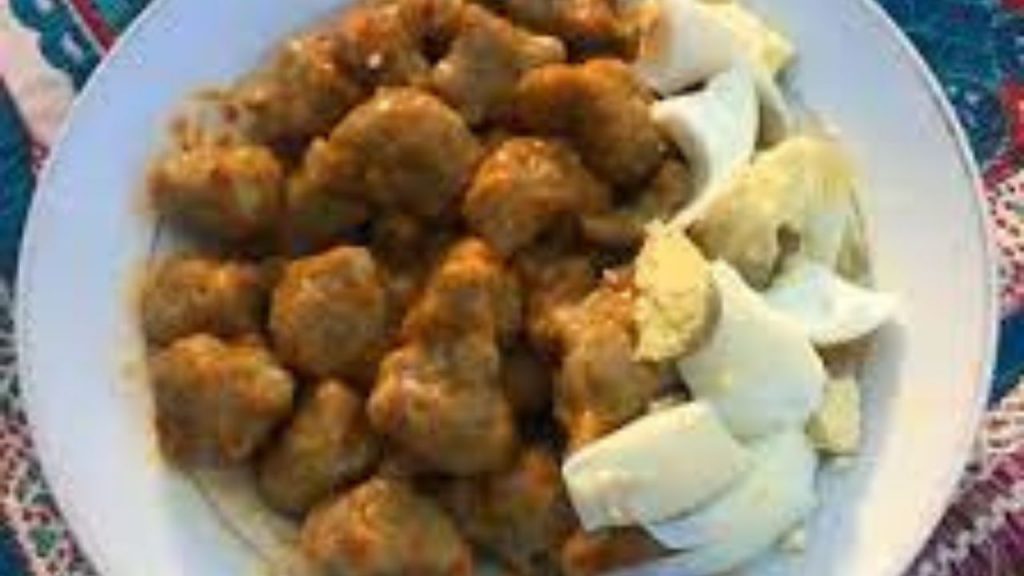 Dan Wake is traditionally served with ground cayenne pepper (yaji), but you can also use hot banana peppers (sheng ji), hardboiled eggs, sauteed onions, cabbage, and tomatoes; and you can even sprinkle some Italian-style cheese or croutons upon your blend. Go with whatever you like.
Nigerian Dan Wake Ingredients
2 small party cups of beans flour
2 tablespoons kuka powder
1 small party cup of cassava flour
2 teaspoons baking soda or 2 teaspoons edible potash
Beef stock
How To Make Nigerian Dan Wake
Mash the beans, cassava flour, baking soda, and sugar together in a bowl. Combine the edible potash with water as a strengthening agent if the dish will be eaten uncooked, or drink oreuku juice if it has to coagulate cooked dishes. Do not skip this step.
First, add a small amount of beef stock to the butter and mix the ingredients while continuing until the butter and beef mixture is thoroughly combined and gets a sticky feel.
If the additional beef stock is still insufficient and you have sticky dough, add hot water. Once you have reached the desired result with the dough, set it aside.
Manage the pot of boiling water on a stovetop. The dimensions of the pot and the amount of hot water depending on the number of Dan's Wake you're preparing.
You will need an environment where it is appropriate for you to put the entire variety of Dan's Wake and still have space for them to move around.
As soon as the water is boiling, start shaping Dan Wake dough with your fingers. You pick up a small quantity of the dough (the size of an adult male fufu swallow) with your fingertips and use your fingers to shape it into a rough shape (should be like a shapeless amoeba).
Throw the dough into the boiling water. Repeat the process until the dough is exhausted. As soon as you see Dan Wake below the surface, a large lump may suddenly emerge.
Cover the heat source and continue steaming. After 10 minutes, stir and continue cooking. The stew should be finished in 15 to 20 minutes on low to medium heat.
Before you cook Nigerian dan wake note this:
Whatever quantity of Dan Wake you're making, use 2 parts of beans flour to 1 part of cassava flour as I did above, I used 2 party cups of beans flour and 1 party cup of cassava flour.
The task of the cassava flour is to bind the beans flour as it is loaded with starch. If you don't have cassava flour, use all-purpose flour (plain flour).
Water is normally used to mix the Dan Wake but I prefer using beef stock because it gives it a better taste rather than the bland taste you get when you mix with water.
Even though I use a very tasty sauce to eat Dan Wake, the meal tastes better when it is seasoned all the way through. To produce scrumptious Dan Wake Balls, the function of the edible potassium is to make them fluffy. I used regular baking soda (baking soda) to do that.
I make the meat the stock when I prepare grilled meat. I boil the meat and store the water in the freezer for preparing these kinds of meals.
Also, since I usually eat Dan Wake with the Ultimate Nigerian Stir-Fry, I will use some of the broth from the boiled meat drippings to stir the beef gravy to make Ultimate Nigerian Stir-Fry.
Kuka powder that is dried and ground baobab leaves are mucilaginous in nature like okra, but not entirely like okra and its job is to help bind the typical mandioca.
People today typically utilize mandioca flour in their conventional mandioca recipe, but old days, individuals utilized baobab powder. Try them both to determine which one you like best.
Very little preparation is involved in Dan Wake. The only variable is if you plan to use edible potash, mix it with a tiny bit of water, and set the resulting liquid aside. You simply need the liquid, not sediments. Store this liquid separately.
what to serve Nigerian dan wake with
If you are serving Nigerian Dan Wake for a meal, it is best to serve it with rice or bread. If you are looking for a side dish to accompany your Nigerian Dan Wake, there are many options available. Some popular side dishes include plantains, boiled eggs, avocado, and tomatoes.
When it comes to beverages, water is the best choice to drink with Nigerian Dan Wake. If you are looking for something alcoholic to drink, beer is the most popular choice.
What can I use beans flour for?
Beans flour is a type of flour made from grinding dried beans. It is a gluten-free alternative to wheat flour and can be used in a variety of recipes.
There are many different ways that you can use bean flour. For example, you can use it to make bread, pancakes, cookies, and even pasta. You can also use beans flour to thicken soups and sauces.
If you are looking for a healthy alternative to wheat flour, then beans flour is a great option. It is high in fiber and protein, and it has a lower glycemic index than wheat flour. This means that it won't cause your blood sugar levels to spike after eating it.
Health benefits of dan wake
Danwake is a Nigerian dish made with vegetables and cornmeal. It is a healthy, vegan, and gluten-free option. Danwake is high in fiber and low in calories. It is a good source of vitamins A, C, and E.
Danwake can be served as a side dish or main course. Danwake is a healthy option for those looking for a vegan, gluten-free meal.
The dish is high in fiber and low in calories. Danwake is also a good source of vitamins A, C, and E. The dish can be served as a side dish or main course.
Danwake calories
A cup of dan wake, a Nigerian fermented cornmeal dish, has about 534 calories. This traditional food is high in carbohydrates and fat. Danwake is usually made with whole milk, making it even higher in calories.
Danwake is a filling dish that is often eaten for breakfast or lunch. It can be served plain or with toppings such as vegetables, meat, or beans.
Because it is so filling, dan wake is a good option for people who are trying to lose weight or maintain their weight.
Conclusion
In conclusion, Nigerian Dan Wake is a great example of how important it is to follow your dreams. No matter where you come from or what obstacles are in your way, if you work hard and believe in yourself, you can achieve anything.
This is a message that everyone, especially young people, should hear. So don't give up on your dreams, because you never know what you might be able to achieve.