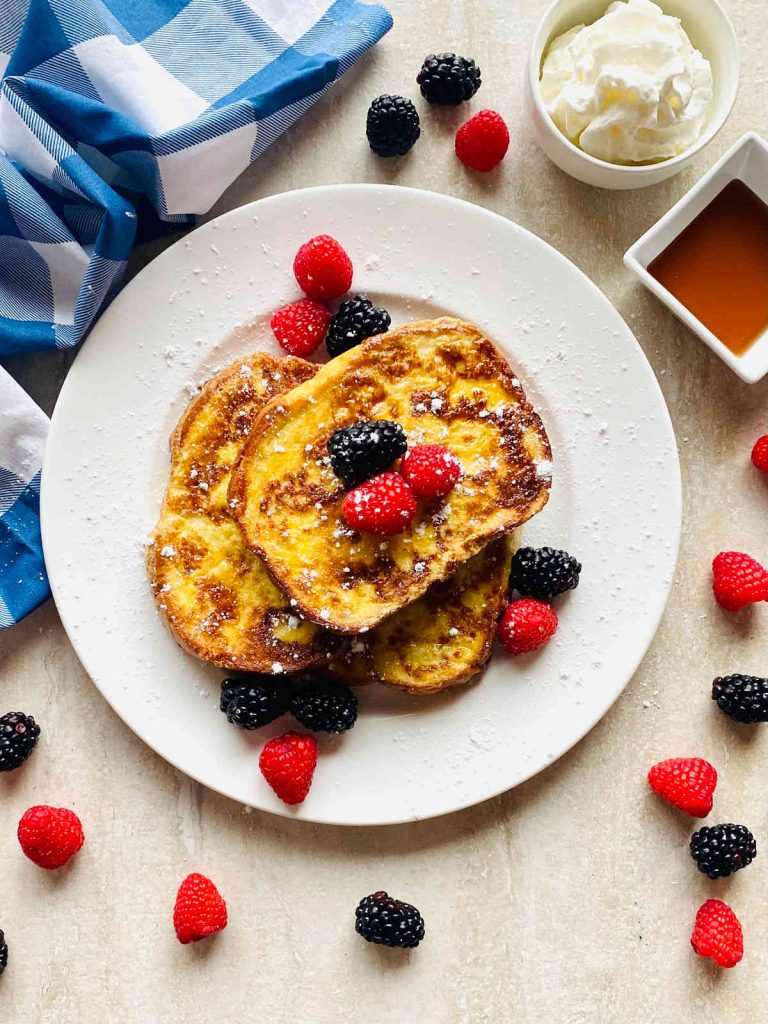 This protein-rich French toast is incredibly delicious and anabolic.
Egg white French toast, high protein French toast, yogurt French toast, and more easy substitutions are available for this anabolic protein French toast dish to meet your macronutrient and dietary needs.
French toast prepared for a meal need not be monotonous!
Anabolic French toast is the way to go if you want to get in shape, grow muscle, or prepare for your next weightlifting or fitness competition.
If you want protein French toast or egg white French toast, we can help!
Anabolic French toast (Protein French toast) can be modified to fit your specific macro requirements.
Modifying the fat content by introducing some egg yolks, leaning out the recipe by adding some egg whites or adding some extra protein with protein powder, you have so many delicious options.
With this anabolic French toast recipe, breakfast does not have to be boring! Many people don't know high protein French toast exists!
And speaking of delicious breakfast options, be sure to check out our Simple meatballs without breadcrumbs recipe, 7 Healthy Breakfast Foods That Raise Blood Sugar , 23 Best wendy's breakfast to try 2023,17 delicious Spanish breakfast foods to start your day off right.
A well-known variation of anabolic French toast that you may have heard of is Greg Doucette French toast.
Surprisingly, the ingredients for the Greg Doucette anabolic French toast recipe are very identical to those for a typical French toast recipe.
Other delicious options are French toast with yogurt or egg whites.
Proof that handmade French toast doesn't need to have a ridiculously high calorie count to be good.
WHY THIS RECIPE WORKS
Egg white French toast, high protein French toast, and anabolic French toast are all satisfying, healthy breakfast options that can help you reach your fitness objectives.

French toast prepared for a meal need not be monotonous! Make this recipe into savory or pumpkin-flavored anabolic French toast. Many choices, so meal preparation won't be monotonous!
To help you reach your fitness objectives and macronutrient needs, this protein French toast recipe features a variety of customizable recipe changes and add-on toppings.

A healthy recipe that the whole family will like is protein French toast, which is a terrific way to sneak in additional protein into your day.
ANABOLIC FRENCH TOAST INGREDIENTS
Eggs and/or Egg Whites
Milk: Whole milk, 2% milk, fat free milk. Non-Dairy Milk Options: Almond milk, soy milk, coconut milk, pea milk or oat milk.
Sugar Free Syrup: This sugar free maple syrup is hands down my favorite! It tastes so close to the real thing and doesn't have that fake sugary taste. Seriously. SO GOOD.
Vanilla Extract
Ground Cinnamon
Salt
Bread: You can choose any bread you like based on your macro requirements such as high protein bread or low calorie bread. You can also use Brioche Bread, White Bread, Whole Wheat Bread or any bread of choice.
Oil or Butter (to cook the French toast in the pan)
ANABOLIC FRENCH TOAST ADD-IN OPTIONS
Depending on Macro Requirements, you can add in:
Unsweetened Pumpkin Puree (Fiber, Carbs and Protein)
Protein Powder (Protein)
ANABOLIC FRENCH TOAST TOPPINGS
Depending on Macro Requirements, you can top your protein French toast with any of the following:
Sugar free syrup
Butter
Fresh berries (blueberries, blackberries, raspberries or strawberries)
Sugar Free Whipped Cream
Vanilla or Chocolate Protein Cream
VANILLA OR CHOCOLATE PROTEIN CREAM TOPPING INGREDIENTS
Protein Powder of Choice
Greek Yogurt (Plain or Fat Free)
Sugar-free pudding mix (chocolate or vanilla)
HOW TO MAKE ANABOLIC FRENCH TOAST
Whisk together eggs, egg whites, milk, salt, sugar free syrup, vanilla extract, salt and cinnamon in baking dish or bowl.
Coat each bread slice with egg/milk mixture (top and bottom). Make sure each slice of bread is well coated.
On medium/high heat, add oil or butter to skillet, frying pan or griddle. Place bread slices in single layer in pan and cook until golden brown on each side (approximately 2-3 minutes).
HOW TO MAKE HIGH PROTEIN FRENCH TOAST
To make high protein French toast, follow the regular anabolic French toast recipe and make a few modifications.
Add some extra egg, protein powder or pumpkin purée (also great for fiber!).
I also recommend 13 Best Low Carb Keto Bread to Buy in 2023 for some added protein.
HOW TO MAKE EGG WHITE FRENCH TOAST
If you wish to make French toast with egg whites, omit the whole eggs and use 4-6 egg whites total (approx. ½ cup of egg whites).
HOW TO MAKE YOGURT FRENCH TOAST
To make yogurt French toast, you can substitute yogurt for milk. Then, mix in your eggs and other French toast ingredients before dipping your bread.
WHAT IS ANABOLIC FRENCH TOAST?
Anabolic French toast is a protein French toast recipe that is compromised of ingredients that promotes muscle building.
The simply definition of anabolic is muscle building.
HOW MANY CALORIES IN ANABOLIC FRENCH TOAST?
The typical number of calories in two slices of classic French toast is about 300, although this number can vary greatly according on the bread, sugar, egg, milk, and other components you use.
Depending on your macro and fitness objectives, the ingredients you utilize can change significantly.
For instance, you could want to add more egg yolks, butter, or even peanut butter if you're aiming for a high-fat day.
Egg whites and a bread with fewer calories should be taken into consideration if you're trying to cut calories.
Need more protein? Add more protein powder, pumpkin puree, or eggs (which are all fantastic sources of additional fiber).
The good news is that this recipe for protein French toast is easily adaptable and still tastes wonderful.
FAQ
What is anabolic French toast?
Anabolic french toast is essentially fluffy, egg-white soaked bread that's cooked in a pan.
It can be either sweet or savory, eaten fresh or reheated from frozen. To add flavor to the toast, you can mix in some extras into the egg whites before soaking the bread.
Is French toast good for workout?
Everyone loves French Toast, right? It is a great source of carbohydrates that are necessary for the energy to propel you forward in a workout or race. Providing your body with all the carbohydrate it needs will prevent the loss of muscle protein during the fasting state that occurs during exercise.
What is the most anabolic food?
On weekdays, he suggests a high intake of:
fatty cuts of red meat.
whole eggs.
full-fat dairy products such as cheese, cream, and butter.
oils.
nuts.
nut spreads.
Why do bodybuilders eat French toast?
These grains are rich in fiber and carbohydrates, essential for providing energy for gym sessions, and help to maintain a healthy gut.
Are eggs anabolic steroids?
Egg yolk contains several nonprotein components that may have anabolic properties.
Cholesterol intake from eggs may exert some influence on testosterone levels, but its anabolic effect seems to be minimal for promoting muscle hypertrophy.
Related articles
7 Healthy Breakfast Foods That Raise Blood Sugar
Honey Butter Toast In Less Time
27 Interesting Types of Bread from Around the world
How To Make Sourdough Bread | Perfect guide.
How To Make Bread Rolls (Buns) From Scratch.
Conclusion
The finest recipe for high-protein, anabolic french toast is this one.
Without the use of additional sugar, it is delicious and contains a lot of protein from the egg whites and protein powder.
Every single bite, especially the buttery, crispy edges, will melt in your tongue.
The best part is that it just requires six ingredients and takes 10 minutes to make this protein-filled french toast.
You are welcome to substitute chocolate, cookies & cream, or your preferred flavour for the vanilla protein powder .
For a quick weekday breakfast, you may even prepare anabolic french toast; it's ideal for busy people, athletes, and gym enthusiasts.