meatballs made without breadcrumbs are considerably superior.
So I decided to demonstrate how to make meatballs without breadcrumbs for you.
Since I cannot tolerate gluten, I always make meatballs using this technique.
The primary function of bread in meatball preparation—typically combined with egg—is to serve as a binder and hold the meat together.
Some people are concerned that their meatballs would crumble if they don't use a binder, although this is typically due to using too much.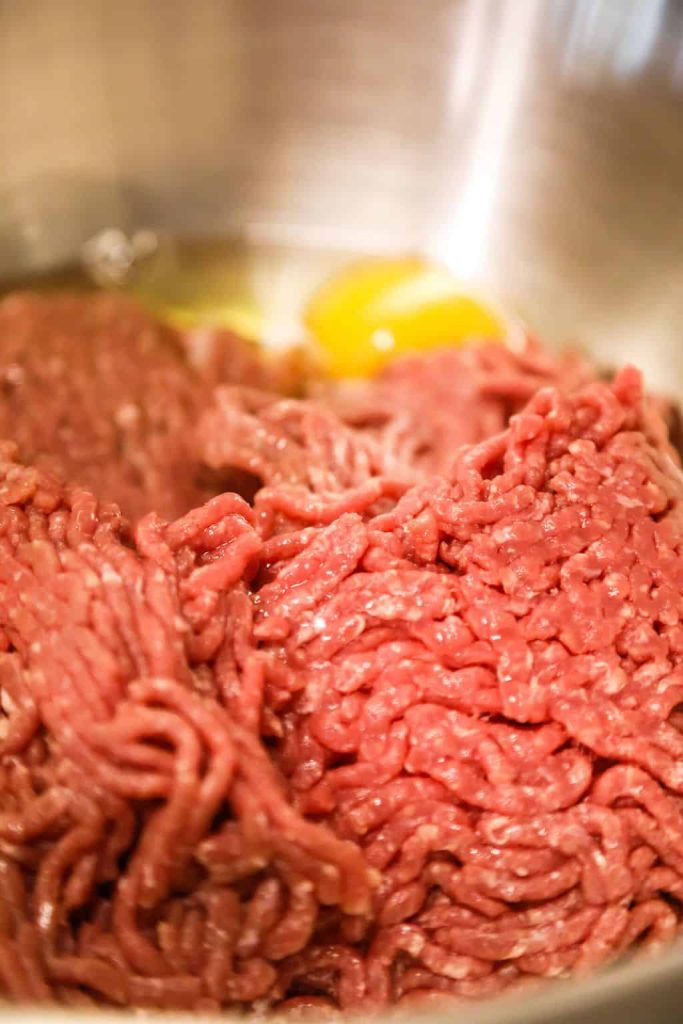 When trying to save money, for instance, breadcrumbs might be used to stretch the meat's nutritional value.
When seasoned bread crumbs are utilized, the meat is also given a taste boost.
With a small bit of egg, ground beef will stick together rather well all by itself, especially when making baked meatballs.
This technique will be suitable for meatballs that are on the keto diet and will not contain any bread.
HOW TO MAKE MEATBALLS WITHOUT BREADCRUMBS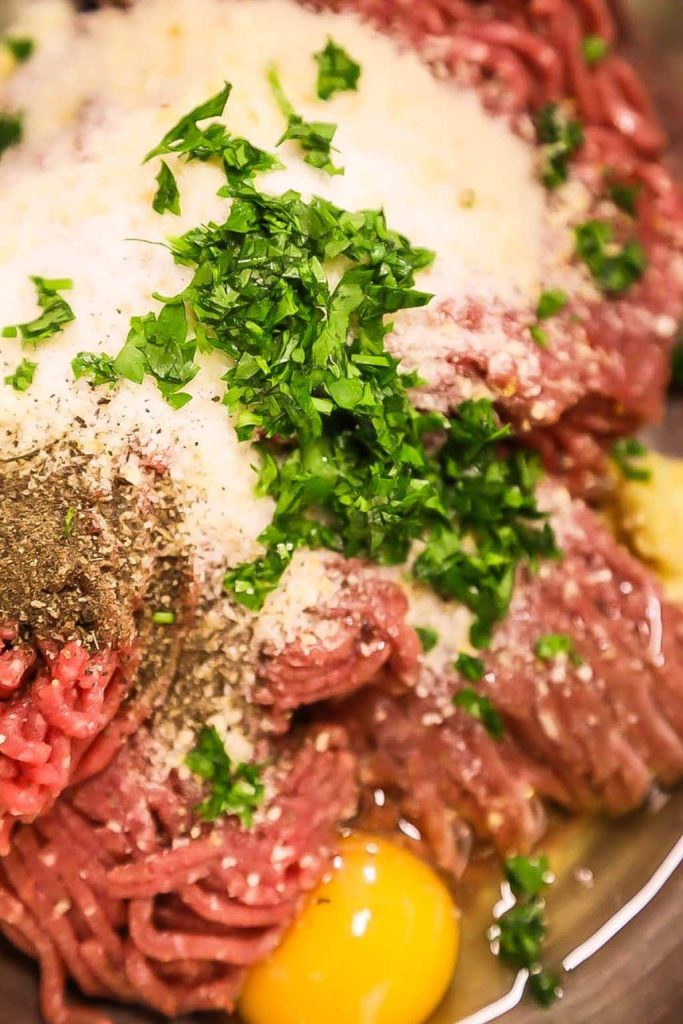 The tastiest meatballs made without breadcrumbs begin with top-notch beef.
Making excellent, juicy meatballs depends depend on the type of meat you choose.
Make careful to select lean ground beef mince that is about 75% lean if you're creating beef meatballs.
When cooking lamb meatballs, choose for lamb mince that contains a fair quantity of fat.
Of course, the fat will contribute to taste and make the meatballs even more juicy.
My preferred method is to combine beef and lamb to create meatballs with a rich, strong flavor.
Now let's get to creating your meatballs.
Your meats should first be ground and combined in a basin.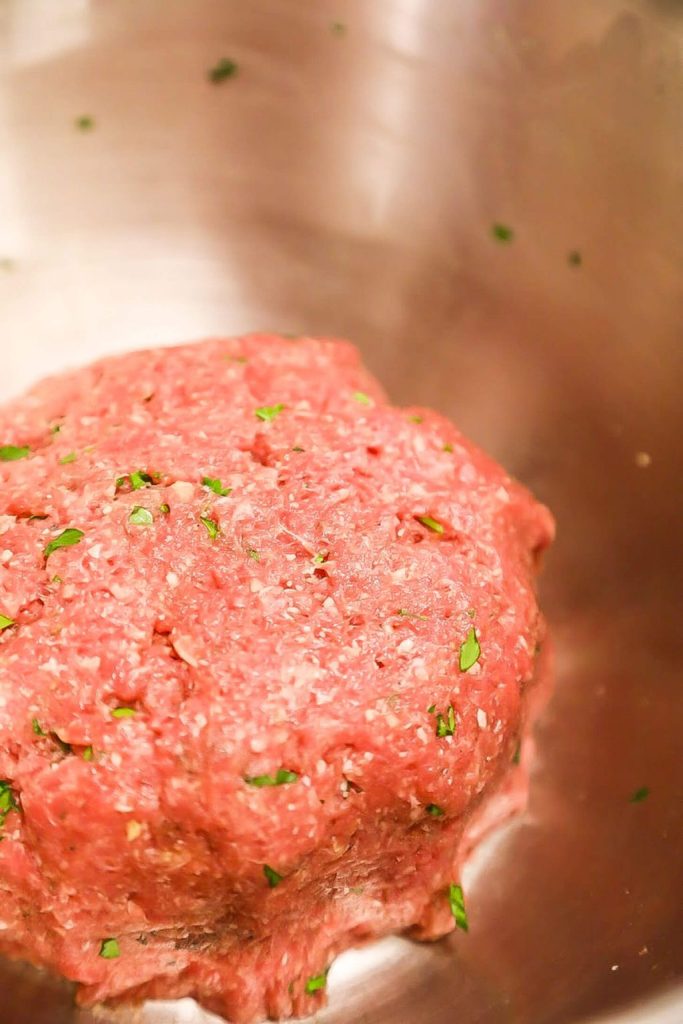 Parmesan cheese, egg, cilantro, garlic, salt, pepper, onion powder, and olive oil should all be combined.
All of the seasonings should be thoroughly mixed with the meat before serving.
Form the meat into balls (I prefer to do this with latex gloves).
After that, put on a parchment-lined baking sheet.
The meatballs should be evenly browned in a frying skillet over medium heat.
Once all of the meatballs have been browned, add tomato sauce or another sauce of your choice to a skillet with the meatballs.
Bring everything to a boil, then reduce the heat so it simmers.
The meatballs should be cooked thoroughly after around 15 minutes.
As an alternative, you might bake the meatballs for around 20 minutes in a 400°F oven using a baking tray.
HOW TO COOK MEATBALLS WITHOUT BREADCRUMBS
Meatballs are incredibly basic and straightforward to prepare.
Once the meatballs have been formed, it will be crucial to brown them to seal in the fluids and improve the appearance of the meatballs.
Make sure to cook this over medium heat with a little oil in the pan and on each side of the meatball.
Meatballs can be prepared in two ways.
The meatballs can be prepared in the oven on a baking sheet or on the stovetop in sauce.
Pre-heat the oven to 400 degrees Fahrenheit (200 degrees Celsius) and set the meatballs on a baking sheet covered with parchment paper.
Cook the items on the tray in the oven for roughly 20 minutes, or until your desired level of doneness is achieved.
Serve them right away after taking them out of the oven.
The ideal way to serve meatballs is over a bed of rice or pasta.
If you're cooking the meatballs on the stovetop, start by simmering the sauce vigorously over medium heat.
Using tongs, slowly add the meatballs to the sauce after browning them first.
Avoid having tomato sauce splatter on you!
They should be cooked for around 15 minutes, or until well cooked, before serving.
They should be cooked for around 15 minutes, or until well cooked, before serving.
WHAT TO MAKE WITH MEATBALLS
There are several dishes that pair excellently with meatballs.
Pasta, rice, bulgur, and buckwheat are a few examples.
You might include a type of potato.
Scalloped potatoes or garlic mashed potatoes are two of my favorites.Most essential, don't overlook the vegetables.
Brussels sprouts, broccoli, or carrots with ginger and butter.
For the ideal sandwich, place the meatballs in a hoagie roll along with cheese, tomato sauce, and onion.
If you want a healthier option, try including brown rice and a lovely, straightforward green salad.
HOW TO MAKE MEATBALL SAUCE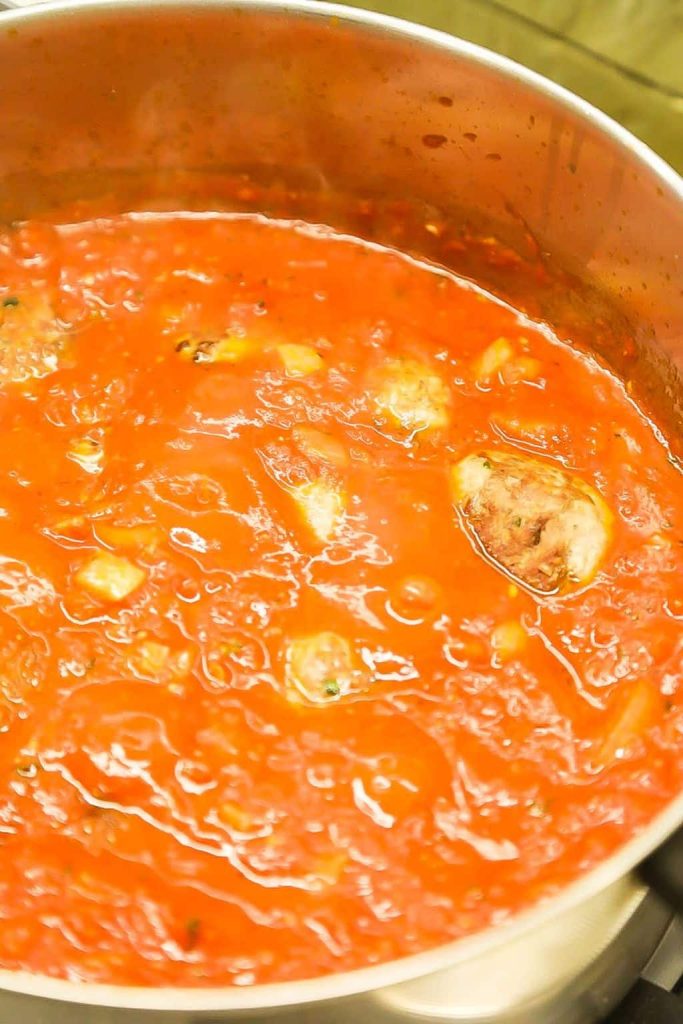 My go-to meatball sauce of choice is usually tomato sauce; it's a classic.
Start by cooking chopped onions and garlic in a small bit of olive oil over medium-high heat before adding the tomatoes.
Next, cook the onions and garlic in hot oil until they are transparent and tender.
Diced tomatoes and Italian seasonings like basil, thyme, oregano, and rosemary should then be added.
Add a pinch of garlic powder and a dash of salt and pepper to the saucepan for flavor.
When the tomatoes start to bubble, I'll add some boiling water that has tomato paste blended into it.
After thoroughly heating the sauce, reduce the heat to a simmer and let the sauce thicken.
To avoid getting tomato sauce all over myself, I will then add the meatballs one at a time while using tongs.
Cook the meatballs thoroughly until done, then devour!
HOW TO FREEZE MEATBALLS
Any stage of the meatball production process can be simply frozen.
whether they are fully cooked, browned, or raw.
Once the meatballs are prepared and shaped, arrange them on a baking sheet in a single layer.
Put them in the freezer and let them stay frozen for about an hour.
Put them in a freezer bag and seal it after they have completely frozen.
Try to squeeze out as much air as you can before sealing the bag.
They will last much longer because this stops freezer burn.
Additionally, the cooked meatballs and sauce can also be frozen.
Simply put the meatballs and sauce in a Tupperware container that can be frozen.
How long will they last in the freezer?
The meatballs can be stored uncooked for 4-6 months.
The fully cooked item can be stored for up to 18 months in good condition.
Ingredients
½ lb Ground Beef
½ lb Ground Lamb
¼ cup Parmesan Cheese grated
⅛ cup Olive Oil
1 Egg
2 tbsp Cilantro chopped
1 tbsp Onion Powder
1 Garlic Clove minced
½ tsp Salt
¼ tsp Black Pepper
2 tbsp Vegetable Oil
Instructions
Combine the 2 types of meat in a bowl.
Add all other ingredients, except the vegetable oil, and mix well.
Shape into meatballs and place on a baking tray.
Pour the vegetable oil into a frying pan and brown the meatballs.
Add browned meatballs to your preferred sauce and cook until done (about 20 minutes).
Nutrition
Calories: 469kcal | Carbohydrates: 2g | Protein: 23g | Fat: 41g | Saturated Fat: 18g | Cholesterol: 127mg | Sodium: 480mg | Potassium: 311mg | Fiber: 1g | Sugar: 1g | Vitamin A: 122IU | Vitamin C: 1mg | Calcium: 106mg | Iron: 2mg
SIMILAR POSTS
https://myfamilypride.com/27-interesting-types-of-bread-from-around-the-world/
https://myfamilypride.com/top-15-best-frozen-meatball-reviews-in-2023/
https://myfamilypride.com/13-best-low-carb-keto-bread-to-buy-in-2023/
Frequently asked questions
What can I use instead of breadcrumbs in meatballs?
Oats are the perfect substitutes for breadcrumbs in meatballs or meatloaf.
While they aren't ideal for a crispy coating, they add the right amount of texture to bind meat, eggs and flavorings together into a delicious Italian-inspired feast.
Can you use flour instead of breadcrumbs for meatballs?
yes, you can use flour instead of breadcrumbs for meatballs, but be aware that the texture and taste will be different.
What binds meatballs together?
Add a lightly beaten egg, but not too much. Egg acts as a binder for the ingredients, but you only need a small amount. One small egg will do for one pound of minced meat. Alternatively, if you're following an egg-free diet, you could soak fresh bread in milk, squeezing out any excess milk, to use as a binder.
Why do you put eggs in meatballs?
A small amount of egg is all that is required; its purpose is to aid in the cooked meatball's ability to maintain its shape and has no bearing on the taste or texture of the meat. Additionally, filler elements like flour or breadcrumbs are crucial since they prevent the meatballs from drying out.
Can I use flour instead of bread crumbs?
Can I substitute flour for the bread crumbs?
Yes. As an alternative to bread crumbs, use flour. For many recipes, flour [1] can be a flexible and cost-effective replacement for bread crumbs.
It is a great choice for coating and breading meats, seafood, and vegetables because it can have a similar texture and binding power like bread crumbs.