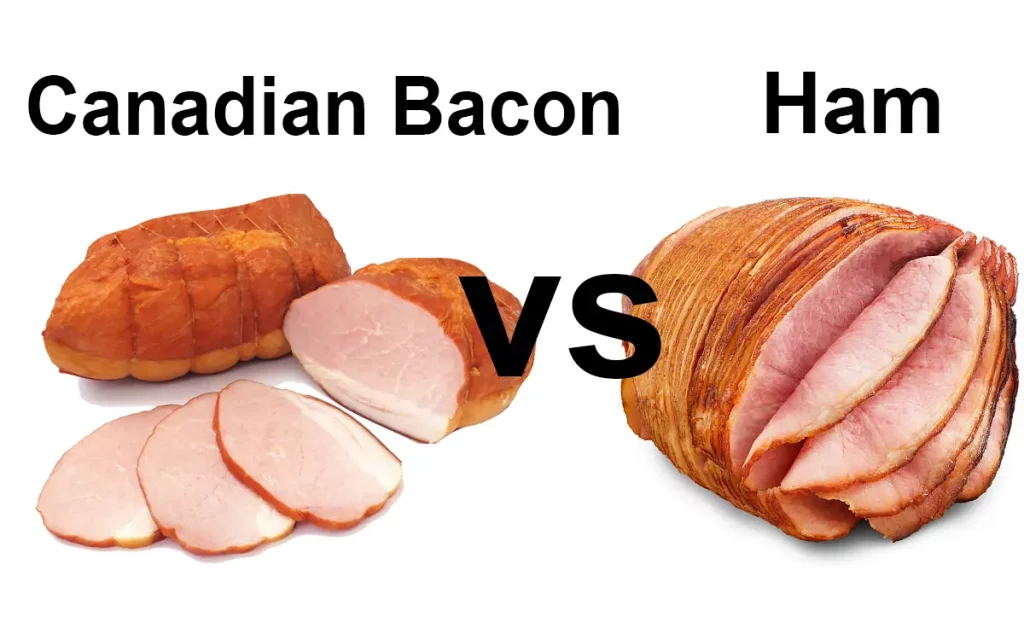 Welcome to our culinary clash, where two savory titans go head-to-head in a battle of taste and tradition: Canadian Bacon vs. Ham.
As we delve into the world of delightful breakfast meats, we'll uncover the differences, similarities, and the fascinating history behind these two beloved pork products.
Whether you're a connoisseur of crispy bacon or a fan of succulent ham, this blog post will serve up a sizzling exploration of flavors, preparation methods, and cultural influences that have shaped these iconic dishes.
So grab a seat at the table and get ready to indulge your taste buds as we unravel the delicious debate of Canadian Bacon versus Ham!
What Is Canadian Bacon?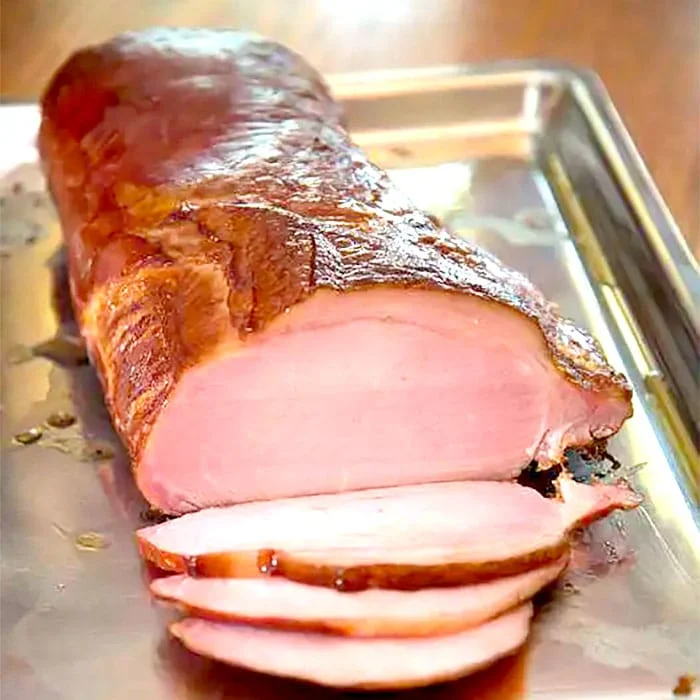 Canadian bacon, a savory delight also referred to as back bacon or peameal bacon, boasts its origins in Canada where it has become an iconic culinary gem.
The cut of meat used is the lean and boneless pork loin, sourced from the back of the pig, which sets it apart from the more familiar American bacon crafted from the fatty pork belly.
Historically, this delectable bacon variety was encrusted in ground dried yellow peas, lending it the name "peameal bacon," but today, cornmeal has taken over as the coating of choice, adding a touch of texture and sweetness.
Distinctive for its delicate and tender mouthfeel, Canadian bacon offers a more subtle smoky flavor, allowing the natural essence of the pork to shine through, while the curing process imparts a gentle hint of saltiness.
Embraced across the globe, Canadian bacon has secured a prominent spot in various culinary creations, from breakfast sandwiches to gourmet dishes, its popularity an enduring testament to the enticing taste of this cherished breakfast meat.
What Is Ham?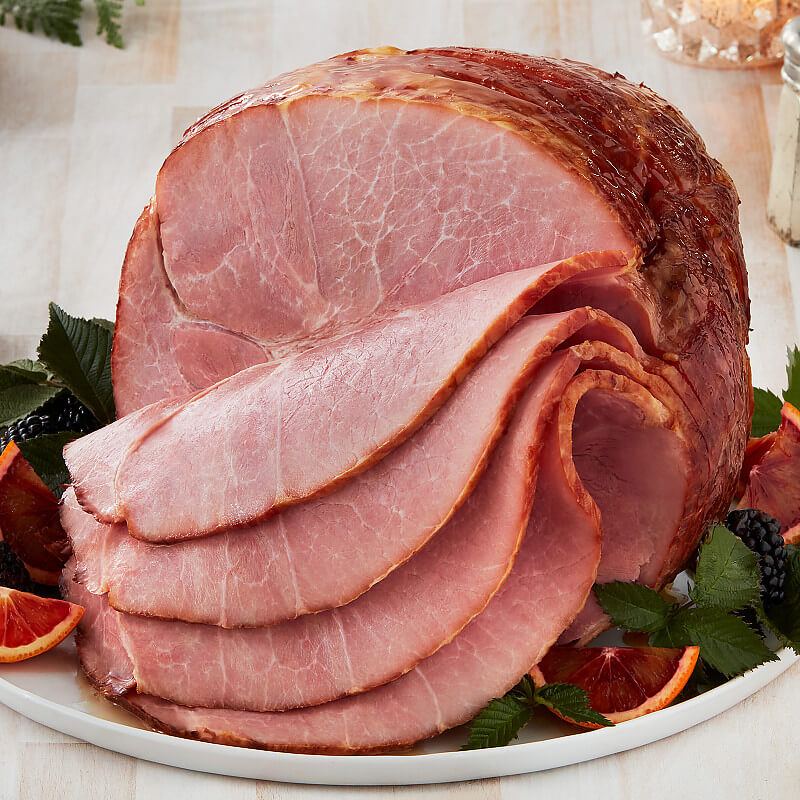 Ham, a popular and versatile meat, hails from the hind leg of a pig. Its preparation involves curing the meat through salting, smoking, or drying, which not only preserves it but also enhances its flavor.
Various types of ham exist worldwide, such as fresh ham, which is uncooked and requires cooking before consumption, and cured ham, which undergoes brining or dry-curing with a mixture of salt and seasonings. Some hams are further enriched with a smoky taste through the smoking process.
Country ham, a Southern U.S. specialty, is dry-cured and aged, while prosciutto, an Italian favorite, is thinly sliced and enjoyed uncooked.
This versatile delicacy graces numerous dishes, from sandwiches to soups, and takes center stage during special occasions and holiday feasts, captivating taste buds with its diverse flavors and textures.
Canadian Bacon Vs. Ham: The Best Comparison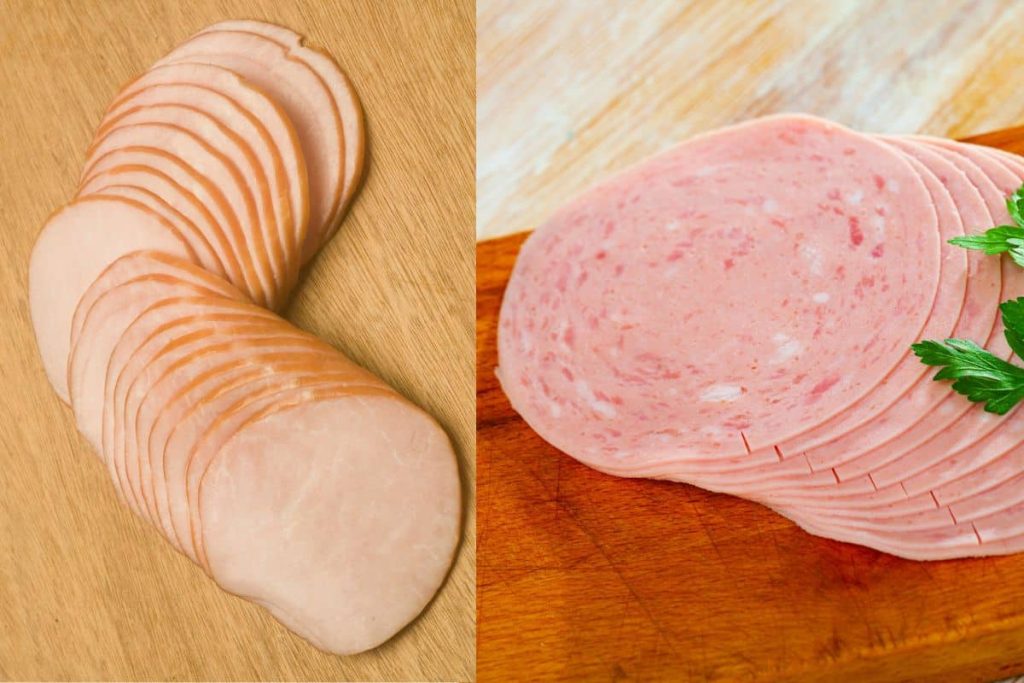 Cut
The main difference between ham and Canadian bacon lies in the cut of meat used. Ham comes from the hind leg of the pig, while Canadian bacon is made from the lean pork loin, which is taken from the back of the pig.
This distinction results in distinct textures and flavors for each type of meat.
Ham is typically richer and more flavorful due to its higher fat content from being cut from the leg, while Canadian bacon tends to be leaner and milder in taste as it comes from the loin.
These differences in the cut contribute to the unique characteristics that make both ham and Canadian bacon cherished breakfast meats enjoyed by many.
Shape
The main difference between Canadian bacon and ham lies in their shape. Canadian bacon is typically round or oval-shaped slices that resemble traditional bacon, but with a leaner and thicker profile.
It is more uniform in thickness and size, making it ideal for stacking in sandwiches or serving as a standalone breakfast meat.
On the other hand, ham is usually available in larger cuts, often in the form of whole or half hams, which are the hind leg of the pig.
These hams are larger and have a more irregular shape, often with a bone running through the center.
While both Canadian bacon and ham are delicious and versatile pork products, their shape makes them suitable for different culinary uses.
Canadian bacon's uniformity is perfect for even cooking and easy portioning, while ham's larger size makes it ideal for serving as a centerpiece for holiday meals or for slicing into thicker chunks for various recipes.
When to eat
Canadian bacon is a popular choice for breakfast and brunch dishes.
Its lean and tender texture, along with its mild flavor, makes it a delightful addition to breakfast sandwiches, eggs Benedict, or as a side with eggs and toast.
Its quick cooking time and versatility make it a go-to option for morning meals.
On the other hand, ham is enjoyed throughout the day, not limited to breakfast.
It often takes center stage during holiday feasts or special occasions, such as Christmas or Easter dinners.
Ham's rich and flavorful taste, which results from its higher fat content, makes it perfect for roasting, glazing, or slow-cooking, creating a delicious centerpiece for gatherings with family and friends.
How to eat
Canadian bacon is commonly eaten as part of breakfast or brunch dishes.
It can be quickly pan-fried or grilled and is often served as a side to eggs, incorporated into breakfast sandwiches, or used as a topping for pizzas or salads. Its lean and tender texture makes it easy to cook and enjoy in a variety of dishes.
On the other hand, ham is a versatile meat that can be enjoyed in many ways.
It is often served cooked and sliced as the main course for holiday meals or special occasions.
Ham can be roasted, baked, or glazed to enhance its flavor. Leftover ham can be used in sandwiches, soups, casseroles, and omelets, making it a great ingredient for utilizing in various recipes.
Taste
Canadian bacon and ham have distinct taste profiles due to their different cuts of meat and preparation methods.
Canadian bacon is known for its mild and slightly sweet flavor.
As it comes from the lean pork loin, it has less fat compared to traditional bacon, resulting in a less pronounced smoky taste.
The curing process, often involving a coating of cornmeal or other seasonings, adds a subtle and pleasant savory note to the meat.
The overall taste of Canadian bacon is tender and delicate, allowing the natural flavor of the pork to shine through.
In contrast, ham has a richer and more robust taste. The meat is typically taken from the hind leg of the pig, which has a higher fat content.
This extra fat contributes to its more intense and savory flavor. Ham is often cured with salt and sometimes sugar or other seasonings, further enhancing its taste profile.
Depending on the type of ham and its preparation, it may have a smoky or slightly sweet undertone.
While both Canadian bacon and ham are beloved breakfast meats, their taste differences make them suitable for various dishes and cater to different preferences.
Canadian bacon's mild and tender taste complements breakfast recipes, while ham's hearty flavor makes it an excellent choice for more substantial meals and special occasions.
Preservation Method
Canadian bacon is typically wet-cured or brined. This preservation process involves soaking the lean pork loin in a solution of water, salt, sugar, and sometimes other seasonings.
The brine helps to preserve the meat, adds some flavor, and enhances its juiciness. After the wet-curing process, Canadian bacon may also be coated in cornmeal or other coatings to further protect and enhance its taste.
On the other hand, ham is often dry-cured. Dry-curing involves rubbing the meat with a mixture of salt, sugar, and sometimes other spices.
The ham is then left to air-dry for an extended period, allowing the salt to draw out moisture and preserve the meat. Dry-cured hams are aged for a specific duration, which can vary depending on the type of ham, to develop their characteristic flavors and textures.
Some hams may undergo a smoking process, where the meat is exposed to smoke from wood chips or sawdust. Smoking not only adds a distinct smoky flavor but also helps with preservation.
The differences in preservation methods contribute to the unique taste, texture, and versatility of both Canadian bacon and ham, making them cherished choices for a wide range of culinary creations.
Nutritional Value
In terms of calorie content, Canadian bacon tends to be lower in calories compared to ham because it comes from the lean pork loin, which has less fat.
On the other hand, ham, especially if it includes the outer layer of fat, can have a higher calorie count.
Canadian bacon is generally lower in total fat and saturated fat than ham. As it is derived from the lean pork loin, it contains less fat marbling and fewer saturated fats, which are associated with an increased risk of certain health conditions.
Both Canadian bacon and ham are good sources of protein, which is essential for muscle maintenance and repair.
Ham can have a slightly higher protein content, especially if it includes more of the meat from the leg, which is naturally richer in protein.
In terms of sodium content, both Canadian bacon and ham can be relatively high due to the curing or brining process involved in their preservation.
However, the actual sodium content can vary depending on the specific brand and preparation.
When it comes to vitamins and minerals, both meats provide essential nutrients, including vitamin B-12, zinc, and selenium, among others.
The amounts may vary depending on the specific cut and preparation method.
Overall, both Canadian bacon and ham can be enjoyed as part of a balanced diet, but if you are concerned about specific nutritional aspects, it's essential to check the labels and choose options that align with your dietary preferences and health goals.
5 Types Of Dishes With Canadian Bacon Or Ham As An Ingredient
Eggs Benedict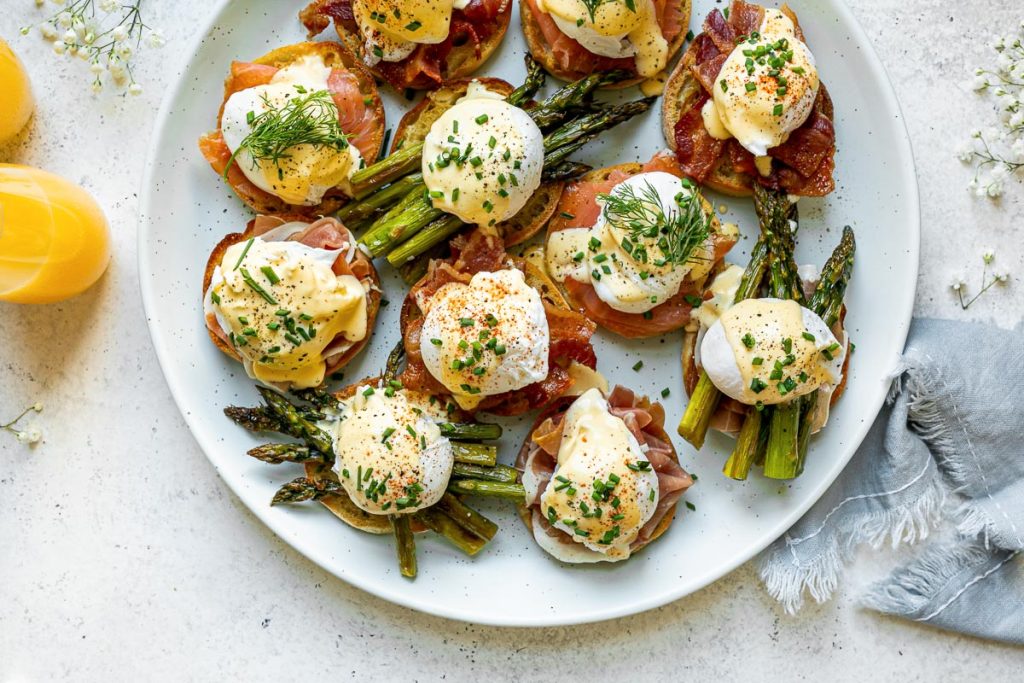 A classic brunch dish that features poached eggs served on toasted English muffins, topped with Canadian bacon or ham, and drizzled with hollandaise sauce.
Hawaiian Pizza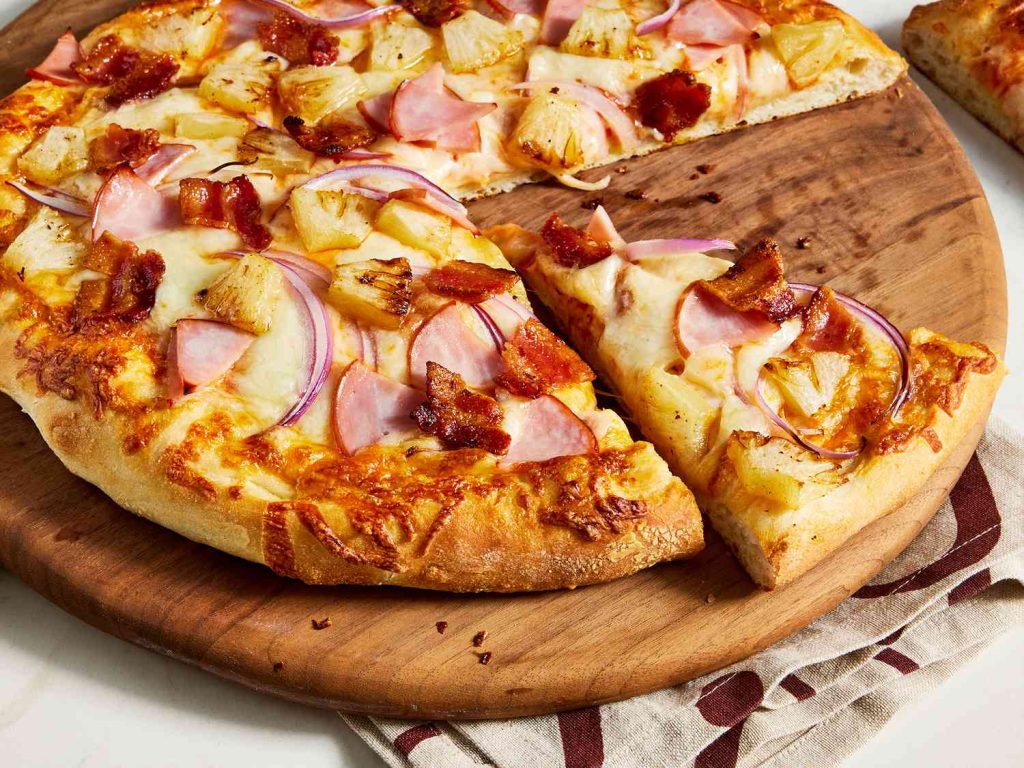 A beloved pizza variation topped with tomato sauce, mozzarella cheese, Canadian bacon, and juicy pineapple for a sweet and savory flavor combination.
Quiche Lorraine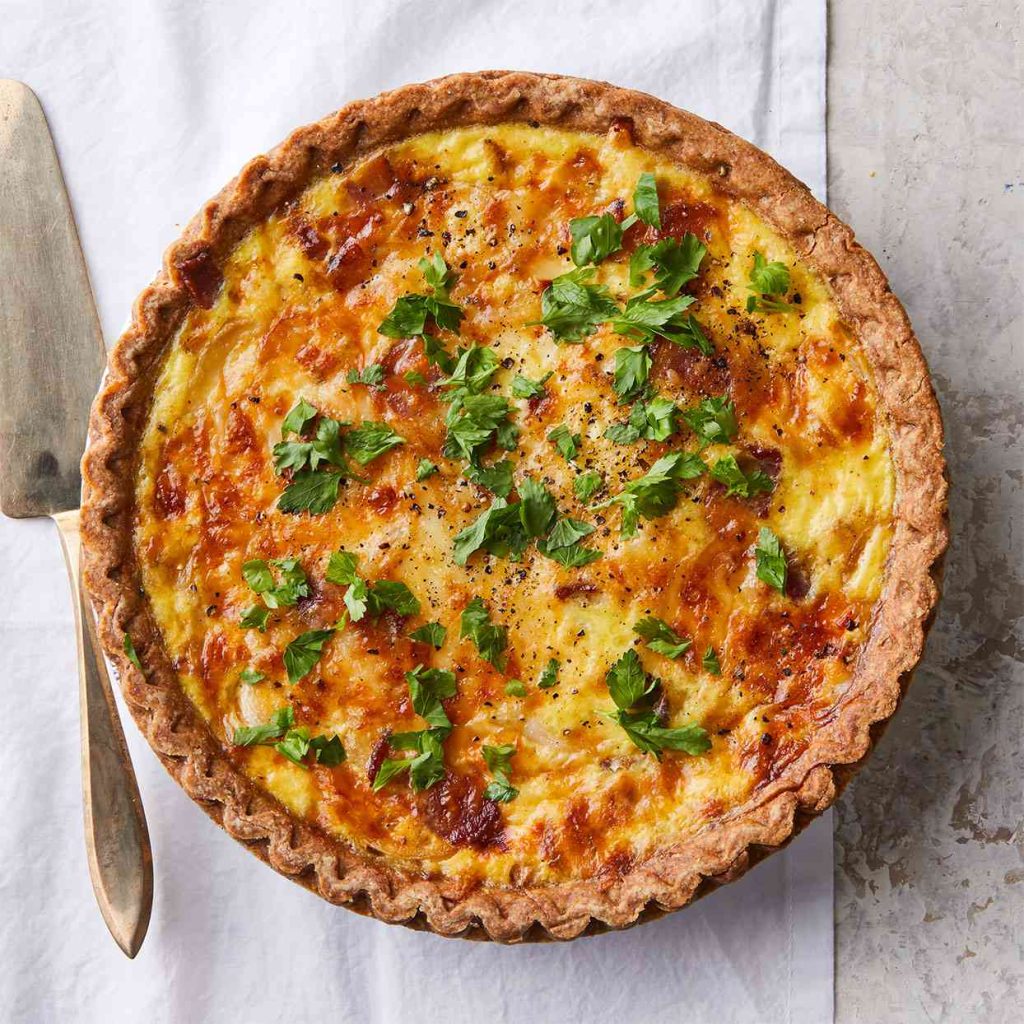 A savory French pastry dish that includes a flaky crust filled with a mixture of eggs, cream, cheese, and either Canadian bacon or ham, creating a delightful and satisfying meal.
Ham and Cheese Sandwich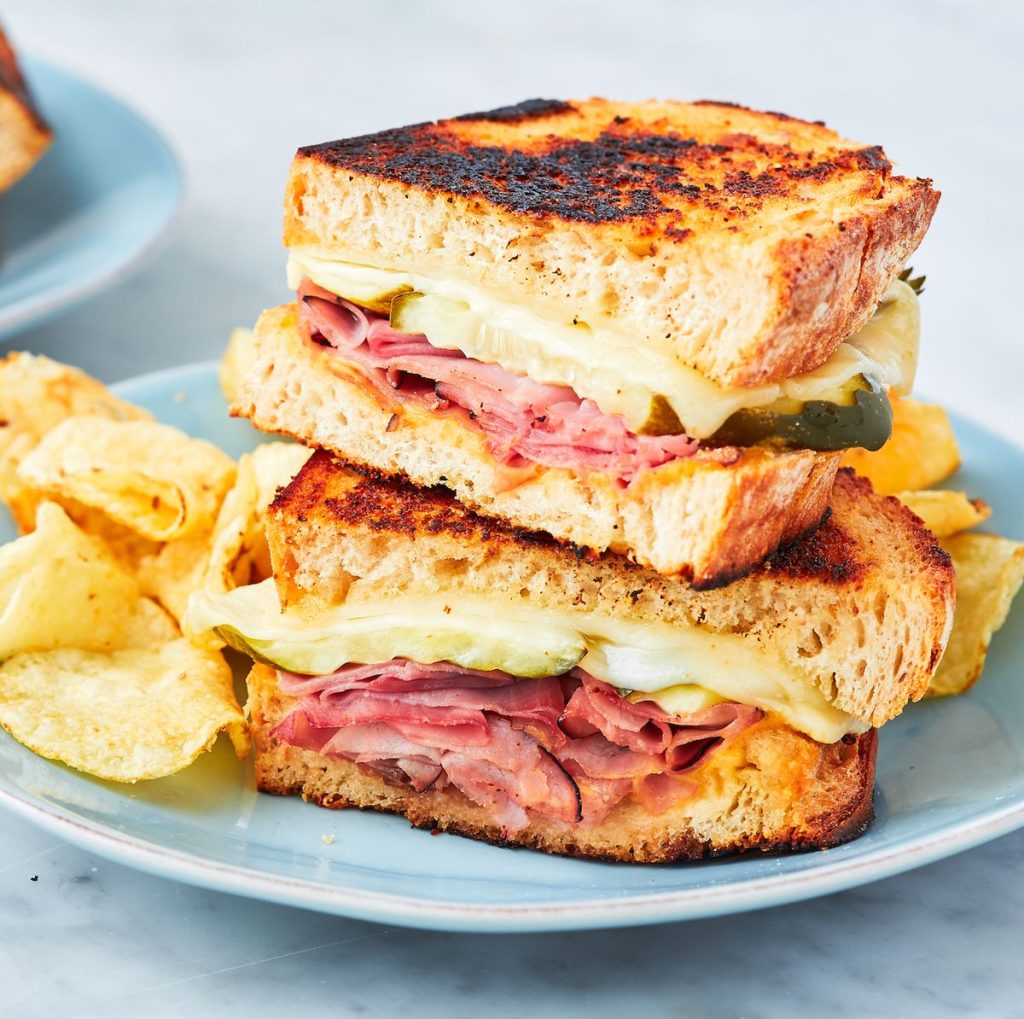 A simple and delicious sandwich made with sliced ham or Canadian bacon, cheese (such as Swiss or cheddar), and your favorite condiments between two slices of bread.
Split Pea Soup with Ham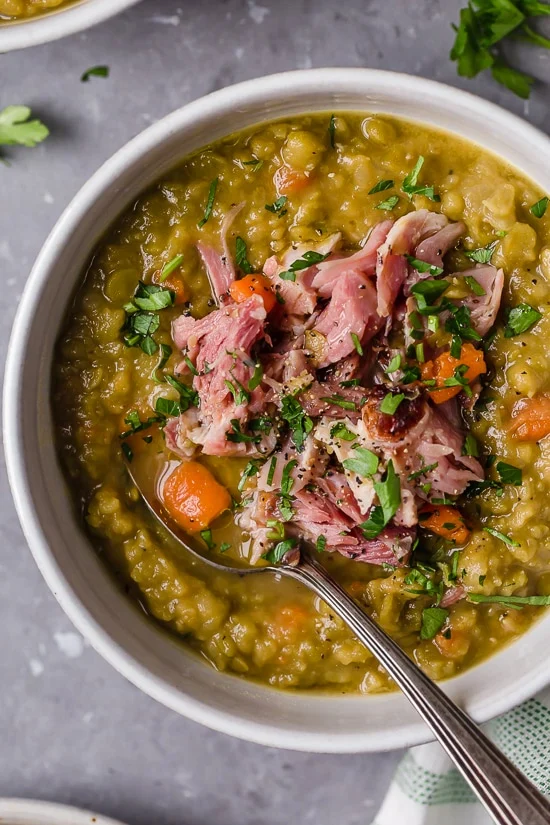 A hearty and comforting soup made with split peas, vegetables, and diced ham, simmered to perfection for a nourishing and flavorful meal.
Both Canadian bacon and ham are versatile ingredients that add a delightful taste to a wide range of dishes, making them popular choices for breakfast, lunch, and dinner.
How To Make Canadian Bacon At Home?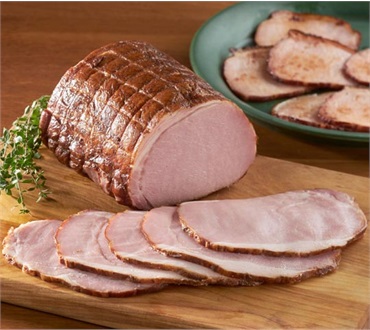 Ingredients:
2 to 3 pounds of pork loin (boneless)
1/4 cup kosher salt
2 tablespoons brown sugar
1 teaspoon pink curing salt (optional, for color and preservation)
1 tablespoon black pepper (coarsely ground)
1 tablespoon ground paprika
1 teaspoon garlic powder
1 teaspoon onion powder
Instructions:
Trim the Pork Loin: Start by trimming the pork loin of any excess fat or silver skin. Ensure it's a lean cut of meat.
Prepare the Cure: In a bowl, mix the kosher salt, brown sugar, pink curing salt (if using), black pepper, paprika, garlic powder, and onion powder to create the curing mixture.
Apply the Cure: Rub the curing mixture all over the pork loin, making sure it's evenly coated. Place the seasoned pork loin in a large resealable plastic bag or wrap it tightly in plastic wrap.
Refrigerate: Place the seasoned pork loin in the refrigerator and let it cure for at least 5 days, flipping the meat over once a day to ensure even curing.
Rinse and Pat Dry: After the curing period, remove the pork loin from the refrigerator and rinse off the curing mixture under cold running water. Pat the meat dry with paper towels.
Cold Smoke (Optional): If you have a smoker, you can cold smoke the cured pork loin over wood chips or sawdust for a couple of hours to add a smoky flavor. This step is optional, and you can skip it if you don't have a smoker.
Slice and Store: Once the Canadian bacon is ready, slice it into thin rounds or thicker pieces, depending on your preference. You can now store the Canadian bacon in an airtight container in the refrigerator for up to a week, or you can freeze it for longer storage.
Can I Use Canadian Bacon And Ham Interchangeably?

Canadian bacon and ham have some similarities, but they are not entirely interchangeable in all recipes due to their distinct flavors, textures, and preparation methods.
However, in certain dishes, you may be able to use them interchangeably based on personal preference and the overall flavor profile you want to achieve. Here are some considerations:
Flavor: Canadian bacon has a milder and slightly sweeter taste compared to ham. If a recipe calls for ham and you use Canadian bacon instead, the dish may have a less intense savory flavor. Conversely, if a recipe calls for Canadian bacon and you use ham, the dish may have a richer and more robust taste.
Texture: Canadian bacon is lean and tender, while ham can have more fat and a chewier texture. This difference in texture can impact the mouthfeel and overall eating experience of a dish.
Cooking Time: Canadian bacon cooks quickly due to its lean nature, while some types of ham, especially larger cuts, may require longer cooking times to become tender and fully cooked.
Size and Shape: Canadian bacon is typically round or oval-shaped slices, resembling traditional bacon, whereas ham comes in larger cuts, often in the form of whole or half hams. This may affect how you incorporate them into certain recipes.
In recipes where the meat's flavor is a defining element, it's best to follow the specific type of meat mentioned. However, if you prefer a milder taste, you can try substituting Canadian bacon for ham or vice versa.
Keep in mind that personal taste preferences and the specific dish you're making will ultimately determine whether you can use Canadian bacon and ham interchangeably.
What Are Other Types Of Bacon?
Bacon is a beloved and versatile type of cured pork that comes in various forms, each offering unique flavors and culinary applications. Here are some other types of bacon:
American Bacon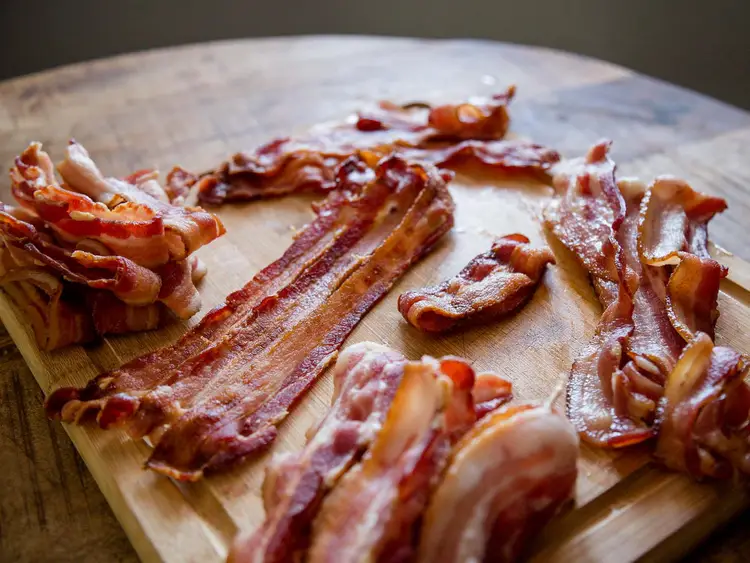 Also known as streaky bacon, American bacon is perhaps the most familiar type. It is made from pork belly and is characterized by its long, thin strips with alternating layers of meat and fat. It is typically fried or baked until crispy and is a popular breakfast staple.
Pancetta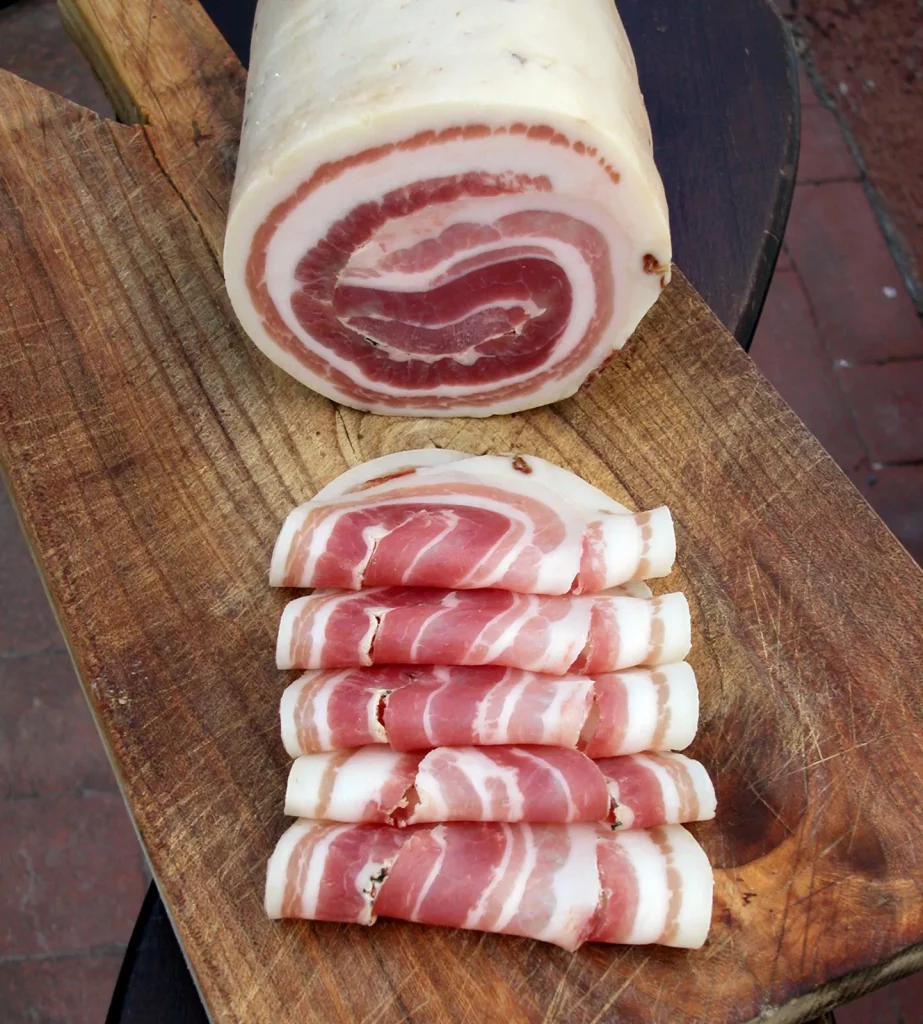 An Italian bacon that is made from pork belly, similar to American bacon, but it is typically cured with salt, pepper, and other seasonings before being rolled into a tight log shape. Pancetta is often used in cooking to add flavor to pasta dishes, soups, and sauces.
Guanciale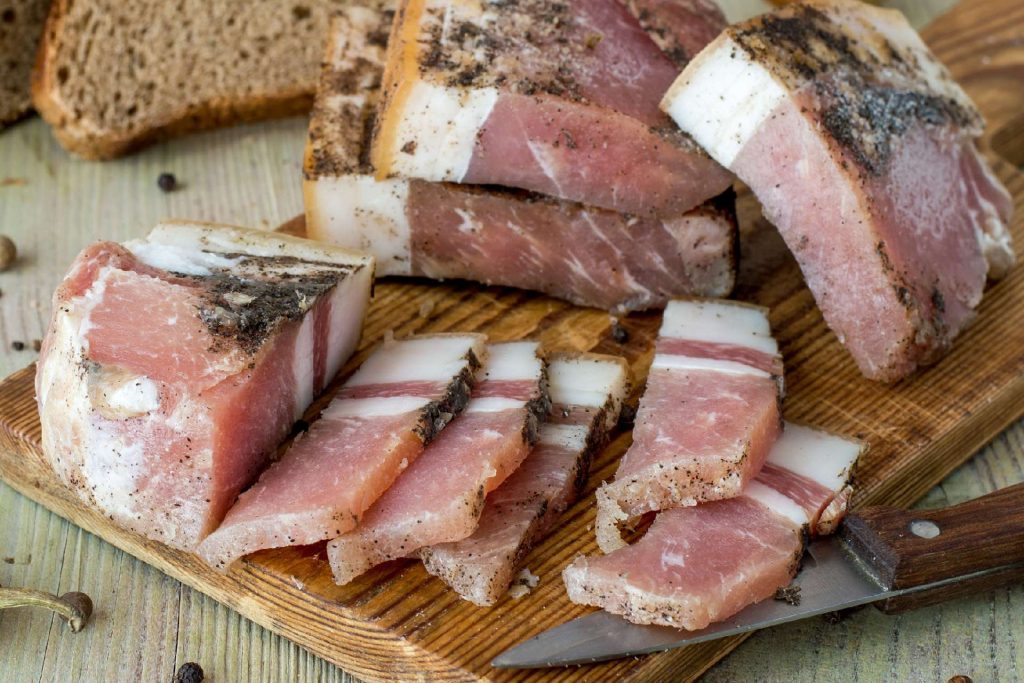 Another Italian bacon made from the jowl or cheeks of the pig. It is seasoned with salt, pepper, and sometimes other spices. Guanciale is prized for its rich flavor and is a key ingredient in the traditional Italian pasta dish, carbonara.
Slab Bacon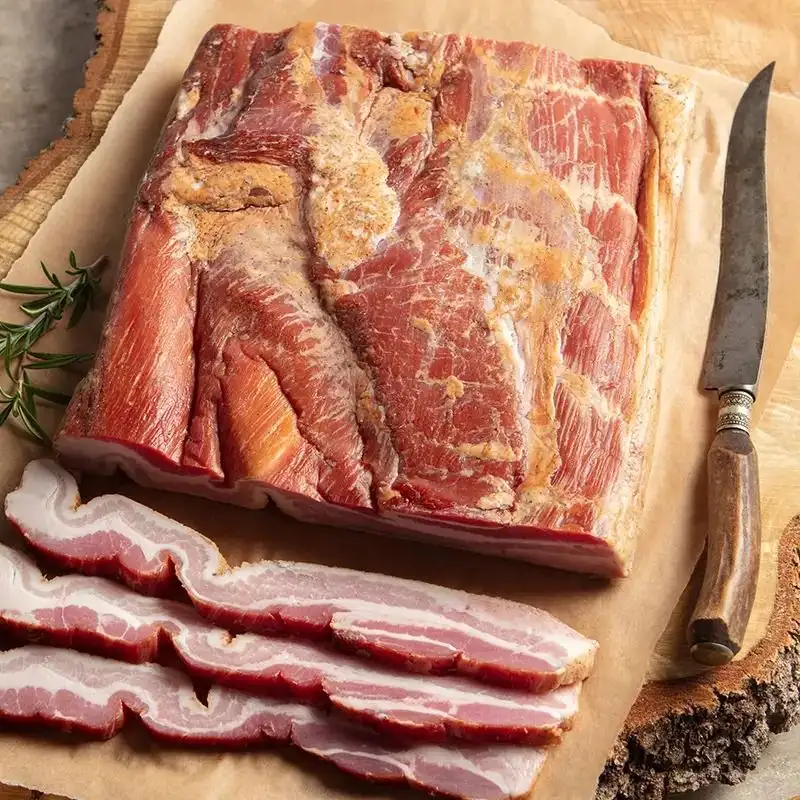 This type of bacon is sold in large slabs and often has the rind still attached. It can be sliced to the desired thickness and used in various recipes, similar to American bacon.
Turkey Bacon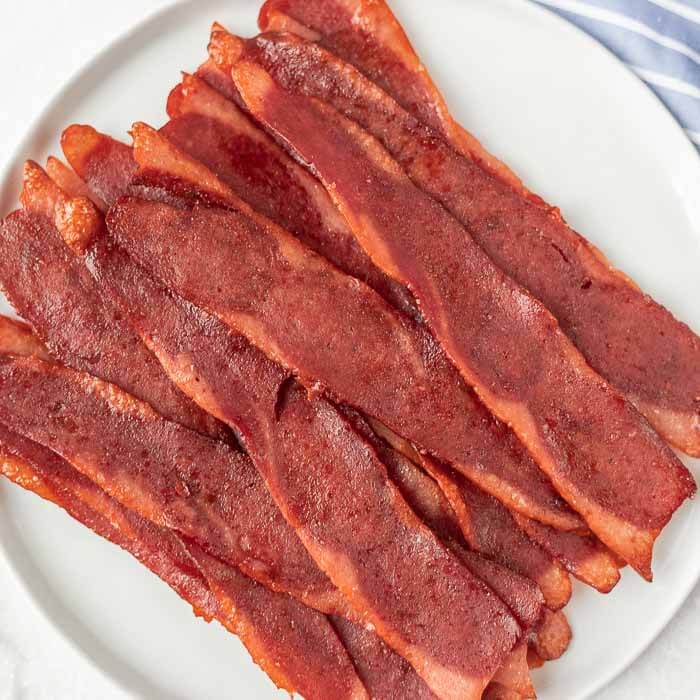 A leaner alternative to traditional pork bacon, turkey bacon is made from turkey meat. It is usually lower in fat and calories but may have added flavors and seasonings to mimic the taste of traditional bacon.
Duck Bacon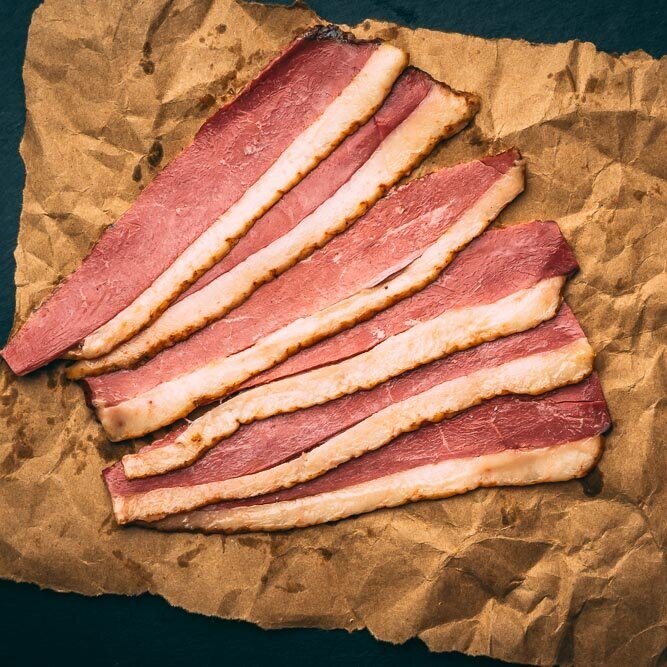 Made from duck breast, this type of bacon offers a unique and rich flavor. It is often used in gourmet dishes and can be a delightful addition to salads or pasta recipes.
Vegetarian Bacon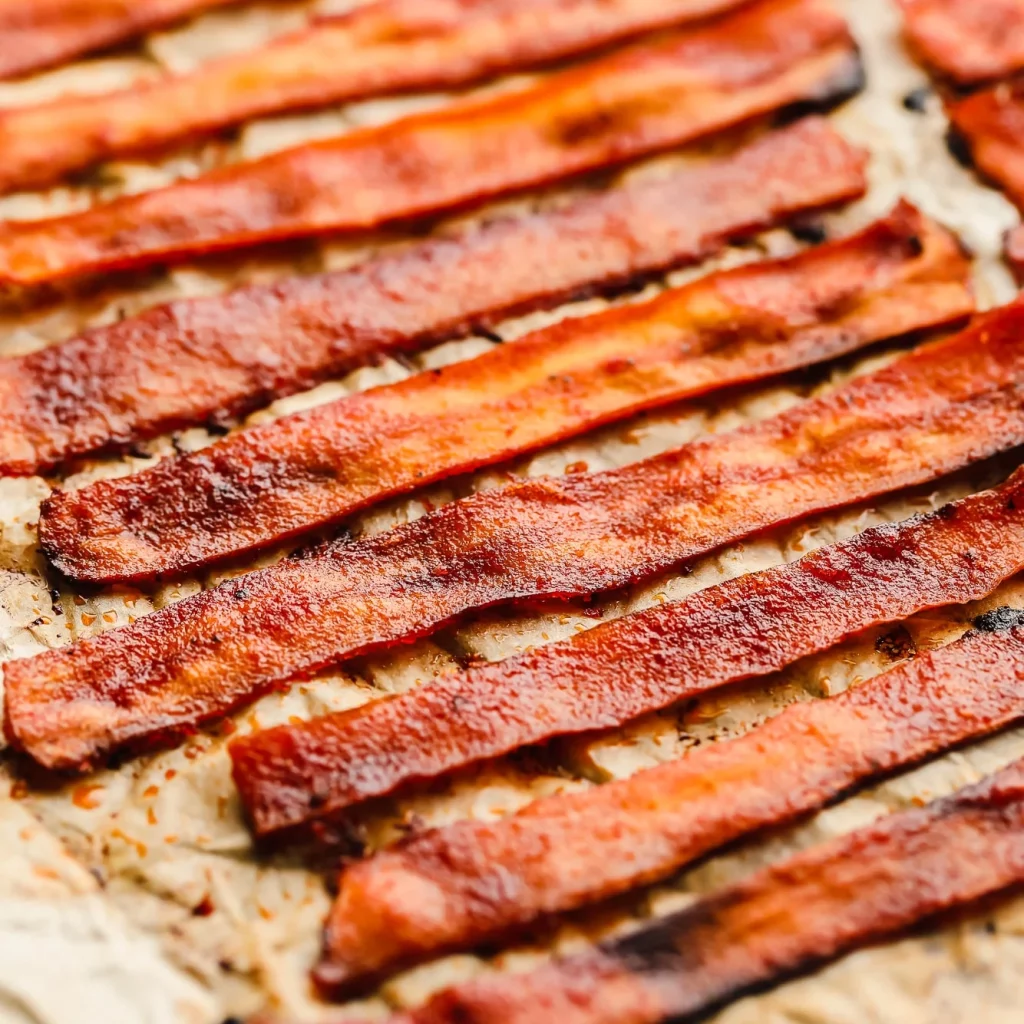 A plant-based alternative for those who don't consume meat, vegetarian bacon is made from ingredients like soy, tempeh, or seitan, and seasoned to provide a bacon-like taste and texture.
Each type of bacon brings its own character to the table, allowing for a wide range of culinary possibilities and satisfying the preferences of bacon lovers worldwide.
Frequently Asked Questions
Which bacon is healthiest?
Canadian bacon is generally considered the healthier option among bacons due to its leaner cut and lower fat content compared to other types.
What is the tastiest cut of bacon?
The tastiest cut of bacon is subjective and depends on personal preferences, but many people enjoy the rich flavor and crispiness of American bacon made from pork belly.
What is the most expensive bacon?
The most expensive bacon is often considered to be artisanal or specialty bacon varieties made from high-quality and rare ingredients, sometimes costing significantly more than standard bacon found in grocery stores.
What is the fattiest bacon?
American bacon, made from pork belly, is generally considered the fattiest bacon due to its higher fat content and marbling compared to other bacon varieties.
Can you eat bacon raw?
Eating bacon raw is not recommended as it is typically cured but not cooked, and consuming raw pork products can pose a risk of foodborne illnesses like trichinosis. Bacon should always be cooked thoroughly before consumption.
Related Articles
55 Most Popular American Foods Worth Craving in 2023
30 American Breakfast Food List 2023
Top 6 Restaurant Chains That Serve the Best Quesadillas 2023
11 Foods That Can Help You Sleep And Help You Balance Your Hormones
Simple meatballs without breadcrumbs recipe
Conclusion
In conclusion, Canadian Bacon and Ham each shine with their distinct flavors and culinary uses.
Whether you prefer Canadian Bacon's mild and sweet taste or the rich and robust flavor of Ham, both breakfast meats have a place on our plates and in our hearts.
Celebrate their diversity and versatility, and enjoy the delightful experiences they bring to our meals.