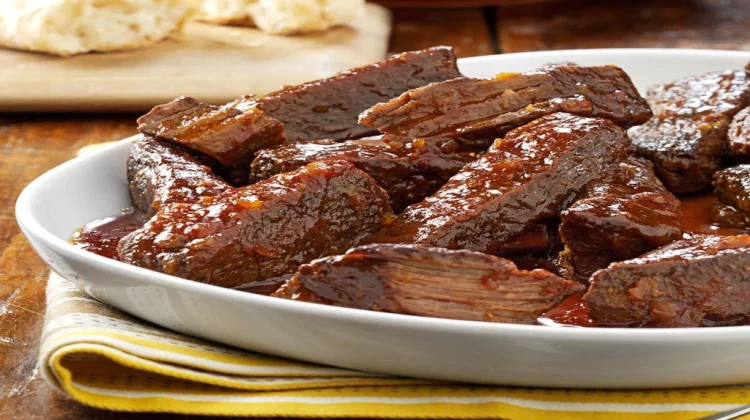 Beef short ribs are a savory delight that promise a mouthwatering experience. These succulent, meaty chunks are the ultimate comfort food, perfect for those seeking a hearty, flavorful meal.
Imagine tender, juicy beef, slow-cooked to perfection, with a rich, melt-in-your-mouth texture that's impossible to resist.
This recipe is a culinary adventure for anyone, whether you're a seasoned chef or just starting your cooking journey. The key to great beef short ribs is low and slow cooking, allowing the meat to soak up all the incredible flavors from a delectable sauce, typically a blend of savory herbs, spices, and a robust base like red wine or beef broth. Read also: How to bake fish in the oven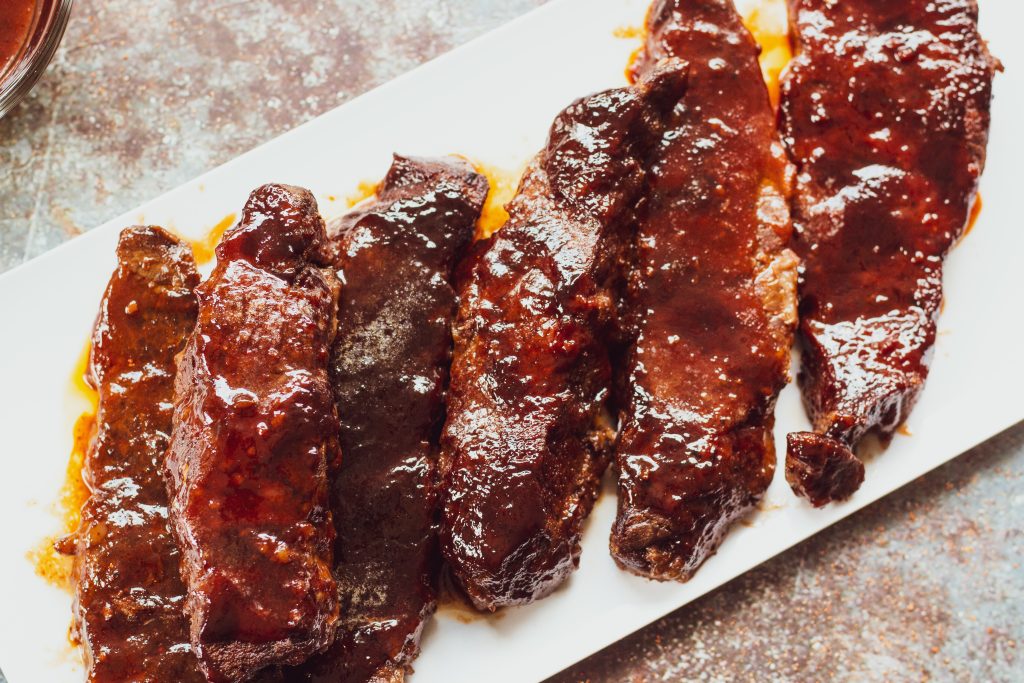 Serve these delectable ribs with your favorite sides like creamy mashed potatoes or buttery cornbread for a meal that will leave you and your guests craving seconds. Beef short ribs: a delicious dish that transforms simple ingredients into a taste sensation.
Let's get to the kitchen and prepare one of the best.
What is beef short ribs
Beef short ribs are flavorful, meaty cuts of beef from the rib section of the cow. They are known for their rich taste and tender texture, making them a popular choice for slow-cooking and braising.
Ingredients For Beef Short Ribs Recipe
Note: This recipe yields 4 servings.
For the Beef Short Ribs
4 pounds of beef short ribs
2 tablespoons of vegetable oil
1 large onion, finely chopped
4 cloves of garlic, minced
2 carrots, diced
2 celery stalks, diced
2 cups of beef broth
1 cup of red wine (such as Cabernet Sauvignon)
2 sprigs of fresh thyme
2 bay leaves
Salt and pepper to taste
For the Seasoning Rub
2 teaspoons of salt
1 teaspoon of black pepper
1 teaspoon of paprika
1 teaspoon of garlic powder
1 teaspoon of onion powder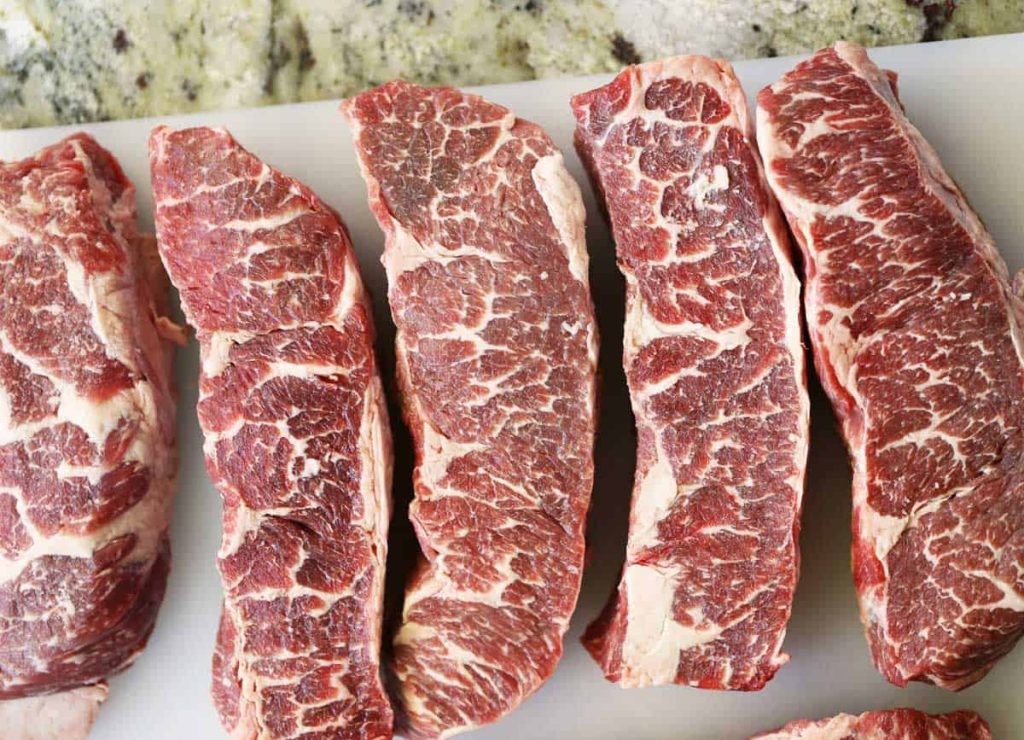 For the Vegetable Bed
1 large onion, sliced into rings
4 carrots, cut into chunks
4 celery stalks, cut into chunks
4 cloves of garlic, whole and peeled
Beef Short Ribs Recipe Oven
Prepare the Seasoning Rub
In a small bowl, combine the salt, black pepper, paprika, garlic powder, and onion powder. Mix them well to create a flavorful rub for the beef short ribs.
Season the Ribs
Pat the beef short ribs dry with a paper towel to ensure a good sear. Rub the seasoning mixture evenly over all sides of the ribs. Make sure they're well coated.
Sear the Ribs
Heat 2 tablespoons of vegetable oil in a large, oven-safe pot or Dutch oven over medium-high heat.
Sear the beef short ribs on all sides until they develop a rich, brown crust. This step takes about 10 minutes. Once seared, remove the ribs from the pot and set them aside.
Boneless beef short ribs recipe
Prepare the vegetable bed
In the same pot, add the sliced onion, carrot chunks, celery chunks, and whole peeled garlic cloves. Cook for about 5 minutes until the vegetables begin to soften and brown slightly.
Add wine and broth
Pour in the red wine and beef broth, stirring to scrape up any browned bits from the bottom of the pot. This process adds a depth of flavor to your dish.
Return the ribs
Gently place the seared beef short ribs back into the pot, nestled on top of the vegetable bed.
Read also: Top 23 Tasty And Healthy Filipino Recipes For Guilt-Free Meals 2023
Add aromatic herbs
Toss in the fresh thyme sprigs and bay leaves. These herbs will infuse their fragrant essence into the ribs.
Slow Cooking
Cover the pot and transfer it to a preheated oven set at 325°F (163°C). Allow the ribs to cook for 2.5 to 3 hours, or until the meat becomes fork-tender.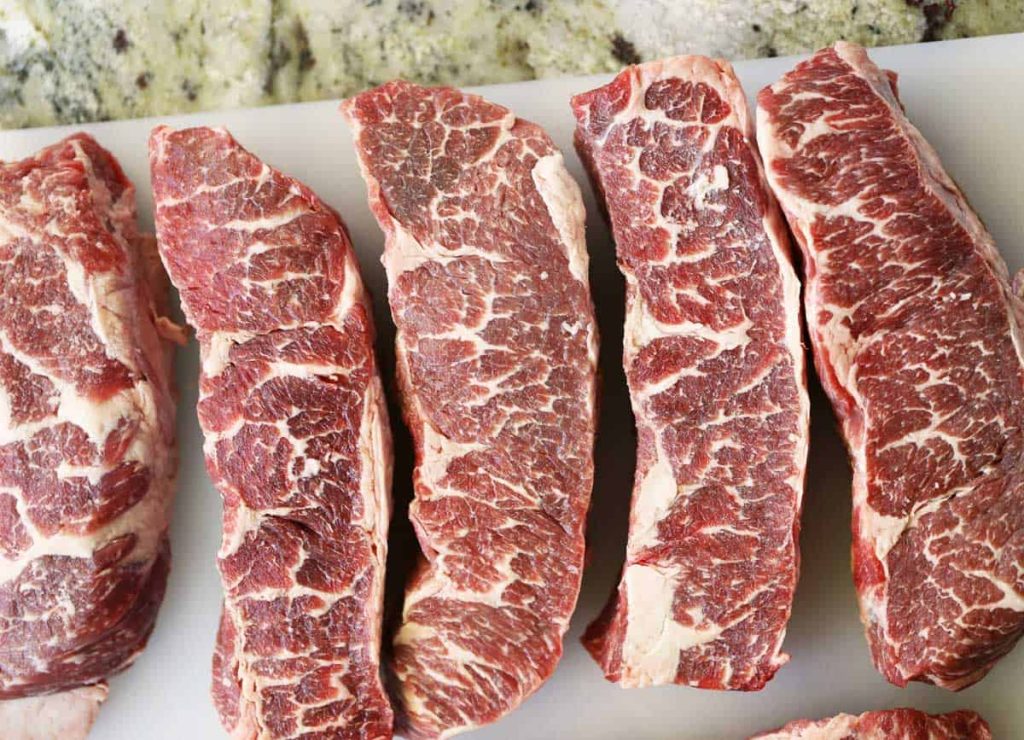 Final seasoning
Once the ribs are cooked, remove them from the pot. Discard the thyme sprigs and bay leaves.
Taste the remaining liquid and season with salt and pepper as needed.
Recommended: 30 Most Popular Nigerian Foods That Is Heavenly Tasty 2023
Serve
Plate the beef short ribs on a bed of mashed potatoes, creamy polenta, or your preferred side dish. Spoon the vegetable bed and cooking liquid over the ribs as a delectable sauce.
Your slow-cooked beef short ribs are ready to be enjoyed. The tender, flavorful meat is sure to impress your family and guests.
Read More
Sweet Tomatoes Restaurant Is Reopening Locations
Best Air Fryer Roasted Carrots Recipe
A Homemade Jamaican Curry Goat Recipe
Chickpea Moi Moi: An Affordable and Easy-To-Make Dish
How to prepare Garden egg sauce/ Eggplant sauce
Frequently Asked Questions
What's the best method for cooking beef short ribs?
Slow-cooking methods like braising or using a slow cooker are ideal for beef short ribs, as they allow the meat to become tender and absorb flavors from a flavorful liquid.
What's the recommended cooking time for beef short ribs?
Cooking times can vary, but generally, it takes around 2 to 3 hours of low and slow cooking for beef short ribs to become tender and flavorful.
What are some popular flavoring options for beef short ribs?
Popular flavorings include red wine, beef broth, garlic, herbs, and spices. These ingredients create a rich, savory sauce that complements the meat.
Can I use boneless short ribs in the recipe?
Yes, boneless short ribs can be used, but they may cook faster than bone-in ribs. Adjust the cooking time accordingly to avoid overcooking.
What are some side dishes that pair well with beef short ribs?
Classic side dishes include mashed potatoes, roasted vegetables, or buttery cornbread. These sides complement the rich and hearty flavors of beef short ribs.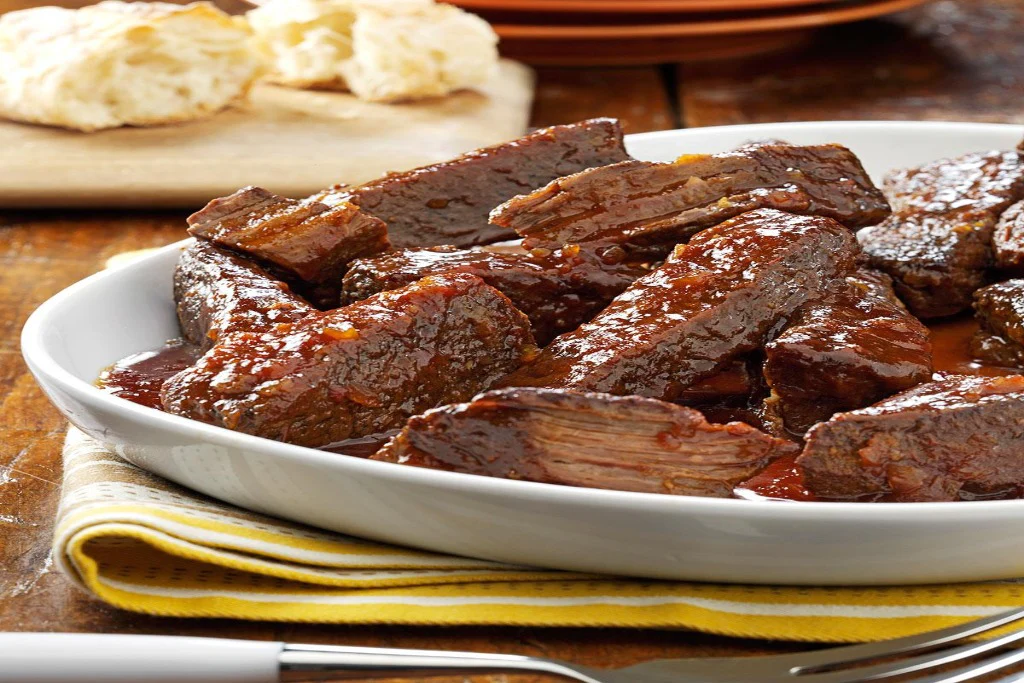 FAQ
What is the preferred cooking method for boneless short ribs?
Braising is the preferred cooking method for boneless short ribs. Simmer them in a flavorful liquid, such as wine or broth, in a covered pot at low heat for 1.5 to 2 hours. This method ensures they become tender, moist, and packed with flavor.
What are boneless short ribs good for?
Boneless short ribs are ideal for slow-cooking methods like braising and stewing. They become tender and flavorful, making them perfect for dishes like pot roast, stews, tacos, and sandwiches.
Are boneless beef ribs the same as short ribs?
No, boneless beef ribs are not the same as short ribs. Boneless beef ribs are often cut from the chuck, while short ribs come from the rib section of the cow and typically have bones.
What are boneless beef short ribs called?
Boneless beef short ribs are sometimes called "boneless short ribs" or simply "boneless ribs." They are taken from the same meaty portion as traditional bone-in short ribs but lack the bone.
Conclusion
In conclusion, beef short ribs are a culinary treasure for all to enjoy. This recipe proves that with a little patience and some simple ingredients, you can create a meal that's bursting with flavor and tenderness.
The slow-cooking process allows the meat to become incredibly succulent, making each bite a true delight. Whether you're a kitchen novice or a seasoned cook, these beef short ribs are a must-try.
Pair them with your favorite sides for a satisfying and unforgettable dining experience.
So, next time you're craving a comforting and delicious dish, remember this recipe – it's a surefire way to satisfy your taste buds and impress your dinner guests.