Shrimp is one of the most popular seafood options due to its versatility and delicious taste.
However, sometimes it can be challenging to find fresh shrimp, especially if you live inland or far away from the coast.
Luckily, frozen cooked shrimp is widely available in supermarkets and can be just as tasty as fresh shrimp when prepared correctly.
And also, we have compiled a list of the top 9 frozen cooked shrimp recipes that you must try. These recipes are easy to make and perfect for a quick weeknight dinner or an elegant dinner party.
Whether you prefer spicy dishes or mild flavors, there's something here for everyone. So grab your apron and get ready to whip up some delicious meals with these fantastic recipes!
1. Garlic Butter Shrimp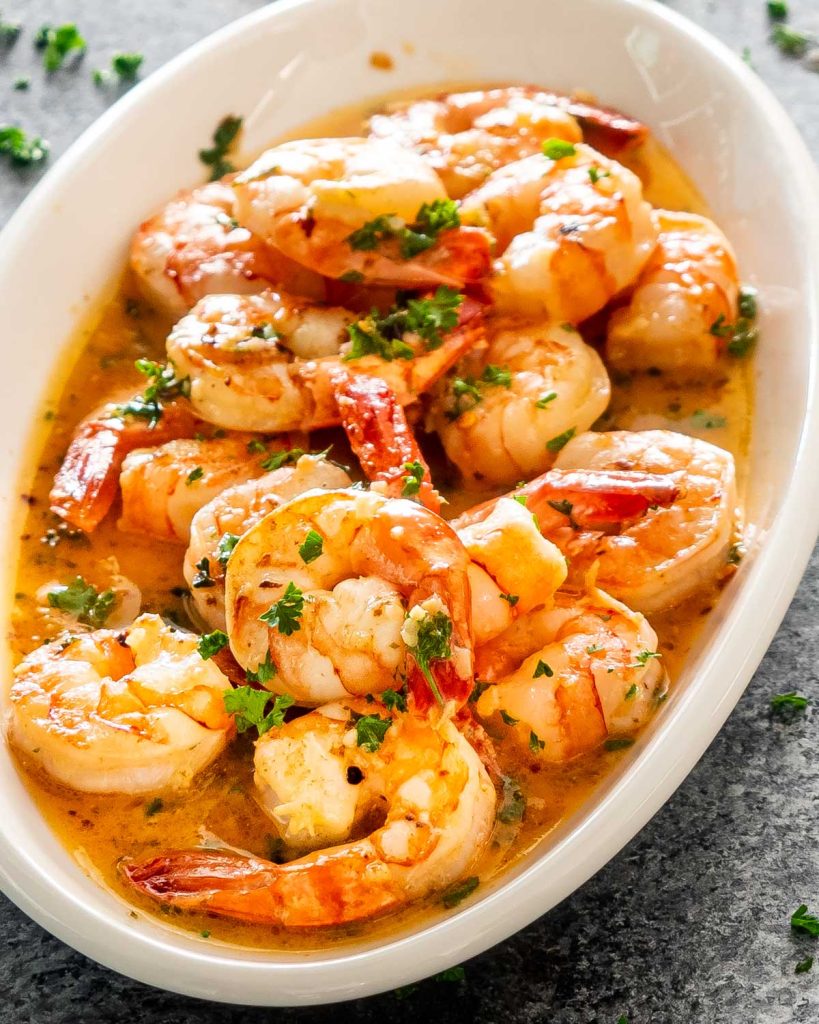 For a simple yet incredibly tasty option, start by thawing your frozen shrimp.
In a skillet, melt some butter with minced garlic over medium heat.
Add the shrimp and cook until pink and opaque.
Squeeze some lemon juice over the top and serve over rice or pasta for a delightful garlic butter shrimp dish.
2. Shrimp Stir-Fry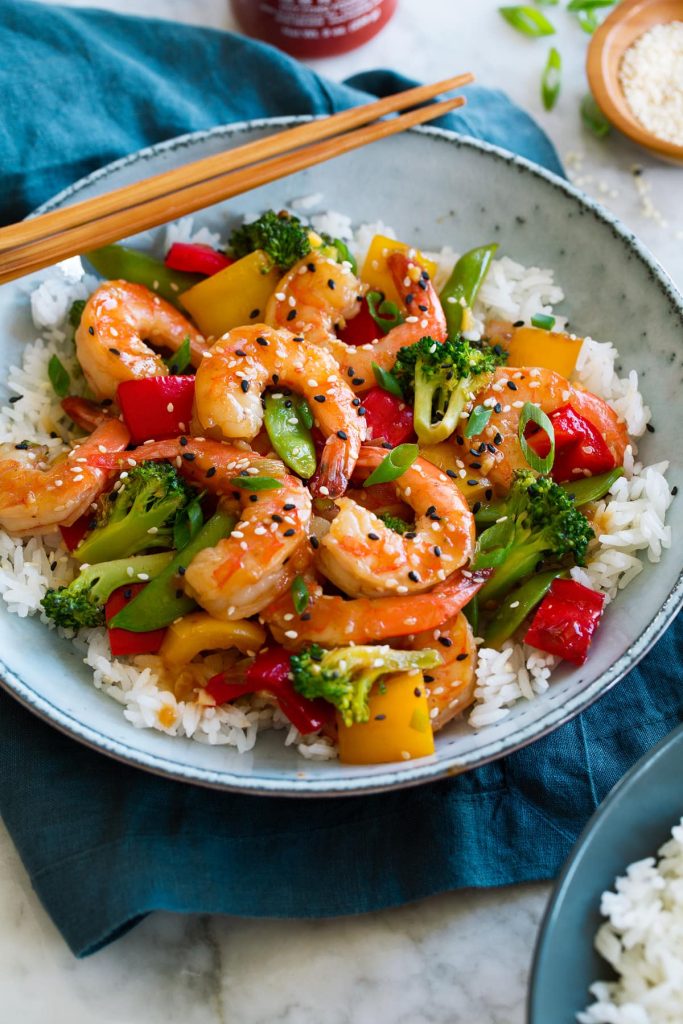 Create a vibrant and healthy meal by stir-frying frozen shrimp with an array of colorful vegetables.
Heat some oil in a wok or skillet, add the shrimp and your favorite vegetables like bell peppers, snap peas, and carrots.
Stir-fry until the shrimp is cooked through, then add your preferred stir-fry sauce for an explosion of flavors.
3. Shrimp Tacos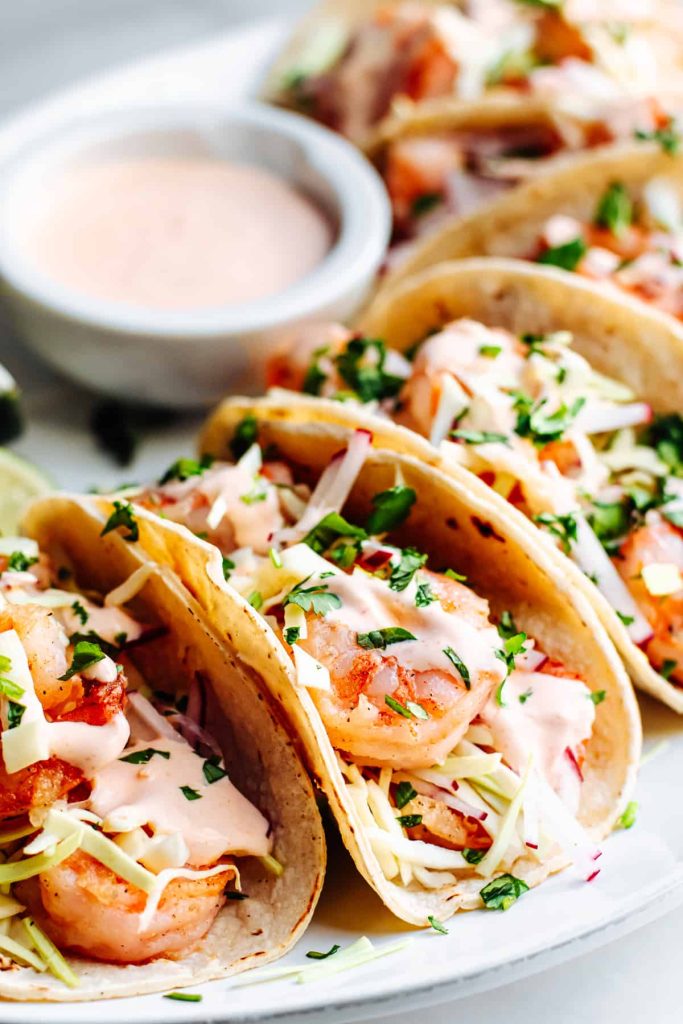 Take your taste buds on a fiesta by using frozen shrimp to make delicious tacos.
Season the thawed shrimp with your favorite taco seasoning, then grill or pan-sear them until they turn pink.
Assemble the shrimp in warm tortillas with toppings such as avocado slices, salsa, and shredded lettuce for a flavorful taco night.
4. Shrimp Scampi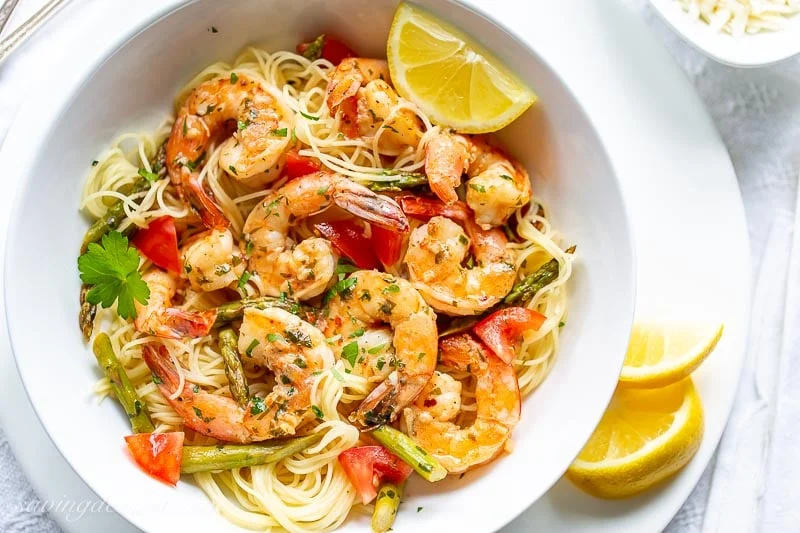 Impress your dinner guests with an elegant shrimp scampi dish.
In a skillet, sauté the thawed shrimp in olive oil and minced garlic until they turn pink.
Squeeze in some fresh lemon juice and sprinkle with parsley.
Serve the shrimp scampi over a bed of al dente pasta or with crusty bread to soak up the delectable sauce.
5. Shrimp Curry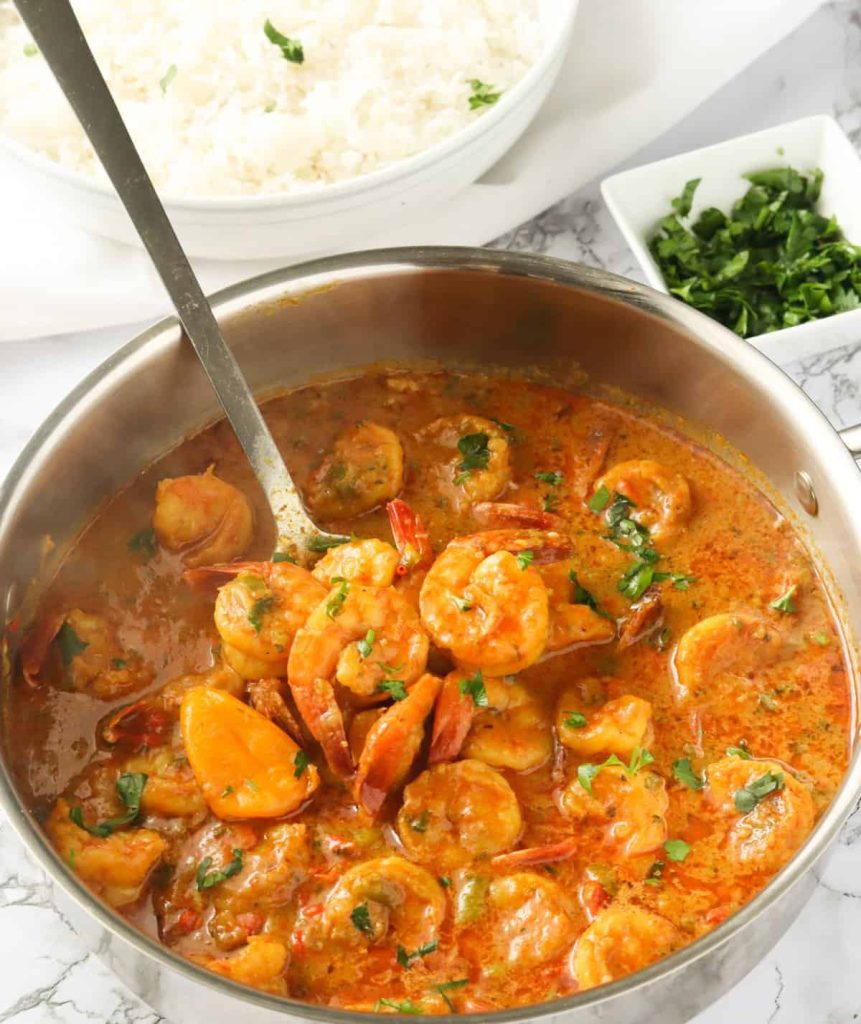 Add a touch of exotic flair to your dinner table with a shrimp curry.
Thaw the frozen shrimp and then simmer them in your favorite curry sauce until they are cooked through.
Serve the flavorful shrimp curry over a bed of steamed rice for a satisfying and aromatic meal.
Related: How To Make Cocktail Shrimps In Less Time | Step by Step Guide.
6. Shrimp Salad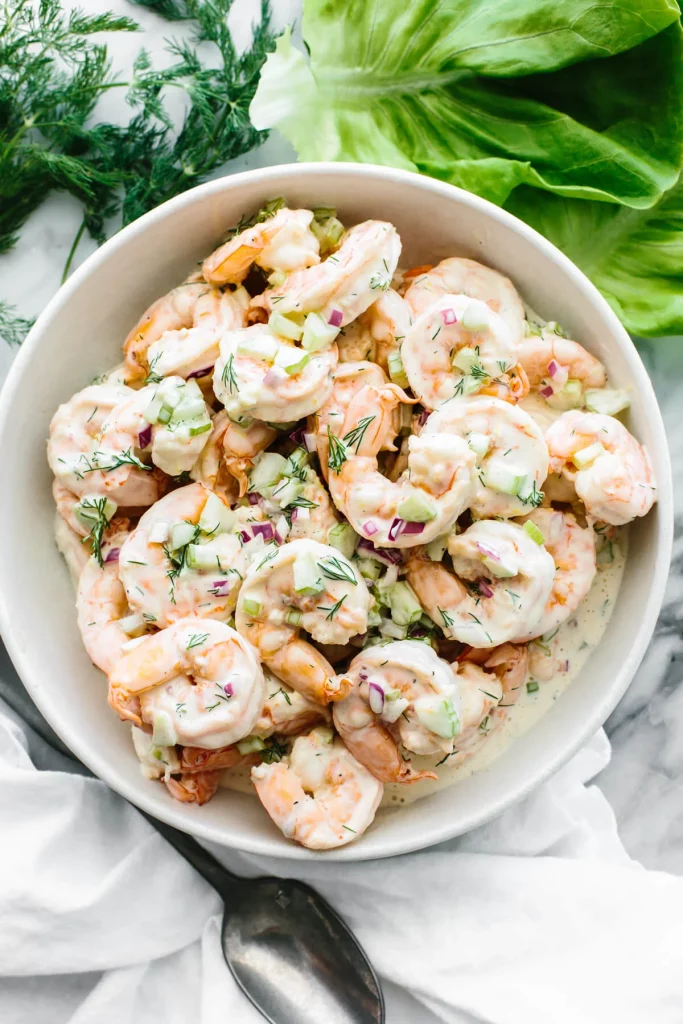 For a light and refreshing dinner, thaw the shrimp and toss them with mixed greens, cherry tomatoes, and cucumber slices.
Drizzle your preferred salad dressing over the top and garnish with fresh herbs for a healthy and satisfying shrimp salad.
7. Shrimp Alfredo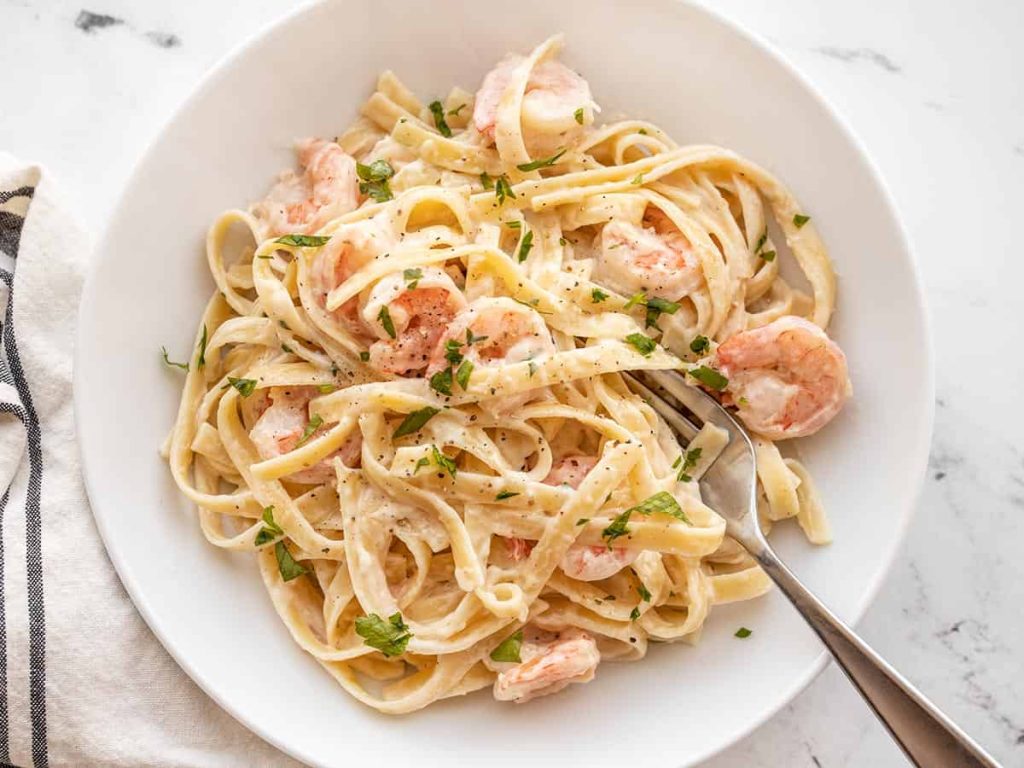 Combine cooked frozen shrimp with a creamy Alfredo sauce for a comforting and indulgent pasta dish.
Thaw the shrimp and heat them gently in a skillet, then mix them into a rich Alfredo sauce.
Serve the shrimp Alfredo over fettuccine noodles and sprinkle with grated Parmesan cheese.
Related: Easy Mango Avocado Shrimp Salad
8. Shrimp Fried Rice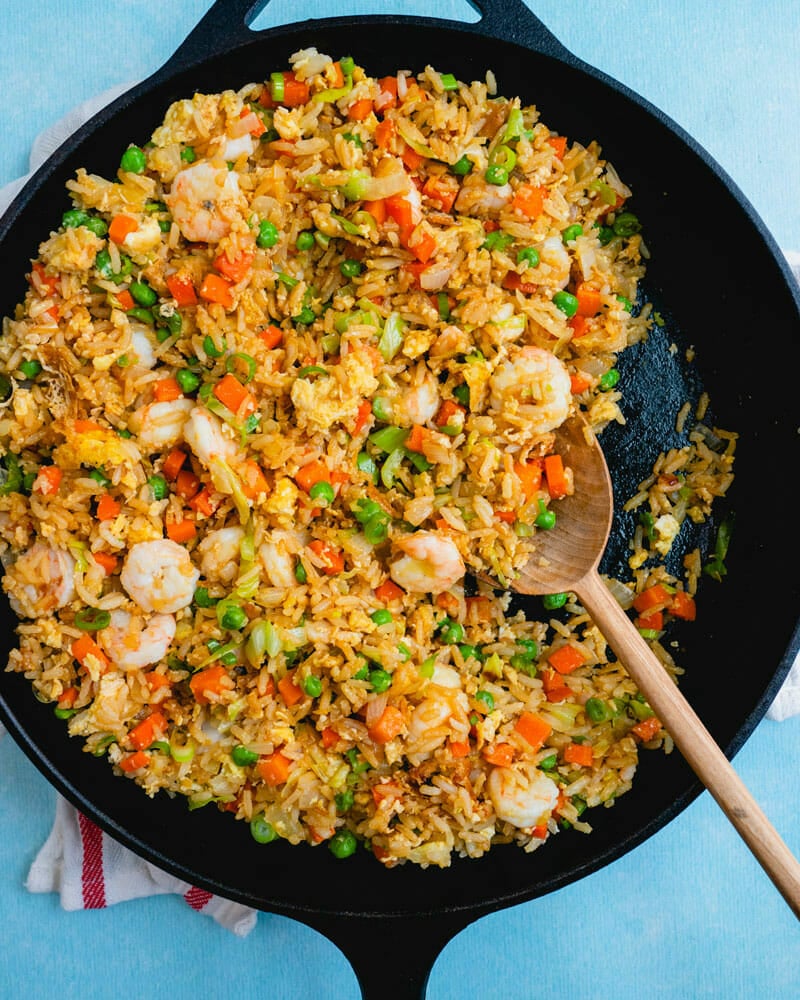 Transform your frozen shrimp into a flavorful fried rice dish. Thaw the shrimp and stir-fry them in a wok or skillet until they're cooked through.
Remove the shrimp from the pan and set aside. In the same pan, stir-fry cooked rice, diced vegetables, scrambled eggs, and a splash of soy sauce.
Add the shrimp back in and toss everything together for a delicious homemade shrimp fried rice.
9. Shrimp Skewers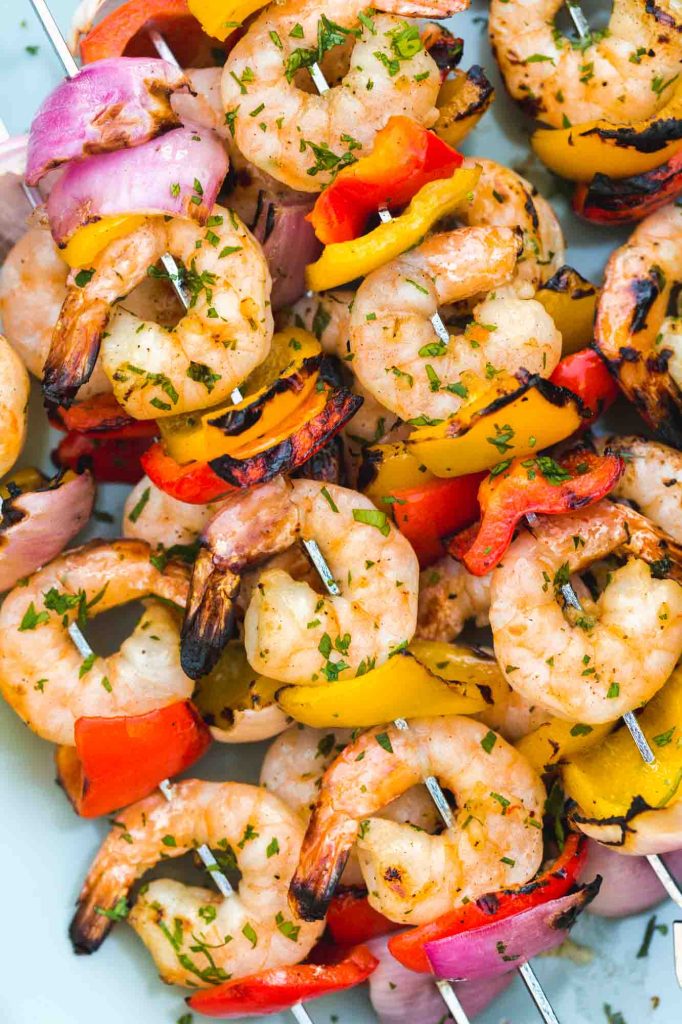 Fire up the grill or preheat your broiler for some succulent shrimp skewers.
Thaw the shrimp and thread them onto skewers. Brush them with your favorite marinade or a simple mixture of olive oil, garlic, and lemon juice.
Grill or broil the shrimp skewers until they're pink and slightly charred. Serve them with a side of grilled vegetables.
Read More
8 Healthy dessert To pick On The Grocery Shelves
39 foods that lower blood sugar immediately
30 Best healthy lunch ideas for weight loss
Unveiling the Nutritional Marvels: Exploring the Remarkable Health Benefits of Cashews
Best 31 Healthy Restaurants in America | Locations
How To Make Cocktail Shrimps In Less Time | Step by Step Guide.
20 healthiest butter substitutes
The top 33 foods for keeping your kidney healthy
20 Healthy Chips You Can Eat When You're Trying To Lose Weight
Frequently Asked Questions
Can I use frozen shrimp in these recipes?
Absolutely! These recipes are specifically designed to showcase the versatility and convenience of frozen shrimp. Simply follow the thawing instructions provided on the shrimp packaging before using them in the recipes.
How do I thaw frozen shrimp?
The best way to thaw frozen shrimp is to place them in a bowl in the refrigerator overnight. If you need to thaw them quickly, you can seal them in a plastic bag and submerge them in cold water for about 30 minutes, changing the water every 10 minutes.
Are these recipes suitable for different dietary preferences?
Yes, these recipes offer a range of options to accommodate various dietary preferences. From gluten-free and dairy-free options to those suitable for low-carb or keto diets, you'll find recipes that cater to different needs. Additionally, many recipes can be easily modified to fit specific dietary restrictions.
Can I adjust the spice level in these recipes?
Absolutely! The spice level can always be adjusted to your personal preference. If you prefer milder flavors, reduce the amount of spices or omit ingredients like chili peppers or hot sauce. Conversely, if you enjoy bold and spicy flavors, feel free to add more spices or customize the heat level to your liking.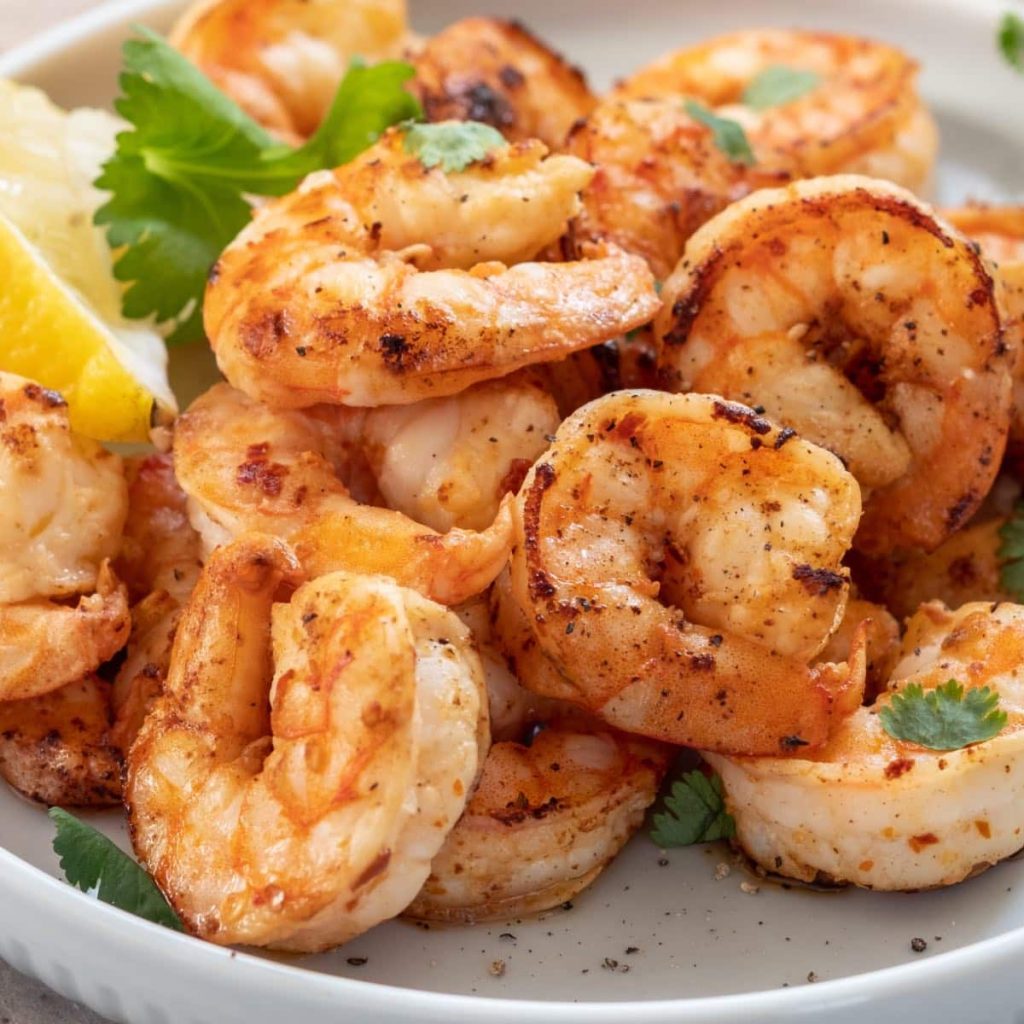 FAQ
Are these recipes time-consuming?

Answer: These recipes are chosen for their simplicity and efficiency. While some recipes may require a bit more time for marinating or baking, overall, they are designed to be quick and easy to prepare. Many of them can be ready in 30 minutes or less, making them perfect for busy weeknight dinners.
Can I substitute ingredients in these recipes?

Answer: Yes, you can make ingredient substitutions based on personal preferences or ingredient availability. However, it's important to note that certain ingredient substitutions may alter the overall flavor and texture of the dish.
It's always recommended to follow the recipe closely for the best results, but don't hesitate to get creative and adapt as needed.
Can I double or halve these recipes?

Answer: Absolutely! These recipes can be easily adjusted to suit your serving size needs. Simply double or halve the ingredient quantities accordingly.

Just keep in mind that cooking times may vary slightly depending on the adjustments made, so it's important to monitor the cooking process to ensure the shrimp is cooked to perfection.
Conclusion
In conclusion, frozen shrimp is a versatile ingredient that can be used to create a variety of delicious and easy-to-prepare meals.
From classic shrimp scampi to spicy shrimp tacos, these top 9 frozen shrimp recipes are sure to satisfy your cravings for seafood.
Whether you're looking for a quick weeknight dinner or an impressive dish to serve at your next dinner party, there's something on this list for everyone.
So why not give one (or all) of these recipes a try? You might just discover a new favorite meal that you'll want to make again and again. Happy cooking!