Welcome to our comprehensive guide on the top 19 healthy carbs for weight loss! In the pursuit of a balanced and effective weight management journey, it's essential to debunk the myth that all carbs are adversaries.
In fact, certain carbohydrates can play a pivotal role in supporting your weight loss goals while providing your body with essential nutrients.
Carbohydrates are a fundamental energy source, and choosing the right ones can make all the difference. From nutrient-dense vegetables like sweet potatoes and quinoa, to high-fiber options like oats and lentils, this blog will explore a diverse range of 19 carb-rich foods that can aid in weight loss.
We'll delve into their nutritional benefits, highlighting how they contribute to satiety, stable blood sugar levels, and overall well-being.
Whether you're seeking to shed a few pounds or maintain a healthy lifestyle, understanding the world of healthy carbs is crucial.
So, let's dive in and discover how these 19 carb choices can be your allies in achieving your weight loss goals while enjoying delicious and nourishing meals.
These are the best healthy carbs for weight loss.
Experts share their top-recommended healthy carbs for weight loss that are jam-packed with nutrients and fiber. Start working them into your meals ASAP if you want to lose weight.
1. High-Fiber Crackers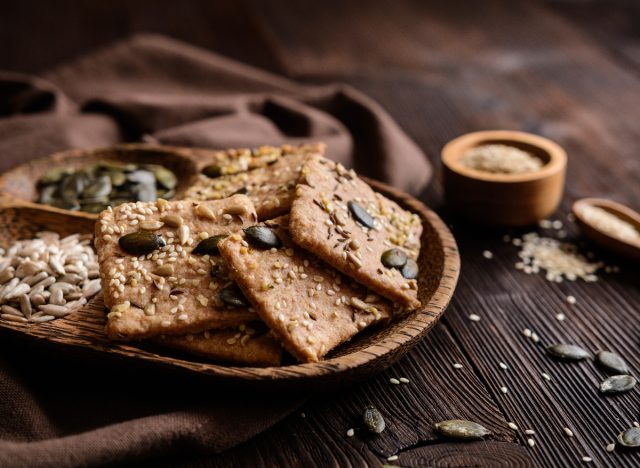 Fiber is an absolute necessity when it comes to shedding pounds – we can't stress this enough. Its ability to keep you feeling full for extended periods of time helps control cravings and ultimately leads to consuming fewer calories.
So, when it comes to selecting healthy carbs that promote weight loss, think of fiber as your newfound best friend. As a delightful snack choice, Burak particularly suggests opting for high-fiber crackers.
Consider choosing whole grain and seed-infused options like Mary's Gone Crackers or ELLA'S FLATS, or even explore wraps crafted from chickpea or almond flour such as those offered by Siete brand, she recommends.
2. Bean Pastas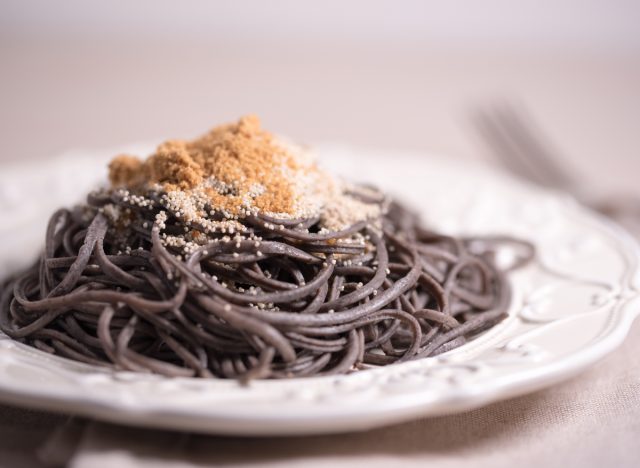 If you're a fan of spaghetti and cannot imagine giving up your beloved pasta nights, fear not! There are ways to include pasta in your weight loss journey without compromising on nutrition.
The Cleveland Clinic advises trying out alternative pastas like chickpea or black bean varieties which offer greater amounts of essential nutrients such as iron and fiber compared to regular refined flour pasta.
To enjoy the benefits of these healthy alternatives, Burak recommends choosing Banza chickpea pasta or Explore Cuisine's organic black bean and edamame pasta.
3. Chickpeas
To support your weight loss goals, Dr. Lisa Young, a nutritionist with a Ph.D., RDN credentials, recommends including chickpeas in your diet.
Research published in the Journal of Food Science and Technology reveals that chickpeas offer multiple benefits, such as regulating energy intake and suppressing appetite, making them an excellent addition to your weight management efforts.
4. Oats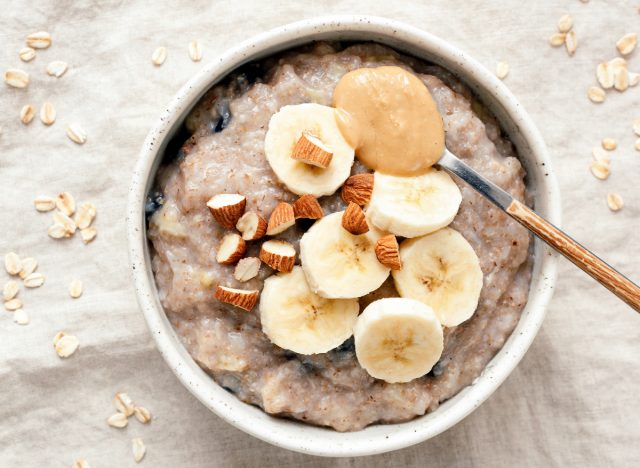 Owning a canister of oats is an excellent decision for any home. Burak fully supports this delectable breakfast staple with good reason. Trifecta Nutrition confirms that oats are rich in fiber, making them incredibly filling and satisfying.
These beneficial characteristics can aid in preventing excessive eating and managing hunger levels effectively.
5. Sweet Potatoes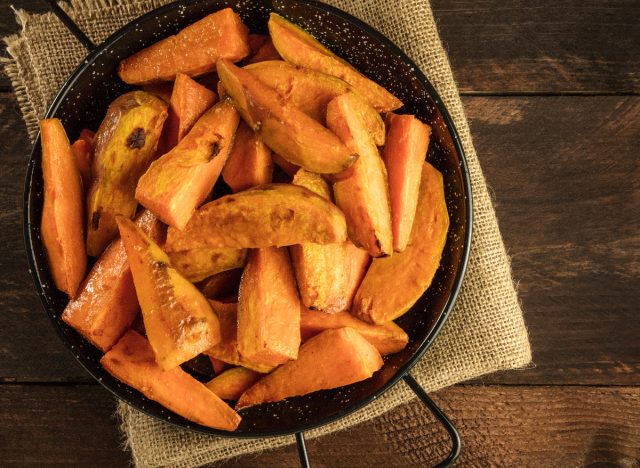 Sweet potatoes are not only delicious but also packed with numerous health benefits. They are a great source of vitamins, minerals, and antioxidants that support overall well-being.
The high fiber content aids in digestion and promotes a healthy gut. Additionally, sweet potatoes have been found to have anti-inflammatory properties that may reduce the risk of chronic diseases.
Whether baked, mashed, or roasted, there are endless ways to incorporate this nutritious tuber into your diet. So why not start adding sweet potatoes to your meals and reap the many rewards they offer for your health?
6. Black Beans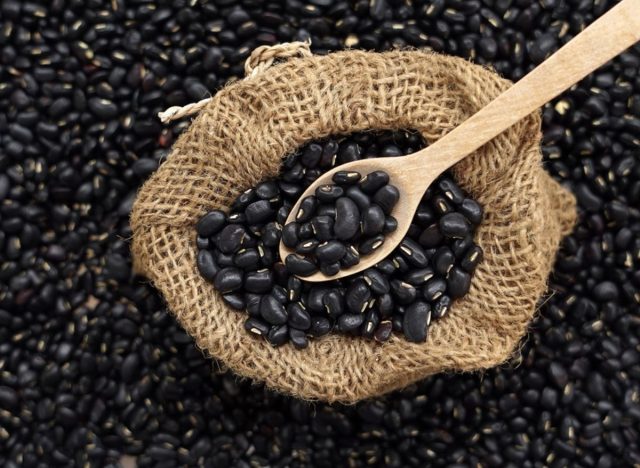 Black beans are a nutritious choice for those looking to increase their fiber intake and satisfy their carbohydrate cravings. According to the Nutrition Twins, these beans provide a winning combination of six grams of fiber and eight grams of protein per half cup, ensuring that you stay satiated for longer periods.
Furthermore, scientific studies have shown that incorporating beans into your diet can aid in weight loss and result in a slimmer waistline. To enjoy the benefits of black beans, the Nutrition Twins suggest creating lettuce wrap burritos or adding them to soups, salads, or flavorful casseroles such as the one-pot black bean quinoa chili with avocado.
7. Underripe Bananas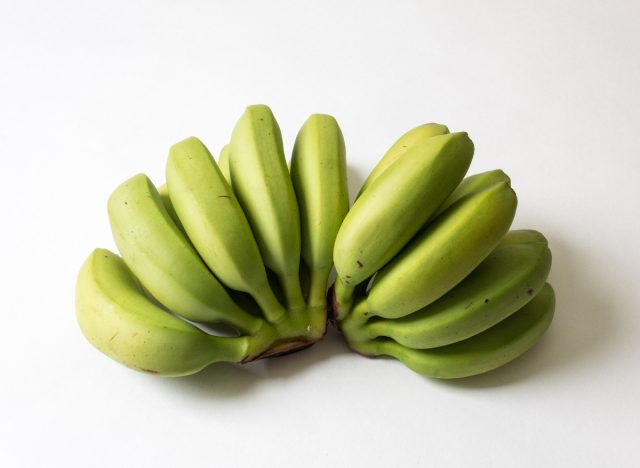 To achieve weight loss, refrain from waiting until your bananas are completely ripe before devouring them! According to The Nutrition Twins, underripe bananas contain an abundance of gut-friendly resistant starch.
This prebiotic fiber not only slows down the digestive process but also contributes to reducing belly fat and facilitating weight loss. Additionally, resistant starch has the added benefit of curbing one's appetite.
8. Boiled Potatoes
Surprisingly, boiled potatoes rank the highest on the satiety index, making them incredibly filling. According to The Nutrition Twins, eating a baked potato will keep you satisfied for a long time and help prevent other cravings.
Additionally, a 3.5-ounce potato only contains 92 calories, providing a carb fix without excessive calories. To enhance the flavor of boiled potatoes without adding extra calories, salt, or fat, consider adding lemon and pepper.
For a well-balanced meal that supports weight loss goals, The Nutrition Twins recommend pairing potatoes with protein-rich options like chicken breast or salmon and complementing it with steamed veggies for added fiber.
9. Apples
The Nutrition Twins assert that apples offer a valuable source of polyphenols, which have been shown to effectively fight against obesity. Moreover, apples are abundant in soluble fiber, and scientific research has demonstrated that increasing daily consumption of 10 grams of soluble fiber can result in a remarkable reduction of 3.7 units in belly fat over a span of five years.
10. Blueberries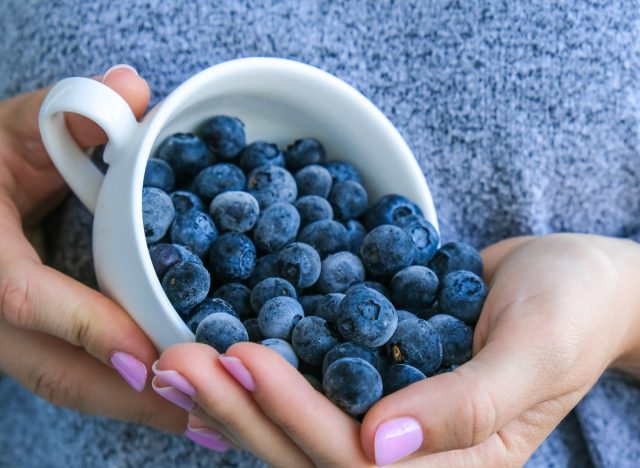 Danielle McAvoy, RD, senior manager of nutrition for Territory Foods, explains that incorporating low-sugar fruits like blueberries into your diet can assist in your weight loss endeavors.
In fact, a recent study published in Nutrients in 2023 indicates that this superfruit has the potential to increase fat burning and improve workout efficiency.
11. Spaghetti Squash
Spaghetti squash is a delicious, seamless alternative to pasta when you're looking to lose weight.
According to The Nutrition Twins, making the switch from pasta to spaghetti squash can result in a significant calorie reduction. With only 42 calories and 10 grams of carbs per cup, spaghetti squash is a much lighter option compared to pasta, which contains 221 calories and 43 carbs.
To embrace this healthier alternative, The Nutrition Twins suggest creating a delicious meal like weight loss spaghetti squash with tomato sauce and Parmesan cheese.
12. Barley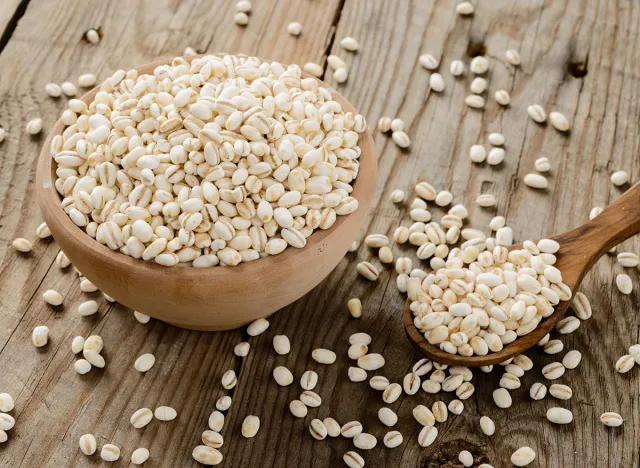 If you're looking to lose weight, incorporating barley into your diet is a great choice. Young suggests that the high soluble fiber content in barley can help lower cholesterol, regulate blood sugar levels, and increase feelings of fullness.
Additionally, barley is known to support healthy digestion by acting as a bulking agent.
13. Quinoa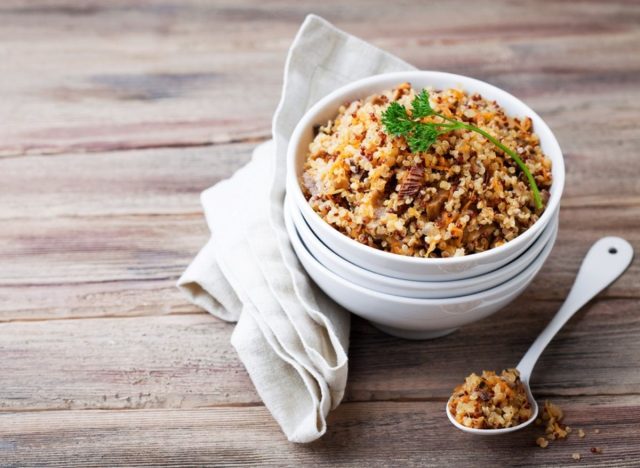 According to Young, quinoa is a nutritious starch that is both satisfying and beneficial for weight loss due to its high protein content and fiber source.
If you choose quinoa as part of your weight loss journey, you can be confident that you will receive a sufficient amount of essential nutrients such as antioxidants, fiber, vitamins, and minerals.
With just one cup of cooked quinoa, you can enjoy the benefits of five grams of fiber, eight grams of protein, four grams of total fat, and 39 grams of carbs without consuming excessive calories (only 222 calories).
14. Brown Rice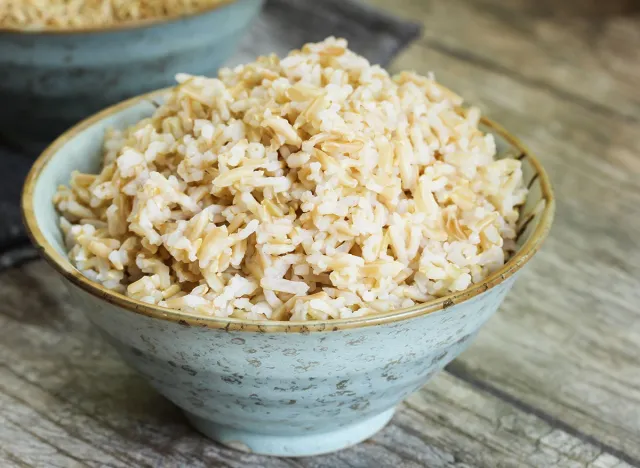 According to McAvoy, including whole grains such as brown rice in your diet can provide a significant amount of fiber and energy, preventing constant hunger while on a weight loss journey.
The slow digestion process caused by fiber keeps you satiated for longer periods and also positively affects the gut microbiome, potentially influencing body weight in the long run.
Ultimately, incorporating a moderate portion of whole grains into your meals can assist in adhering to a weight loss plan.
15. Legumes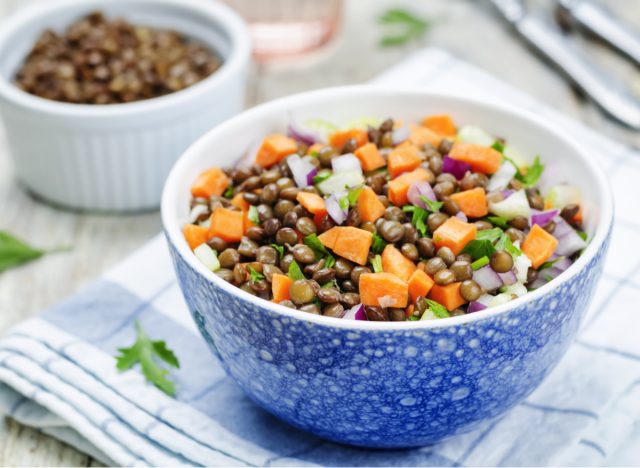 According to Young, incorporating legumes into your diet can aid in weight loss because they are rich in fiber and protein. McAvoy further explains that protein helps keep you feeling full and promotes fat loss instead of muscle loss when in a calorie deficit.
Medical News Today also highlights the numerous health benefits of consuming legumes, such as reducing the risk of obesity, managing a healthy weight, lowering blood pressure, and supporting the immune system. Make sure to include lentils and peas in your meals as soon as possible.
16. Strawberries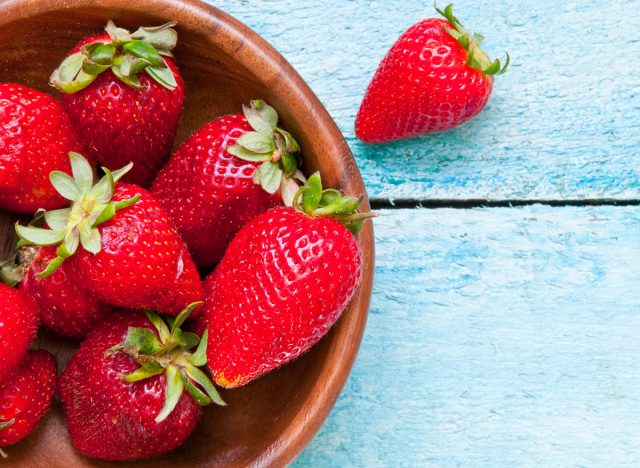 According to The Nutrition Twins, berries are packed with cyanidin 3-glucoside (C3G), a phytochemical that boosts adiponectin levels to improve fat metabolism and leptin levels to reduce appetite.
In addition, they are a guilt-free alternative to high-calorie desserts as they satisfy sweet cravings without adding many calories. For a satisfying snack, choose strawberries paired with a drizzle of manuka honey, known for its antioxidant and anti-inflammatory benefits.
17. Watermelon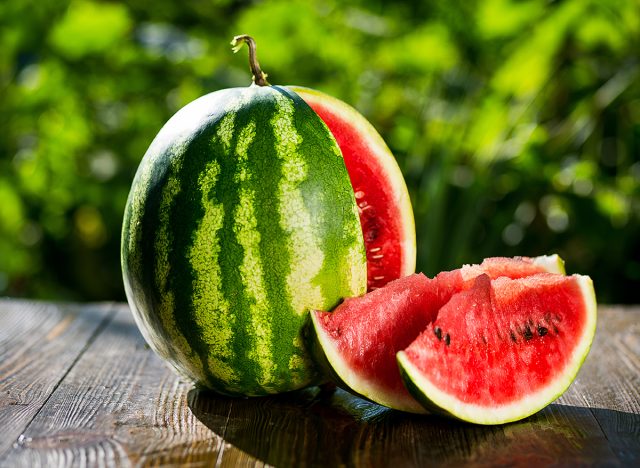 According to Burak, fruits are considered top-tier when it comes to healthy carbs for weight loss. This is because they are plant-based and contain fiber, nutrients, antioxidants, and phytochemicals that cannot be found naturally in other foods.
Burak explains that fruits offer the most nutritional value for the least amount of calories, making them an excellent addition to meals in terms of both volume and nutrition.
Watermelon, in particular, is highlighted for its high water content which helps with hydration while satisfying cravings for something sweet. Additionally, watermelon is rich in vitamins, minerals, and phytonutrients. According to Watermelon.org, just two cups of watermelon provide 4 times your daily value of fiber.
18. Cantaloupe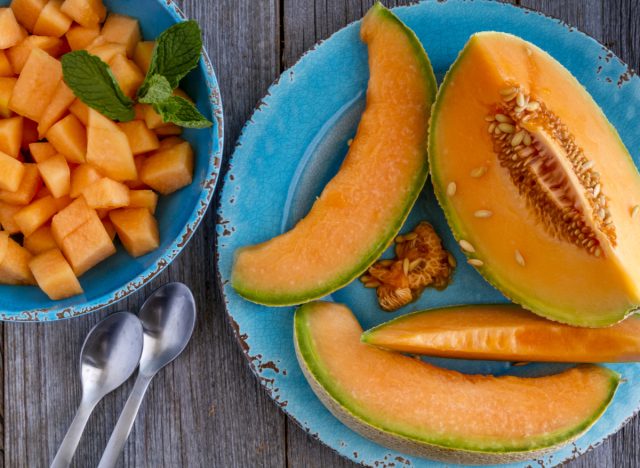 McAvoy suggests that Cantaloupe is an effective fruit for weight loss due to its low sugar content.
HealthCanal further explains that this fruit, similar to watermelon, contains mostly water and offers fiber, aiding in hydration and suppressing hunger pangs. Moreover, when you have a craving for something sweet, it serves as a low-calorie alternative.
19. Spinach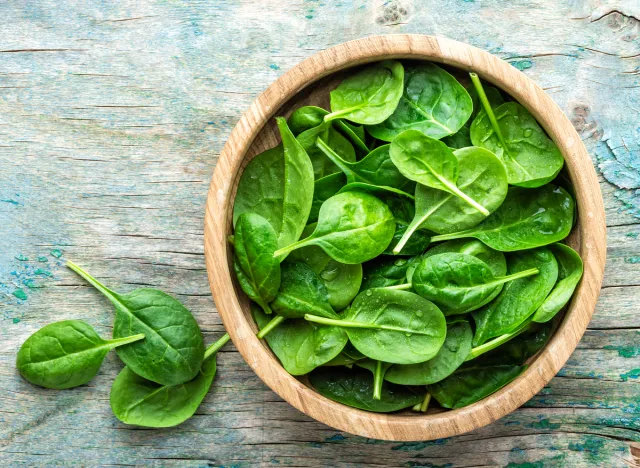 Spinach, a leafy green vegetable that may appear bland at first glance, is actually a powerhouse of protein, vitamins, and minerals. Just one bunch of raw spinach contains close to 10 grams of protein and almost eight grams of fiber.
Additionally, a cup of cooked spinach offers over five grams of protein and four grams of fiber. Protein plays a vital role in weight loss as it aids in muscle growth. As you build up your muscle mass, your body will naturally burn more calories even when you are not active, as explained by WebMD.
What makes carbs "healthy carbs"?
Healthy carbs are characterized by their nutrient density, high fiber content, and low glycemic index. These carbohydrates provide essential vitamins, minerals, and antioxidants, promoting overall well-being. Unlike refined carbs, healthy carbs are minimally processed, offering sustained energy and better blood sugar control. Their fiber content aids digestion, supports satiety, and can contribute to weight management. Whole grains, fruits, vegetables, legumes, and unprocessed sources exemplify the qualities that distinguish carbs as "healthy" choices.
Read More
8 Healthy dessert To pick On The Grocery Shelves
6 Major Differences Between Costco and Sam's Club Right Now
Where is costco opening new stores in 2023
7 Fast-Food Restaurants That Serve the Best Patty Melts
Best 31 Healthy Restaurants in America | Locations
101 Best Restaurants Downtown Dallas That Locals Eat 2022
39 foods that lower blood sugar immediately
30 Best healthy lunch ideas for weight loss
Unveiling the Nutritional Marvels: Exploring the Remarkable Health Benefits of Cashews
Best 31 Healthy Restaurants in America | Locations
20 healthiest butter substitutes
The top 33 foods for keeping your kidney healthy
20 Healthy Chips You Can Eat When You're Trying To Lose Weight
What are healthy carbs, and how do they differ from unhealthy ones?
Healthy carbs are complex carbohydrates that are rich in nutrients, fiber, and beneficial compounds. They include whole grains, fruits, vegetables, and legumes. Unhealthy carbs, on the other hand, are often refined and stripped of nutrients and fiber, leading to rapid spikes in blood sugar. Choosing healthy carbs helps maintain steady energy levels and supports weight loss.
How do healthy carbs contribute to weight loss?
Healthy carbs promote weight loss by providing sustained energy, increasing feelings of fullness due to their fiber content, and regulating blood sugar levels. They prevent overeating by promoting satiety and reducing cravings for unhealthy snacks, aiding in calorie control and weight management.
Can I eat fruits while trying to lose weight, considering their sugar content?
Yes, fruits can be part of a weight loss plan. While fruits contain natural sugars, they are accompanied by fiber, vitamins, and antioxidants that provide numerous health benefits. The fiber in fruits slows down sugar absorption, preventing rapid spikes in blood sugar. Moderation and variety are key; opt for whole fruits rather than fruit juices.
Which whole grains are best for weight loss?
Whole grains like quinoa, brown rice, whole wheat, oats, and barley are excellent choices for weight loss. They are rich in fiber, which aids digestion and promotes fullness. These grains have a lower glycemic index, preventing sudden spikes and crashes in blood sugar levels and supporting consistent energy throughout the day.
5How can I incorporate healthy carbs into my diet for effective weight loss?
Incorporating healthy carbs involves replacing refined carbohydrates (white bread, sugary snacks) with whole grains, legumes, vegetables, and fruits. Choose whole grain bread, swap white rice for brown rice, snack on vegetables with hummus, and enjoy a variety of fruits. Balancing your carb intake with protein and healthy fats will create satisfying and nourishing meals that support your weight loss goals.