Taco Bell aficionados were taken aback with delight last week as the chain unexpectedly reintroduced the long-awaited Enchirito, which had been retired for years.
This fusion of enchilada and burrito, adored by fans, had disappeared from Taco Bell menus since 2013, save for a brief reappearance in November 2022.
Although many customers are celebrating its temporary return, there are some disappointed fans who find that the actual menu item doesn't quite live up to their expectations.
Taco Bell's Menu Item Returning
Taco Bell just brought back a fan-favorite item.
At Taco Bell restaurants, you can find the Enchirito – a delightful combination of seasoned beef, refried beans, and onions enclosed in a warm flour tortilla. To enhance its flavor, it is generously topped with red sauce and cheddar cheese.
In New Jersey's Taco Bell branch, this mouthwatering creation is available for $3.79; however, prices may vary depending on the location you visit. A Reddit user recently expressed disappointment after trying the Enchirito following its highly anticipated return.
They found it to be much smaller than expected and were also let down by its taste and overall contents despite the immense hype surrounding it.
The customer's critique centered around a beef and bean soft taco covered in an unappetizing mess, asserting its lack of quality and value for its price tag of $4.19 plus tax.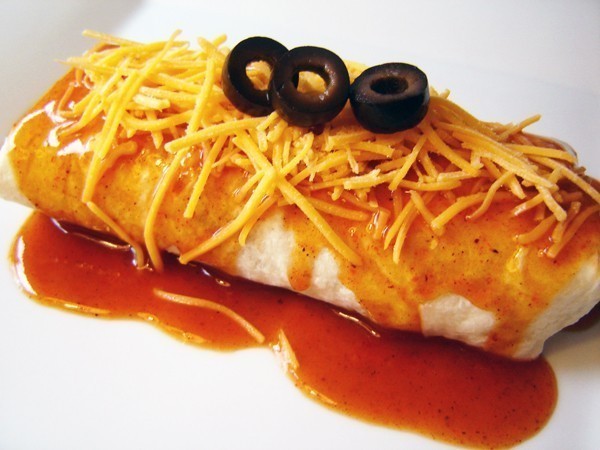 This remark prompted other Taco Bell fans to join in, recounting their own less-than-satisfactory experiences with the Enchirito over the past few days. Several individuals concurred that Taco Bell had failed to meet expectations in terms of portion size and execution.
One customer chimed in, stating that it was disappointingly small and inadequately drenched in sauce – they believed it should only be priced at $2 rather than $4.
The decision to purchase this item was purely based on its visually appealing nature; however, much to my dismay, it failed to meet my high expectations.
Due to my dietary restrictions as a non-meat eater, I opted for beans instead of beef without knowing whether this alteration affected the overall taste negatively.
Furthermore, the eating experience turned chaotic as the product proved excessively messy and resulted in an unfortunate sauce spillage upon opening, another user shared.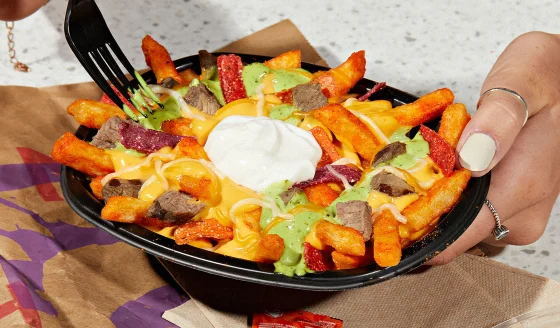 A similar sentiment echoed through a completely unrelated Reddit thread earlier this week which centered around the Enchirito.
Within that particular discussion, several dissatisfied customers also voiced their dissatisfaction with receiving Enchiritos that were unexpectedly undersized and lacking sufficient amounts of red sauce, filling contentment as well as properly melted cheese.
To my dismay, it turned out to be a significant disappointment, a customer lamented.
My excitement for the Enchirito quickly faded when I was handed this underwhelming tortilla wrap with scarce sauce and filling, another individual shared.
Granted, certain establishments might excel in crafting Enchiritos while several customers affirmed that they encountered no issues with the dish at their local restaurants.
Taco Bell Menue and Prices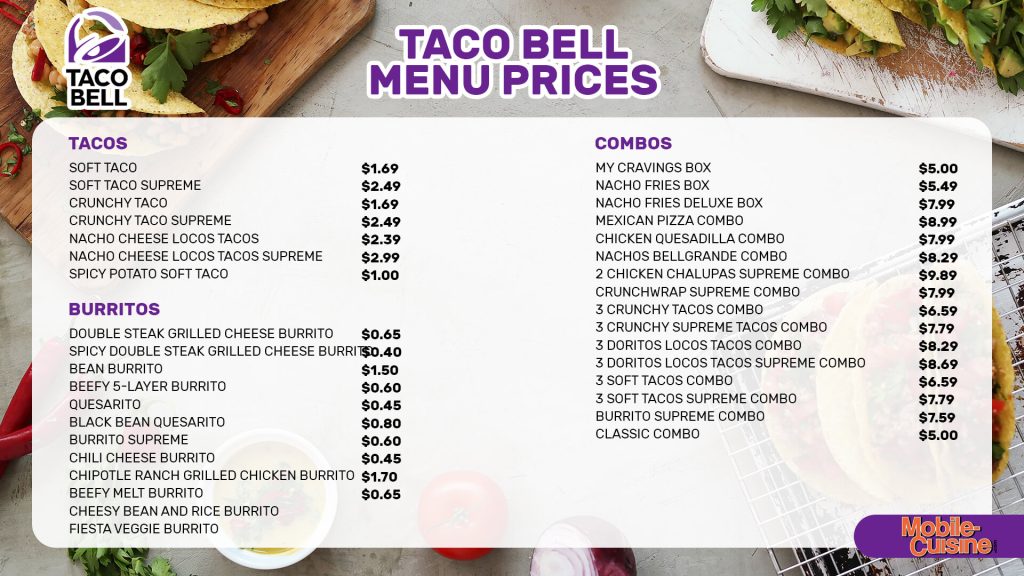 What Menue Item Is Taco Bell Returning
Taco Bell fans worldwide rejoiced when news broke that a beloved menu item was making its grand return. And what is this glorious creation, you may ask?
None other than the fan-favorite Quesalupa! After a hiatus of five long years, the cheesy, melty delight is making its comeback to tantalize taste buds once again.
But what sets the Quesalupa apart from the rest of Taco Bell's offerings? Well, for starters, it combines the best of two worlds: a crispy chalupa shell filled to the brim with gooey cheese.
It's no wonder that customers have been eagerly anticipating its return and counting down the days on their calendars.
The Quesalupa's unique texture and flavor profile make it an instant hit – crunchy on the outside and oozy goodness on the inside. With each bite, your senses are engulfed in cheesy ecstasy; it truly is a match made in fast-food heaven.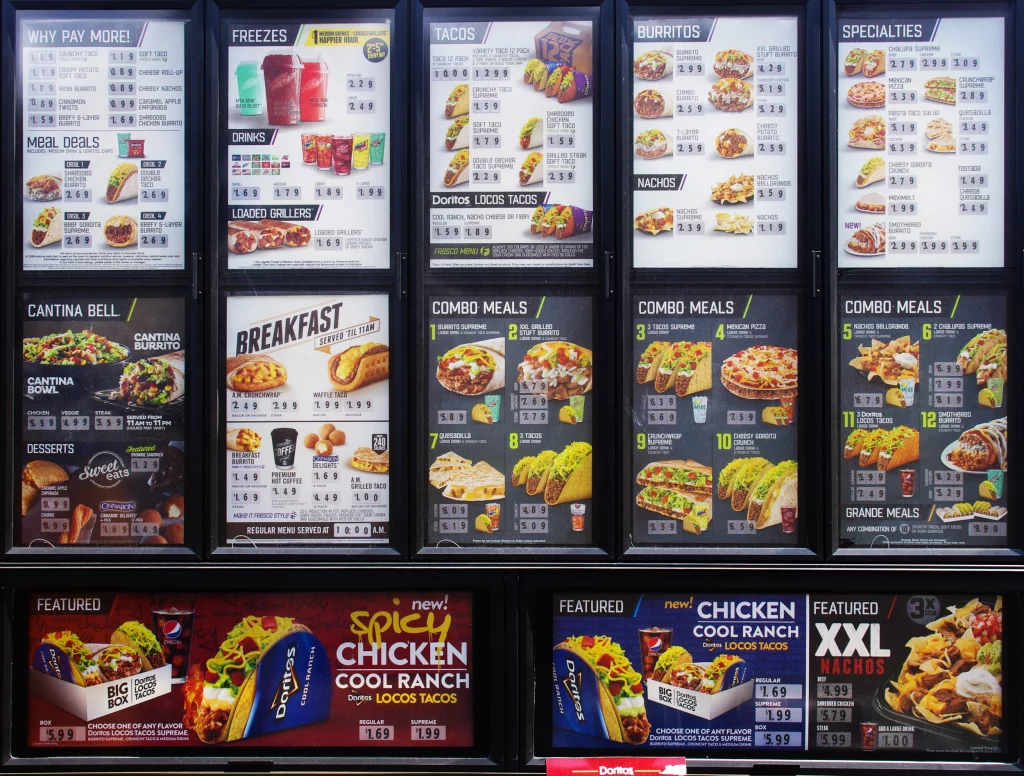 Is Taco Bell bringing back the Enchirito in 2023?
The question of whether Taco Bell is bringing back the Enchirito in 2023 remains unanswered. While there have been rumors and speculation, the fast food chain has not made any official announcements regarding the return of this beloved menu item.
However, given Taco Bell's history of listening to customer demand and bringing back popular items, there is still hope for Enchirito enthusiasts.
In the meantime, fans can continue to voice their desire for its return through social media campaigns or directly contacting Taco Bell.
So let's cross our fingers and keep our eyes peeled for any updates from Taco Bell about the potential comeback of the Enchirito.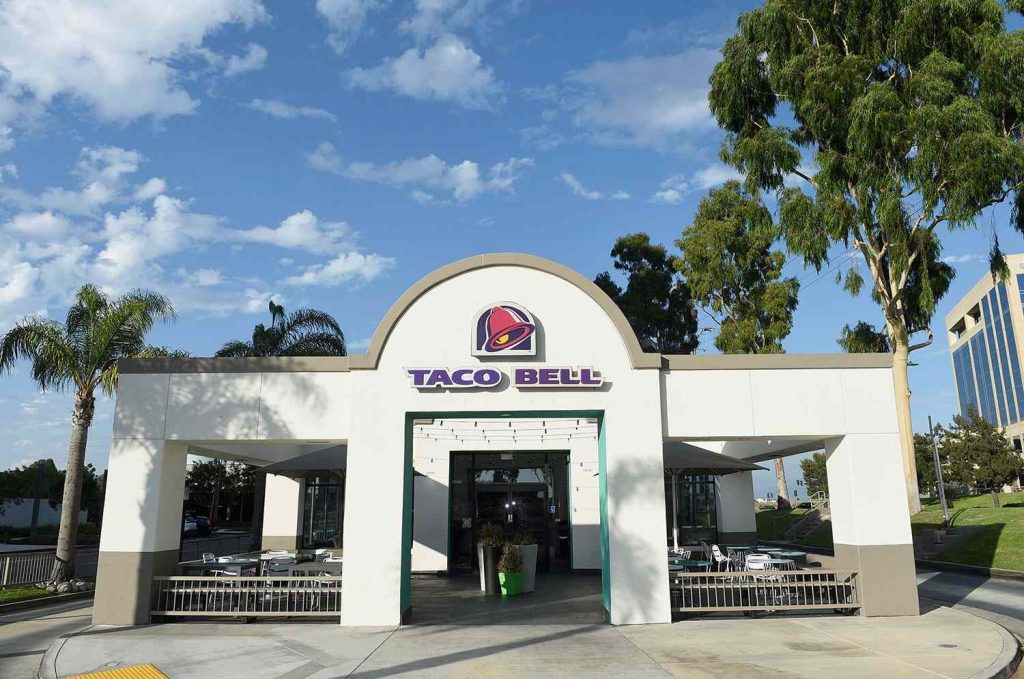 Frequently Asked Questions (FAQ)
What is the Enchirito at Taco Bell?
The Enchirito is a beloved menu item from Taco Bell that combines the flavors of an enchilada and a burrito. It typically features a soft flour tortilla filled with seasoned beef, beans, onions, and cheese, topped with red sauce and melted cheese.
Did Taco Bell bring back the Enchirito?
Yes, Taco Bell has brought back the fan-favorite Enchirito to its menu. After being discontinued for a period, it has made a return due to popular demand.
Is the Enchirito available nationwide?
As of now, the availability of the Enchirito might vary based on location. It's recommended to check with your local Taco Bell restaurant to confirm whether they have added the Enchirito back to their menu.
Can I customize my Enchirito?
Yes, like many other Taco Bell menu items, you can often customize your Enchirito to suit your preferences. You might be able to make changes to the ingredients or toppings, but this could vary depending on the specific Taco Bell location.
What are the key ingredients of the Enchirito?
The Enchirito typically includes seasoned beef, beans, onions, cheese, and red sauce. These ingredients are combined in a flour tortilla, creating a unique blend of flavors that fans have enjoyed for years.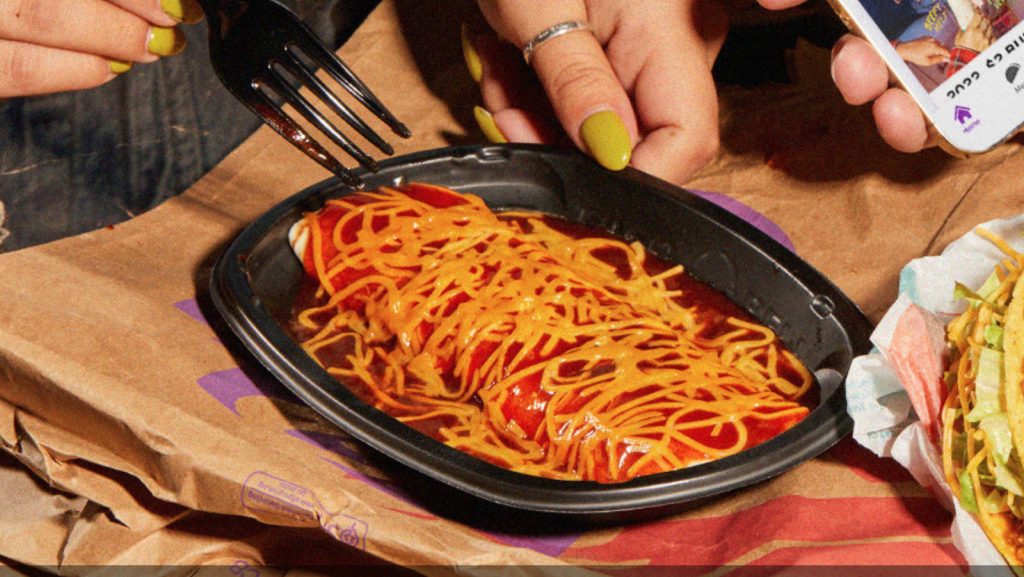 Is the Enchirito a limited-time offering?
Taco Bell has not officially stated whether the return of the Enchirito is a limited-time promotion or a permanent addition to the menu. It's a good idea to enjoy it while it's available, just in case.
Are there any vegetarian or vegan options for the Enchirito?
If you're looking for a vegetarian option, you might be able to ask for the Enchirito to be customized without meat and with additional beans or other veggies. However, it's best to check with your local Taco Bell to see if they can accommodate this request.
Can I order the Enchirito through delivery or online platforms?
Depending on your location, you might be able to order the Enchirito through Taco Bell's official website (tacobell.com) or mobile app for pickup or delivery. Popular food delivery services might also offer it as part of their Taco Bell menu options.
what time does taco bell stop serving breakfast
Taco Bell stops serving breakfast at 11:00 am. This allows customers to enjoy a variety of breakfast items such as the Crunchwrap Supreme or the Breakfast Burrito before the switch to the lunch menu.
It is important to note that not all Taco Bell locations serve breakfast, so it is always best to check with your local restaurant for their specific hours.
Whether you're an early riser or prefer a later breakfast, Taco Bell provides a convenient and delicious option for those craving something different in the morning.
So next time you find yourself wondering what time Taco Bell stops serving breakfast, make sure to plan accordingly to satisfy your cravings before 11:00 am.
When Does Taco Bell Stop Serving Breakfast
Taco Bell typically stops serving breakfast items and transitions to its regular menu at around 11:00 AM, though this timing can vary by location. Check with your local Taco Bell for their specific breakfast cutoff time.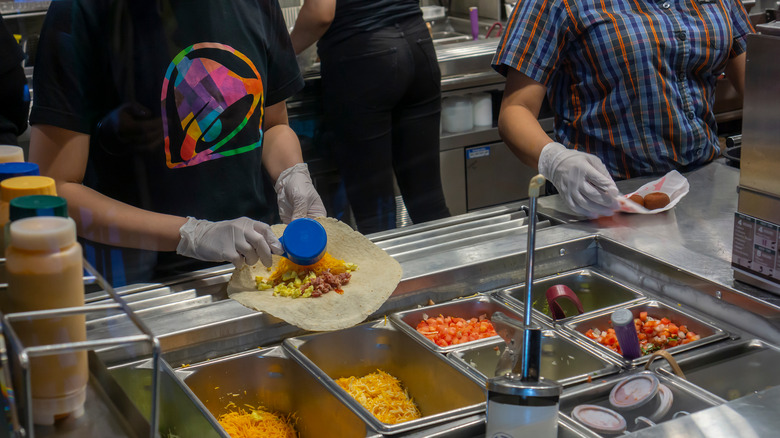 Taco Bell Near Me
Finding a Taco Bell near you has never been easier. With the help of technology and various online platforms, you can quickly locate the nearest Taco Bell restaurant in just a few clicks.
Whether you're craving a crunchy taco or a cheesy quesadilla, Taco Bell offers a wide range of delicious menu items to satisfy your hunger.
So, why wait? Use the available resources to find the closest Taco Bell near you and indulge in some mouthwatering Mexican-inspired fast food today. Don't miss out on the opportunity to enjoy your favorite Taco Bell dishes whenever the craving strikes!
Remember that specific details about the Enchirito's availability, customization options, and potential limited-time status might vary by location and are subject to change. Always reach out to your local Taco Bell or check their official channels for the most up-to-date information.
Read More
Best 31 Healthy Restaurants in America | Locations
Sweet Tomatoes Restaurant Is Reopening Locations
How To Make Best Tom Brown Baby Food| Easy directory.
Top Starbucks Menu With Price List Philippines 2023
17 delicious Spanish breakfast foods to start your day off right
Start to Finish: Homemade Sausage Rolls
Copycat Starbucks Medicine Ball Recipe
Best Homemade Trader Joe's Hash Browns: A Step-by-Step Recipe
How To Cook Fried Egusi Soup With Tomatoes.
Conclusion
In conclusion, the return of the Taco Bell Menu Enchirito is undoubtedly a cause for celebration among fast food enthusiasts. This beloved item combines the best of both worlds – a flavorful enchilada and a hearty burrito.
With its perfect blend of seasoned beef, beans, cheese, and signature sauce, it's no wonder that fans have been eagerly awaiting its comeback.
Whether you're a long-time Enchirito lover or curious to try it for the first time, make sure to head to your nearest Taco Bell and indulge in this iconic menu item. Don't miss out on this limited-time opportunity to savor the Enchirito's deliciousness once again.