We often hear the saying, "An apple a day keeps the doctor away," and while this might sound like an old adage, there's more truth to it than you might think. Apples are not only delicious and refreshing but also incredibly nutritious, with a surprising secret weapon – fiber. In this post, we'll dig in into the world of fiber and explore just how much of this essential nutrient an apple contains.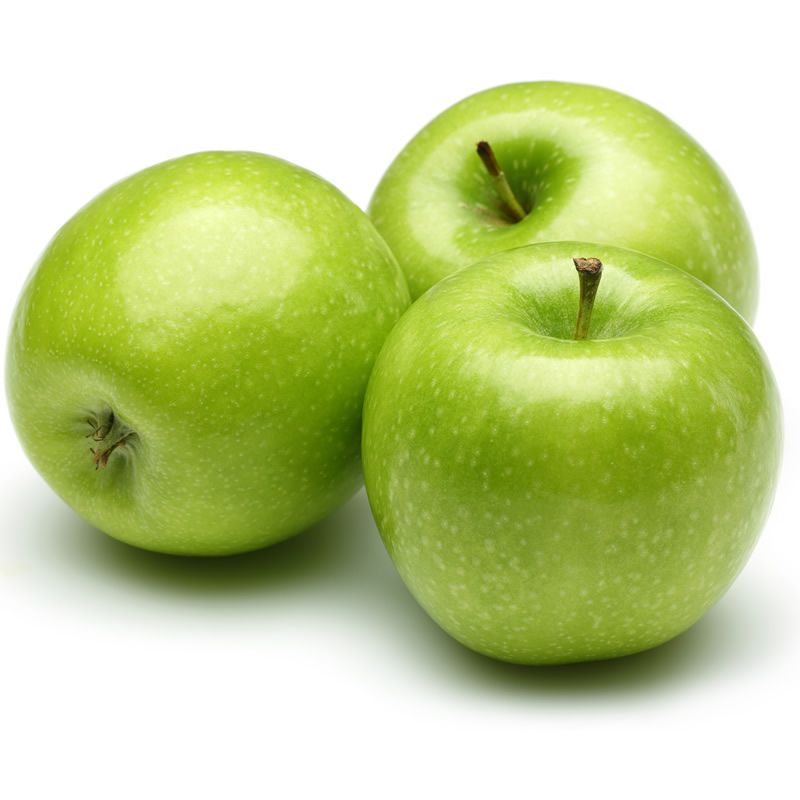 The Fiber Connection
Fiber, often referred to as roughage, is an indispensable part of a healthy diet. It's a type of carbohydrate that our bodies can't fully digest, but it plays a crucial role in maintaining digestive health and promoting overall well-being.
There are two main types of fiber: soluble and insoluble. Soluble fiber dissolves in water and forms a gel-like substance that can help lower cholesterol and stabilize blood sugar levels. Insoluble fiber, on the other hand, adds bulk to stool and aids in preventing constipation.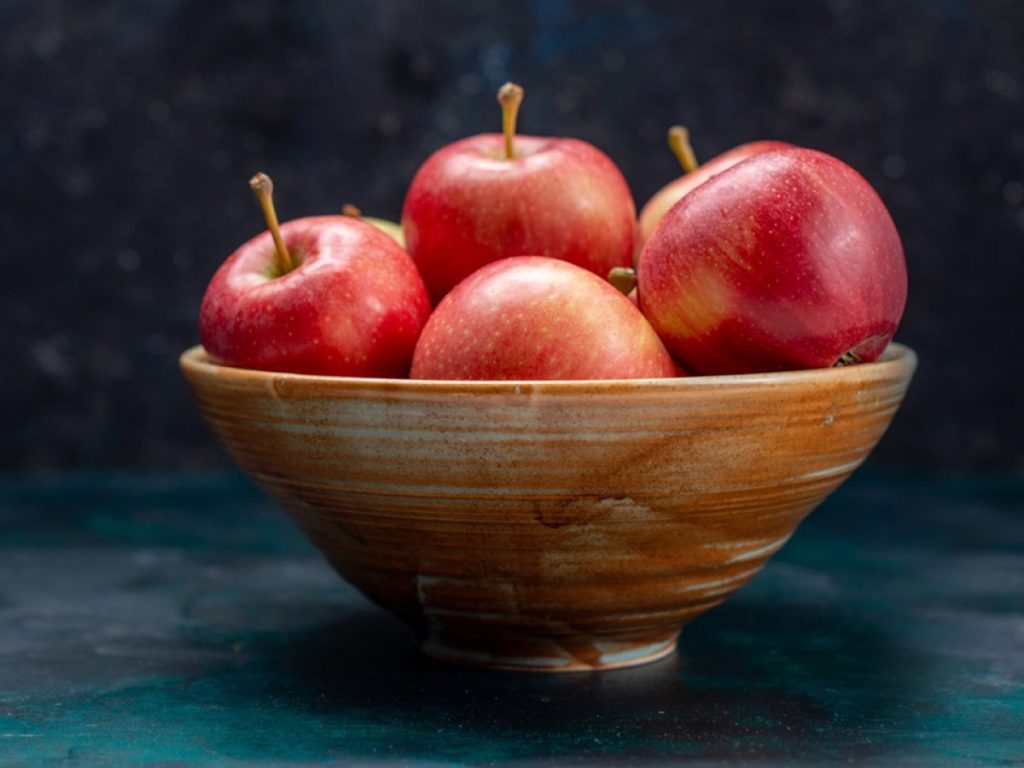 Fiber in Apples
So, how much fiber does an apple really pack? The answer might surprise you. On average, a medium-sized apple (about 182 grams) contains around 4.4 grams of dietary fiber. This might not seem like a lot, but when you consider that the recommended daily intake of fiber is around 25 grams for women and 38 grams for men, that single apple contributes a significant portion.
Benefits of Apple Fiber
The fiber content in apples brings along a host of health benefits:
Digestive Health: The insoluble fiber in apples helps maintain regular bowel movements and prevents constipation by adding bulk to stool.
Heart Health: The soluble fiber in apples, specifically a type called pectin, has been linked to lower cholesterol levels. This can have a positive impact on heart health by reducing the risk of heart disease.
Blood Sugar Regulation: The soluble fiber also aids in slowing down the digestion and absorption of sugars, helping to keep blood sugar levels stable.
Weight Management: High-fiber foods like apples promote a feeling of fullness, which can help control appetite and contribute to weight management.
Gut Health: Apples also contain prebiotics – substances that nourish the beneficial bacteria in your gut, contributing to a healthier gut microbiome.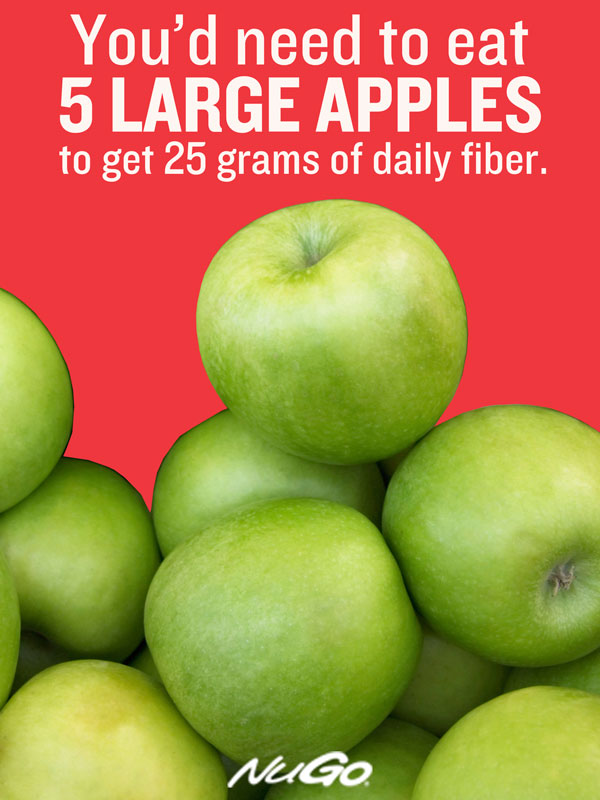 Incorporating More Apples into Your Diet
Now that you're aware of the impressive fiber content in apples and their associated benefits, here are some creative ways to enjoy this nutritious fruit:
Snack Attack: Slice up an apple and enjoy it with a dollop of nut butter for a satisfying and fiber-rich snack.
Oatmeal Enhancer: Add chopped apples to your morning oatmeal to boost its fiber content and add natural sweetness.
Salad Star: Toss apple slices into your salads to provide a refreshing crunch and an extra dose of fiber.
Smoothie Boost: Blend apples into your smoothies for added flavor, fiber, and nutrients.
How much fiber is in an apple
An average-sized apple contains about 4.4 grams of dietary fiber, contributing to digestive health, heart benefits, blood sugar control, and weight management.
This essential nutrient promotes a feeling of fullness and aids in maintaining regular bowel movements, making apples a delicious and convenient source of fiber for a balanced diet.
how much fiber in an apple with skin
An apple with skin contains around 4.4 grams of fiber. Keeping the skin intact enhances its nutritional value, promoting digestion, heart health, and more.
Read more : 17 Healthy Eating Habits to Adopt in 2023
how much fiber in an apple without skin
An apple without skin has about 2.1 grams of fiber. While the skin holds more fiber, the flesh still offers health benefits like vitamins and antioxidants.
Is One apple a day enough fiber?
No. While an apple offers beneficial fiber, it might not fulfill daily needs on its own. Incorporating various fiber-rich foods is recommended for a balanced and sufficient intake.
How can I get 25 grams of fiber a day?
To achieve a daily intake of 25 grams of fiber, incorporate whole grains like oats and brown rice, choose high-fiber fruits and vegetables, snack on nuts and seeds, and include legumes in meals. Reading nutrition labels and planning balanced meals can help meet this goal.
Can I take apple in empty stomach?
Yes, you can consume an apple on an empty stomach. Apples are easily digestible and provide a quick source of natural sugars and fiber. They can be a refreshing and nutritious option to start your day, aiding in digestion and providing a burst of energy.
Read More
8 Healthy dessert To pick On The Grocery Shelves
6 Major Differences Between Costco and Sam's Club Right Now
Where is costco opening new stores in 2023
7 Fast-Food Restaurants That Serve the Best Patty Melts
Best 31 Healthy Restaurants in America | Locations
101 Best Restaurants Downtown Dallas That Locals Eat 2022
39 foods that lower blood sugar immediately
30 Best healthy lunch ideas for weight loss
Unveiling the Nutritional Marvels: Exploring the Remarkable Health Benefits of Cashews
Best 31 Healthy Restaurants in America | Locations
20 healthiest butter substitutes
The top 33 foods for keeping your kidney healthy
20 Healthy Chips You Can Eat When You're Trying To Lose Weight
Conclusion
The next time you sink your teeth into a juicy apple, remember that you're not only enjoying a delicious fruit but also giving your body a healthy dose of dietary fiber. From aiding digestion to supporting heart health, the fiber in apples is truly a powerhouse nutrient. So, embrace this simple and versatile fruit as a tasty way to enhance your overall wellness.