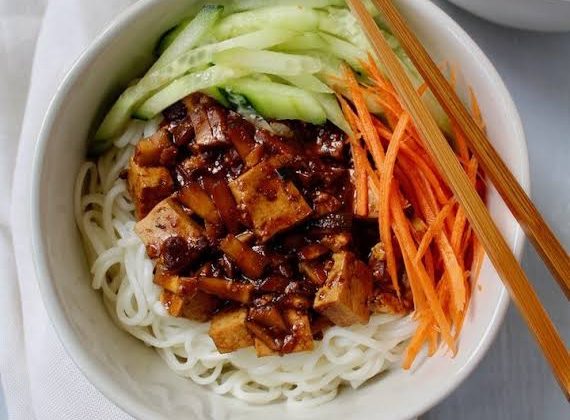 33 Best Chinese Food You Need To Try (2023)
Trying out new cultural dishes can give you a new perspective of a particular culture and its unique delicacies. Chinese cuisine is one of the oldest and the most popular cultural cuisines, dating back to around the first millennia BC.
The population of china is estimated to be around 18.5 % of the world population, so it is only fair that Chinese dishes are very much recognized.
Several ethnic and religious styles of Chinese cuisine are found in several parts of the world, with Anhui, Guangdong, Fujian, Hunan, Jiangsu, Shandong, Sichuan, and Zhejiang cuisine being the eight main cuisines in China.
Chinese cuisines are well known for their aroma, enticing appearance, spicy taste, and high nutrition.
Trying to decide which dishes to try may be overwhelming at times.
Below are top suggestions of Chinese dishes you should try.
1. Fried Rice (Châofàn)
Many may be surprised to see the inclusion of fried rice in this list because fried rice had become so popular and common in many cultures and many do not know that it is a Chinese delicacy. rice is a basic food in Chinese cuisine.
Fried rice is believed to have originated as a way to avoid wastage of leftover food. Fried rice has now become a family meal, eaten during festivities, and casually in homes. Chinese fried rice is easy and quick to prepare.
Protein like chicken, beef, pork, mixed vegetables, and seasonings are common ingredients used in preparing fried rice. Fried rice is usually served in Chinese festivities and banquets.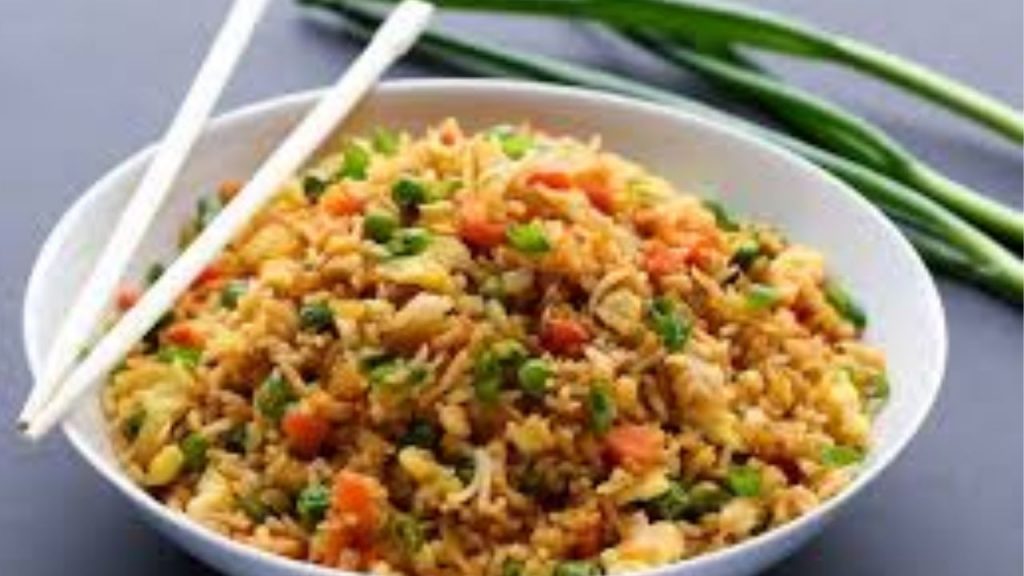 2. Dim Sum (Dim sām/Diǎnxīn)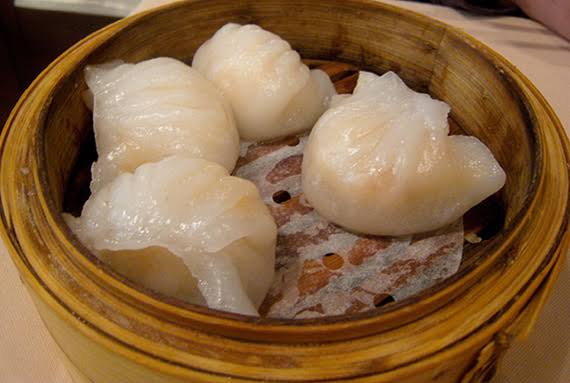 The popular Chinese street food appears small and round-shaped, usually stuffed with vegetables.
A variety of dim sum dishes are available in several parts of the world. In old times, Dim sum was served to travelers as a snack to accompany tea. If you are looking for that quick brunch, this Chinese delicacy is the right stop.
3. Noodle (Chow mein)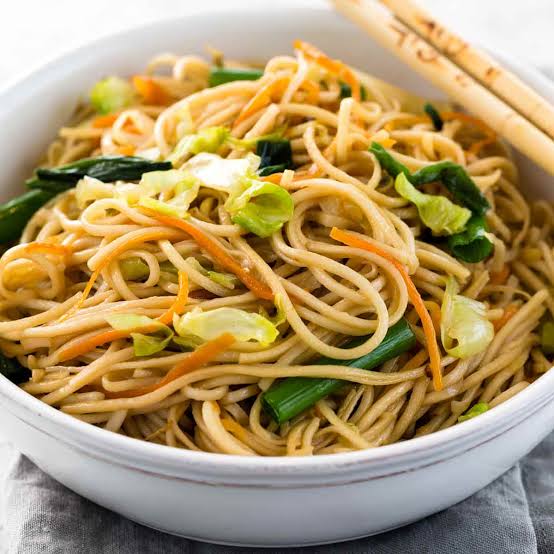 Chinese noodles and Chinese fried rice are very popular Chinese food, they are a big part of Chinese food menu. Chinese noodles look similar to spaghetti with strands that hang down your lips while you munch. Chinese noodle is easy to prepare and very tasty as well.
4. Conjee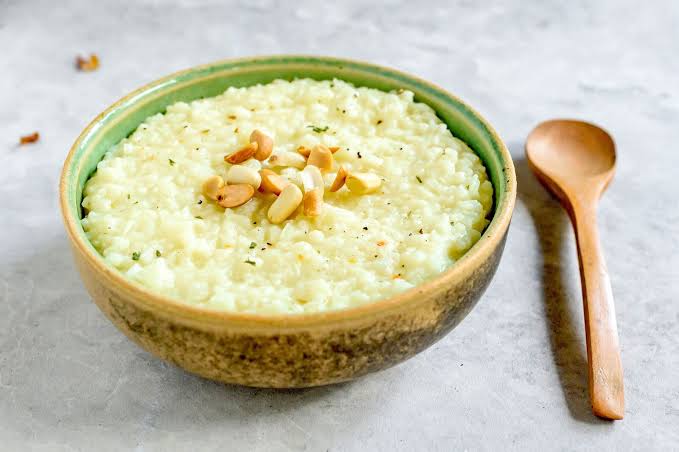 Conjee also known as rice porridge is a Chinese dish commonly eaten as breakfast. Conjee differs in various regions, it could be watery or thick, sometimes it is prepared with other grains other than rice.
Conjee can be prepared with ingredients like fish, meat, and seasoning but it is most times served plain alongside other dishes
5. Mapo Tofu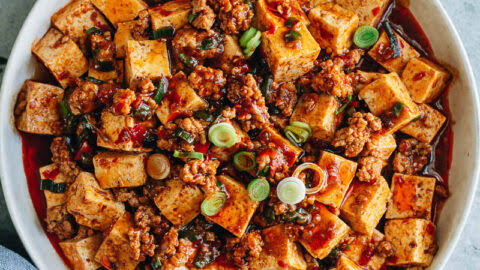 Mapo Tofu is a very popular dish in Sichuan cuisine, this dish is made with bean curd (tofu) and finely chopped meat(pork/beef) set in a spicy sauce.
The sauce is made from fermented beans and chili paste. The westernized version of Mapo Tofu has been modified and is not as hot as spicy as its traditional counterpart.
Mapo Tofu translates to "pockmarked old woman's bean curd." The dish is so named as it is believed to have first been prepared by an old woman from the Chen family, a family believed to have pockmarked faces.
Mapo Tofu has a wholesome appearance and is just as tasty as it looks.
Hotpot (huǒguō)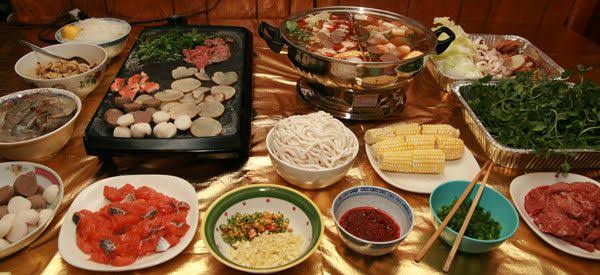 This is more of a cooking style than a dish. In this experience, people cook and eat from the pot of simmering broth. In this dish style, people can cook any kind of food in a hot pot.
This dish is usually eaten in a gathering as everyone sits around the table and eats from the pot. This is a really nice way to create and improve family bonding.
8. Char Siu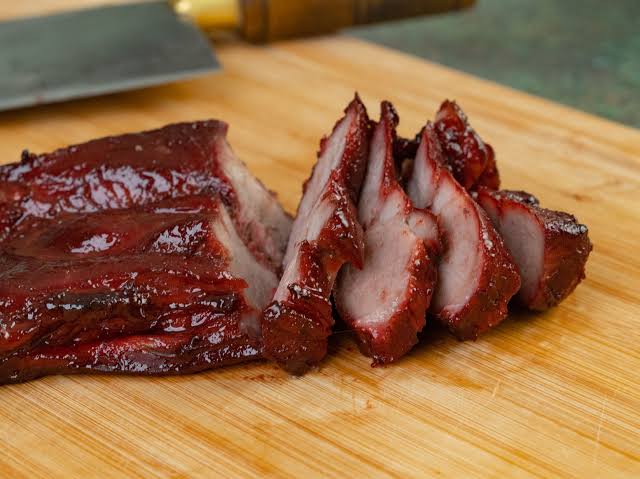 This is a style of barbeque. Char siu translates to "roasted pork." It is Cantonese barbecued pork that is usually served with rice or noodles.
Honey, sugar, hoisin sauce are some of the ingredients used in giving this Chinese food its unique taste. If you enjoy roasted food, you definitely would love Char Siu.
9. Jiaozi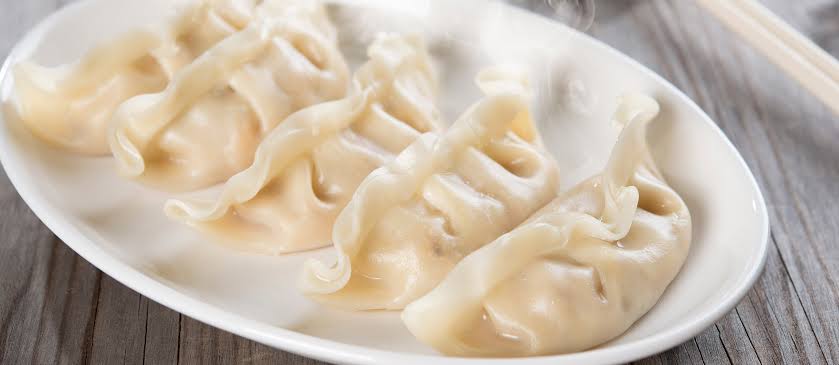 This is a special type of dumpling, the dough filling is meat and vegetables. The dough used here is thinner than that used in dumplings. Jiaozi can be prepared in a few ways; frying, boiling or steaming.
Jiaozi is sometimes served in soup. Like the dumpling, it is also eaten during the Chinese new year celebration. Jiaozi is a really nice snack to have for lunch.
10. Baozi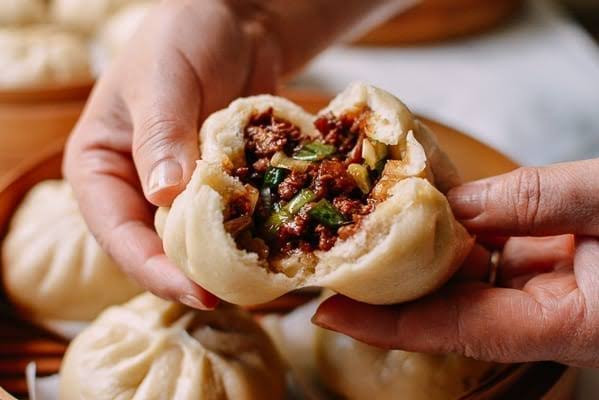 This dish originated from the Shandong cuisine, common in northeast China. Baozi is a kind of bun filled with food and ingredients like meat, vegetables, and bean paste depending on who and where they are made.
They come in two sizes; xiǎobāo (small bun) and dàbāo (big bun.) They are steamed and served with sauce. Baozi is a really delicious Chinese food.
11. Spring Rolls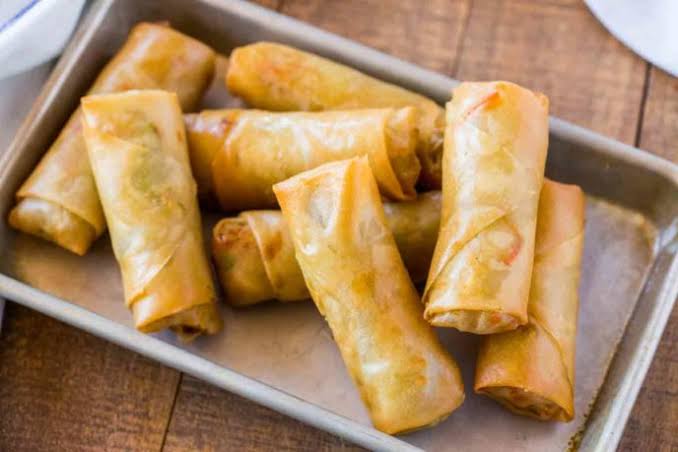 Spring rolls are a type of Cantonese dim sām, they are made with meat or vegetables and wrapped with dough to form a cylindrical shape. The rolls are fried until crispy. These edibles are the perfect snack for your day.
12. Sichuan Pork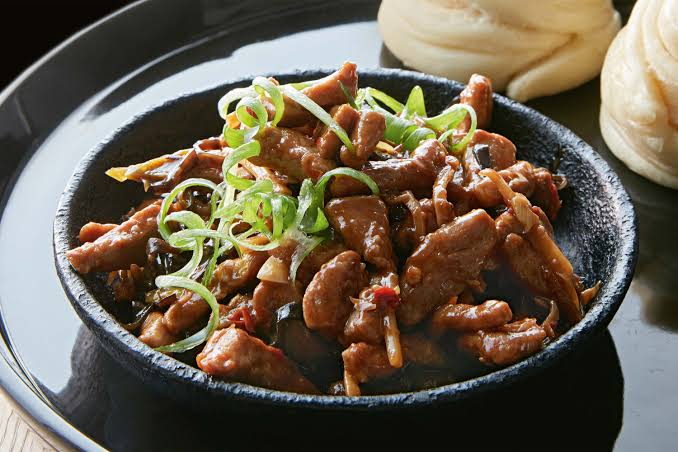 Sichuan pork is a well-known Chinese dish prepared with pork with a coating made of egg white and starch.
It is boiled in a typical Sichuan cuisine broth. The taste and aroma of this Sichuan cuisine are spicy and well flavored.
Several Chinese Fusion Foods You Should Not Miss In A Lifetime
13. Wonton Soup (Húndun tang)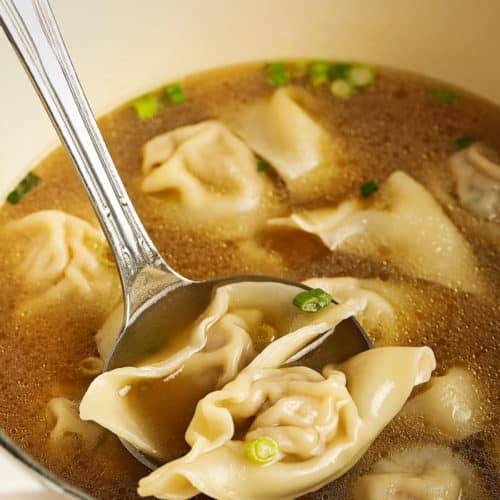 This Chinese dish is basically dumplings in soup. The dumplings are made with a thinner dough wrapper. The shape of the dumpling differs depending on the region.
The dough is usually filled with protein such as finely chopped pork or shrimp. It is then boiled and served in a soup, hence the name wonton soup.
14. Manchow Soup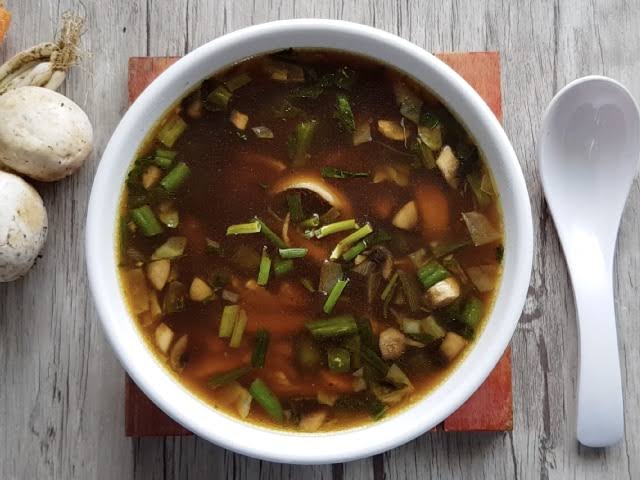 This soup is very common in Indian-Chinese cuisine. It has a hot and spicy taste and it is easy to prepare.
Manchow soup is made with vegetables, chicken, and scallion, and flavored with aromatics. Manchow soup is a really nice option for a Chinese cuisine supper.
15. Soup Dumplings (Xiao Long bao)
Soup dumplings are dumplings filled with soup that solidifies on cooling. The soup filling is made with pork stock, it is wrapped in a thin dough wrapper and heated. This is another Chinese dish to try.
16. Chicken Manchurian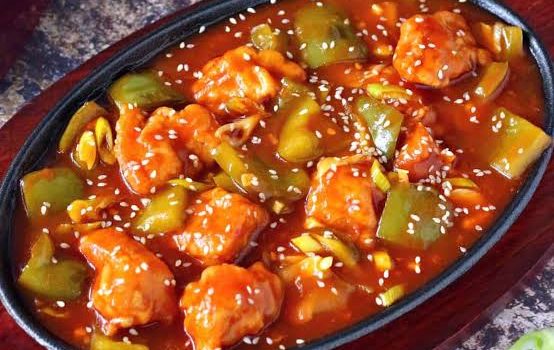 Manchurian is a type of Indian-Chinese dish. Chicken Manchurian is prepared by deep frying chicken and then sauteing it in soy sauce. If you're a fan of chicken then this Chinese dish is for you.
17. Tea Egg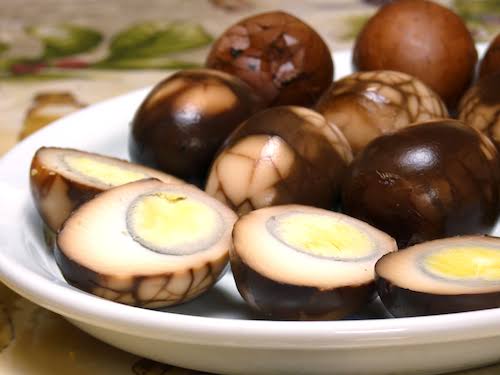 This is a Chinese dish most commonly sold as a snack. Tea egg is prepared by boiling an egg, the boiled egg is then cracked slightly and re-boiled in tea.
The egg surface has a marble-like appearance as the cracks on the egg shell form dark lines having a marble-like pattern. This Chinese dish is a typical nighttime snack.
18. Sichuan Chili chicken (chin jiew chicken)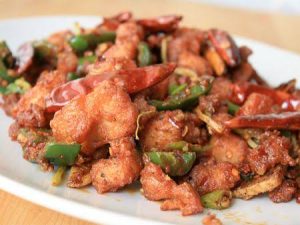 This dish is from the Teochew cuisine. It is deep-fried chicken cooked with a special kind of vegetable (pearl vegetable).
This dish is one of the best Chinese dishes available. This tasty chicken meal is prepared with onion, pepper, garlic, and other ingredients.
19. Ginseng Chicken Soup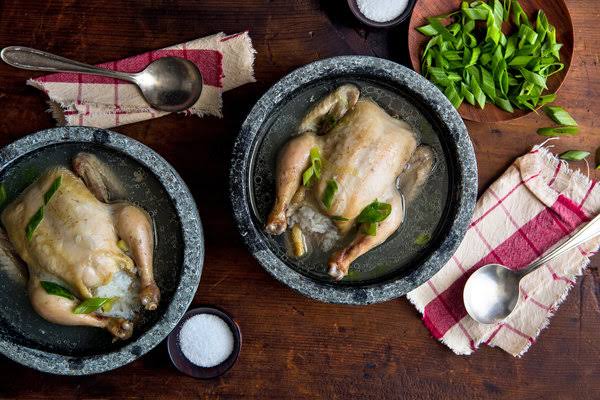 This soup is made with chicken and Ginseng (A herb). Various varieties of this soup are found all over Asia. The Ginseng chicken soup has great health and nutritional value.
20. Fried Sauce Noodle (Zha jiang mian)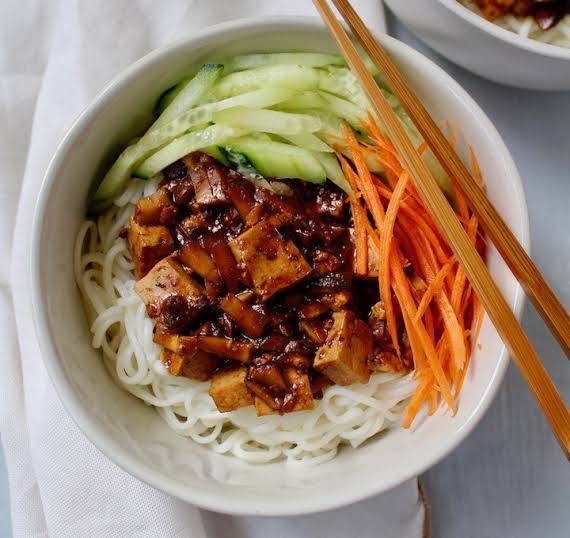 This is a popular dish from the Shandong cuisine it is a wheat noodle dish that is garnished with Zhajiang sauce (fried sauce made from a mixture of fermented soybean paste and ground pork.).
This dish is sometimes topped with vegetables. This special delicacy is an appetizing Chinese dish. This delicacy is easy to prepare at home.
21. Steamed Eggplant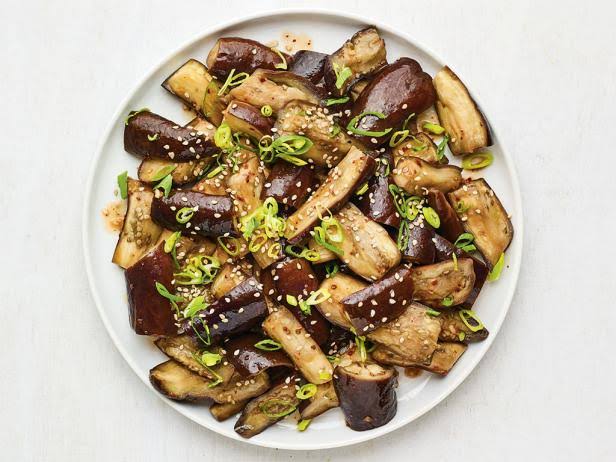 Chinese steamed eggplant has a distinct juicy and sweet taste. It is prepared by cooking the eggplant and tossing the vegetable into a sauce.
This sauce is a mixture of soy sauce, sugar, vinegar, and oil. Some of the ingredients needed to prepare this dish include; eggplant, olive oil, sesame oil, and soy sauce.
22. Stinky Tofu (Chou doufu)
This is fermented tofu, it has a strong odor. To prepare this dish, tofu is soaked in a mixture containing fermented milk, Vegetables, meat, and flavors before fermentation. Cho doufu can be served cold or steamed. In some regions, cho doufu is deep-fried with chili.
23. Peking duck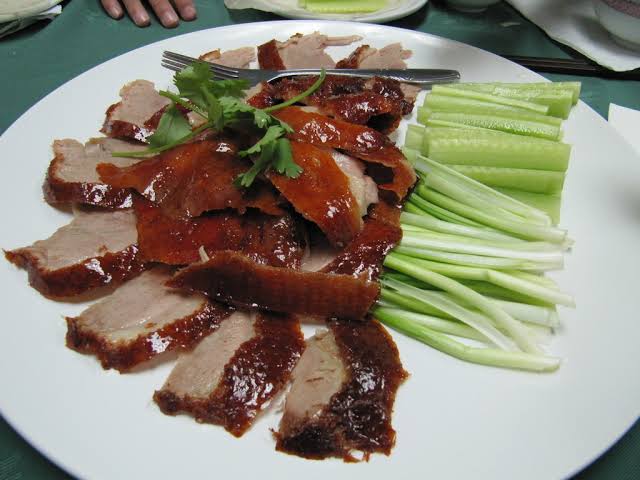 This dish is a very popular Chinese cuisine, it is roasted duck sliced into small bits and wrapped in a wrapper, it contains salad and sauce.
Peking duck is not easily prepared at home because, after seasoning, it is dried for about a day and then cooked in an open-air oven.
This delicacy is one of the best ways to eat duck. Duck meat and soy sauce are the two major ingredients required to prepare this delicacy.
24. Chinese Hamburger (Ròujiāmó/Ròugāmó)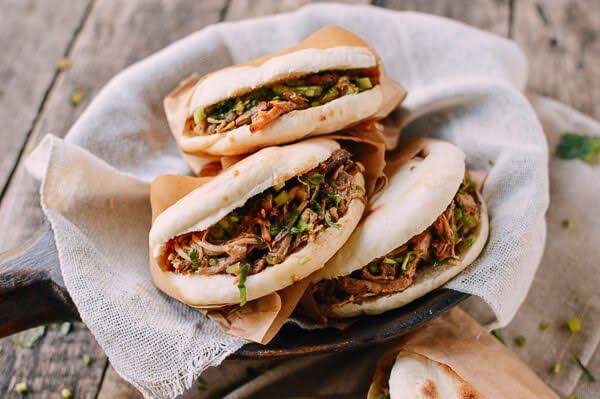 A Chinese hamburger bun is a street snack. It is a bun filled with stewed meat (most commonly pork) containing rich flavors. Chinese hamburger is believed to be one of the oldest hamburgers to have been made.
25. Scallion Pancake (Cōngyóubîng)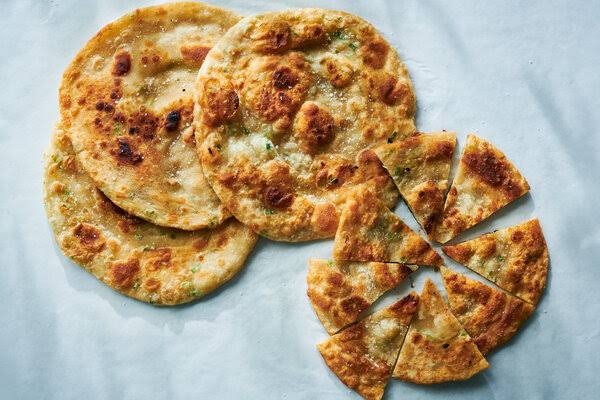 With a flat bread-like and crispy appearance, the Scallion pancake is a delight to bite! The inside is soft and the edges crispy, these pancakes are sold as street food and in restaurants.
Made with dough, scallion, and sesame oil, pan-fried scallion pancake makes a decent Chinese breakfast.
26. Kung Pao Chicken
The spicy fried chicken originates from Sichuan cuisine. Kung Pao chicken is the most commonly known Chinese chicken dish.
It is prepared with soy sauce, chicken broth, and vinegar. Kung pao chicken is a traditional Chinese food that you can find in any Chinese restaurant.
27. Hunan Chicken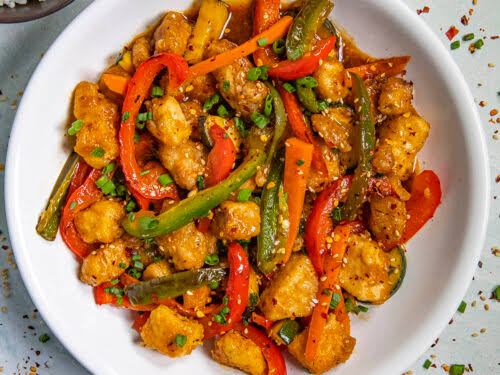 This dish is thinly sliced chicken stir-fried with vegetables (carrot, broccoli) in a highly flavored and spicy Hunan sauce. Hunan chicken dish has a savory and spicy taste to match its appearance.
28. Hainanese Chicken Rice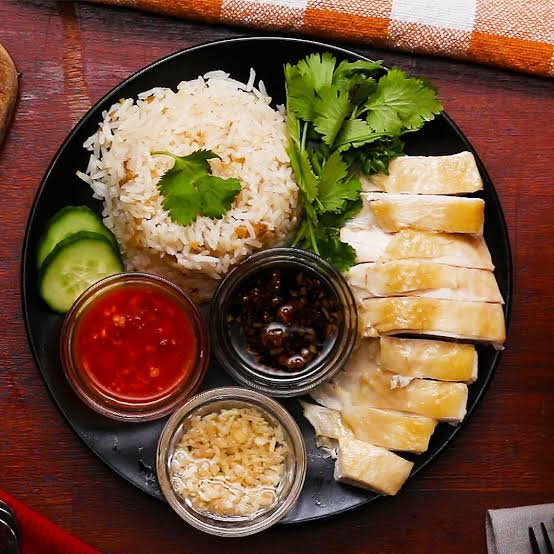 Hainanese chicken dish originated from Hainan. The chicken is gently cooked in simmering broth with the rice. Ginger, garlic, and scallion are ingredients used in preparing this delicacy.
This Hainan dish is best served with slices of cucumber and pepper sauce.
29. Chinese Moon Cake (Yue bing)
A dish with a wholesome appearance is just about the right way to qualify this cake. It is called moon cake because of its shape and the egg yolk filling. These sweet cakes are a pleasant treat when trying out Chinese dishes.
30. Chinese Steamed Crab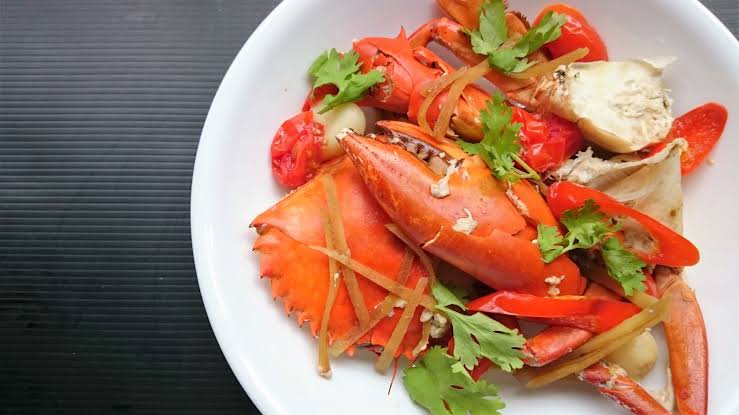 For aquatic food lovers, the Chinese steamed crab is the right Chinese food to try. These crabs are most commonly found in the province of Shanghai. Prepared with some of the finest ingredients around. This rare delicacy is available in luxury restaurants and would make for a proper lavish date meal.
31. Sweet and Sour Pork
The position of this dish in this list is in no way a representation of how delicious the sweet and sour pork tastes.
Garlic, pepper, and egg are some of the ingredients used in garnishing this mouth-watering meal. With a savory taste and a color to match. This delicacy is a great meal.
32. Twice-Cooked Pork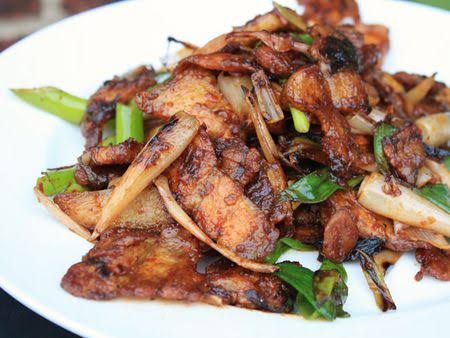 A major representative of Sichuan cuisine, twice-cooked pork is prepared and garnished with ingredients like garlic, chili, and pepper.
The bright red color of this dish and its unique taste makes it a must-try Chinese dish.
33. Braised Abalone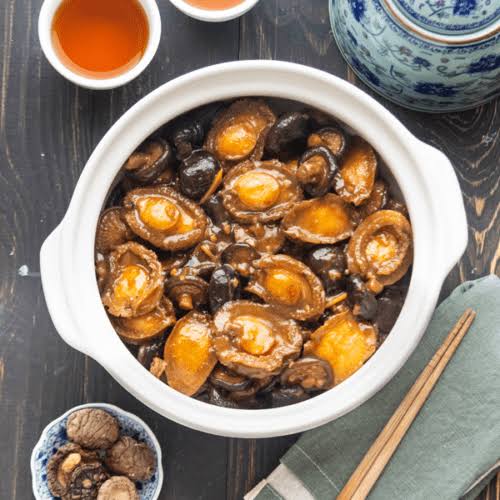 This dish is prepared by braising mollusk in soy sauce. This Chinese delicacy is an excellent dish for special occasions. While preparing this dish is time-consuming, it is worth every second of the wait!
Try these lovely Chinese delicacies to really enjoy Chinese cuisine.
Chinese Food Delivery Near Me
chinese food near me.
Are you looking for delicious Chinese food near you? Then you've come to the right place.
This article is all about Chinese food near me, and will provide you with an overview of the best places to get your Chinese fix.
chinese food near me.
Jade Palace Chinese Cuisine: Jade Palace is one of the better Chinese restaurants in the Lagos.
Jade Palace Chinese Cuisine: Jade Palace is one of the better Chinese restaurants in the Lagos.
Pearl Garden: Pearl Garden Restaurant is definitely a place worth visiting if ever your in the mood for an eatery that specializes in authentic Chinese cuisine.
Zenith Water Margin Chinese Restaurant: This restaurant has been in existence for over 2 decades, and has still remained relevant. The menu is quite impressive, and they have been able to maintain their high standard.
United dumpling restaurant: Asian tradition California owned by a woman. Takeout, dine-in, delivery, serving lunch and dinner. It is cool place for all kinds of enjoyment.
Mealky way restaurant: They select high quality ingredients and cook with heart. You should make an effort to taste their food. You will have no regrets.
Houseofthaisf restaurant: Go and experience astonishing authentic Thai dishes, comfortable atmosphere and friendly services.
Mahan restaurant: Mahan Indian Restaurant invites you to embark on a unique journey to a little piece of India. Instantly smell the flavorful curries, tandoori meats, aromatic basmati rice and garlic naan as soon as you walk in. With friendly service and an at home attitude
Chinese Good Menu.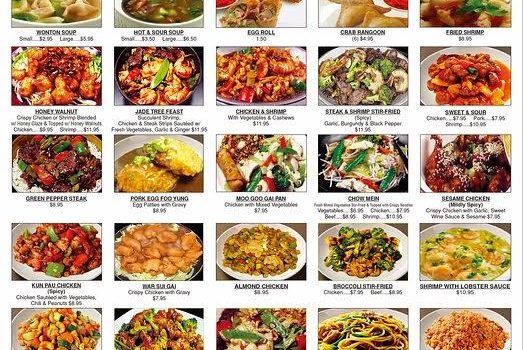 Chinese food is one of the most popular and beloved cuisines in the world, and its unique flavors and delicious recipes have been enjoyed for centuries.
Whether you're a fan of classic Chinese dishes like sweet and sour pork, Kung Pao chicken, or something more adventurous like Mapo Tofu or Hot Pot, there's a Chinese food menu to suit your tastes.
From traditional dishes to modern creations, this article will delve into all the possibilities that a Chinese food menu can offer.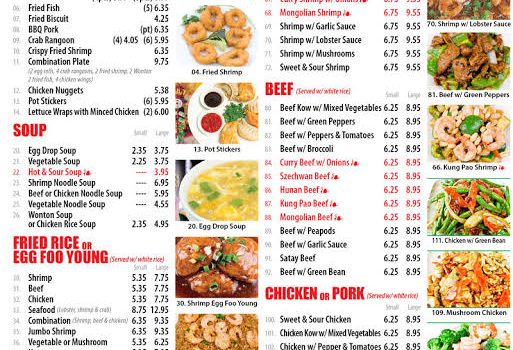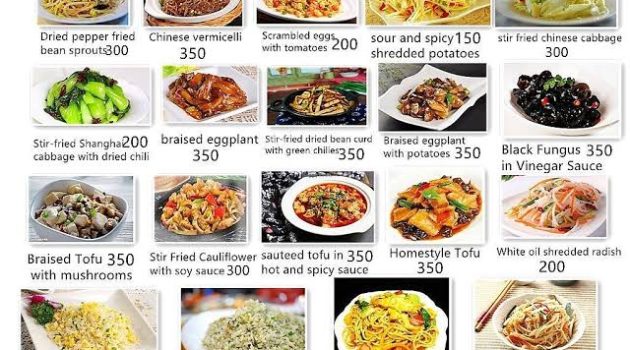 Conclusion.
In conclusion,it is clear that Chinese food has something unique and delicious to offer. From the classic flavors of Beijing duck to the spicy heat of Sichuan cuisine, there's a flavor for everyone.
Whether you are looking for a traditional home-cooked meal or something more adventurous, Chinese food can provide an unforgettable experience.
With so many regional variations and ingredients, you are sure to find something that satisfies your palate. So take the plunge and explore all the best Chinese food has to offer.
Other Recipes You Might Love Yo Check.
How Long To Bake Chicken Wings At 375 • 2023 Edition
How To Make Party Jollof Rice Nigeria/(Ingredients For Cooking half bag of Rice) In 2023
Crispy & Tender Air Fryer Chicken Fried Steak
35 most popular Italian foods that will captivate you 2023