Are you craving a quick and scrumptious meal that satisfies your pizza cravings?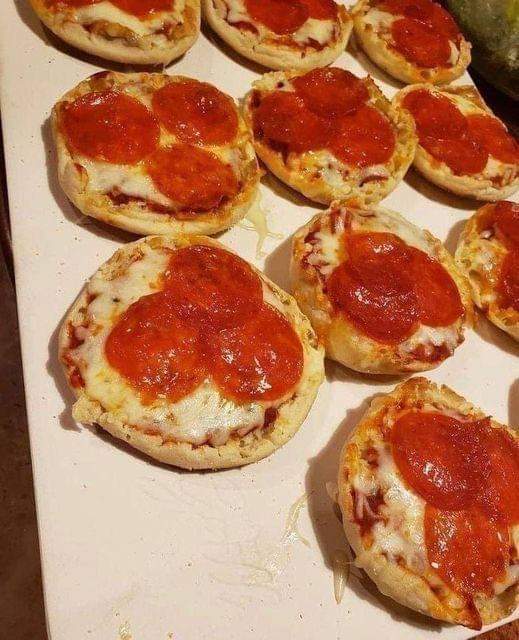 Look no further than our Easy and Delicious English Muffin Pizza Recipe! In just a few simple steps, you can transform ordinary English muffins into mini pizzas bursting with flavor.
With their crispy yet soft texture, these mouthwatering treats are perfect for busy weeknights or impromptu gatherings.
The best part? You can customize them with your favorite toppings, from classic pepperoni to a medley of veggies.
Whether you're serving them as a snack, appetizer, or even a main course, our English Muffin Pizza Recipe is sure to become a family favorite. Get ready to enjoy a slice of pizza heaven in a matter of minutes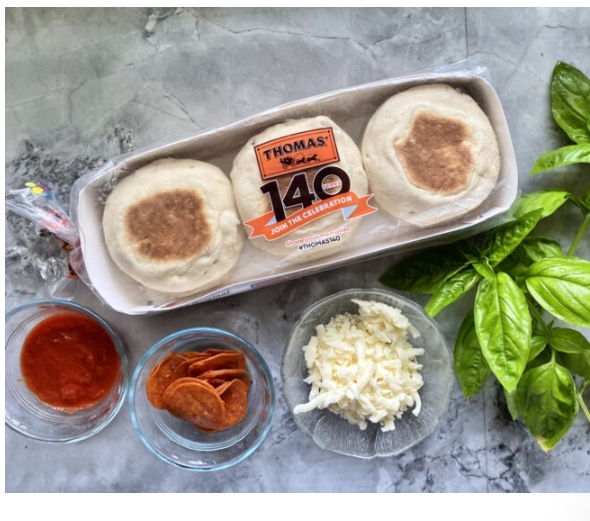 Here are the Ingredients for making the best English Muffin Pizza
4 English muffins, split in half
1 cup pizza sauce
2 cups shredded mozzarella cheese
Your choice of pizza toppings (e.g., pepperoni, bell peppers, onions, olives, mushrooms, etc.)
Dried oregano and red pepper flakes (optional)
Step by step guide
1.Preparing the English Muffins
Preheat your oven to 425°F (220°C).
Line a baking sheet with parchment paper or lightly grease it to prevent sticking.
Place the English muffin halves on the prepared baking sheet, cut side up.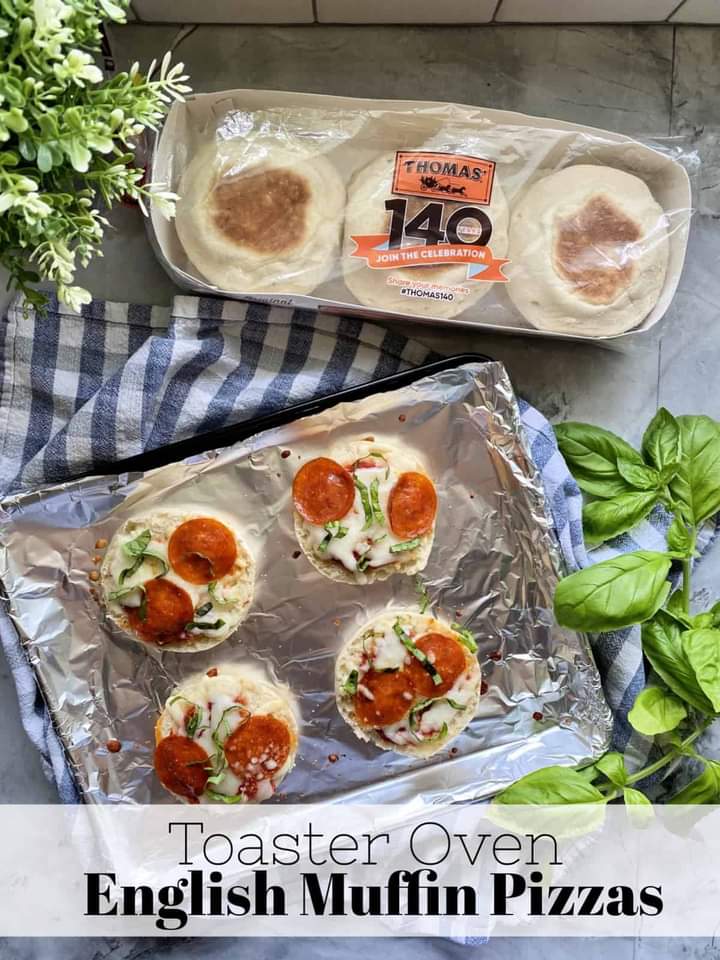 2. Topping the English Muffins
Spoon approximately 2 tablespoons of pizza sauce onto each English muffin half, spreading it evenly to cover the surface.
Sprinkle a generous amount of shredded mozzarella cheese over the sauce on each muffin half. Ensure the cheese covers the sauce evenly, as it acts as a binder for the toppings and adds a delicious gooey texture when melted.
3. Adding Toppings
Now it's time to unleash your creativity! Add your desired pizza toppings on top of the cheese layer. You can mix and match to suit your taste preferences. Some popular choices include sliced pepperoni, diced bell peppers, sliced olives, onions, mushrooms, or any other favorite toppings you love.
4. Optional Flavor Enhancements
For an extra burst of flavor, sprinkle a pinch of dried oregano and red pepper flakes over each pizza. The oregano adds an aromatic touch, while the red pepper flakes provide a mild kick of heat. Adjust the amount according to your spice tolerance.
5. Baking the Pizzas:
Place the baking sheet with the English muffin pizzas into the preheated oven.
Bake for approximately 10-12 minutes or until the cheese is melted and bubbly, and the English muffins turn a golden brown color. Keep an eye on them to avoid burning.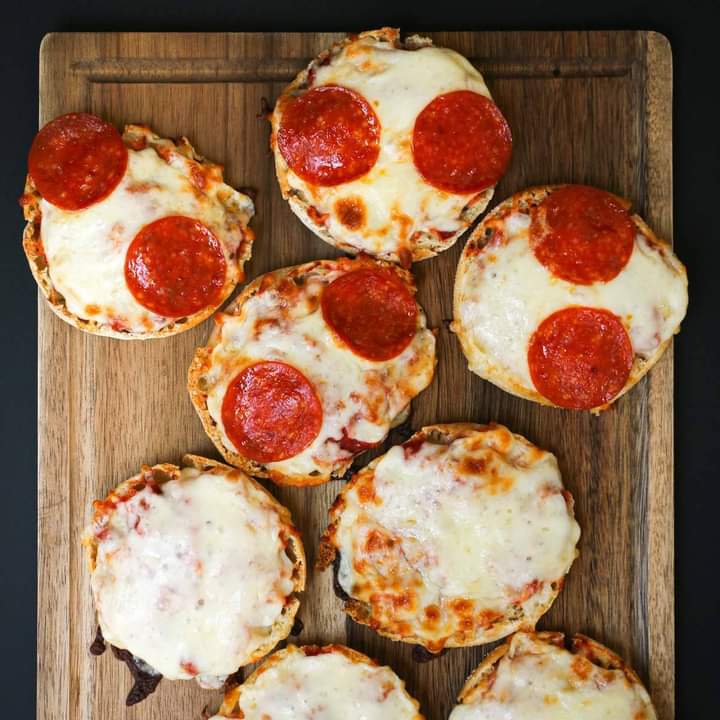 7. Serving and Enjoying
Once the pizzas are cooked to perfection, remove them from the oven and let them cool for a few minutes.
Serve the English muffin pizzas hot and enjoy the deliciousness of your homemade creation.
Whether it's a fun dinner with the family, a game-day snack, or a quick meal for one, these mini pizzas are sure to please. So, grab some English muffins, sauce, cheese, and your favorite toppings, and let the deliciousness begin!
Frequently Asked Questions
Can I use regular muffins instead of English muffins for this recipe?
While regular muffins may work, English muffins are recommended for their unique texture and flavor. The nooks and crannies of English muffins provide a perfect base for the pizza toppings.
Can I use pre-made pizza sauce?
Absolutely! Using pre-made pizza sauce saves time and simplifies the recipe. Just make sure to choose a sauce that suits your taste preferences.
Can I use different types of cheese?
Yes, feel free to experiment with different cheeses. While shredded mozzarella is traditional, you can use a combination of cheeses like cheddar, provolone, or even sprinkle some Parmesan for added flavor.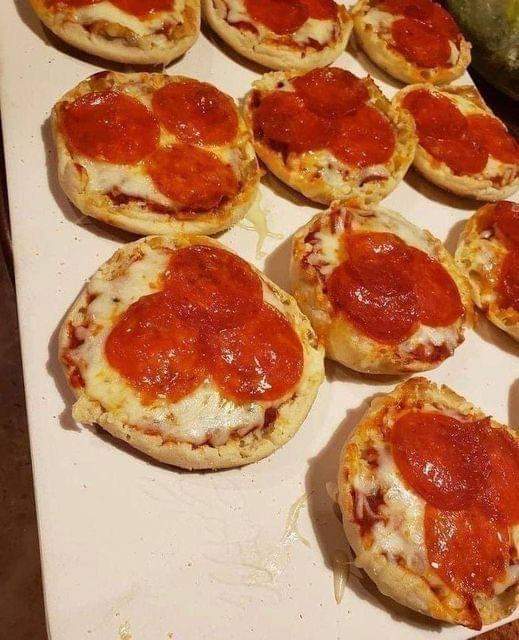 Can I make English muffin pizzas in advance?
It's best to make English muffin pizzas fresh and bake them right before serving to ensure the ideal texture. However, you can prepare the toppings in advance for a quicker assembly.
Can I freeze English muffin pizzas?
Yes, you can freeze assembled English muffin pizzas before baking. Wrap them tightly in plastic wrap or aluminum foil, and place them in a freezer-safe container. When ready to enjoy, bake them from frozen, adding a few extra minutes to the cooking time.
Can I use gluten-free English muffins?
Absolutely! If you have dietary restrictions, feel free to use gluten-free English muffins as a substitute. Just make sure to adjust the cooking time as needed.
Can I add additional seasonings to the pizza sauce?
Of course! You can enhance the flavor of the pizza sauce by adding herbs like basil, oregano, garlic powder, or a pinch of red pepper flakes. Adjust the seasonings to suit your taste.
Can I make mini English muffin pizzas for appetizers?
Yes, English muffin pizzas make fantastic appetizers. Simply slice the English muffins into smaller rounds and adjust the toppings accordingly. Monitor the cooking time to ensure they don't overcook.
Can I make vegetarian or vegan English muffin pizzas?
Absolutely! Customize the toppings to your preference, including a variety of vegetables for vegetarian options. For vegan pizzas, use dairy-free cheese alternatives and ensure your sauce and toppings are free of animal products.
Can I reheat leftover English muffin pizzas?
Leftover English muffin pizzas can be reheated in a preheated oven or toaster oven at 350°F (175°C) for a few minutes until heated through. This will help maintain their crispy texture.
Conclusion
English muffin pizzas are a fantastic option when you need a quick and satisfying meal that doesn't compromise on flavor.
With their customizable nature, you can cater to everyone's taste preferences and get creative with various toppings.