Boost Your Morning with a Healthy Protein Coffee Smoothie
Starting your day with a nutritious and energizing breakfast is essential for fueling your body and mind. If you're a coffee lover looking to combine your caffeine fix with a protein-packed meal, a healthy protein coffee smoothie is the perfect choice.
This delightful blend of coffee, protein powder, and other wholesome ingredients will kickstart your day on a positive note.
Therefore, we'll walk you through step-by-step instructions on how to make a delicious and nutritious protein coffee smoothie that will leave you feeling satisfied and ready to take on the day.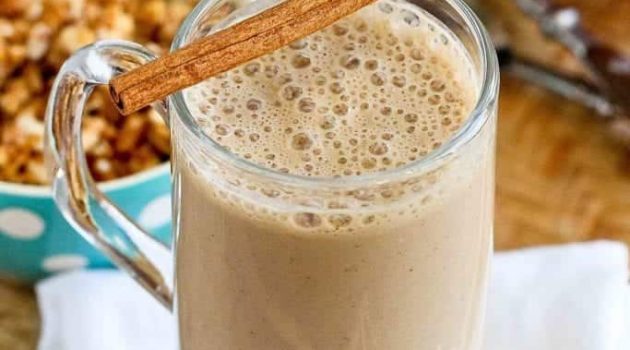 Ingredients For Making The Best Coffee Smoothie
1 cup brewed coffee, chilled
1/2 cup unsweetened almond milk (or your preferred milk alternative)
1 scoop of your favorite protein powder (such as whey, plant-based, or collagen)
1 tablespoon almond butter or peanut butter
1 teaspoon honey or a natural sweetener (optional)
1/2 teaspoon vanilla extract
1 cup ice cubes
How to Make a High-Protein, Low-Calorie Coffee Smoothie
1. Brew and Chill the Coffee
Start by brewing a cup of coffee using your preferred method. Allow it to cool and then place it in the refrigerator to chill until cold.
2. Gather and Measure the Ingredient
Before you begin blending, gather all the necessary ingredients and measure them accordingly. This will make the process smoother and more efficient.
3. Combine the Ingredients in a Blender
In a blender, add the chilled coffee, unsweetened almond milk, protein powder, almond butter (or peanut butter), honey (if desired), and vanilla extract. These ingredients will provide a rich flavor and boost the smoothie's nutritional value.
4. Add Ice for a Chilled Texture
To give your protein coffee smoothie a refreshing and chilled consistency, add the ice cubes to the blender.
5. Blend Until Smooth
Blend all the ingredients on high speed until they are thoroughly combined and the smoothie reaches a smooth and creamy consistency. If needed, you can adjust the thickness by adding more almond milk or ice cubes.
6. Adjust Sweetness to Taste
Taste the smoothie and adjust the sweetness to your preference. If you desire a sweeter flavor, add more honey or your preferred natural sweetener. Blend again briefly to incorporate the added ingredients.
7. Serve and Enjoy
Pour the protein coffee smoothie into a glass or to-go cup. You can also add a sprinkle of cocoa powder or a dash of cinnamon on top for extra flavor. Sip and savor the delightful combination of coffee and protein, knowing that you're fueling your body with a healthy and nourishing breakfast.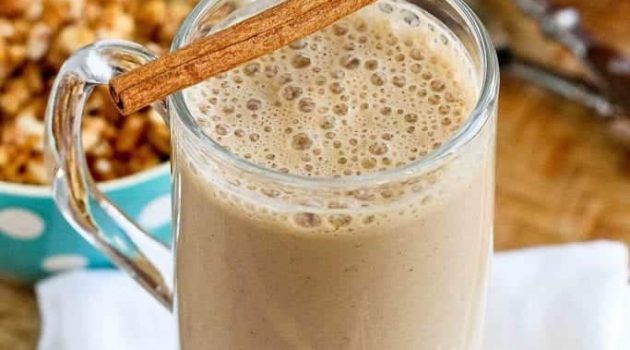 Nutritional Information in Protein Smoothie
Below are the nutritional facts for this easy at-home, high protein, coffee smoothie recipe.
Nutrition Information
280 calories
21 grams of protein
7 grams of fat
8 grams of dietary fiber
18 grams of sugar
30% of daily iron
12% of daily potassium
Nutritional Information in Protein Smoothie
Below are the nutritional facts for this easy at-home, high protein, coffee smoothie recipe.
Nutrition Information
280 calories
21 grams of protein
7 grams of fat
8 grams of dietary fiber
18 grams of sugar
30% of daily iron
12% of daily potassium
Frequently Asked Questions
Why should I add protein powder to my coffee smoothie?
Adding protein powder to your coffee smoothie offers numerous benefits. Protein is an essential nutrient that helps promote muscle growth and repair, supports satiety, and aids in weight management.
By incorporating protein powder, you can turn your coffee smoothie into a balanced meal that provides sustained energy and helps keep you fuller for longer.
Can I use a different milk alternative in my protein coffee smoothie
Absolutely! The choice of milk alternative is flexible and can be tailored to your preferences or dietary needs. Unsweetened almond milk, soy milk, coconut milk, or oat milk are all suitable options. Just ensure that the milk alternative you choose is unsweetened and fits within your nutritional requirements.
Can I customize my protein coffee smoothie with additional ingredients?
Certainly! Customizing your protein coffee smoothie with extra ingredients is a great way to add variety and enhance the flavor profile.
You can experiment with additions like a handful of spinach for added nutrients, a teaspoon of cocoa powder for a mocha twist, or a sprinkle of cinnamon for warmth and flavor. Feel free to get creative and tailor your smoothie to suit your taste preferences.
Is it necessary to use a blender to make a protein coffee smoothie?
While a blender provides the smoothest and most consistent results, it's not the only option. If you don't have a blender, you can still make a protein coffee smoothie by using a shaker bottle or a whisk to thoroughly mix the ingredients.
Ensure that your protein powder dissolves completely and the other ingredients are well incorporated.
Remember, if you have specific dietary concerns or health conditions, it's always a good idea to consult with a healthcare professional or registered dietitian to ensure that a protein coffee smoothie aligns with your individual needs and goals.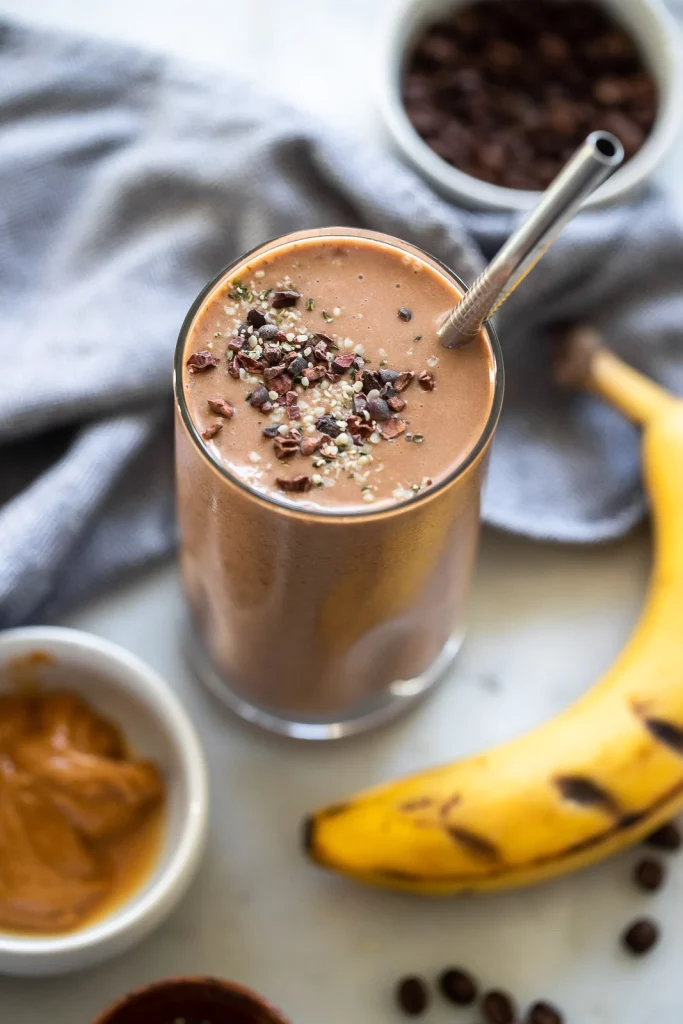 Read More
8 Healthy dessert To pick On The Grocery Shelves
39 foods that lower blood sugar immediately
30 Best healthy lunch ideas for weight loss
Unveiling the Nutritional Marvels: Exploring the Remarkable Health Benefits of Cashews
Best 31 Healthy Restaurants in America | Locations
20 healthiest butter substitutes
The top 33 foods for keeping your kidney healthy
20 Healthy Chips You Can Eat When You're Trying To Lose Weight
Conclusion
With this detailed guide, you're now equipped to create a healthy, protein-packed coffee smoothie that will give you the energy you need to conquer your day.
By combining the benefits of caffeine and protein, you'll feel satisfied, focused, and ready to take on any challenges that come your way.
Experiment with different flavors and variations, such as adding a handful of spinach or a dash of cocoa powder, to customize your smoothie to your liking.
Embrace the power of a nutritious breakfast and start your mornings off right with a delicious protein coffee smoothie. Cheers to a healthy and energized day ahead.