Title: Delectable Stuffed Shrimp with Crab: A Seafood Lover's Delight
If you're looking to impress your guests with a restaurant-quality dish, crab-stuffed shrimp is the perfect option. This seafood delicacy features succulent jumbo shrimp filled with seasoned lump crab meat and baked to perfection.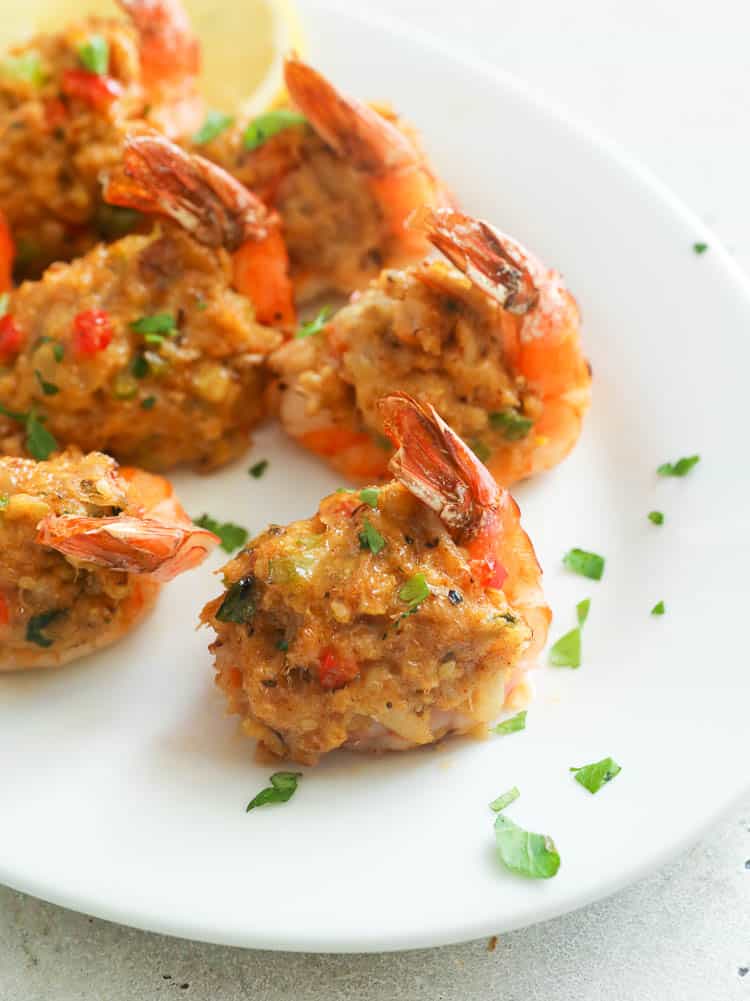 The result is a mouthwatering combination of flavors and textures that will have your taste buds dancing.
Crab-stuffed shrimp is an excellent choice for any occasion, whether it's a fancy dinner party or a casual family meal.
This dish is relatively easy to prepare, but its elegant presentation makes it look like it took hours in the kitchen. Plus, its rich and indulgent flavor profile means that everyone at the table will be satisfied.
If you're a fan of seafood, then this recipe is a must-try for you. Our stuffed shrimp with crab combines two oceanic delicacies to create a mouthwatering dish that will impress your taste buds and leave you craving more.
Ingredients For Stuffed Shrimp with crab
12 large shrimp, peeled and deveined, with tails intact
8 ounces lump crabmeat, picked over for any shells
1/4 cup breadcrumbs
1/4 cup grated Parmesan cheese
2 tablespoons mayonnaise
2 tablespoons chopped fresh parsley
2 tablespoons chopped green onions
1 tablespoon lemon juice
1 teaspoon Old Bay seasoning (or seafood seasoning of your choice)
Salt and pepper, to taste
Lemon wedges, for serving
Fresh parsley, for garnish
Related: How To Make Cocktail Shrimps In Less Time | Step by Step Guide.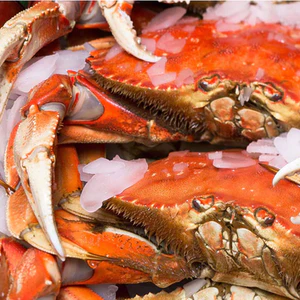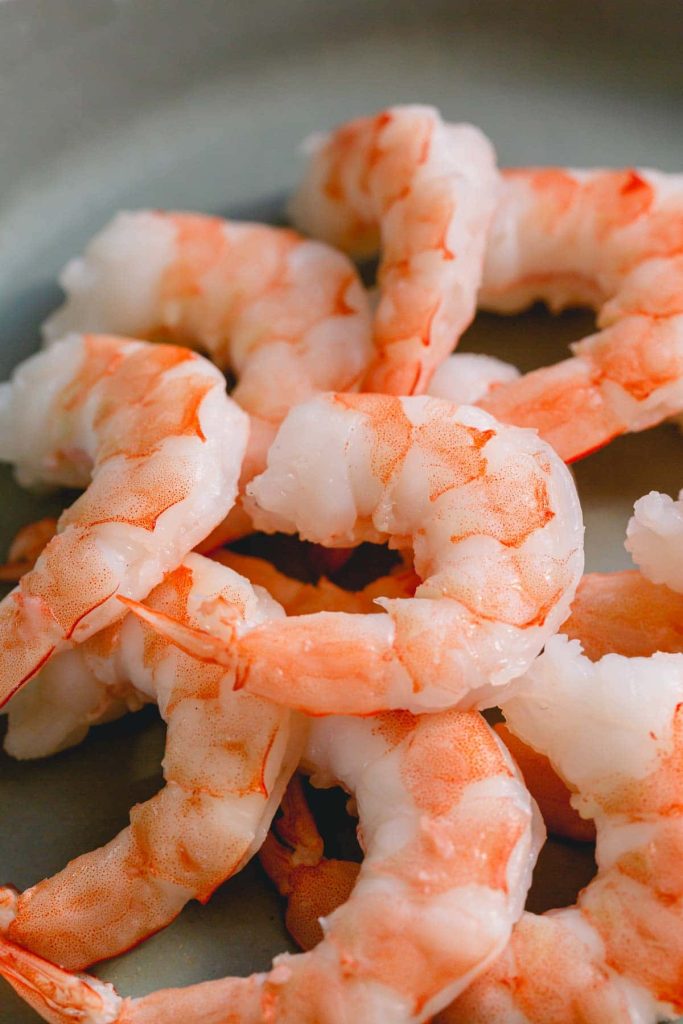 Crab Stuffed Shrimp Recipe
Firstly, You will have to preheat the oven to 375°F (190°C). Line a baking sheet with parchment paper or lightly grease it.
In a medium bowl, combine the lump crabmeat, breadcrumbs, Parmesan cheese, mayonnaise, chopped parsley, chopped green onions, lemon juice, Old Bay seasoning, salt, and pepper. Gently mix everything together until well combined.
Take each peeled and deveined shrimp and make a deep slit along the back, being careful not to cut all the way through. This will create a pocket for the stuffing.
Stuff each shrimp with a generous amount of the crab mixture, pressing it gently to ensure it fills the cavity. Place the stuffed shrimp onto the prepared baking sheet.
Bake the stuffed shrimp in the preheated oven for about 12-15 minutes or until the shrimp are cooked through and the stuffing is golden brown.
Once cooked, remove the stuffed shrimp from the oven and let them cool for a few minutes. Serve them hot, garnished with fresh parsley and accompanied by lemon wedges for squeezing over the top.
Enjoy the succulent combination of flavors as you savor each bite of the tender shrimp and savory crab stuffing.
Serve the stuffed shrimp as an appetizer, main course, or as part of a seafood feast. Pair it with a side of your choice, such as a crisp salad or roasted vegetables, to complete the meal.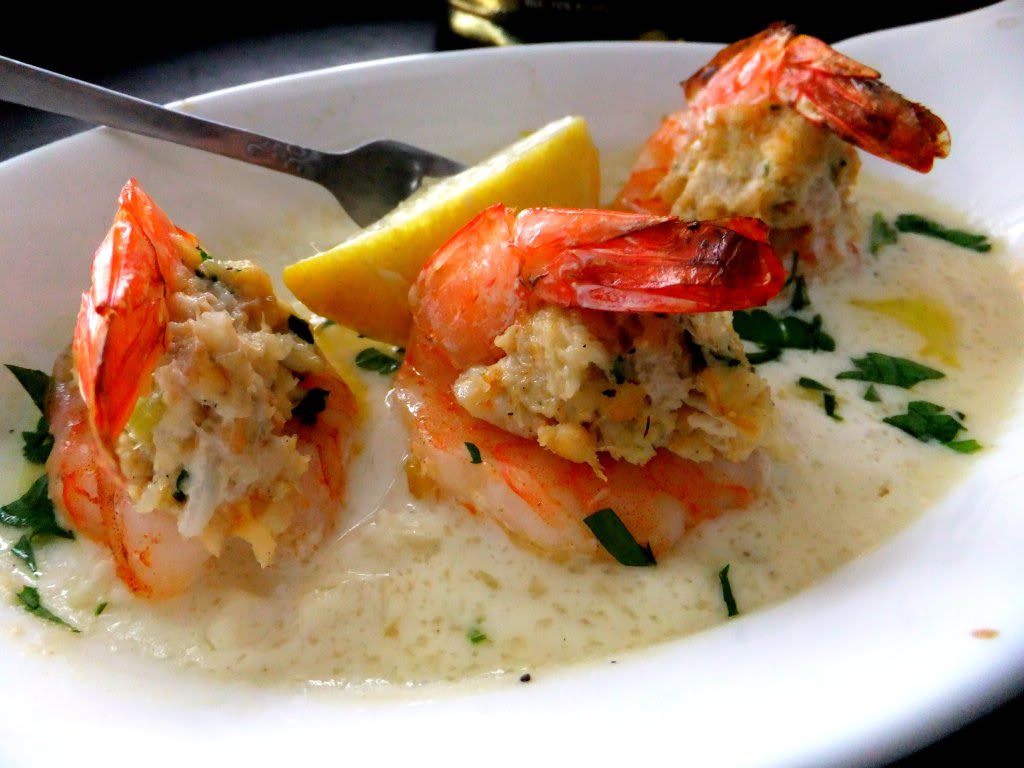 Related: Easy Mango Avocado Shrimp Salad
Frequently Asked Questions
Can I use frozen shrimp and canned crabmeat for this recipe?

While fresh shrimp and lump crabmeat are recommended for the best flavor and texture, you can use frozen shrimp and canned crabmeat as a convenient alternative. Just make sure to thaw the shrimp and drain the canned crabmeat before using them in the recipe.
How do I prevent the stuffing from falling out of the shrimp while baking?

To ensure the stuffing stays intact, make a deep slit along the back of each shrimp and press the stuffing firmly into the cavity. Additionally, you can use toothpicks to secure the shrimp closed if desired, removing them before serving.
Can I prepare the stuffed shrimp with crab ahead of time?

Answer: Yes, you can prepare the stuffed shrimp with crab ahead of time by assembling them and refrigerating them for a few hours before baking. This is a great option for dinner parties or gatherings, allowing you to save time and simplify your meal preparations.
Can I use a different seasoning instead of Old Bay seasoning?

Absolutely! While Old Bay seasoning adds a delicious flavor to the stuffed shrimp, you can use other seafood seasonings or spice blends of your choice. Experiment with different flavors to customize the dish according to your taste preferences.
How do I know when the stuffed shrimp with crab is cooked through?

The shrimp will turn pink and opaque when fully cooked, and the stuffing will become golden brown. The cooking time can vary depending on the size of the shrimp, so it's best to keep a close eye on them while baking to avoid overcooking.
Read More
8 Healthy dessert To pick On The Grocery Shelves
39 foods that lower blood sugar immediately
30 Best healthy lunch ideas for weight loss
Unveiling the Nutritional Marvels: Exploring the Remarkable Health Benefits of Cashews
Best 31 Healthy Restaurants in America | Locations
20 healthiest butter substitutes
The top 33 foods for keeping your kidney healthy
20 Healthy Chips You Can Eat When You're Trying To Lose Weight
FAQ
Can I freeze the stuffed shrimp with crab?
It is not recommended to freeze the stuffed shrimp with crab, as the texture and quality of both the shrimp and crabmeat may be compromised upon thawing. It's best to enjoy them fresh for the best taste and texture.
What are some side dishes that pair well with stuffed shrimp with crab?
Stuffed shrimp with crab pairs well with a variety of side dishes. Consider serving them with a fresh green salad, roasted vegetables, or steamed asparagus. Rice pilaf or garlic mashed potatoes also make excellent accompaniments to create a well-rounded meal.
Conclusion
Indulge in the tantalizing flavors of our stuffed shrimp with crab recipe. The combination of tender shrimp and succulent crab stuffing creates a delightful dish that is sure to impress seafood enthusiasts.
Whether you're hosting a special gathering or simply treating yourself to a luxurious meal, this recipe promises a dining experience that is both elegant and satisfying.
So, gather your ingredients, roll up your sleeves, and embark on a culinary adventure that will delight your taste buds and leave you craving more of this delectable stuffed shrimp with crab.