Let's take a delightful trip down memory lane and indulge in the nostalgia of the '90s, an era that was not only defined by its music and fashion but also by its iconic snacks.
For those who grew up during this magical decade, there are certain snacks that instantly transport us back to simpler times and bring a smile to our faces, we'll embark on a mouthwatering journey as we explore 18 snacks that were loved and devoured by everyone in the '90s.
From the irresistible flavors of fruit snacks to the finger-licking goodness of chips and everything in between, these snacks were the epitome of deliciousness.
So, get ready to rediscover the treats that made our childhood extra special and join us in celebrating the snacks that became an integral part of '90s pop culture. Are you ready to take a delicious walk down memory lane? Let's dive in!
1. Dunkaroos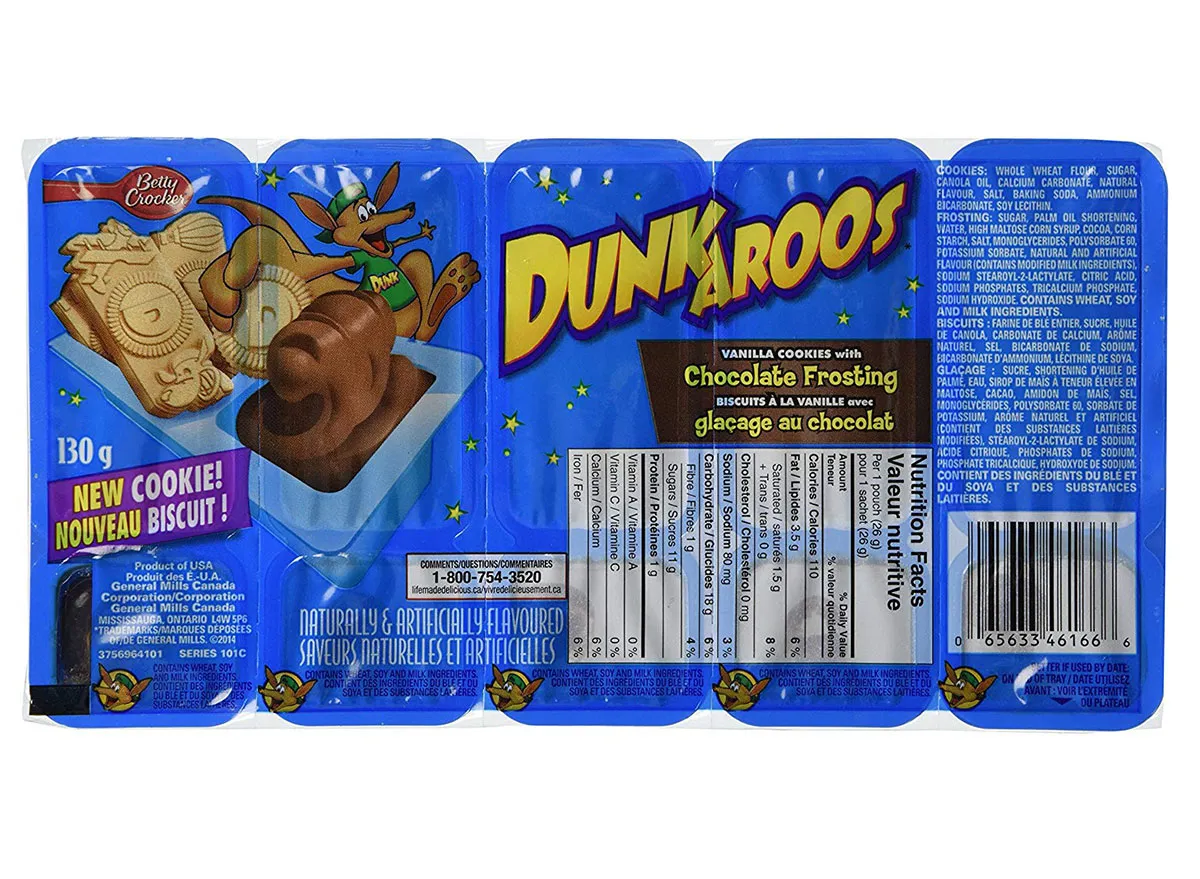 How did you do your Dunkaroos Most of us took the cookie, dipped it in frosting, and pretended these were healthy. Or, maybe you were a cookie-frosting sandwich kind of Dunker. Either way, Dunkaroos were the snack every kid wanted to see when they opened their lunchbox.
2. Gushers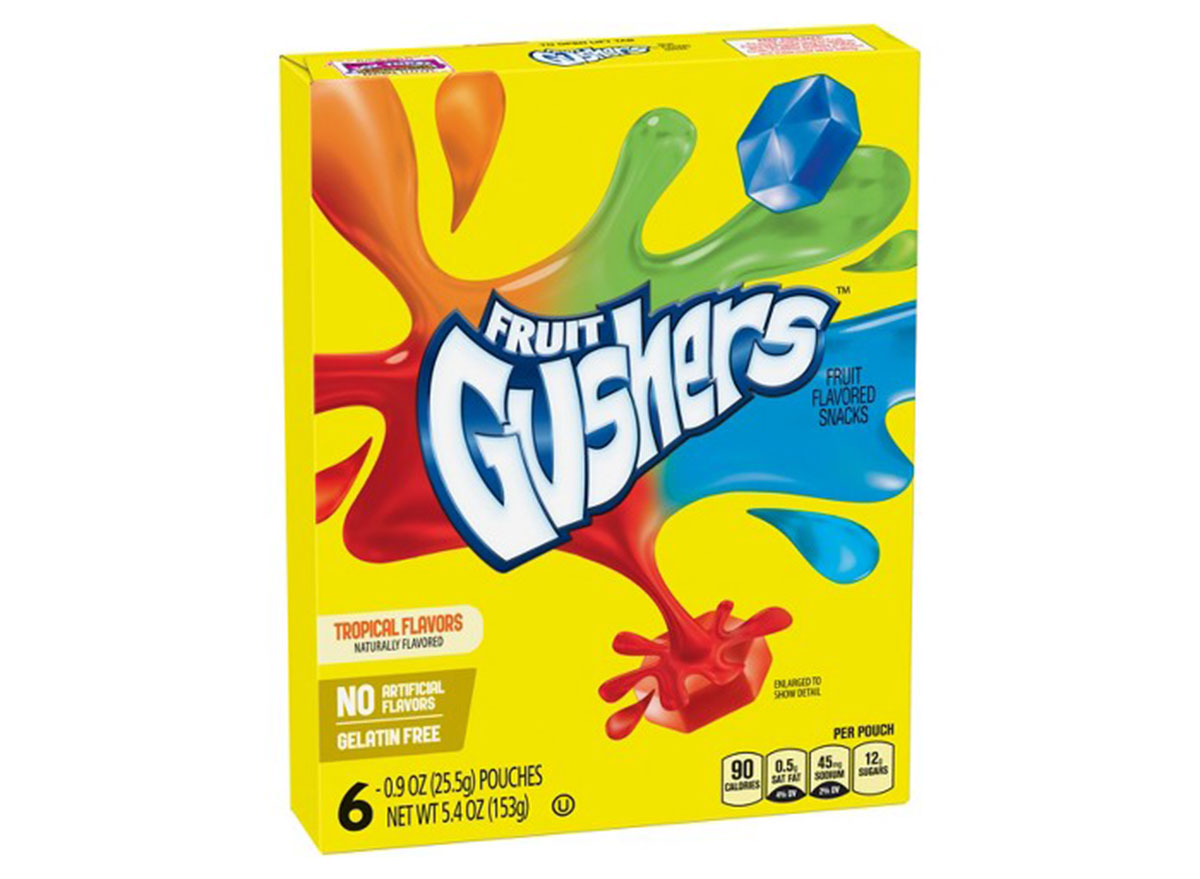 To this day, you might not be sure what the heck a Gusher even is (um, a diamond-shaped gummy filled with inexplicable, fruity goo?). That's our best guess, but hey, Gushers were a truly delicious staple of the '90s lunchbox.
3. Fruit by the Foot

Man, the '90s were fun, especially if you were gifted a Fruit by the Foot in your lunch. The motto for this fruity, tie-dyed snack was "3 feet of fun!" for a reason. Back then, it wasn't uncommon to see kids tying the 3-foot-long wrappers around their heads like Rambo or laughing while reading the tongue twisters printed on the wrappers.
4. Hi-C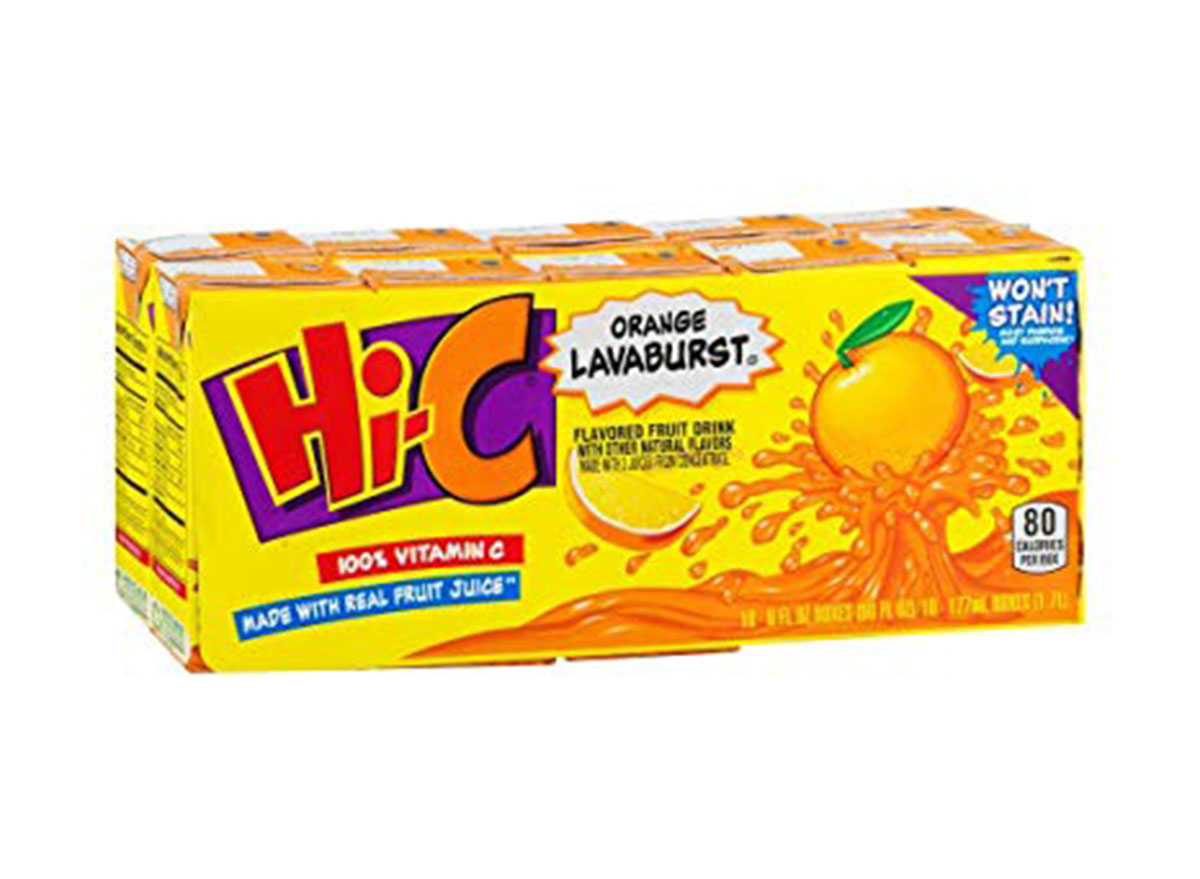 Believe it or not, Hi-C didn't fall off the face of the earth after the '90s. It's still available in certain fast-food soda fountains, but back when Recess was the best part of Saturday Morning Cartoons, Hi-C was manufactured by Coca-Cola and Minute Maid in tiny little juice boxes. Every kid in the cafeteria had either Fruit Punch, Poppin' Pink Lemonade, or Orange Lavaburst. Your tongue afterward? Always redder than when you started.
5. Kool-Aid Bursts

The only thing cooler than Hi-C at the cafeteria table was a Kool-Aid Burst. This to-go Kool-Aid product came in grape, berry blue, tropical punch, cherry, and lime. That moment when you ripped the plastic top off with your teeth? You were the king or queen of the cafeteria. No one could touch you—not even the lunch monitor.
6. Lunchables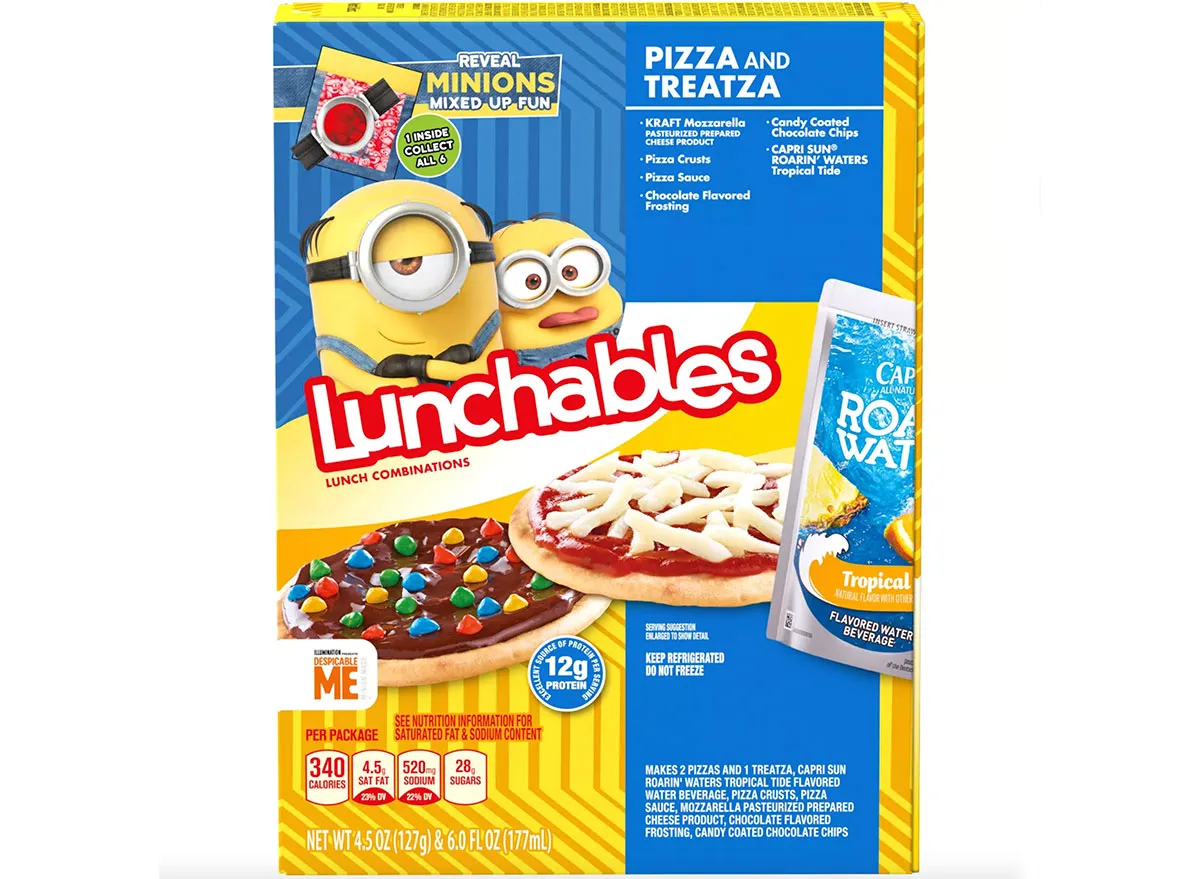 To this day, kids of the '90s have super strong opinions about which Lunchable was the best Lunchable, so we'll just leave this here, unapologetically: the Pizza & Treatza (a do-it-yourself sauce and cheese pizza combined with a chocolate dessert pizza) was fire. Top it off with a CapriSun and you were '90s gold. It even made a comeback in 2017, and you can still stock up on the Pizza + Treaatza combo today.
7. Yoo-hoo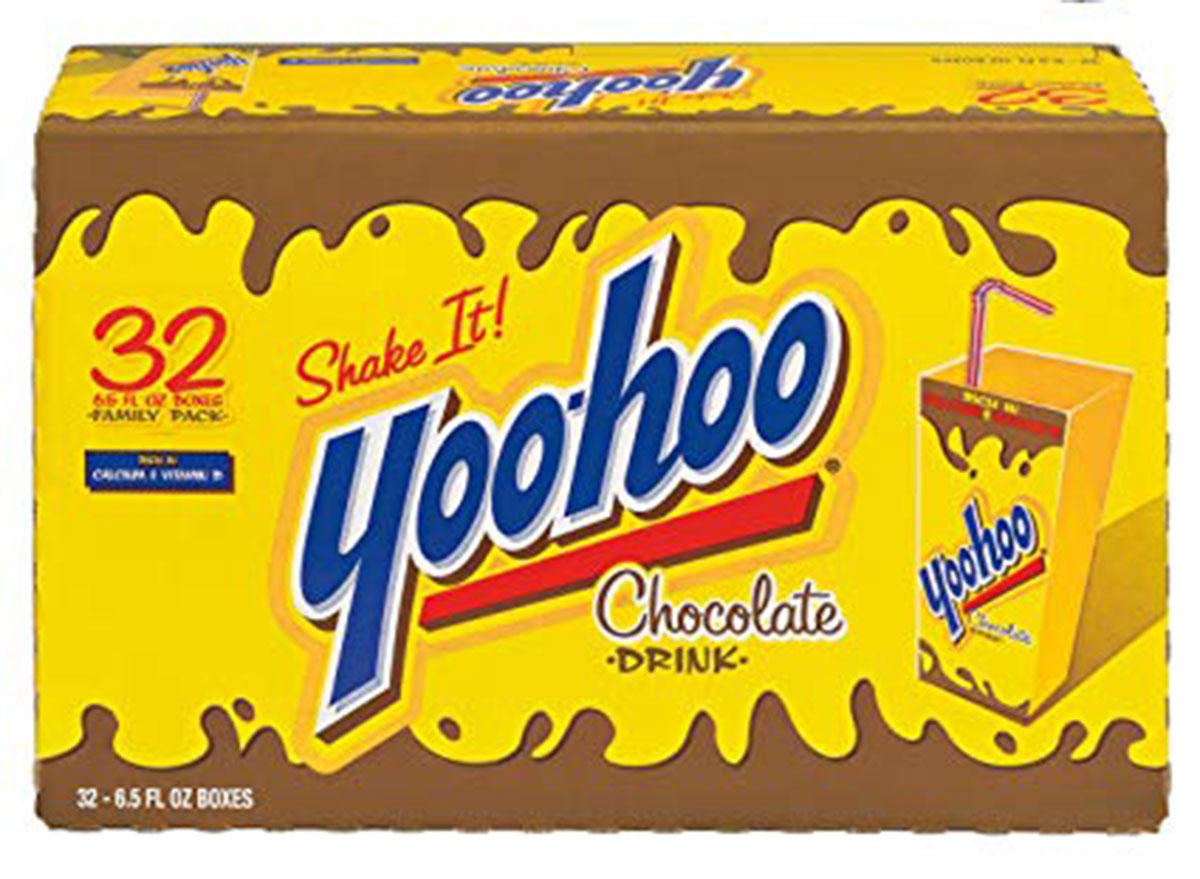 Not quite chocolate milk but not quite chocolate water, Yoo-hoo was super-popular before the turn of the century—sometimes even more than Ovaltine! Did you know the main ingredients are water, high-fructose corn syrup, and whey? No wonder it never really tasted like milk…
8. Cheez Balls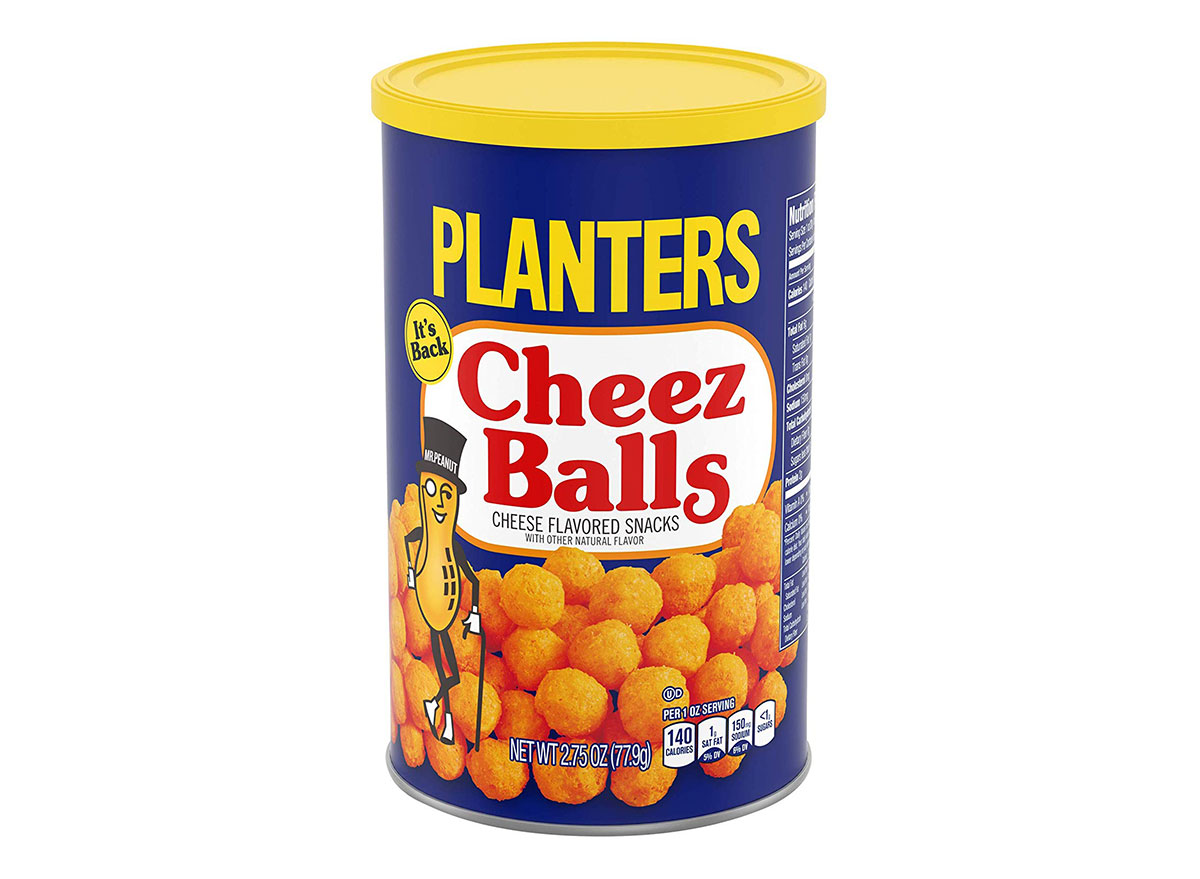 Planters might be known for its Mr. Peanut character, but in the '90s, Planters slapped Mr. Peanut's face on a can of since-discontinued Cheez Balls and boy, did it shape our childhoods.
Any true cheez ball connoisseur knows the Planters balls were so much cheesier and more flavorful than the Utz knock-off version. (Sorry not sorry.)
9. Shark Bites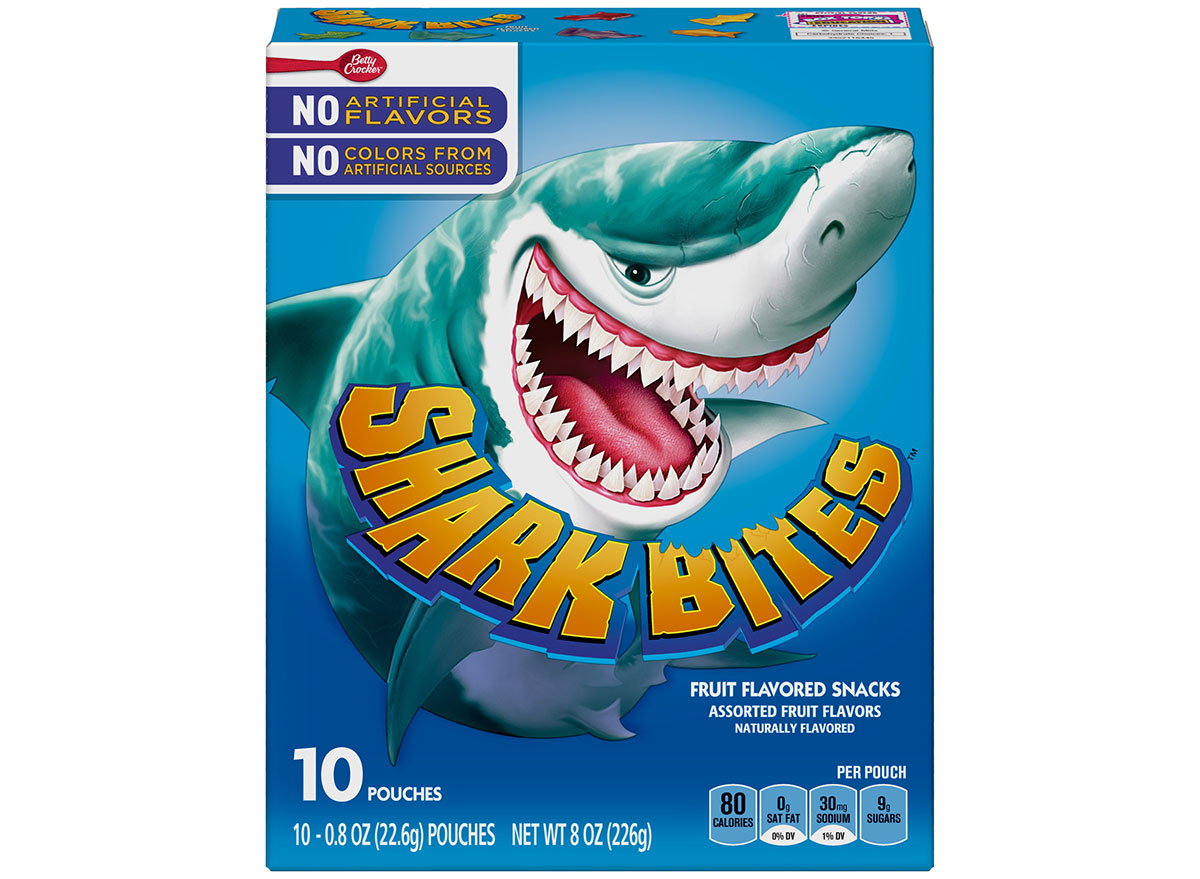 If you didn't compare which colors or types of sharks you got in your Shark Bites fruit snacks pack with your classmates, then were you even alive in the '90s?
10. Squeeze-Its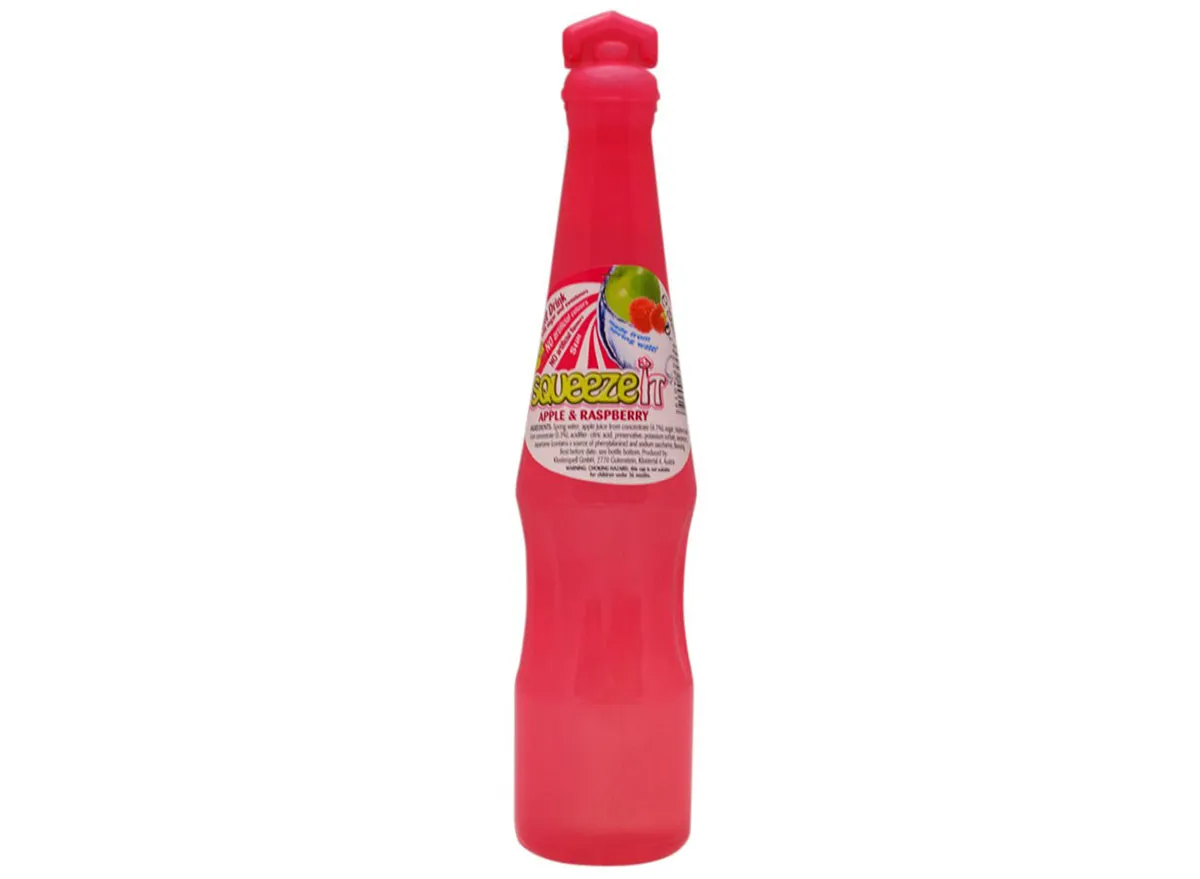 One look at these drinks and you're immediately transported back to a time when your parents just sat you in front of the TV while Rugrats was on, handed you a punch-flavored Squeeze-It, and went out for a few hours. No babysitter needed.
11. Go-Gurt

Remember when Go-Gurt first came on the market? That small yogurt-filled tube was a game-changer in the lunchroom. It's been almost 20 years since Go-Gurt took the yogurt market by storm, and it's still going strong.
12. Cosmic Brownies

If the '90s looked like one food, they'd look like a cosmic brownie. Legend has it if you simply read the term "cosmic brownie," you can taste the fudgy icing like it was yesterday.
13. Yoplait Trix Yogurt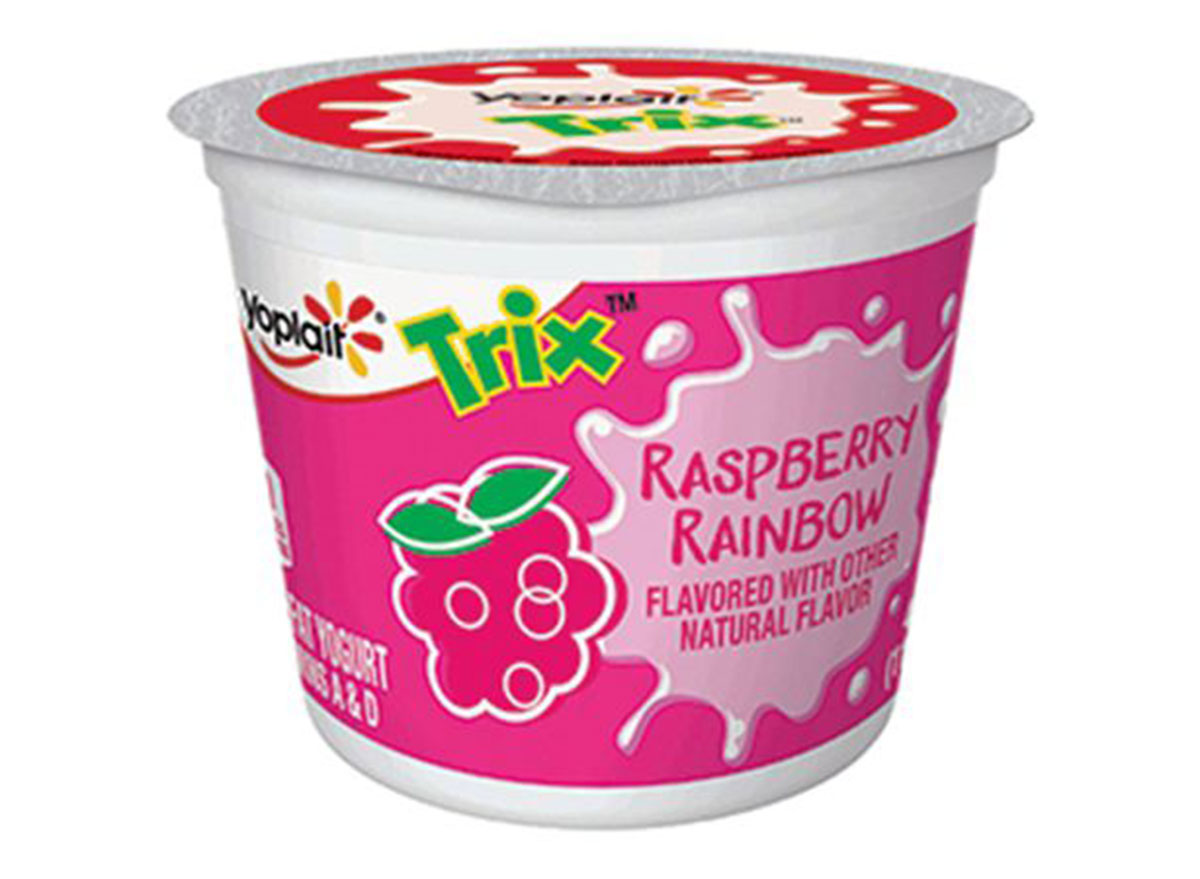 Today's youth just don't understand that Trix wasn't just a cereal—with actual shapes, that is—but also a deliciously fruity yogurt. Between cotton candy and watermelon, it was nearly impossible to choose a favorite flavor.
14. 3D Doritos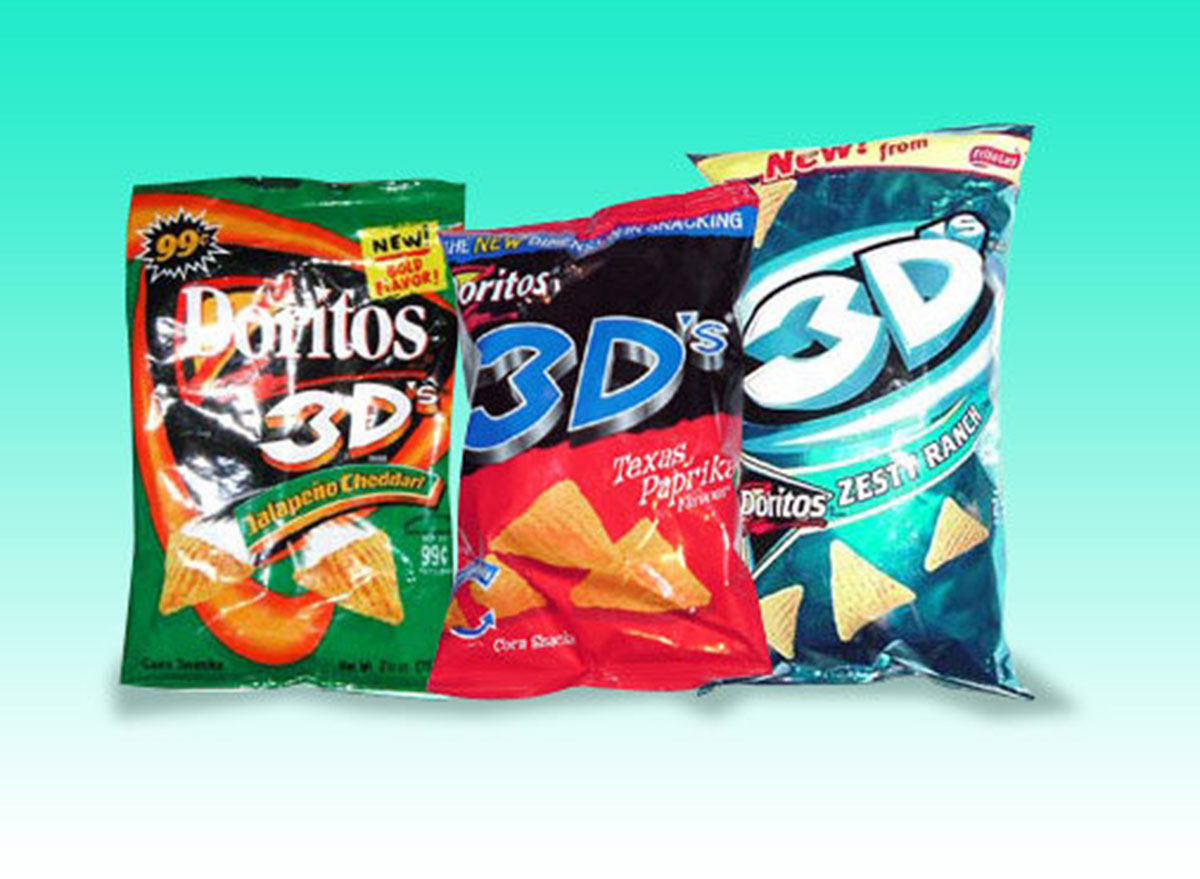 If you remember a time when Doritos were 3D cone shapes, then—no joke—it's time to start using retinol. OK, maybe that's a bit dramatic, but these chips were truly from a different time—kids today will never know the joy of munching on these during lunch.
Which other foods from your youth have you most likely forgotten about?
15. Toaster Strudel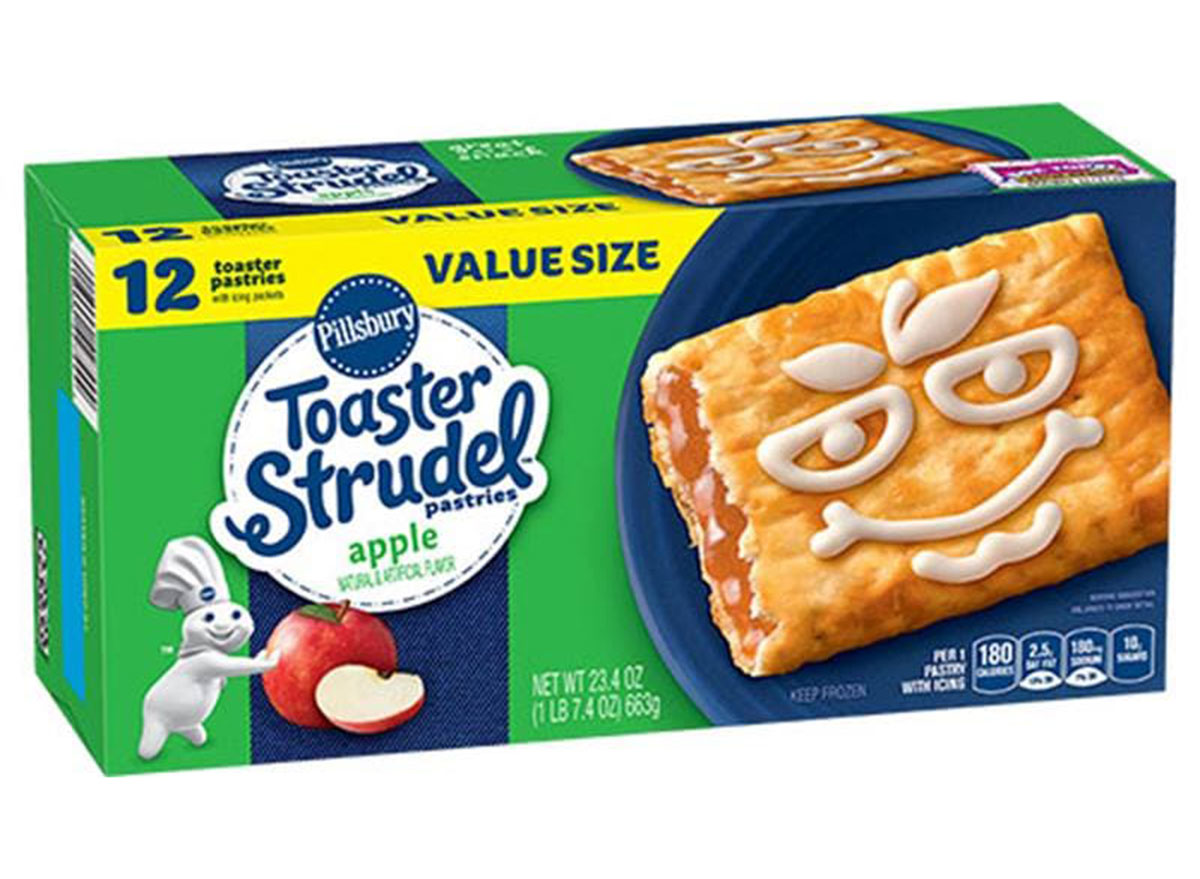 Thank goodness for Gretchen Wieners' father inventing Toaster Strudel right when people decided to love frosting more than ever. No, but seriously, Toaster Strudel was the breakfast of champions back in the '90s, long before it had its time to shine in Mean Girls. Making a design out of that oh-so-sweet frosting on that flaky outer crust was a true highlight of anyone's day.
16. Scooby Doo Fruit Snacks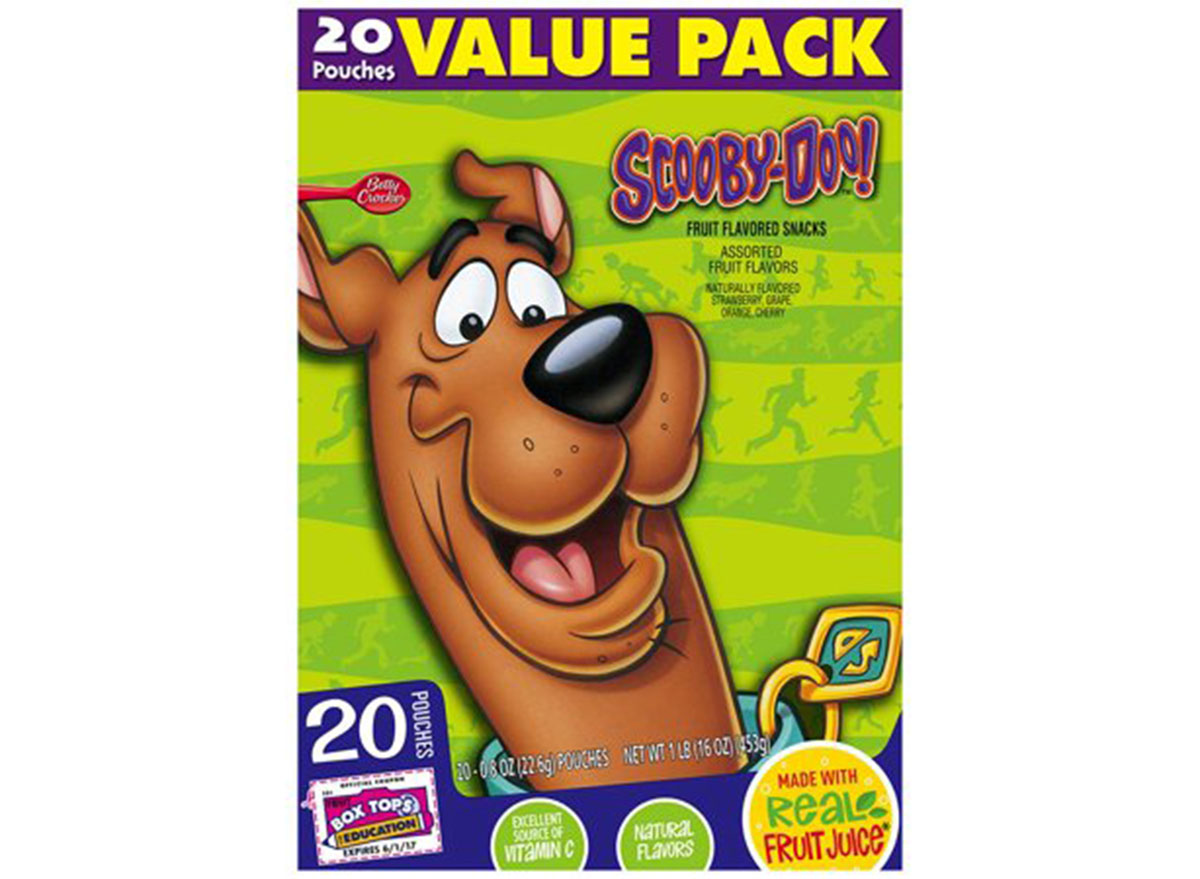 Scooby Snacks might have originated as dog treats (at least in the world of the iconic cartoon) but kids of the 1990s can attest: These were one of the best fruit snacks you could get in your lunchbox.
17. Little Hugs Fruit Barrels

Kids these days will never understand the pure joy of drinking juice out of a plastic barrel. And that's a fact.
18. Pizzarias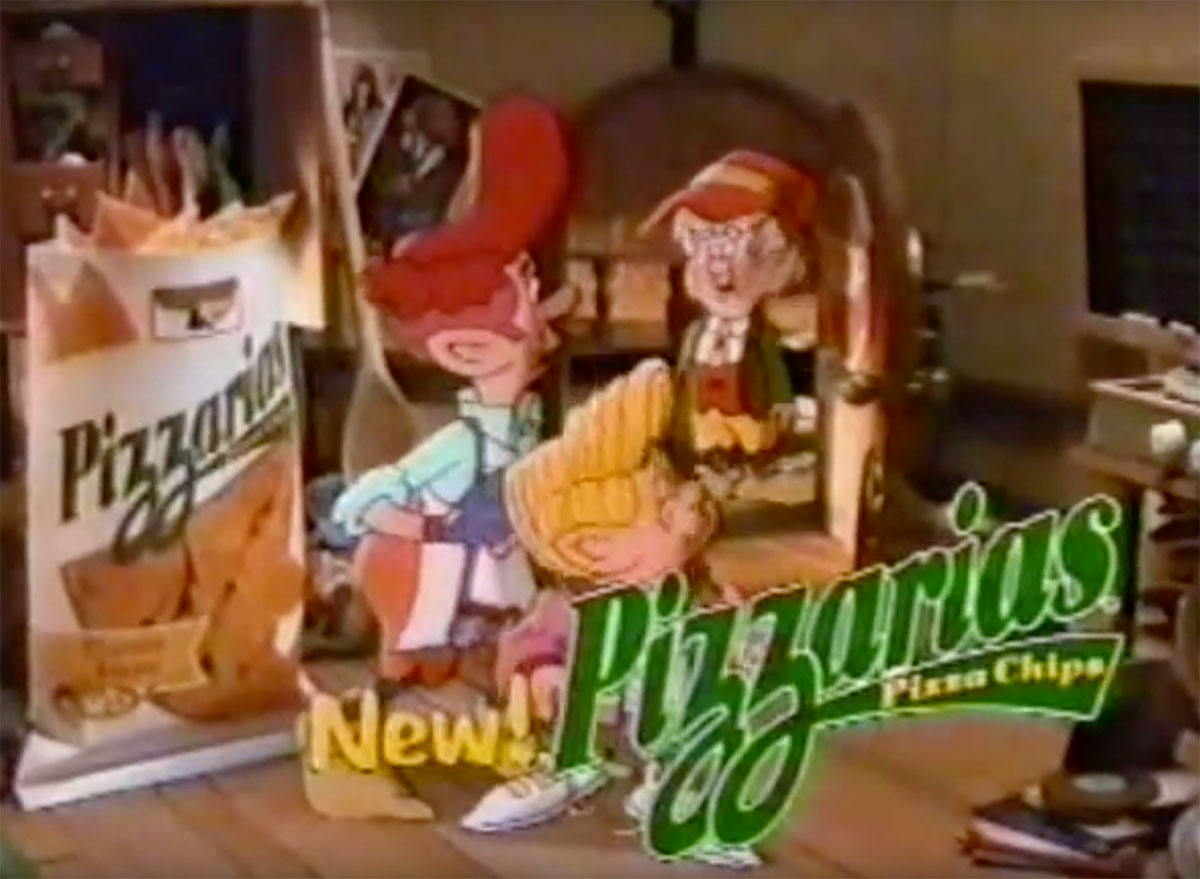 In the '90s, Keebler wasn't just known for its cookies. At the time, it was also making pizza chips called Pizzarias. Pizza-flavored chips, these were the next best thing to Bagel Bites while watching for your favorite after-school show to come on.
Read More
6 Best Gluten-Free Crackers And Places To Buy Them
Best exercises to lose belly fat
The Worst & Best Menu Items at Panda Express
The best antibiotic for gum infection
30 Best healthy lunch ideas for weight loss
Best 31 Healthy Restaurants in America | Locations
The top 33 foods for keeping your kidney healthy
13 Healthy Salad Dressings To Buy 2023
20 Healthy Chips You Can Eat When You're Trying To Lose Weight
Healthy Chocolate Peanut Butter Banana Smoothie Recipe
Conclusion
In conclusion, the 90s brought us some of the most iconic snacks that we will always cherish. From Dunkaroos to Warheads, these snacks have stood the test of time and continue to satisfy our craving for nostalgia.
It's amazing to see how these simple snacks have left a lasting impact on our childhood memories.
So why not grab a bag of Gushers or a box of Pop Rocks and relive those good old days? Who knows, maybe it'll bring back some memories you forgot about. Let's take a trip down memory lane and enjoy these classic treats once again.