Years ago, Lenny & Larry's made a splash with their Complete Cookies. Although they now offer other products, let's focus on these cookies.
The label "complete" does not describe the cookie's nutritional content, but rather a set of health-related terms that the company considers important.
These factors may not align with your personal definition of healthy, but they are the criteria listed for Lenny & Larry's Complete Cookies.
Let's get started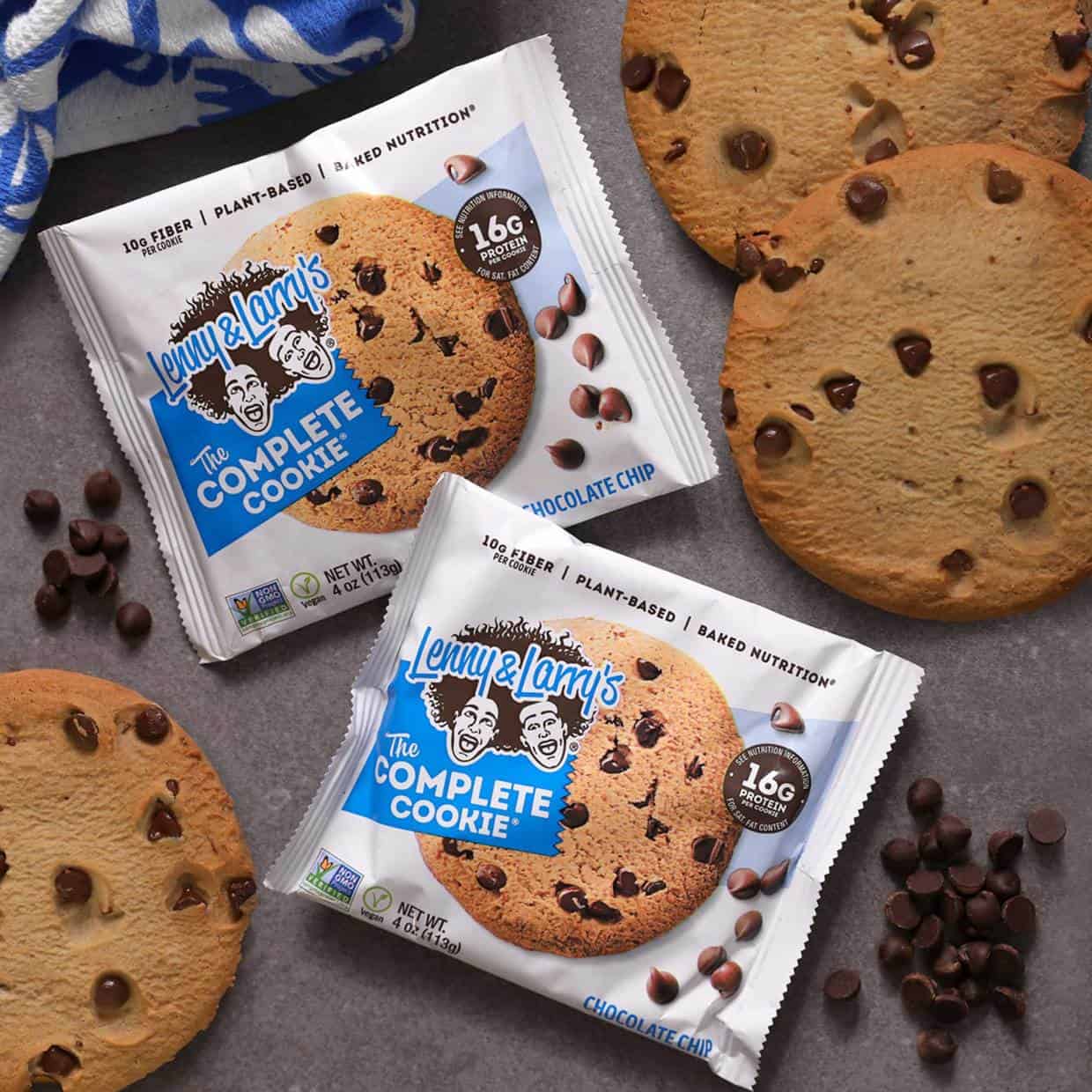 16g Plant Based Protein
10g Fiber
Non GMO Project Verified
No Soy Ingredients
No Dairy Ingredients
No Egg
Vegan
Kosher
No High Fructose Corn Syrup
No Artificial Sweeteners
0g Sugar Alcohols
Sustainable Palm Oil
The cookies are vegan and do not contain any dairy or soy products, non-GMO ingredients, artificial sweeteners, or high fructose corn syrup.
However, meeting these dietary requirements does not necessarily make the cookie healthy; it simply satisfies those specific dietary needs. It is important to note that what qualifies as "healthy" varies from person to person.
While a vegan, non-GMO cookie may be considered healthy by some, Lenny & Larry's is often marketed in the fitness community as a protein cookie comparable to a protein bar, which raises questions about its actual health benefits.
Lenny & Larry's cookies are essentially just regular cookies with added fiber and protein when it comes to actual nutrition.
It's important to note that the nutrition information on the label is for half a cookie, which may not be realistic for most people.
I recently compared the nutrition of a regular deli cookie to a Lenny & Larry's cookie and found that they were almost identical, except for the extra protein and fiber in the latter.
The Complete Cookie and the regular bakery cookie have nearly identical calorie, fat, and sugar content, as shown here.
Why is it that
Because they're both just cookies.
Personally, I find the taste of freshly baked cookies much more appealing than these packaged protein cookies. I'm willing to forego the additional 5g of protein for a better flavor.
It's important to be cautious when monitoring your diet, as a higher protein content doesn't necessarily equate to a healthier product.
If you happen to appreciate the taste of Lenny & Larry's Complete Cookie, or if it suits your dietary needs, feel free to indulge.
However, keep in mind that selecting a food item solely because it appears healthy is not always wise.
Are Lenny & Larry's Complete Cookies a good source of protein?
The fact that a product is advertised as high in protein does not guarantee that it is the most optimal protein source. Although consuming a Complete Cookie for additional protein is acceptable, it is not advisable to substitute it for foods you genuinely enjoy, such as a freshly baked homemade cookie, merely because you believe it to be a healthier alternative. Refer to the nutrition comparison above to gain a better understanding of this concept.
The Live Your Life diet excels in almost all categories, except for having slightly lower fiber content.
By consuming flavored Greek yogurt, flavored almonds (the Sriracha ones are particularly good), and a beer, you can achieve more favorable macros than by eating just one protein cookie.
It could be any combination of foods, such as the oatmeal raisin cookie mentioned in the previous graphic, but the message remains the same. Just because a food isn't labeled as healthy or high in protein doesn't mean it's unhealthy.
You can enjoy a beer, which many consider to be empty calories, along with some delicious and nutritious snacks and still stay within your dietary goals.
You don't have to rely on a high-protein Complete Cookie simply because it claims to be one.
Learning to read and understand nutrition labels is the best gift you can give yourself.
Sure, you can eat the Complete Cookie if you enjoy it. But it isn't necessarily a great source of protein.
While 18g of protein is considered sufficient, a comprehensive review of the nutritional information reveals that you can acquire a comparable or even greater amount of protein from your favorite everyday meals.
How healthy is Lenny & Larry's The Boss! Cookie?
Lenny & Larry's launched a new protein cookie in 2021, called The Boss! Cookie. The brand previously marketed the Complete Cookie as a protein cookie, which I found problematic due to its 420 calorie count and 16g of protein.
However, The Boss! Cookie is different as it combines plant and dairy protein sources and is not entirely plant-based like the Complete Cookie.
The Boss! Cookie Chocolate Chunk breaks down like this:
220 Calories
12g Fat
18g Carbs
18g Protein
The nutritional information appears to be more advantageous than that of the Complete Cookie.
Nevertheless, it's worth noting that The Boss! Cookie has a weight of 57g, equivalent to half the size of a Complete Cookie.
This implies that you're not getting an overly large cookie, but rather a standard-sized one with added protein.
As far as the taste is concerned, I have assessed it to help you determine if it's worthwhile.
Which is the healthiest Lenny & Larry's cookie?
At present, Lenny & Larry's has 4 varieties of cookies available, namely The Complete Cookie, The Boss! Cookie, The Keto Cookie, and The Complete Crunchy Cookie.
Although there are several flavors for each type, such as Snickerdoodle and Peanut Butter Chocolate Chip being quite popular, seasonal flavors like pumpkin spice are also introduced.
Let's compare the chocolate chip flavors of all the types to determine their relative merits.
Related
How to Make a Healthy, Protein, Coffee Smoothie
7 Costco Foods That Are Packed With Protein
Chicken Protein Breakdown: Calories and Macros of Every Cut in Detail
25 + Protein-Packed Dinners for Losing Weight & Building Muscle
Top 51 diabetic foods to steer clear of
These cookies all have different serving sizes, but by comparing them, we can determine which is the healthiest based on what it is you are looking for.
Lowest Sugar: The Boss! Cookie has the lowest sugar content, with only 1 gram in the entire cookie. This is shocking to see, as The Keto Cookie has more sugar in it (only 2g, but still more). If you're gluten-free and/or can't have wheat, you'll want to stick with the keto cookie.
Vegan: The Complete Cookie, The Keto Cookie, or the Complete Crunchy Cookies. Any of those 3 will satisfy a vegan diet!
As you can see, there are a ton of variables to take into account when determining which cookie is the "healthiest," but I hope this comparison can help!
Highest Fiber: The Complete Cookie, with 10g of fiber. While the fiber is the highest in the cookie, it also comes with significantly more calories and overall carbs than the other options.
Lowest Calorie: The Complete Crunchy Cookies, with 160 calories. A single serving bag of these crunchy cookies will be your lowest calorie option, although the serving size is slightly smaller than the other cookies. Side note: in my experience, these definitely have the best flavor of all the options.
Lowest Fat: The Complete Crunchy Cookies, with 8g of fat. If all serving sizes were equal, the fat content would actually be the same as The Boss! Cookie, since that serving size is 50% larger.
Highest Protein: The Boss! Cookie, with 18g of protein. It has more protein than the Complete Cookie even though it has half the calories!
Making your own Lenny and Larry cookies at home… but better.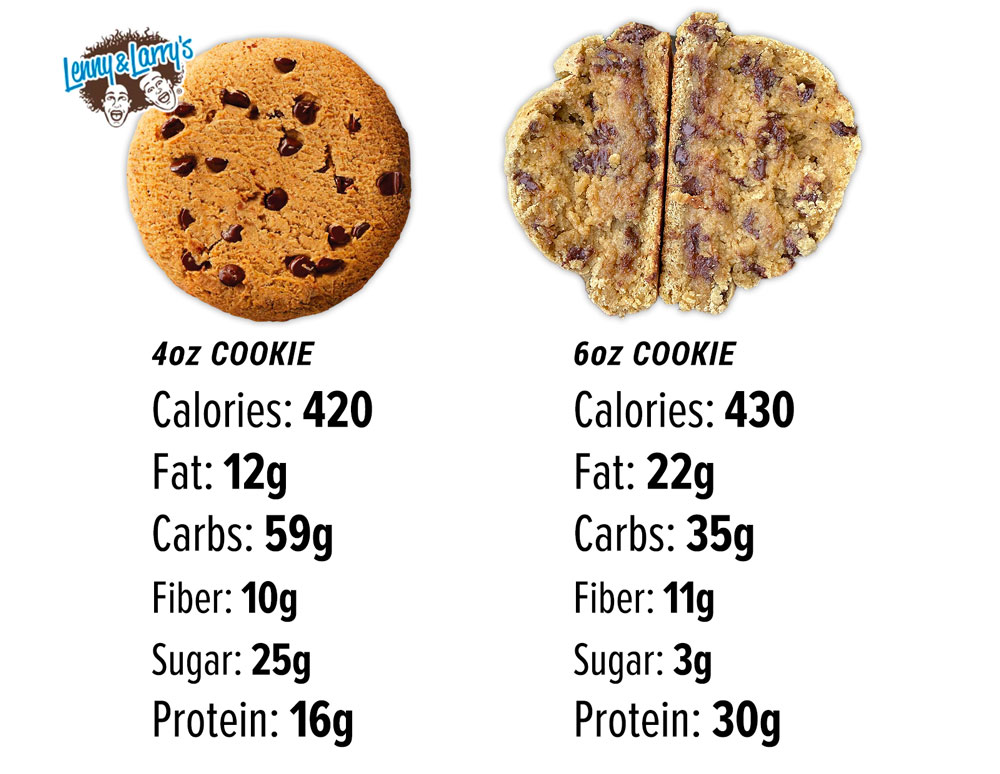 It is absolutely worth making protein cookies at home and it is definitely doable! If you are new to my blog, I have numerous high-protein recipes available, including my personal favorite – the giant protein cookie recipe.
Although it took a lot of trial and error, I am proud to say that my protein cookie is incomparable to Lenny & Larry's Complete Cookie.
It is not just a cookie with added protein powder, but a delicious treat with amazing flavor.
Conclusion
In conclusion, the answer to whether Lenny and Larry's cookies are healthy or not is not straightforward. While they do contain a high amount of protein and fiber, they also contain a significant amount of sugar and calories.
It is important to consider your personal health goals and dietary needs before consuming these cookies regularly. Opting for whole food sources of protein and fiber may be a better choice for overall health.
However, as an occasional treat, Lenny and Larry's cookies can be enjoyed in moderation. Remember to always read nutrition labels and make informed choices about what you consume.