Potato frittata is a dish that is made from eggs and potatoes. It is similar to an omelet, but it has a thicker texture and usually contains cheese or other fillings. Potato frittata can be eaten for breakfast, lunch, or dinner, and it is a popular dish in many countries around the world.
There's nothing quite like a hearty and delicious potato frittata. This dish is perfect for a weekend brunch or dinner, and it's easy to customize according to your own taste preferences.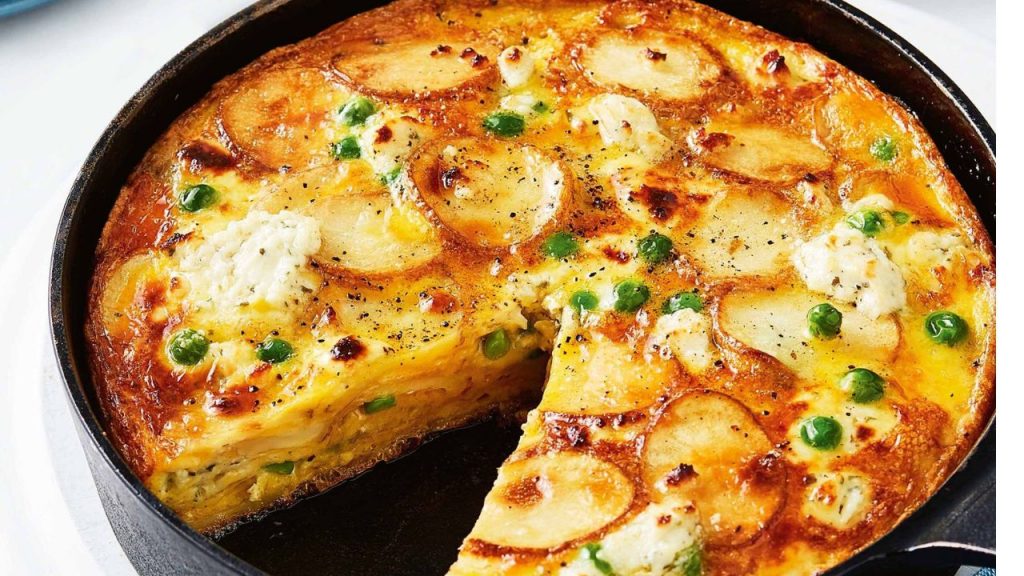 A frittata is basically an egg omelet that's made with potatoes, onions, and other vegetables. It can be cooked in a variety of ways, but my favorite method is to bake it in the oven.
The results are always fluffy, flavorful, and satisfying. If you're looking for something new to try this weekend, be sure to give potato frittata a try!
Ingredients for making potato frittata
3 medium russet potatoes (2 -2 ½ pounds)
3-4 strips bacon
2 tablespoons (30 g) of milk
1 teaspoon (4g) creole seasoning
1 teaspoon (5 g) hot sauce
1- 2 green onions,
½ medium onion diced
1 teaspoon (5 g) minced garlic
1 teaspoon (1 g) fresh thyme
½ red bell pepper
1 tablespoon (14 ml) canola oil
7 eggs
½ teaspoon (2.5 g) kosher salt
½ teaspoon (1 g) pepper
There's a lot to love about a good frittata when you have the right ingredients. They're easy to make if you can follow our cool procedures here.
Anyways, they can be tailored to include any of your favorite ingredients, and they're perfect for a filling breakfast or brunch.
This eggy breakfast potato frittata is no exception. Potatoes and onions are cooked until golden, then eggs are added and everything is baked until set.
The result is a delicious, hearty frittata with the perfect balance of flavors and textures. If you're a fan of eggy breakfast dishes, this potato frittata recipe is definitely worth trying.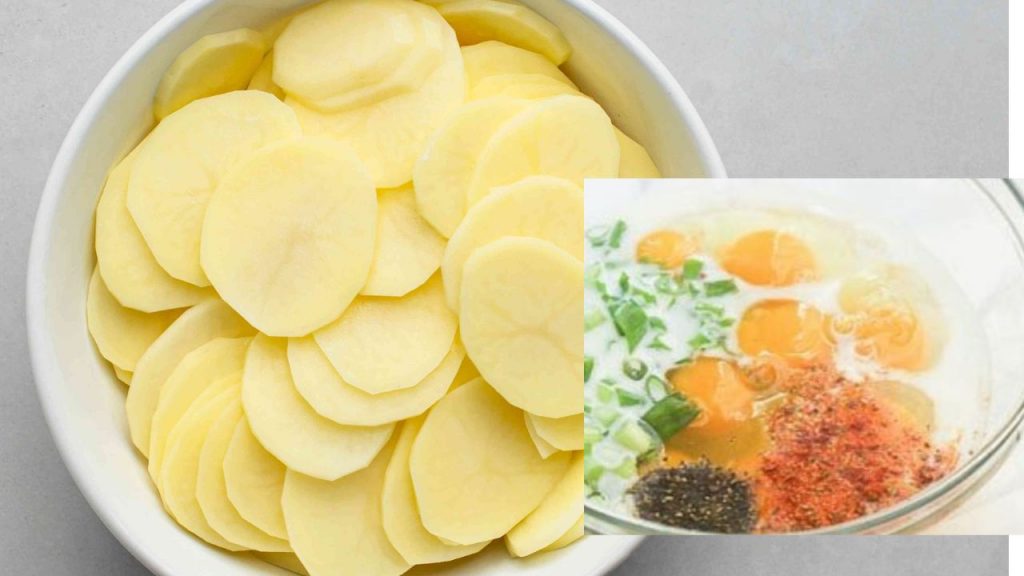 Lets get to the kitchen
Step-by-step guide on how to make potato frittata at home
Preheat the oven to 425 degrees F. Peel and thinly slice potatoes circularly. In an oven-safe 10-inch skillet or cast iron pan, pan-fry bacon over medium heat until slightly crispy, turning bacon after about 5 minutes.
Remove bacon and place on a plate lined with a paper towel to drain off bacon grease. Drain out bacon grease from the skillet leaving about 1 tablespoon.
Add in onions, garlic, thyme, and bell pepper and saute till fragrant and onion is translucent. Take out veggies, place them on a plate, and set them aside.
Add oil to the skillet followed by potatoes. Season with salt and pepper and cook covered for about 10-12 minutes flipping over halfway through until the potatoes are fork-tender.
Take out some of the potatoes leaving a layer at the bottom of the pan. Top the potatoes with half of the sauteed veggies and some crumbled bacon.
Top veggies with a layer of potatoes and repeat the process until you have a final layer of potatoes on the top. In a medium-size bowl, whisk together eggs, milk, creole seasoning, hot sauce, green onions, salt, and pepper until fully combined.
Pour egg mixture over potatoes. Bake for about 12 to 15 minutes or until eggs is set. Serve warm.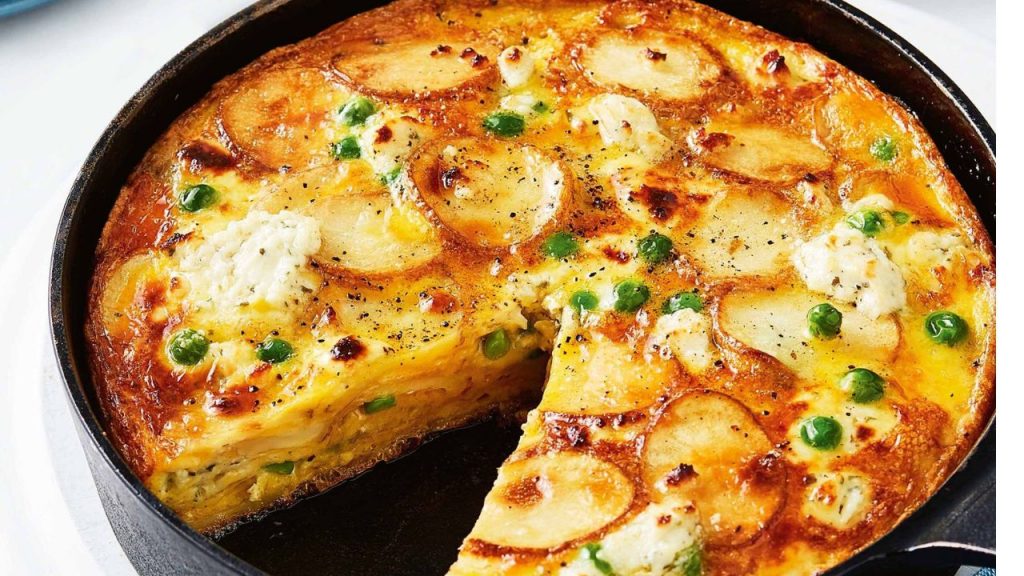 What is a Frittata?
A frittata is an egg-based dish that is cooked in a skillet on the stovetop. It can be made with any combination of meats, vegetables, or cheese.
The eggs are beaten together and then poured into the skillet. The frittata is then cooked until the eggs are firm and the top is golden brown.
Can I Cook Frittata on a Stovetop?
Yes, you can cook frittata on a stovetop. Frittatas are versatile and can be cooked in many different ways. You can cook them in an oven, on a grill, or on a stovetop. The best way to cook frittata on a stovetop is to use a non-stick skillet and cook it over medium heat.
What I Should I Serve with a potata Frittata Recipe?
What to serve with a frittata? The options are endless, but some classics include roasted potatoes, steamed broccoli, or a simple garden salad.
If you're looking for something a little more filling, try serving your frittata with toast or muffins on the side. And for a sweet finish, why not try topping your frittata with fresh fruit or honey? No matter what you choose, frittatas are sure to be a hit at your next brunch or dinner party!
How Do You Reheat a Frittata?
There are a few different ways that you can reheat a frittata. One way is to place the frittata in an oven preheated to 350 degrees Fahrenheit and bake it for about 10 minutes, or until it is heated through.
Another way is to microwave the frittata for about one minute, or until it is heated through.
Can You Freeze Potato Frittata?
Yes, you can freeze potato frittata. The key is to layer the slices of frittata between sheets of wax paper and then freeze them for about two hours.
Once they are frozen, you can store them in a freezer bag or container. To reheat, place the slices in a 350-degree oven for 10-15 minutes.
Is Frittata The Same as a Quiche?
There are many types of egg dishes, and people often get them confused. Is a frittata the same as a quiche? What's the difference?
Frittatas and quiches are both made with eggs, but that's where the similarities end. Quiches are typically made with a pastry crust, while frittatas are not.
Quiches also usually have cheese and/or ham in them, while frittatas do not. Frittatas are also cooked on the stovetop, while quiches are baked in the oven.So, is a frittata the same as a quiche? Technically no, but they both involve eggs and can be quite delicious.
What is the Difference Between an Omelet and a Frittata?
Omelets and frittatas are both egg dishes, but there is a big difference between the two. Omelets are made by folding a thin pancake-like omelet around a filling.
Frittatas are thicker, like a crustless quiche, and they are cooked in a skillet on the stovetop. Omelets are typically served as breakfast or lunch, while frittatas can be eaten for breakfast, lunch, or dinner.
Omelets are also more delicate than frittatas and can be more difficult to flip. Frittatas can be filled with any type of ingredients you like, whereas omelets usually have one or two fillings.
Does frittata have potatoes in?
There are many variations of the frittata recipe, but one key ingredient is always eggs. So does that mean that frittata has potatoes in it? The answer is no – potatoes are not a traditional ingredient in frittata.
However, there are many recipes that include potatoes as an optional ingredient, so it's up to you whether or not to add them. Frittata is a great dish for using up leftover vegetables, so feel free to experiment with adding your favorite ingredients.
Is frittata French or Italian?
Many people are unsure whether frittata is a French or Italian dish. The answer is that it is both! Frittata originated in Italy, but the French have their own version of the dish, which they call omelette aux fines herbes.
Frittata is made by cooking eggs and vegetables together in a skillet. It can be eaten for breakfast, lunch, or dinner.
Conclusion
In conclusion, making a potato frittata at home is a great way to enjoy this delicious dish. It is easy to follow these simple steps, and the end result is a meal that is both tasty and satisfying. So why not give it a try?