But did you know that eating pineapple can also help in the bedroom?
The benefits of pineapple extend beyond its delicious taste and refreshing quality. This tropical fruit has gained attention for its potential positive impact on sexual health for both men and women.
Packed with essential vitamins, antioxidants, and unique enzymes like bromelain, pineapple may contribute to enhanced libido, hormone regulation, and improved sexual function.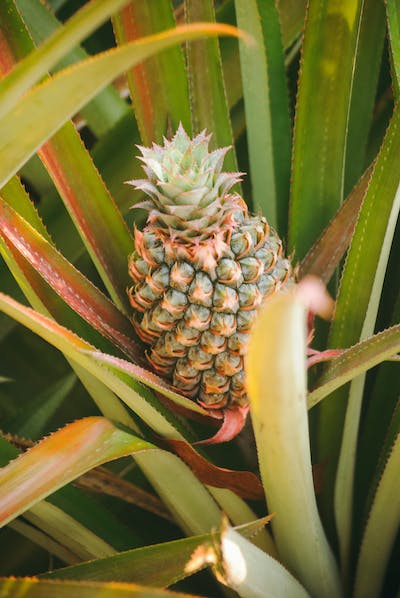 In this exploration, we will delve into the intriguing ways in which pineapple can play a role in promoting a healthier and more satisfying sexual experience for individuals of all genders.
What Is Pineaple
Pineapple is a tropical fruit known for its sweet and tangy flavor. It has a spiky, rough exterior and juicy, yellow or white flesh with a distinct tropical aroma.
Nutrition of pineapples
This fruit is low in calories but has quite a remarkable nutrient profile. A cup of fresh pineapple chunks offers:
Carbohydrates: 22 g
Fiber: 2.3 g
Protein: 0.89 g
Calories: 82 g
Fat: 0.20 g
Vitamin C: 88% of the DV (daily value)
Manganese: 109% of the DV
It also has trace amounts of vitamins A, K, calcium, zinc, and phosphorus.
What makes the product stand out is the manganese content. This makes it a key factor in supplying the body with antioxidant compounds. These compounds can aid metabolism and growth.
This fruit is especially rich in vitamin C. Vitamin C is crucial for growth, development, iron absorption, and immune health. 
Read More: Top 30 best and worst fruits for weight loss
What are pineapples good for?
1. Pineapple boasts a rich array of minerals, nutrients, dietary fiber, and bioactive compounds, which contribute to its numerous health advantages. These encompass antioxidative and anti-inflammatory properties, enhanced digestive regularity, and improved nervous system functionality.
2. A substantial portion, exceeding 20%, of women contend with low sexual desire, leading to diminished sexual interest, challenges in achieving orgasm, and unsatisfactory sexual relationships. Fortunately, pineapple can offer women the potential to enhance their libido, boost sexual stamina, manage desire, and enhance the aroma and taste of vaginal secretions.
Pineapple, renowned for its libido-enhancing properties, is replete with thiamine and vitamin C, recognized for their ability to stimulate the release of happiness-inducing hormones and supply a generous infusion of energy.
3. Both these sexual benefits of pineapple can significantly benefit women in their intimate encounters. Pineapple's high thiamine and vitamin C content can infuse the body with energy, potentially leading to increased sexual stamina.
4. Testosterone and estradiol play pivotal roles in regulating a woman's sexual desire. Pineapple offers a valuable sexual benefit by promoting hormone production, including the elevation of testosterone levels.
Furthermore, pineapple's bromelain carries potent anticancer properties, potentially reducing the risk of breast cancer. This is especially pertinent for female patients undergoing breast cancer treatment, who may experience a decline in sexual desire, making pineapple a worthwhile addition to their diet.
The aphrodisiac qualities of pineapple, coupled with its overall health benefits, make it a valuable dietary inclusion for all. However, it is imperative to note that further research is required to substantiate its impact on women's sex drive. While no concrete evidence exists, it is suggested that the fruit may influence the flavor and scent of vaginal secretions.
Certain foods, such as fruits and vegetables, can indeed influence vaginal pH, and pineapple, with its refreshing fragrance, can contribute positively to overall health.
Read More: Classes of Food with Examples And Functions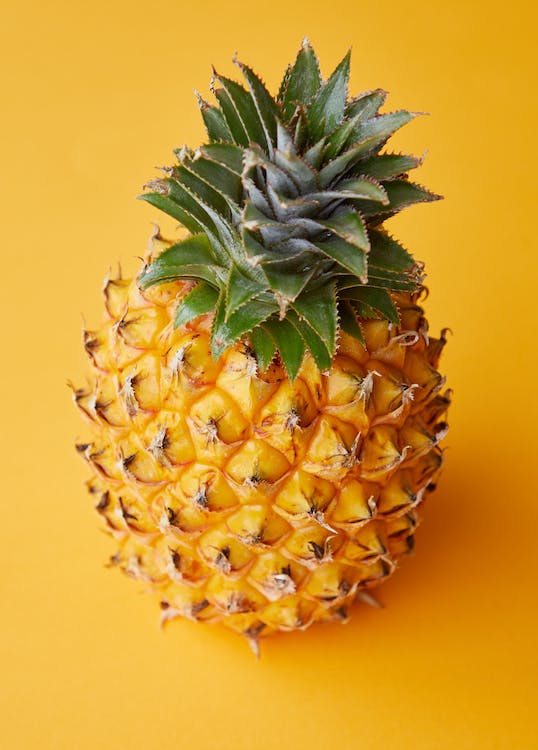 6 benefits of pineapple sexually for men
5. A deficiency in manganese can lead to a diminished sex drive, degradation of seminal tubules, and a reduction in semen production. Given that manganese plays a crucial role in a man's libido, it is advisable to incorporate more manganese-rich foods into your diet.
6. One of the primary sexual benefits of pineapple for men is its high content of manganese and vitamin C. Just a cup of fresh pineapple chunks provides a remarkable 109% of the daily recommended intake of manganese.
7. Furthermore, due to its thiamine content, pineapple can serve as a valuable aphrodisiac for men. Laboratory studies indicate that manganese at a concentration of 0.1 mM can support healthy sperm motility and maintenance. Conversely, a deficiency in manganese can result in reduced libido and ejaculation issues.
8. Pineapple also offers the advantage of potentially elevating testosterone levels in men. This fruit contains bromelain, a crucial element for promoting optimal testosterone production.
Controlled trials have demonstrated that bromelain enhances recovery, reduces exercise-induced inflammation and muscle damage, and is rich in antioxidants, making it a top choice for men's dietary needs.
9. Research has shown that antioxidants can enhance serum sex hormone levels and increase fertility chances, which is particularly vital for men seeking to improve their chances of spontaneous pregnancy.
10. Regarding pineapple's impact on erectile dysfunction, it's important to consider vitamin C intake. Reports from 2018 suggest that vitamin C benefits testicular and erectile function, with some studies indicating a connection between low plasma vitamin C levels and these conditions.
The vitamin C found in fruits and vegetables may protect nitric oxide from oxidation, potentially enhancing testicular and erectile function.
Another notable benefit of pineapples for men is their ability to provide a quick energy boost, potentially enhancing sexual stamina. In addition to improving libido and sexual endurance, pineapple may also have a positive impact on the scent of sperm. It can increase sperm pH, resulting in a pleasant aroma and a less bitter taste. Additionally, pineapple's detoxifying properties can aid in clearing mucus from the body.
Recommeded: How To Know If A Girl Is Virgin Without Asking Her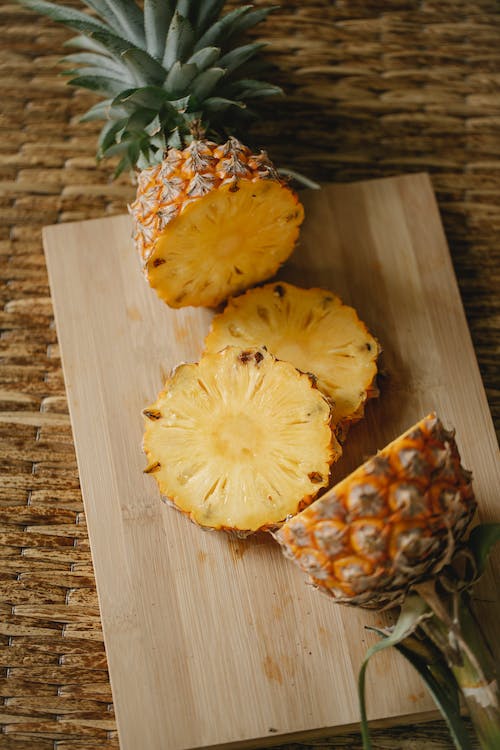 Health benefits of pineapples 
Pineapples offer a range of health benefits due to their nutrient-rich composition. Here are seven health benefits of consuming pineapples:
Rich in Vitamins and Minerals: Pineapples are a good source of essential vitamins and minerals, including vitamin C, vitamin A, vitamin B6, and manganese. These nutrients play crucial roles in maintaining overall health.
Digestive Aid: Pineapples contain bromelain, an enzyme that aids in digestion by breaking down proteins. It can help alleviate digestive issues and reduce bloating.
Anti-Inflammatory Properties: Bromelain also possesses anti-inflammatory properties, which can be beneficial for individuals with inflammatory conditions such as arthritis. It may help reduce pain and inflammation.
Immune System Support: The high vitamin C content in pineapples can boost the immune system, helping the body fight off infections and illnesses.
Eye Health: Pineapples are a good source of beta-carotene, which is essential for maintaining healthy vision. Regular consumption may reduce the risk of age-related eye conditions like macular degeneration.
Heart Health: Pineapples contain fiber, potassium, and antioxidants, which contribute to heart health. These components can help lower blood pressure, reduce the risk of heart disease, and improve overall cardiovascular function.
Weight Management: Pineapples are low in calories and high in fiber, making them a satisfying and nutritious snack for those looking to manage their weight. The fiber content also aids in promoting feelings of fullness and preventing overeating.
Are there any side effects of pineapple?
To date, studies prove that bromelain is well-absorbed in the body. Oral administration has no drastic side effects, even after a long time. But, overeating pineapple can cause problems. When you eat too much, the mouth starts to feel tender.
Overeating it can cause multiple symptoms, such as:
abdominal pain
heartburn
vomiting
nausea
diarrhea
In addition, when you take excess bromelain, you can experience skin rashes, diarrhea, vomiting, and increased menstrual bleeding. Bromelain can also interact with some medications you are taking. Mainly insomnia drugs, anticoagulants, antibiotics, and tricyclic antidepressants.
On that note, you should avoid drinking unripe pineapple juice or consuming unripe fruit. Unripe products could cause notable vomiting and diarrhea.
Furthermore, exposure to high levels of manganese could impair male fertility. Ingesting too much can cause side effects on reproduction and fertility in male and female mice. So, if you plan to use pineapple for sexual health, talk to a specialist first.
These nutrients in pineapple make it good for:
Fighting inflammation
Promoting wound healing
Aiding digestion
Relieving arthritis pain
Stimulating post-exercise recovery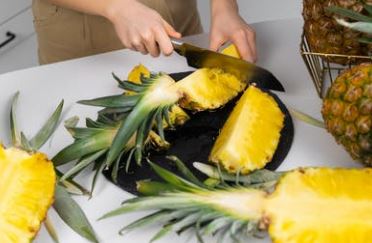 4 benefits of pineapple sexually for women
Improve libido, Increase sexual stamina, Manage sexual desire, Improve the taste and smell of vaginal secretions
Here are some prominent sexual advantages of pineapple for men:
Enhanced sexual desire
Elevated testosterone levels
Enhanced fertility prospects
Effective management of erectile dysfunction
Augmented sexual endurance
Enhanced sexual aroma
How to consume pineapples to get the sexual health benefits
There are a ton of ways to enjoy this juicy fruit. You can make a glass of fresh pineapple juice to drink. If you want something to snack on, then you could cut big chunks and grill the slices to serve as a side dish.
Of course, you can also snack on it on the go. Fresh pineapple has a great number of vitamins, minerals, and nutrients. And it has this natural sweetness that keeps you coming back for more.
Generally, people should consume at least 5 servings of veggies and fruits daily. This can help them maintain optimal health.
But if you are trying to work on your sexual health, then you shouldn't eat more than 1.5 cups of pineapple a day. To find a perfect pineapple, pick the fruit whose leaves on top are not browning. Place the fruit on the table and let it ripen before eating it.
Once you cut the fruit up, store it in the fridge, ideally in an airtight container. People also use a bromelain dietary supplement. This is an enzyme mixture derived from the fruit, stem, and juice of the pineapple plant. It is a go-to choice for muscle pain, soreness, and kidney stones.
Related Article: Benefits Of Glove Sexually For Males And females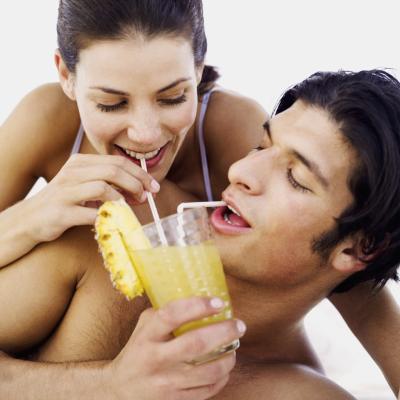 What does pineapple do for men sexually?

Pineapple may benefit men sexually by potentially increasing libido, improving sperm motility, and contributing to better sexual stamina. Its vitamins, antioxidants, and bromelain content may positively impact testosterone levels and erectile function while enhancing the taste and smell of semen.
What does pineapple do for women sexually?

Pineapple may have potential sexual benefits for women, including enhancing libido, promoting healthy hormone levels, and contributing to improved vaginal secretions' taste and smell due to its vitamins, antioxidants, and bromelain content.
How long does it take for pineapple to work sexually?

The time it takes for pineapple to have a potential impact on sexual function can vary among individuals. It may take a few hours to a day or more for noticeable effects.
what does pineapple do for a woman virginia
Pineapple's potential effects on a woman's vaginal health may include improving the taste and smell of vaginal secretions due to its vitamins, antioxidants, and bromelain content. It can also support overall vaginal health and pH balance.
what does pineapple and honey do for a woman

Pineapple and honey, when consumed together, can provide potential benefits for women's overall health. They may contribute to improved digestion, immune support, and a boost in energy. Additionally, the combination could enhance the taste and smell of vaginal secretions for some individuals.
benefits of pineapple and honey sexually

Pineapple and honey may offer potential sexual benefits by enhancing libido, promoting hormonal balance, and improving the taste and smell of bodily secretions, thanks to their nutritional properties and aphrodisiac potential.
is pineapple good for you
Yes, pineapple is good for you. It is a nutritious fruit rich in vitamins, minerals, and antioxidants. Consuming it as part of a balanced diet can offer various health benefits.
Top 10 Benefits of Pineapple Sexually For Men And Women
Enhanced libido
Improved hormone balance
Potential aphrodisiac effects
Better sexual stamina
Enhanced sperm quality
Hormone production support
Improved sexual function
Increased fertility chances
Potential libido-boosting vitamins
Enhanced overall sexual experience.