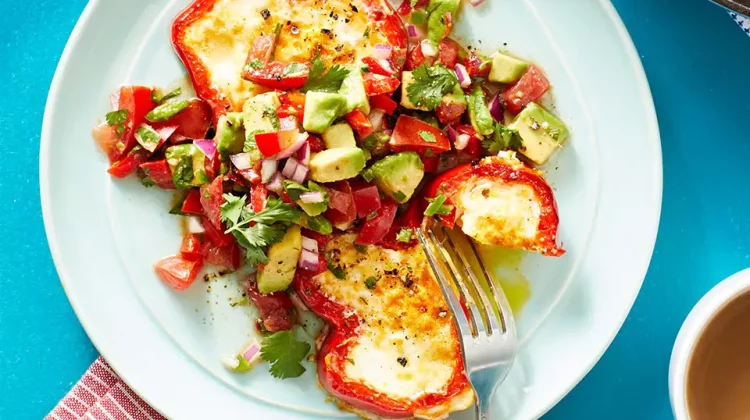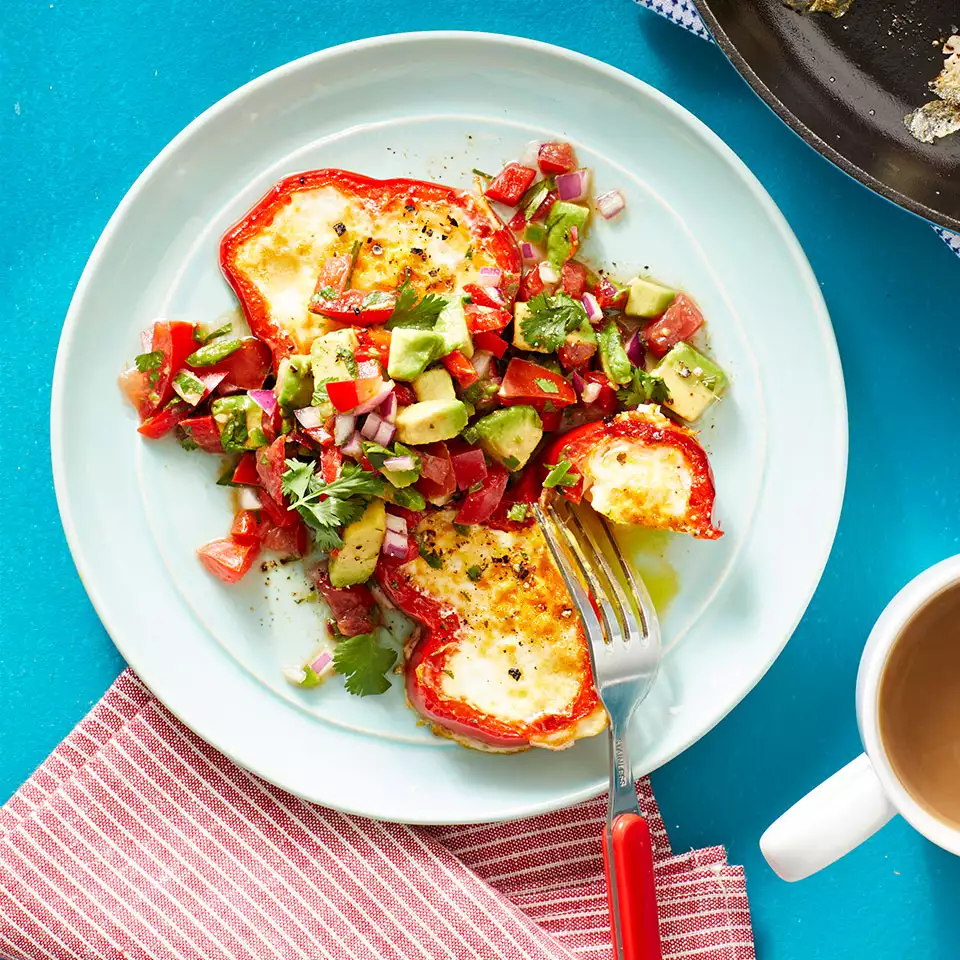 Are you tired of the same old breakfast routine? Looking to add some pizzazz to your morning meal? Well, you're in for a treat because today, we're diving into a breakfast masterpiece that will not only tantalize your taste buds but also elevate your breakfast game to a whole new level.
Imagine ripe bell peppers, standing tall and proud, cradling a perfectly cooked egg within their vibrant walls. It's a breakfast dish that's as visually appealing as it is delicious. We're talking about "Egg in a Hole" Peppers, and we're about to show you how to make them like a pro.
But we didn't stop there. To take this dish from great to unforgettable, we've paired it with an irresistible Avocado Salsa. Creamy avocado, zesty tomatoes, crisp onions, and the tangy kick of lime juice—all mingling together to create a flavor explosion that will have you reaching for seconds.
Today, we'll walk you through the steps to create the best "Egg in a Hole" Peppers with Avocado Salsa. We'll answer your burning questions, provide tips and tricks to ensure perfection, and even share some creative ways to customize this dish to your taste.
Whether you're planning a leisurely weekend brunch, want to impress your family or guests, or simply crave a breakfast that's a departure from the ordinary, this recipe is your answer.
So, grab your apron and get ready to embark on a culinary adventure that will make your mornings brighter and more delicious than ever before.
Here's a recipe for "Egg in a Hole" Peppers with Avocado Salsa:
Ingredients For MAking "Egg in a Hole" Peppers and Avocado Salsa
For the "Egg in a Hole" Peppers
2 large bell peppers (any color)
2 large eggs
Salt and pepper to taste
Cooking spray or olive oil
For the Avocado Salsa
1 ripe avocado, diced
1 small tomato, diced
1/4 cup red onion, finely chopped
1/4 cup fresh cilantro, chopped
1 lime, juiced
Salt and pepper to taste
Instructions For MAking "Egg in a Hole" Peppers and Avocado Salsa
Prepare the Avocado Salsa: In a bowl, combine the diced avocado, tomato, red onion, cilantro, lime juice, salt, and pepper. Mix well, and set the salsa aside.
Prepare the Peppers: Cut the tops off the bell peppers and remove the seeds and membranes. Slice a thin piece off the bottom of each pepper to make them stand upright.
Create the "Egg in a Hole": Heat a non-stick skillet over medium heat and lightly grease it with cooking spray or olive oil. Place the peppers upright in the skillet. Crack an egg into each bell pepper, being careful not to break the yolk. Season with salt and pepper.
Cook the Peppers: Cover the skillet with a lid and cook the peppers and eggs for about 5-7 minutes or until the egg whites are set, and the yolks are still slightly runny.
Serve: Carefully transfer the "Egg in a Hole" Peppers to serving plates. Top each with a generous spoonful of the prepared Avocado Salsa.
Enjoy: Serve immediately, and enjoy your delicious and nutritious "Egg in a Hole" Peppers with Avocado Salsa for a flavorful breakfast or brunch.
Feel free to customize this recipe by adding cheese, hot sauce, or other toppings to your liking.
Related Articles
55 Most Popular American Foods Worth Craving in 2023
The Healthiest Breads To Eat for Weight Loss, According to Dietitians
Quick Steps to Cook Delicious Edikang Ikong Soup
Are cashew nuts good for you|15 effects of eating cashew nuts.
Healthiest Meals at Captain D's Under 500 Calories
Frequently Asked Questions
What are "Eggs in a Hole" Peppers, and how are they prepared?
"Eggs in a Hole" Peppers involve cutting the tops off bell peppers, removing the seeds, and cooking them upright with an egg inside. The peppers are seasoned and cooked until the eggs set, creating a delicious breakfast dish. Avocado Salsa is used as a flavorful topping.
Can I use any type of bell pepper for this recipe?
Yes, you can use any color of bell pepper for this dish, such as red, green, yellow, or orange. Choose the one you prefer or mix and match for a colorful presentation.
How do I ensure the eggs cook perfectly without overcooking or undercooking?
To achieve the desired egg consistency, it's important to cover the skillet with a lid while cooking. This traps the heat and steam, helping the eggs cook evenly. Cooking time may vary, so keep an eye on them to avoid overcooking if you prefer a runny yolk.
Can I customize the Avocado Salsa to suit my taste?
Absolutely! You can adjust the Avocado Salsa to your liking by adding ingredients like diced jalapeños for heat, chopped fresh herbs for extra flavor, or a dash of hot sauce for a spicy kick. Feel free to personalize it based on your preferences.
What are some optional toppings or side dishes that pair well with "Egg in a Hole" Peppers?
You can enhance the dish by serving it with sides like crispy bacon, toast, or a simple green salad. Grated cheese, sour cream, or a drizzle of hot sauce can also be delightful toppings to complement the flavors.