You may have noticed Fairlife protein shakes appearing on the shelves of your local stores and gas stations. But the question remains: are they genuinely a healthy option, or are they just another example of "health food" that's more like cleverly disguised junk food?
Let's start by understanding what Fairlife is all about. Fairlife, often stylized as Fa!rlife, is a ready-to-drink dairy company owned by Coca-Cola. They employ a unique process known as "ultra-filtration" to remove lactose and a significant portion of the sugar commonly found in milk, leaving behind higher levels of protein and calcium in the final product.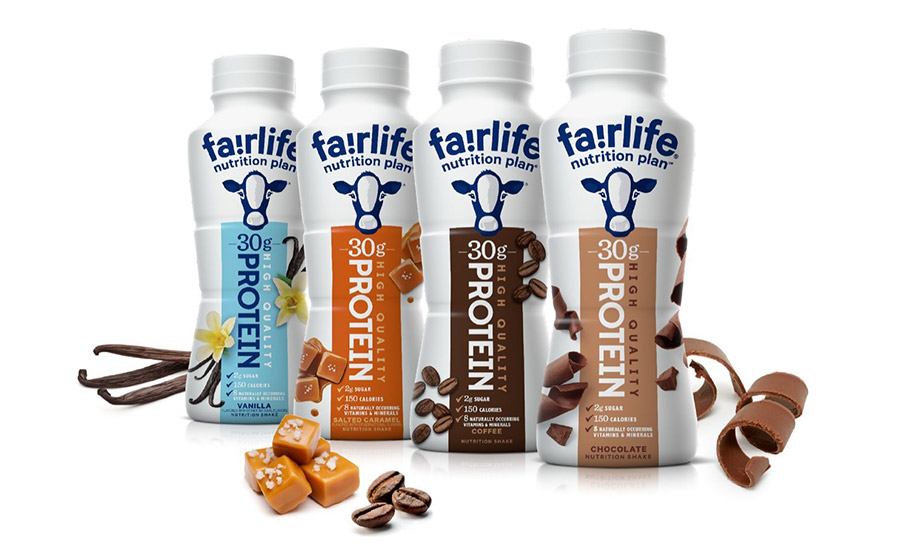 While Fairlife is well-known for its traditional milk products, they ventured into the world of milk-based protein shakes, which have gained immense popularity.
Fairlife Protein Shakes made their debut in 2021, offering two distinct formulations: a 26g protein shake and a 42g protein shake. Let's take a closer look at each of them.
Read More : Top 12 Protein Shake Recipes For Weight Loss
Fairlife Core Power Protein Shake – 26g
The first variant is the standard 26g protein shake, prominently labeled with the "Core Power" branding and a bold 2-6 on the front, making it hard to miss.
This 26g protein shake from Fairlife is an excellent choice for your daily protein needs. It provides a substantial amount of protein to kickstart your day.
Flavor Variety for 26g Protein Shake
Now, let's explore the flavors available for the 26g protein shake:
Core Power Vanilla
Among the available options, Vanilla stands out as the favorite. It offers a delightful and easy-to-enjoy flavor. The smooth texture sets it apart from homemade protein shakes, as it doesn't clump or cause any mixing issues. Vanilla's versatile taste ensures you won't experience taste bud fatigue, which can happen with some other flavors.
Core Power Chocolate
For chocolate enthusiasts, this flavor is a solid choice. However, personal preferences may vary, as chocolate flavors, in general, tend to be regarded as "decent" across the board, especially in the realm of protein shakes.
While Vanilla takes the lead for its exceptional taste, Chocolate can be a welcome change every once in a while, providing a tasty alternative.
In summary, Fairlife protein shakes offer a convenient way to meet your protein goals. Their unique ultra-filtration process sets them apart, and the 26g protein shake, in particular, is a great choice for your daily protein needs. We have also written 25 best high protein yoghurt options to buy in 2023.
When it comes to flavors, Vanilla shines as the top pick, while Chocolate offers a pleasing option for those who enjoy a chocolaty twist. So, the next time you're on the hunt for a protein-packed beverage, give Fairlife protein shakes a try and discover your favorite flavor.
Core Power Strawberry Banana
While the Strawberry Banana flavor isn't bad, it does fall into the common pitfall of strawberry-related milk flavors—it can taste a bit artificial.
Nevertheless, it maintains impressive nutritional macros. If you're seeking a change of pace from the usual vanilla or chocolate options, it's worth a try. However, it ranks as our third choice among Core Power flavors.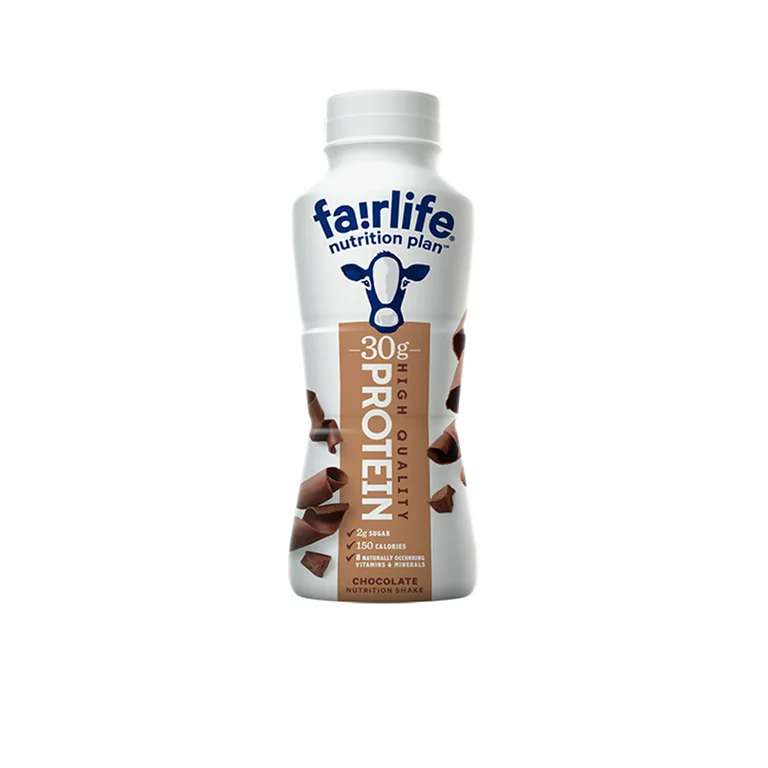 Core Power Banana
Interestingly, we've yet to spot the Banana flavor out in the wild. It's available on their website, but its real-world availability remains a mystery. It's either flying off the shelves as a best-seller or quite the opposite.
Core Power 26g Nutrition
In a 14fl oz container, a fairlife protein shake will net you:
170 calories
4.5g fat
6g carbohydrates
5g total sugars
26g grams of protein
640mg of calcium
You can see the entire nutrition panel below for the "vanilla" flavor, but the metrics are similar for all the flavors.
Core Power 26g Ingredients
Core Power 26g Ingredients
Regarding the ingredients, these protein shakes are relatively clean, especially considering they come in a shelf-stable container. Here's the ingredient list for the vanilla version:
Filtered Lowfat Grade A Milk
Contains Less Than 1% of: Natural Flavors
Monk Fruit Juice Concentrate
Stevia Leaf Extract
Carrageenan
Cellulose Gel
Cellulose Gum
Acesulfame Potassium
Sucralose
Lactase Enzyme
Vitamin A Palmitate
Vitamin D3
While we're not particularly fond of the inclusion of Sucralose, carrageenan, or cellulose gums, it's worth noting that this remains a commendable choice, especially when compared to what you typically encounter at a gas station.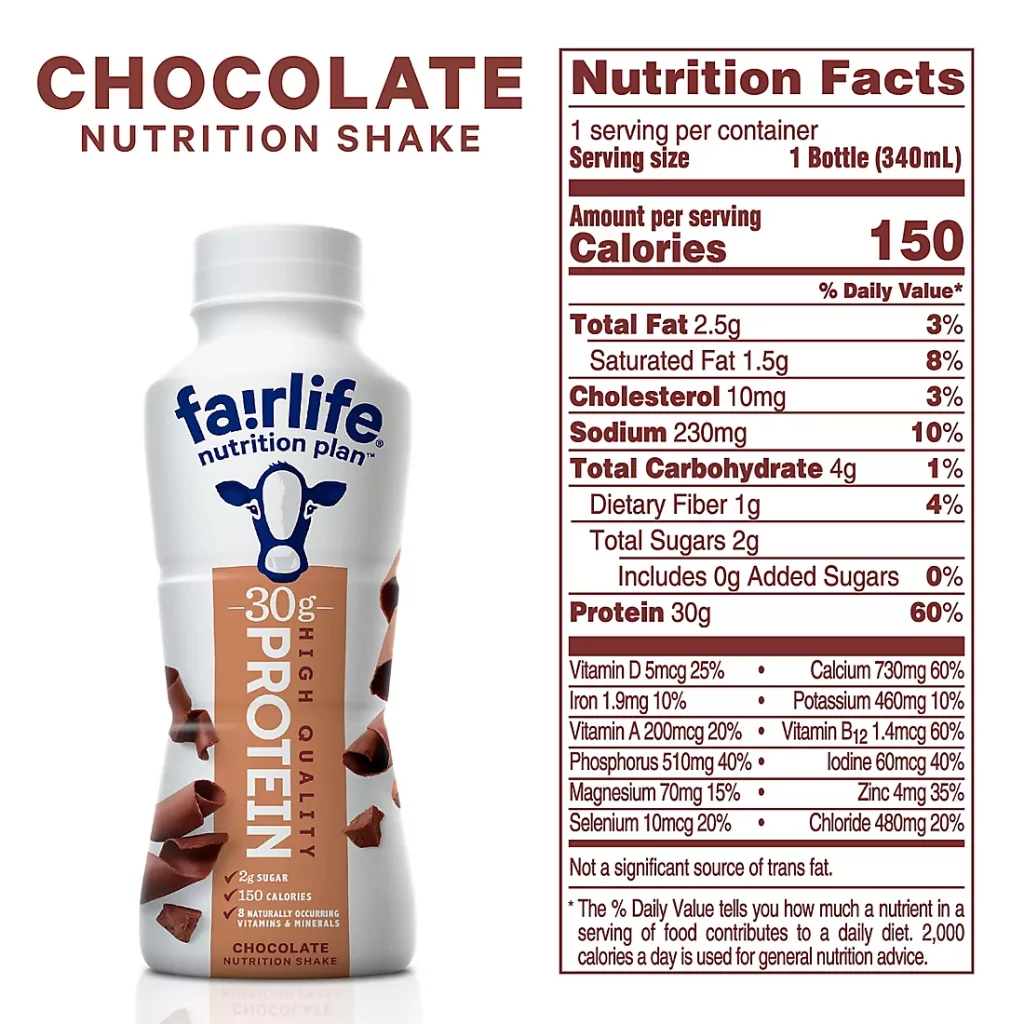 Fairlife Protein Shake – Core Power Elite – 42g
Fairlife offers an elite version of their protein shake, packing a whopping 16g more protein than their standard protein shake.
At first glance, it's easy to mistake the two for being identical, so be sure to pay attention to the numbers and opt for the one with "42" on the front of the packaging instead of "26.
Core Power Elite – 42g Flavors
They offer three distinct flavors here, and their nutritional profiles are quite similar to the initial protein shakes.
Elite Vanilla:
Unquestionably, this is the standout flavor (well, perhaps we're a bit biased). It closely resembles the 26g version in terms of taste, despite containing more protein.
Elite Chocolate:
Chocolate is undeniably a good flavor, though it's not our personal preference. If you're a chocolate enthusiast, you'll find it delightful, and it might even dethrone vanilla from the top spot for you. Nevertheless, it's worth noting that vanilla tends to be more appealing to individuals striving to meet their protein goals or those with more sensitive taste preferences.
Elite Strawberry:
Once again, the strawberry flavor isn't unpleasant, but it tends to overwhelm our taste buds. We purchase these sporadically, whereas vanilla and chocolate are the ones we're willing to buy by the case.
Read More : 17 best low sugar protein bars in 2023 and their prices.
Core Power Elite Fairlife Protein Shake Nutrition:
In a 14fl oz container, a Core Power Elite Vanilla shake provides:
230 calories
3.5g fat
8g carbs
8g sugar
42g protein
900mg calcium
You can see the full nutrition panel for Vanilla below as well.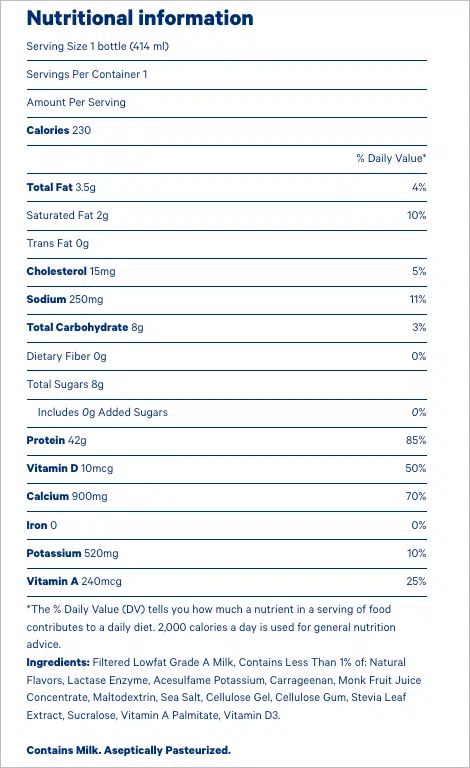 Core Power Elite Full Ingredient List:
Once again, this formula closely resembles the standard Fairlife protein shake, but it's concentrated to provide more protein. Consequently, the ingredient list follows the same pattern.
Elite Vanilla Ingredient List:
Filtered Lowfat Grade A Milk
Contains Less Than 1% of: Natural Flavors
Lactase Enzyme
Acesulfame Potassium
Carrageenan
Monk Fruit Juice Concentrate
Maltodextrin
Sea Salt
Cellulose Gel
Cellulose Gum
Stevia Leaf Extract
Sucralose
Vitamin A Palmitate
Vitamin D3
Fairlife Protein Shake Review
The Fairlife protein shake can be a godsend for individuals leading fast-paced lives or constantly on the go.
The few drawbacks we find are limited to the necessities of ensuring the shelf stability of a dairy product, a hint of Sucralose, and our hope for a higher whey concentration (which can be supplemented independently).
While we may not particularly appreciate its ownership by Coca-Cola, their extensive distribution network plays a pivotal role in providing widespread access to a healthy option that would typically be confined to specialized health stores.
Should I buy the 26g or 42g CorePower Fairlife Protein Shake?
The choice between the 26g and 42g CorePower Fairlife Protein Shake depends on your specific protein needs. Opt for the 26g for regular use and the 42g for a higher protein boost.
What type of protein is in the Fairlife Protein shake?
The protein in Fairlife Protein Shake primarily comes from filtered low-fat Grade A milk. This milk undergoes a unique ultra-filtration process that removes most of the lactose and sugar, leaving behind a concentrated protein source.
The result is a protein shake rich in dairy-derived proteins, making it a suitable option for those seeking high-quality milk-based protein in a convenient, ready-to-drink format.
Read More: Top 30 High-Protein Snacks to Keep You Full Between Meals
Are Fairlife protein shakes shelf stable?
Yes, Fairlife protein shakes are shelf-stable, making them convenient for on-the-go consumption. They can be stored at room temperature until opened and then should be refrigerated and consumed within a few days for the best taste.
Where to Buy Fairlife Protein Shake
You can purchase Fairlife protein shakes at various locations. They are commonly available in grocery stores, supermarkets, and convenience stores.
Additionally, you can find them online through retailers like Amazon, Walmart, and the official Fairlife website. Check with your local stores or use online platforms for easy access to this nutritious protein drink.
What's the best flavor of Fairlife protein shake?
The best flavor of Fairlife protein shake can be subjective and depends on personal preferences. However, many find the Vanilla flavor to be the standout choice, offering a smooth and enjoyable taste.
It's versatile and appeals to a wide range of taste buds. Ultimately, the "best" flavor varies from person to person, so it's worth trying different options to find your favorite.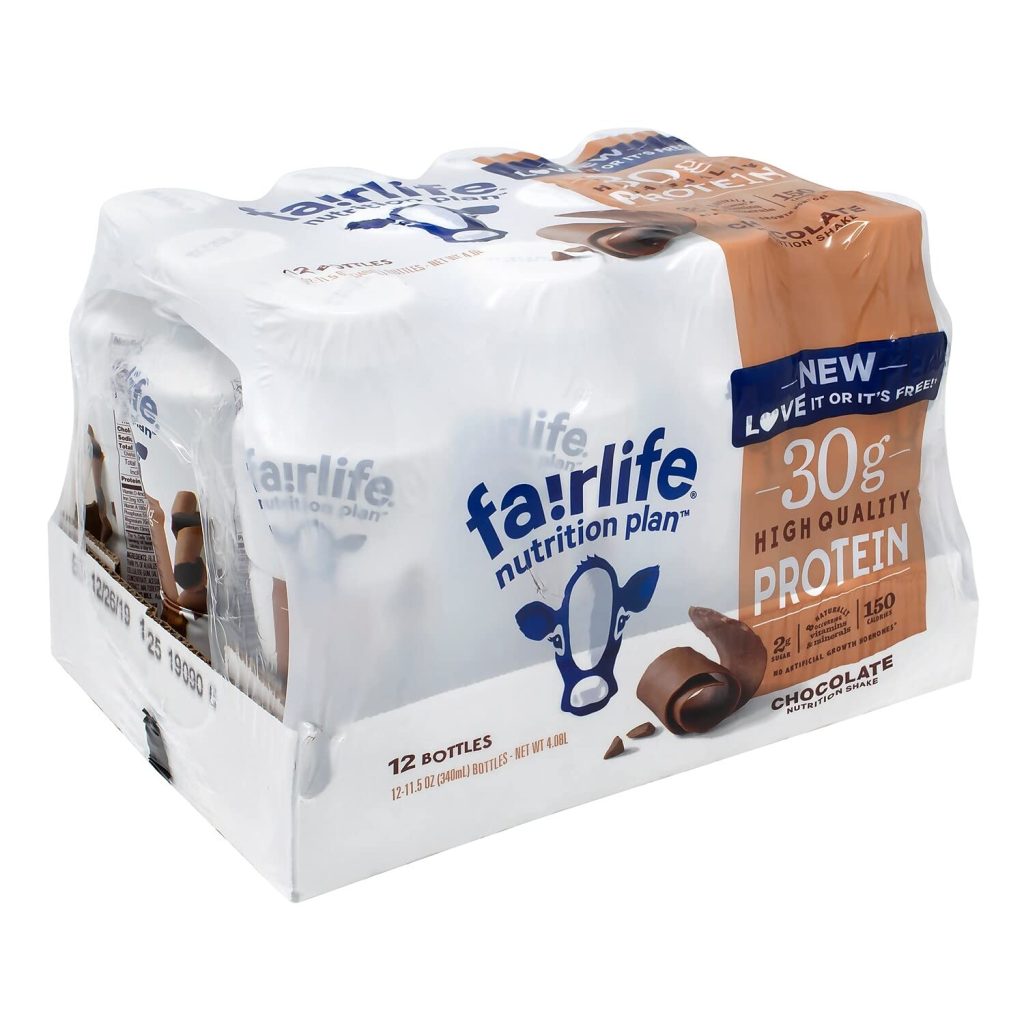 How much protein does a fair life protein shake have?
A Fairlife protein shake typically contains 26 grams of protein per serving for the standard version and 42 grams of protein per serving for the Elite version, providing a substantial protein boost for those seeking to meet their dietary protein goals.
Fairlife Protein Shake on Amazon
I typically purchase my Fairlife protein shakes on Amazon by the case. This results in a cost of just a few dollars per shake and proves more economical than many other protein shake options. It's the most efficient way to quickly intake 42g of protein.
Read More: How much protein is in a chicken leg ?
Fairlife Protein Shake at Costco
Costco offers a specific kind of Fairlife protein shake known as the "Nutrition Plan," distinct from the standard "protein shake." The Nutrition Plan contains 30g of protein, a slight variation from the 26g or 42g options. It's available in four flavors: vanilla, salted caramel, chocolate, and strawberry. This exclusive Fairlife protein shake can typically be found at Costco, likely due to a distribution agreement, and is seldom seen elsewhere.
what kind of protein is in fairlife nutrition plan
The protein in Fairlife Nutrition Plan primarily comes from milk-derived sources, featuring a blend of dairy proteins. This includes high-quality whey and casein proteins, offering a balanced and nutritious protein profile.
What is fairlife protein made of?

Fairlife protein is primarily made from filtered low-fat milk, utilizing an ultra-filtration process to concentrate the protein content while reducing lactose and sugar.
Is fairlife soy or whey protein?

Fairlife protein primarily comes from dairy sources and contains a blend of whey and casein proteins, making it a milk-based protein rather than soy-based.