When it comes to healthy eating, salads are often a go-to choice for many individuals. Packed with fresh ingredients and an array of flavors, salads have become a staple on menus across the country.
However, not all salads are created equal, and finding the best ones can sometimes feel like a daunting task.
That's where this article comes in – we have compiled a list of the top 11 restaurant chains that serve the absolute best salads. Whether you're looking for a refreshing Caesar salad or a vibrant Mediterranean bowl, these restaurants have got you covered.
So get ready to tantalize your taste buds as we take you on a culinary journey through some of the most delicious salad offerings out there!
1. Cracker Barrel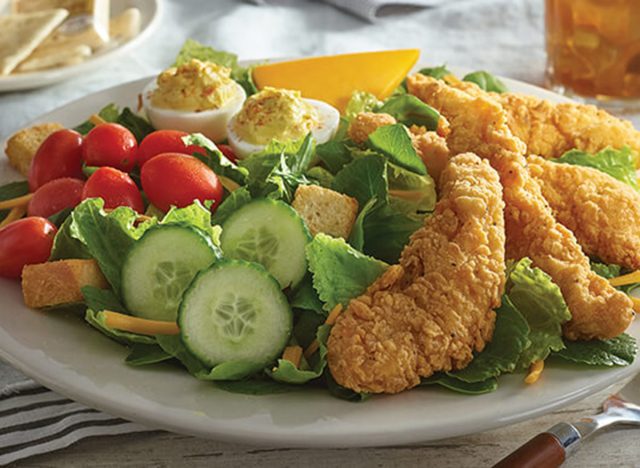 Related: 7 Correct Potato Salad Recipes for Your Next BBQ
Cracker Barrel is undeniably one of the top choices for pit stops during long car rides or road trips, offering a wide selection of delectable salads that will satisfy your hunger without causing overindulgence.
These salads are crafted using fresh and hearty ingredients, resulting in a delightful and innovative taste. Take, for instance, the Homestyle Fried Chicken Salad, featuring golden-fried Sunday Homestyle chicken, crisp greens, boiled eggs, cucumbers, and Colby cheese.
Additionally, bacon enthusiasts must give the House Salad a try; it is generously loaded with thick-sliced bacon and sourdough croutons. Since its establishment in 1969, Cracker Barrel has become an iconic American institution, boasting over 600 locations across the United States.
2. Red Robin
Red Robin, originally a small tavern in a lively college party town in Seattle over 80 years ago, has transformed into a cherished restaurant chain with over 540 locations spanning 44 states.
At present, they offer a variety of delectable salad options crafted from fresh and flavorful ingredients such as hardwood-smoked bacon, ripe avocado, fried jalapeno coins, and more.
For enthusiasts of Cobb salads, the Avo-Cobb-O Salad presents a tantalizing combination of grilled chicken breast, creamy avocado, blue cheese, hard-boiled eggs, and tomatoes.
If you desire a hint of spice, the Southwest Salad with Ancho-grilled chicken breast, corn, shredded cheddar, zesty lime, and crispy tortilla chips is an excellent choice. Furthermore, for those seeking a simpler option, Red Robin also provides a delightful side salad.
3. The Cheesecake Factory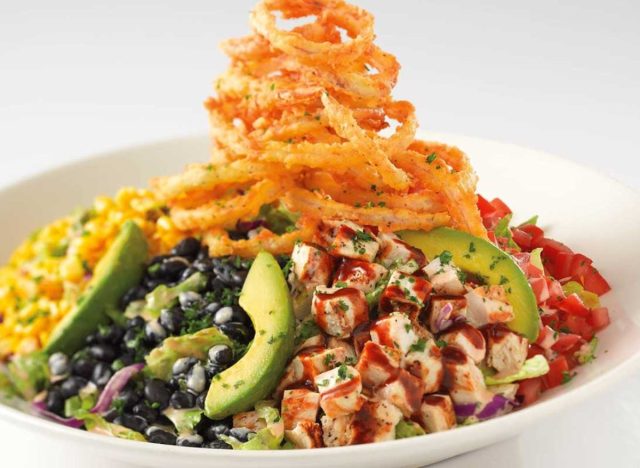 Despite its name, The Cheesecake Factory offers a wide range of delicious salads to choose from. This popular restaurant, which originated in Beverly Hills during the 1940s, boasts an extensive salad selection on its menu, such as the California Chopped Salad, the Factory Chopped Salad, and even the Vegan Cobb Salad.
If you have a liking for shellfish, the California Chopped Salad is a great choice as it is filled with shrimp and also includes tomatoes, green beans, and crispy bacon. If you prefer salads that offer a diverse range of flavors, opt for the Factory Chopped Salad which offers a delightful combination of grilled chicken, tomatoes, avocado, blue cheese, and chopped apples.
And if you are searching for a high-fiber dish that doesn't compromise on taste, the Vegan Cobb Salad is the perfect option as it is packed with grilled asparagus, crispy lettuce, farro, quinoa, almonds, and beans.
The California
4. First Watch
First Watch is a restaurant chain that excels in salads, offering fresh ingredients, delicious combinations, and generous portions. With locations in 29 states, they have a variety of options such as the Superfood Kale Salad, containing nutrient-rich kale, organic mixed greens, all-natural chicken breast, and a maple-lemon vinaigrette.
Another choice is the Sweet Honey Pecan Salad, featuring ripe tomatoes, cheddar and Monterey Jack cheese, and crispy bacon. Additionally, every salad order includes a side of artisanal ciabatta bread for a delightful indulgence.
5. The Capital Grille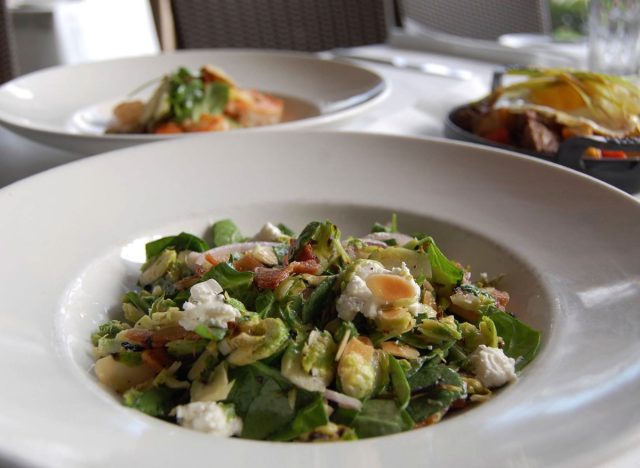 When you place an order for a salad at Capital Grille, a high-end steakhouse chain renowned for its impeccably cooked steaks and delectable accompaniments, you can anticipate top-notch ingredients.
Noteworthy salads on their menu comprise the Maine Lobster Salad, which consists of chilled Maine lobster, arugula, and avocado drizzled in a citrus vinaigrette, as well as the Seared Salmon Salad tossed with avocado, mango, and tomatoes.
If you prefer a lighter option, consider the Shaved Brussel Sprouts Salad or the Fields Good Salad, a delicate blend of butter leaf lettuce, heirloom tomatoes, and a tangy Parmesan vinaigrette.
6. Chop't Creative Salad Co.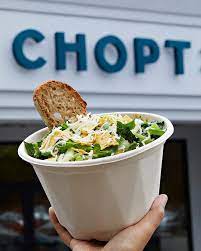 Ingredients: Chop't is known for its customizable salads with an extensive range of ingredients. Some popular options include romaine lettuce, kale, spinach, grilled chicken, bacon, avocado, hard-boiled eggs, cucumbers, cherry tomatoes, chickpeas, corn, feta cheese, and a variety of dressings like balsamic vinaigrette, Caesar dressing, or spicy tahini.
Easy Guide On How To Make Carrot Cauliflower Rice And Salad with Avocado Cream Dressing.
7. Ruth's Chris Steakhouse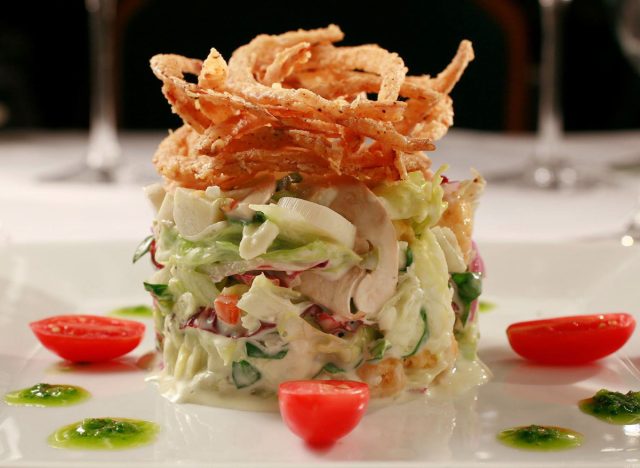 If you're craving high-quality salads made with gourmet ingredients, Ruth's Chris Steakhouse is the perfect place to go. Established in 1965 by Ruth Fertel, this renowned steakhouse not only offers delicious steaks but also top-notch salads.
Their menu features a variety of options such as the Harvest Salad, which includes goat cheese and Cajun pecans, as well as a classic Caesar Salad with shaved Parmesan and Romano cheese.
What sets them apart is that all dressings are freshly made in-house using exclusive recipes. Among the fan favorites is the Ruth Chop Salad, which has become so popular that it has inspired numerous copycat recipes online.
This delectable salad combines Iceberg lettuce, radicchio, mushrooms, green olives, bacon, eggs, blue cheese, and croutons. It is then drizzled with lemon basil dressing and garnished with crispy onions. Pairing this exquisite dish with a juicy steak would make for a perfect dining experience.
Related: 13 Healthy Salad Dressings To Buy 2023
8. Panera Bread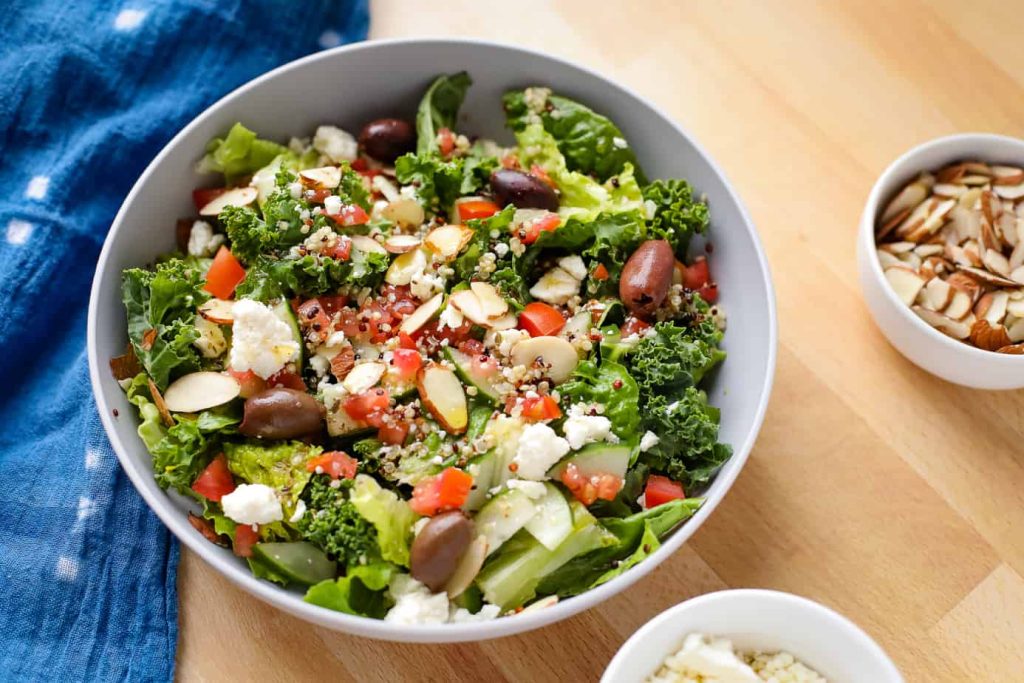 Ingredients: Panera Bread offers a range of salads made with high-quality ingredients. Some popular options include the Greek Salad (romaine lettuce, feta cheese, grape tomatoes, red onions, Kalamata olives, and Greek dressing), Fuji Apple Salad (mixed greens, apple chips, chicken, Gorgonzola cheese, red onions, pecans, and apple vinaigrette), and the Caesar Salad (romaine lettuce, Parmesan cheese, croutons, and Caesar dressing).
Relaated: How To Make Nigerian Salad | Step By Step Guide
9. Carrabba's
Carrabba's is the go-to chain for delicious and satisfying Italian-American dishes. In addition to their fabulous pasta dishes and lip-smacking signature cocktails, they also offer a variety of high-quality salads.
These salads can complement any meal and are sure to impress. For example, the Johnny Rocco Salad is packed with greens, wood-grilled shrimp, sea scallops, roasted red peppers, ricotta salata, and more.
The Caesar salad is also highly praised and comes with wood-grilled chicken or shrimp, Parmesan and Romano cheeses, and croutons. Additionally, Carrabba's offers a flavorful Italian Salad with kalamata olives, chopped garden vegetables, your choice of chick
10. Texas Roadhouse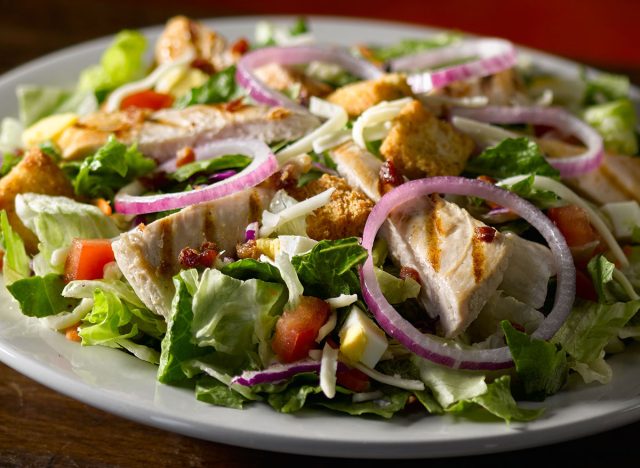 Related: How To Make Salads Ahead Of Time For A Stress-Free Lunch
If you're in the mood for fresh and delicious salads with hearty ingredients like grilled chicken, steak filets, and crispy chicken, Texas Roadhouse is a great choice. Their famous hand-cut steaks and mouth-watering sides are well-known, but they also offer a variety of tasty salads.
The Grilled Salmon Salad is made with crisp greens, grilled salmon, jack cheese, and bacon, while the Steakhouse Filet Salad features tender steak strips, blue cheese, red onions, croutons, and a drizzle of Italian dressing.
Texas Roadhouse was founded in Indiana 30 years ago and now has over 600 locations worldwide. In addition to their salads, they also serve excellent full-slab ribs, creamy mashed potatoes, and tangy fried pickles. Don't forget to try these delicious options when you visit.
11. Sweetgreen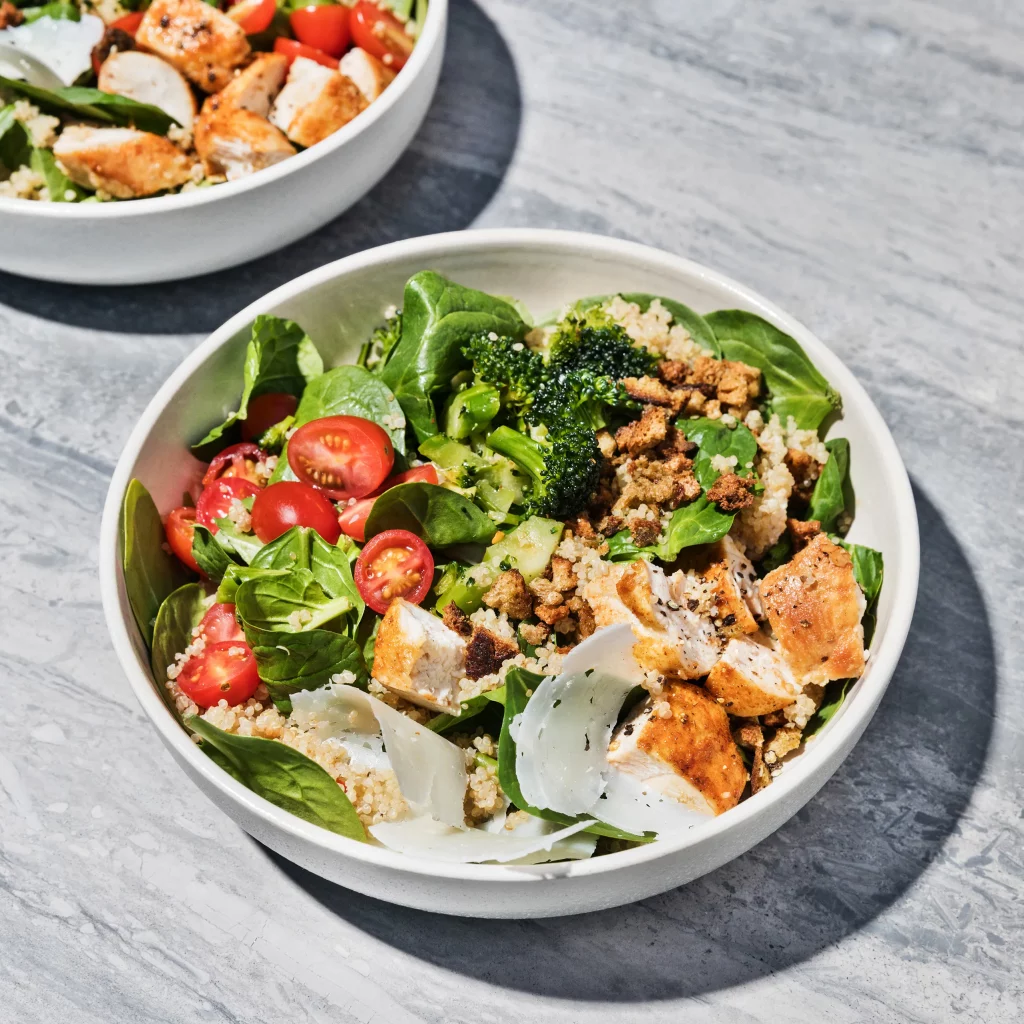 Ingredients: Sweetgreen offers a variety of fresh and seasonal ingredients for their salads, which can vary depending on the location and season. Some popular ingredients include mixed greens, kale, arugula, quinoa, avocado, roasted chicken, goat cheese, roasted sweet potatoes, cherry tomatoes, cucumbers, and balsamic vinaigrette.
7 Correct Potato Salad Recipes for Your Next BBQ
Conclusion
In conclusion, these top 11 restaurant chains offer a delectable array of salads, catering to diverse palates and dietary preferences. These establishments prioritize fresh and quality ingredients, ensuring a delightful salad experience for customers.
Whether you're a fan of classic greens or crave innovative flavor combinations, these chains have something for everyone.
From the seasonal offerings of Sweetgreen and the customizable options at Chop't Creative Salad Co. to the signature salads at Panera Bread, these establishments strive to provide satisfying and nutritious meals.
So, whether you're seeking a refreshing lunch or a light dinner option, you can trust these restaurant chains to deliver the best salads, allowing you to indulge in a healthy and delicious dining experience.