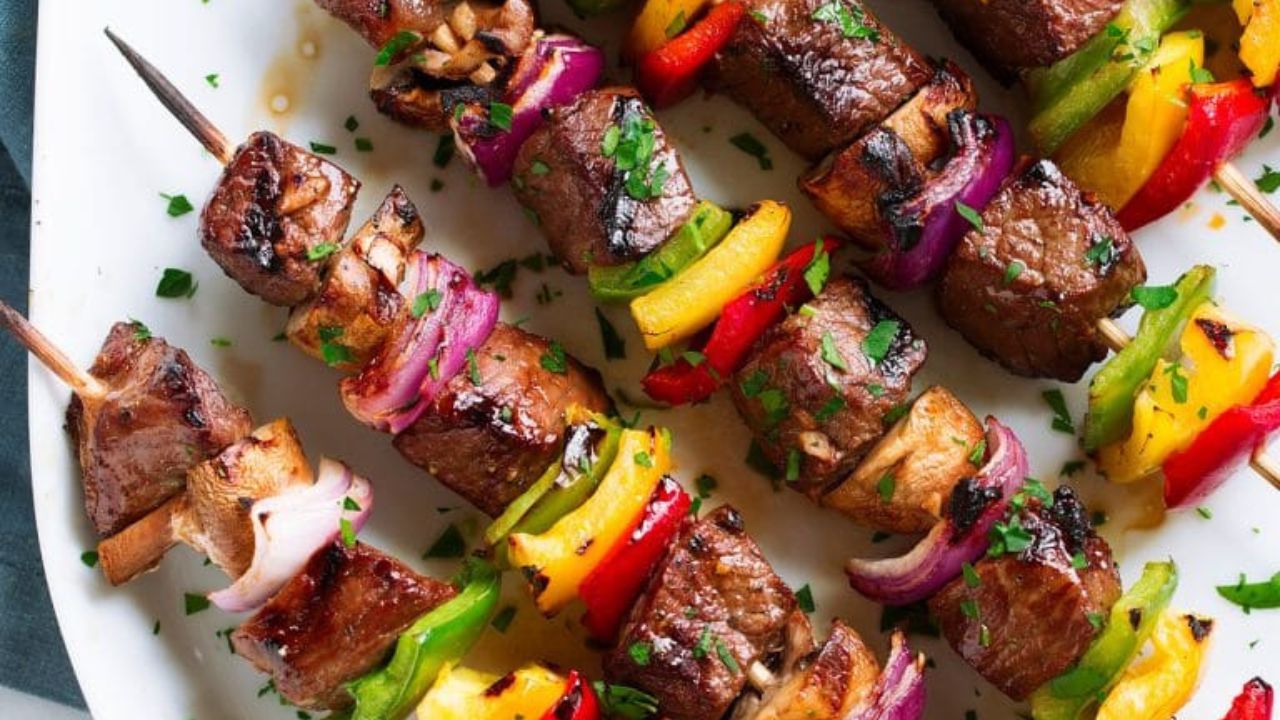 Marinated steak skewers are a great way to show off your grilling skills. The steak is first marinated in a flavorful mixture, then threaded onto skewers and grilled to perfection. This easy and elegant dish is perfect for any special occasion.
can anyone make marinated steak skewers?
Yes, anyone can make marinated steak skewers! The process is simple: just mix together your favorite marinade ingredients, add the steak, and let it soak for a few hours.
Then, thread the steak onto skewers and grill until cooked to your liking. The result is a delicious and easy-to-make summer dish that everyone will love.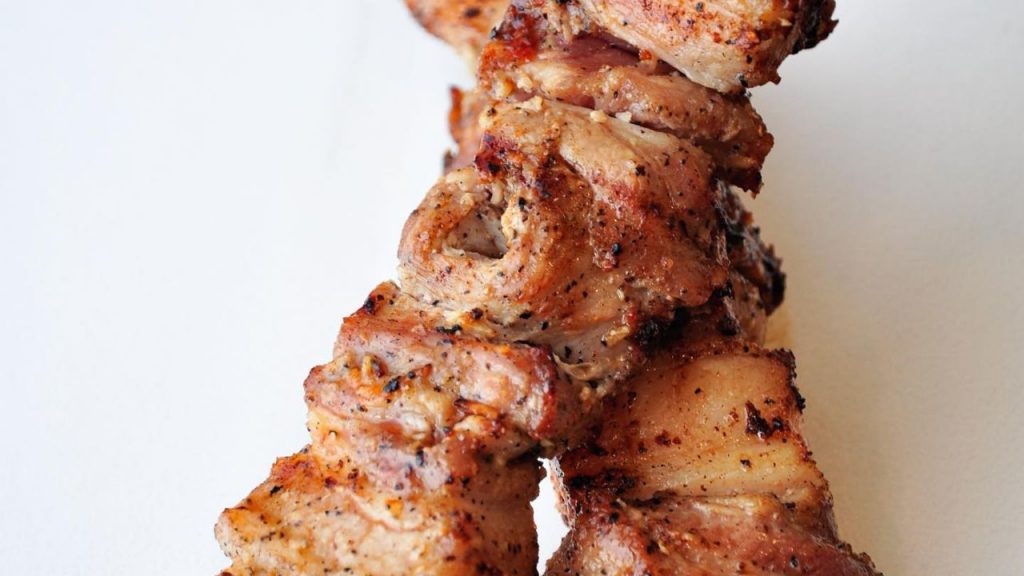 Here is the step-by-step guide on how to achieve your tasty marinated steak skewers.
How do I make perfect skewers?
𝙄𝙣𝙜𝙧𝙚𝙙𝙞𝙚𝙣𝙩𝙨
For the Marinade
1/4 c olive oil
1/4 c soy sauce
1 1/2 tbsp fresh lemon juice
1 1/2 tbsp red wine vinegar
1 tbsp honey
1 tbsp garlic
1 tsp freshly ground black pepper
What are the ingredients in the easy marinated steak skewers recipe?
Skewers
1 3/4 kg beef or chicken steak (look for thicker steaks), cut into 1 1/4 inch pieces
3 bell peppers (1 red, 1 green, 1 yellow) cut into 1 1/4-inch pieces
1 large red onion diced into chunks (about 1 1/4-inch)
1 Tbsp olive oil, plus more for brushing grill grates
Salt and freshly ground black pepper
1/2 tsp garlic powder
10 wooden skewer sticks soaked in water for at least 30 minutes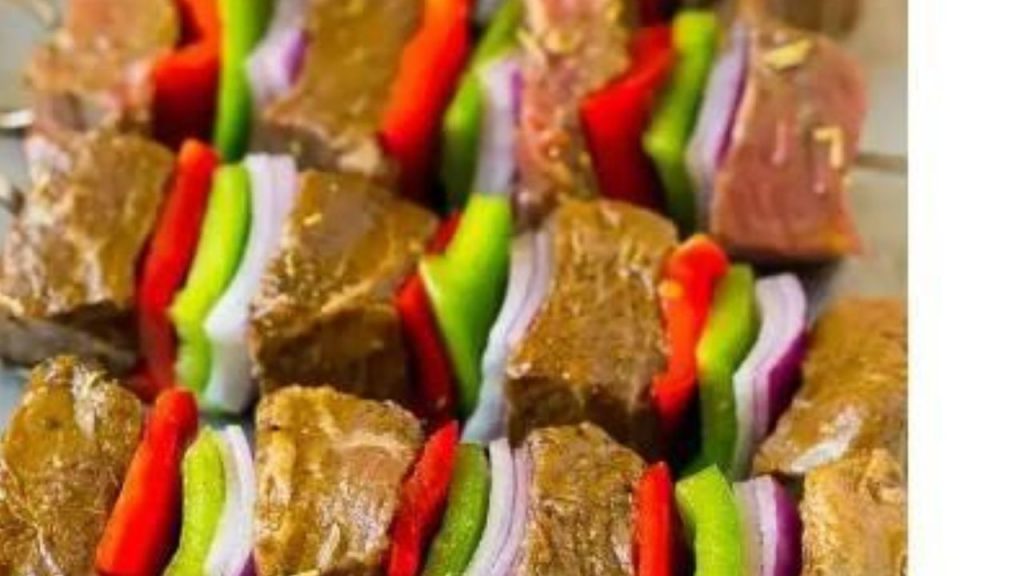 Try this delicious, marinated steak skewer recipe today
For the marinade: In a mixing bowl whisk together all marinade ingredients.
For the skewers: place the steak into a gallon-size resealable bag. Pour marinade over steak then seal bag while pressing out excess air and message marinade over steak. Transfer to refrigerator and allow to marinate for 3 – 6 hours.
Preheat a grill over medium-high heat to about 425 degrees (partway through preheating clean grill grates if they aren't already clean).
With veggies on the cutting board, drizzle with oil and lightly toss to coat (I actually don't toss the onion because I like it to stay in chunks.
when you thread the onion on layer in chunks about 2 – 3 slices so they don't burn up).
Sprinkle veggies evenly with garlic powder and season with salt and pepper. To assemble skewers layer steak and veggies onto skewers in the desired order.
work to fit 4 steak pieces onto each skewer (I like to layer 2 onion slices together).
Brush grill grates lightly with oil. Place kebabs on grill and grill until center of steak registers about 140 – 145 degrees for medium doneness, turning skewers occasionally till done. Serve warm.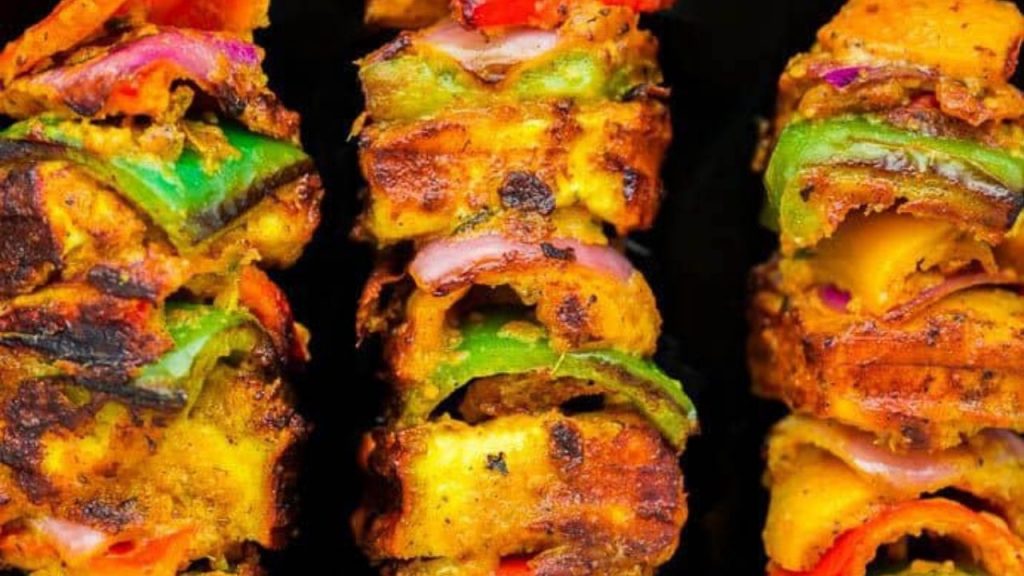 Frequently Asked Questions
How long should you marinate the steak?
When you're looking to add flavor to your steak, a good marinade is key. But how long should you let the steak soak in the marinade?
A general rule of thumb is to let the steak soak for at least 30 minutes, but it can be left in the marinade for up to 24 hours. If you're looking for a more intense flavor, you can let the steak sit in the marinade for longer.
Just be sure to keep an eye on it so that it doesn't become too salty or over-marinated.
What is a good side for steak kabobs?
There are many different sides that you can serve with steak kabobs, but not all of them are created equal. Some sides can overpower the flavor of the steak, while others can get lost in the mix. Here are a few of our favorite sides to serve with steak kabobs:
Grilled vegetables – Grilled vegetables make a great side dish for steak kabobs because they have a similar flavor profile and they cook at the same time. Try grilled zucchini, squash, peppers, onions, or tomatoes.
Rice Pilaf – Rice pilaf is a classic side dish that goes well with just about anything. It's simple to make and it's a great way to add some carbs to your meal.
Potato Salad – Potato salad is another classic side dish that pairs well with grilled meat.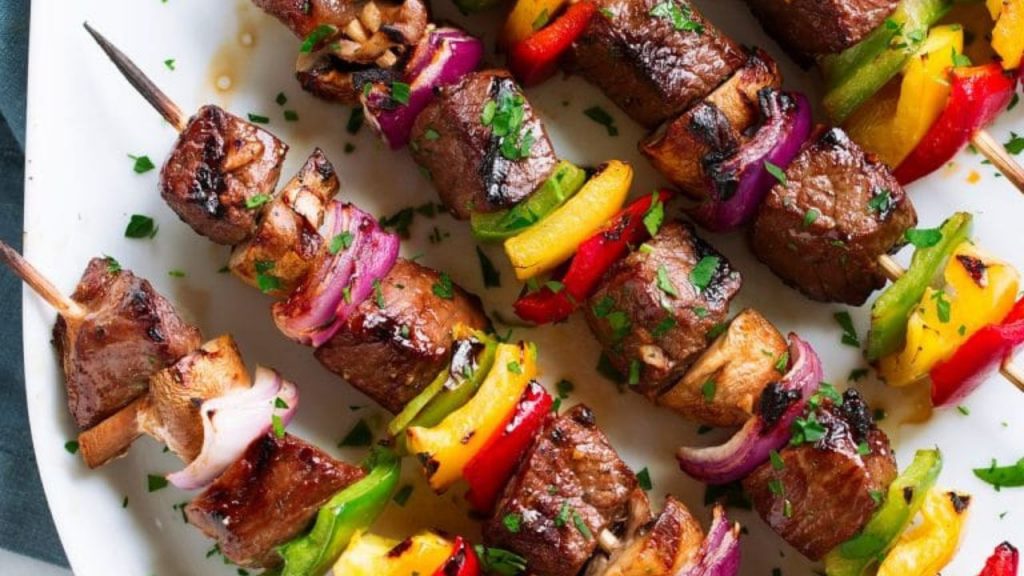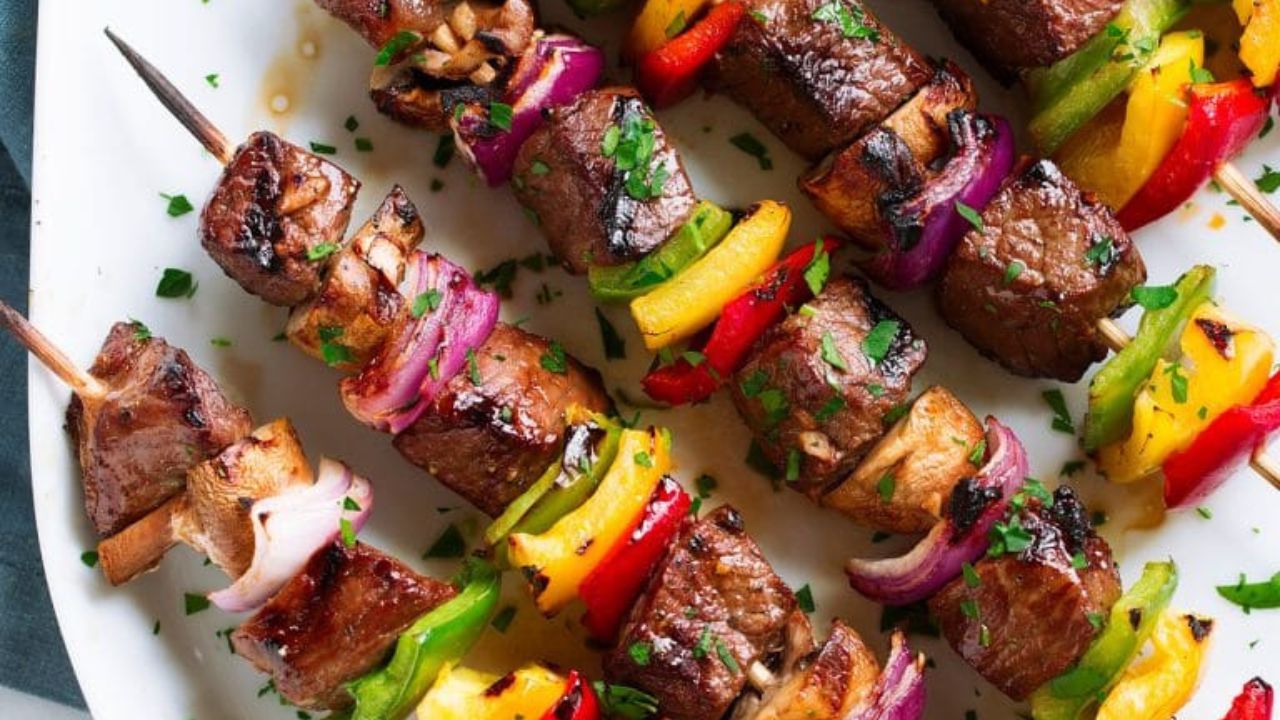 Do you oil kabobs before grilling?
When you're planning on grilling kabobs, there are a few things to keep in mind. First, make sure your skewers are long enough for the food you're using – otherwise, the kabobs will be too crowded and won't cook evenly.
Second, if you're using wooden skewers, be sure to soak them in water for at least 30 minutes before using them – this will prevent them from burning on the grill.
As for whether or not, you should oil the kabobs before grilling them, that's up to you. Some people believe that doing so helps the food stay moist and prevents it from sticking to the skewer; others find that the added flavor of grilled oil is unnecessary. Experiment a bit and see what you like best.
Rice recipes to serve with kabobs
When it comes to grilling kabobs, there are endless possibilities for what you can put on the skewers. But, no matter what ingredients you choose, rice is always a great side dish to serve with them. Here are a few recipes for rice that will pair perfectly with your kabobs:
Simple Rice Pilaf: This recipe is easy to make and features a delicious combination of flavors. It's perfect for serving with grilled chicken or steak kabobs.
Pineapple Fried Rice: Fried rice is always a favorite, and this version with pineapple is especially delicious. It's perfect for serving with pork or shrimp kabobs.
Spanish Rice: This classic rice dish is made with tomatoes, onions, and green peppers. It's perfect for serving with beef or chicken kabobs.
What are the benefits of using easy marinated steak skewers?
Easy marinated steak skewers are a great way to add flavor and texture to your meals. Not only are they an easy and convenient meal option, but they also provide the nutrition and protein that you need.

They can be cooked quickly on the barbeque or in the oven, making them ideal for busy weeknights. They're also perfect for outdoor gatherings and parties, adding a touch of deliciousness to any meal.
Can I use any type of meat for the skewers?
Skewers can be made with any type of meat. Whether you prefer beef, chicken, pork, or even seafood, the possibilities are endless when it comes to creating delicious and unique skewers.

Just remember to marinate the meat for at least 30 minutes beforehand to ensure that it will be juicier and more flavorful when cooked. Also make sure you use metal skewers for a crispier texture and evenly cooked meal every time.
What are the best vegetables to use for skewers?
When making skewers, vegetables are an excellent choice to add flavor and texture. Consider using mushrooms, bell peppers, or squash for a tasty, healthy combination. For more unique flavors, try adding eggplant, onions, and carrots. Be sure to use sturdy vegetables that won't fall apart on the grill.
Additionally, consider marinating them in your favorite sauce to give them extra flavor before grilling. Skewers make a great addition to any meal – why not give it a go today?
Conclusion
In conclusion,Easy Marinated Steak Skewers are a great way to enjoy a delicious steak meal without much effort. The marinade infuses the steak with flavor, while the skewers make it easier to cook and eat.
Whether you're cooking for yourself or hosting a barbecue, these skewers are sure to be a hit with everyone! To get the full benefit of the marinade, it's important to let the steak sit in it for at least two hours.