Nashville, Tennessee, a city celebrated for its soulful music and vibrant culture, also boasts a thriving culinary scene that leaves food enthusiasts enamored. With an array of exceptional eateries, Nashville offers a delectable journey through diverse flavors and gastronomic delights.
These top restaurants, handpicked for their exceptional culinary prowess, elevate the city's dining experience to new heights.
From the iconic Southern staples like hot chicken and biscuits to innovative fusions and international cuisines, the best restaurants in Nashville cater to every palate and preference.
Whether seeking a refined dining experience in an elegant ambiance or a laid-back setting with comfort food, these establishments blend artistry and passion to deliver unforgettable meals.
Talented chefs and restaurateurs curate menus that celebrate locally-sourced ingredients, seasonal produce, and inventive techniques, making each dish a masterpiece of flavors.
Whether you're a local or a visitor, embarking on a culinary journey through Nashville's finest dining establishments promises a symphony of tastes and an immersion into the heart of the city's thriving food culture.
1. Shotgun Willie's BBQ
Nestled in the heart of Nashville, Shotgun Willie's BBQ is a hidden gem that should not be missed by any food enthusiast. With its mouthwatering menu and warm, inviting atmosphere, this restaurant has quickly become an essential dining spot for locals and tourists alike.
From the moment you step through the doors, you are greeted with the irresistible aroma of slow-cooked meats and savory spices.
Shotgun Willie's prides itself on its authentic Southern-style barbecue that is cooked low and slow over hickory wood for hours to achieve tender perfection.
Their menu offers a wide range of options, from classic pulled pork sandwiches to juicy racks of ribs smothered in their signature homemade sauce. Each dish is crafted with care and attention to detail, ensuring that every bite is bursting with flavor.
4000 Gallatin Pike Suite B, Nashville, TN 37216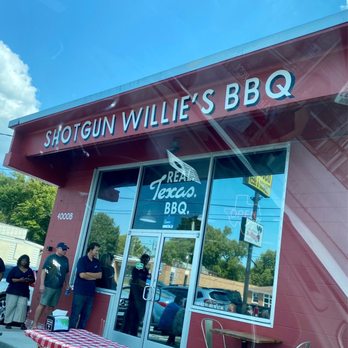 Lou Nashville
Nestled in Riverside Village, Mailea Weger's cozy cafe has been welcoming guests since late 2019 with its Parisian flair. What sets this establishment apart is its unique menu that offers an array of delectable dishes rarely found elsewhere in the city.
Complementing this culinary experience is one of Nashville's finest wine lists, focusing on natural options that please even the most discerning palates.
Embracing community engagement, Weger and her dedicated Lou team have expanded outdoor dining possibilities while organizing exceptional bake sales to support important causes such as Planned Parenthood and the fight against anti-trans legislation. And let's not forget about their funky brunch menu – a true delight for those who appreciate exceptional cuisine.
1304 McGavock Pk, Nashville, TN 37216
3. Soy Cubano
Thanks to Javier Salado's Soy Cubano, Cuban food finally receives its rightful appreciation.
Within the confines of Wash, East Nashville's restaurant incubator, this small eatery transports landlocked Tennessee to the taste of the Caribbean island through delectable offerings such as breaded rolls filled with creamy bechamel (croquetas), seasoned ground beef (picadillo), and of course, the timeless Cubano sandwich.
Embrace the Cuban way by complementing your feast with a seemingly unassuming yet highly potent colada – an espresso that promises an enduring caffeine kick to keep you going all day long.
1101 McKennie Ave, Nashville, TN 37206
4. Pelican & Pig
In their inaugural full-service restaurant venture, Nick and Audra Guidry took charge of every single detail. The restaurant itself was nestled within a converted auto upholstery shop, offering a cozy ambiance.
Patrons could savor the delectable wood-fired dishes either at Pelican & Pig's bar or in the dining room. Standouts on the menu encompassed fried provolone paired with chile crisp, locally-sourced sweet corn ribs, and an exquisite Bear Creek Farm pork chop smothered in a succulent charred vegetable sauce.
1010 Gallatin Ave, Nashville, TN 37206
6. East Side Banh Mi
Gracie Nguyen and Chad Newton decided to venture into the fast-casual banh mi industry in August 2020 and have since gained immense popularity with their establishment.
East Side Banh Mi attracts an influx of diners who crave a concise Vietnamese menu offering unique options like a sandwich layered with smoked Gifford's bologna, ham hock terrine, and pate. Vegetarians also have a delightful choice featuring chile crisp tofu alongside roasted eggplant.
Notably, the shop prioritizes supporting local vendors such as Bear Creek Farm for high-quality beef and pork selections, Bloomsbury Farm for fresh vegetables sourced directly from the farm itself, as well as Nguyen Coffee Supply for their exceptional coffee beans.
Lastly, don't forget to try their half-and-half beverage that expertly blends toasted peanut rice milk with Vietnamese iced coffee to create an invigorating drink experience.
1000 Gallatin Ave, Nashville, TN 37206
7. Xiao Bao
Upon expanding their Pan-Asian eatery from South Carolina to Nashville, Joshua Walker and Duolan Li – the husband-and-wife duo behind Xiao Bao – chose to reside temporarily in a trailer at the Dive Motel.
This unconventional decision proved fruitful as it allowed them to establish themselves successfully in the city. Subsequently, they secured a permanent spot in East Nashville where patrons can now relish delectable offerings such as pork belly bao buns, okonomiyaki, fried dumplings, and hand-pulled noodles alongside natural wine.
The interior design of this new location skillfully blends elements reminiscent of both 50s diners and Chinese American restaurants. It's worth noting that Xiao Bao operates on a first-come-first-served basis without accepting reservations; therefore, be prepared for potential waiting times.
830 Meridian St, Nashville, TN 37207
8. Big Al's Deli
At Big Al's in Salemtown, guests are greeted with open arms and treated to mouthwatering homestyle dishes that seamlessly blend together, establishing it as the ultimate destination for breakfast and lunch.
Opening its doors at 7 a.m. from Tuesday through Friday, this delightful eatery serves up classic breakfast delicacies alongside beloved Southern lunch staples like fried catfish or fiery South Carolinian shrimp and grits. The inviting atmosphere exudes a genuine sense of familial comfort, making every visit feel like stepping into the home of a cherished loved one.
1828 4th Ave N, Nashville, TN 37208
9. Folk
In Nashville, some folk-inspired restaurants celebrate the city's musical heritage. The Old School Farm to Table offers a cozy atmosphere with live folk, bluegrass, and acoustic performances.
The Listening Room Cafe combines food and live folk music. Puckett's Grocery & Restaurant serves Southern comfort food with occasional folk and country artists. The Family Wash/Garage Coffee is a local spot for acoustic performances.
5th & Taylor occasionally features folk and acoustic music. The Station Inn is a legendary bluegrass venue with Southern cuisine. Please verify their current status and offerings as the restaurant scene can change.
823 Meridian St, Nashville, TN 37207
10. Lyra
As of my last update in September 2021, there were no specific restaurants named "Lyra" that I was aware of in Nashville, Tennessee. However, it's important to note that the restaurant scene is constantly evolving, and new establishments may have emerged since then.
If there are any restaurants named "Lyra" in Nashville now, I don't have information about them. I recommend conducting a quick online search or checking local restaurant directories for the most up-to-date information about Lyra restaurants in Nashville.
935 W Eastland Ave, Nashville, TN 37206
Audrey
Audrey's, Sean Brock's latest culinary venture in East Nashville, has been recognized by Eater as one of the best new restaurants in the country for 2022. This unique establishment pays homage to Brock's grandmother and is adorned with a remarkable art collection, captivating historic photographs, and charming patchwork quilts adorning its walls.
Of course, it wouldn't be complete without a top-notch kitchen that offers an array of Appalachian-inspired delicacies. Don't miss out on their extraordinary plateware presentation featuring dishes like the sorghum-cured egg yolk-topped heirloom Jimmy Red corn grits and the delectable Appalachian salt-risen bread when you secure your coveted reservation at Audrey's.
809 Meridian St, Nashville, TN 37207
11. Maíz De La Vida
Julio Hernandez brought the taste of authentic Mexican cuisine to Nashville in 2020 by hand-preparing and grinding heirloom corn to create flavorful tortillas. These tortillas provide a sturdy base for any fillings you choose, such as the delicious quesabirria tacos.
Pair your meal with crispy churros and enjoy the vibrant tropical drinks at Chopper Tiki, a charming bar in East Nashville where you can find the Ma z De La Vida food truck stationed permanently.
Outside Chopper tiki, 1100 B Stratton Ave, Nashville, TN 37206
12. Graze Nashville
In East Nashville, Nick and Ashley Davis have created a unique meat-free gastropub that exceeds expectations. The restaurant not only offers a variety of salads but also surprises diners with innovative dishes such as loaded potatoes, chickpea crab cakes, and Szechuan Brussels sprouts.
The curated cocktail menu adds an extra touch of sophistication to this casual vegetarian spot. For those looking for breakfast options, the daily brunch includes mouthwatering blueberry pancakes and tostadas that are sure to please any palate.
1888 Eastland Ave, Nashville, TN 37206
13. Dino's Bar
Nestled in East Nashville, Dino's stands as both an essential late-night destination and the city's most ancient dive bar. Now featuring an outdoor patio, this iconic establishment invites guests to indulge in mouthwatering cheeseburgers, fiery hot chicken, cheese-smothered animal-style fries, and ice-cold beer amidst a refreshing ambiance.
Fear not though; Dino's remains true to its roots with its worn brick-front entrance and dimly illuminated interior that exude the beloved charm of a classic dive bar.
411 Gallatin Ave, Nashville, TN 37206
14. Lockeland Table
Lockeland Table, located in East Nashville, is a neighborhood favorite where Chef Hal Holden-Bache reimagines a Nashville staple by offering crispy pork belly and empanadas.
However, this establishment has much more to offer – indulge in their renowned wood-fired pizzas topped with seasonal ingredients or savor the flavors of their delectable red Thai curry mussels. Additionally, the restaurant's reconstructed storefront pays tribute to the original 1930s H.G. Hills store that once occupied this space.
1520 Woodland St, Nashville, TN 37206
13. Butcher & Bee
This East Nashville establishment may have originated in Charleston, but chefs Bryan Lee Weaver and Christopher DeJesus have truly made Butcher & Bee their own. With an ever-evolving menu that showcases their creativity, it's hard to make a wrong choice here.
Start off your dining experience by indulging in all of the meze dishes (including the beloved whipped feta). If decision-making isn't your strong suit, opt for the chef's choice option and let them curate a memorable meal for you, complete with exquisite desserts like the baklava sundae adorned with orange blossom honey and chocolate tahini.
902 Main Street, Nashville, TN, 37207
16. Riddim n Spice
Prior to launching their own catering company ten years ago, Chef Kamal Kalokoh and his brother Rashean Conaway were immersed in the culinary world from a young age.
They worked alongside their mother Ouida Bradshaw at Jamaicaway, a beloved Jamaican restaurant. Their journey continued with the introduction of a food truck before culminating in the opening of an exuberant restaurant in 2019 near the historic Jefferson Street neighborhood.
Here, patrons can indulge in an array of Caribbean delights including rice and peas, oxtail, jerk chicken, and cucumber-mango slaw while immersing themselves in the rich tapestry of Caribbean culture.
2116 Meharry Blvd, Nashville, TN 37208
17. Skull's Rainbow Room
In the 1940s, Skull s Rainbow Room made its debut and quickly gained legendary status as a beloved local hotspot for live entertainment. For nearly 60 years, it captivated audiences until its closure in 1999.
However, rising from the ashes like a phoenix is its reincarnation in downtown's Printers Alley since 2015. This revived version retains much of the original's charm while offering nightly jazz spectacles that transport guests back in time. Not to be missed are the alluring burlesque shows held each weekend.
As for dining options, prepare your taste buds for indulgence with soul-soothing lobster bisque, tantalizing prime rib empanadas, and an exquisite garlic honey-glazed pork chop featured on their revamped dinner menu.
222 Printers Alley, Nashville, TN 37201
18. La Juquilita
Nestled on Morrow Road is a modest orange establishment that boasts the finest tacos in town. At La Juquilita, diners are greeted by the warm hospitality of owners Jose and Maria Cepeda who serve not only delectable tacos but also mouthwatering loaded pupusas and tlayudas – an authentic Oaxacan delicacy featuring a toasted tortilla adorned with refried beans, slaw, avocado, tomato, Oaxacan cheese, and asiento.
For those seeking a bit of spice, be sure to request their flavorful chile and verde sauces that add just the right amount of pleasant heat.
5913 Morrow Rd, Nashville, TN 37209
18. Pinewood Social
Looking for a unique dining experience in Nashville? Look no further than Pinewood Social, a trendy hotspot that combines delicious food with an array of entertainment options. Located in the heart of the city, Pinewood Social has quickly become one of the most popular restaurants in Nashville.
Upon entering, guests are greeted by a stylish and modern ambiance that sets the tone for an unforgettable dining experience. The menu at Pinewood Social features a diverse range of dishes, from classic Southern comfort food to innovative and creative culinary creations. Whether you're craving juicy burgers or fresh seafood, there is something to satisfy every palate.
But what truly sets Pinewood Social apart is its wide array of entertainment options. In addition to its top-notch restaurant, it houses a full-service bar, coffee shop, and even a bowling alley!
33 Peabody St, Nashville, TN 37210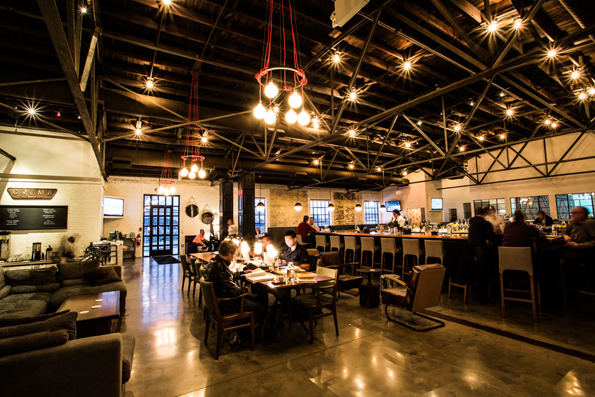 19. Swett's
Swett's: A Classic Southern Dining Experience in the Heart of Nashville
When it comes to dining in Nashville, there is no shortage of options for food enthusiasts. However, for those seeking a truly authentic Southern culinary experience, Swett's is an absolute must-visit destination. Located in the heart of Music City, this iconic restaurant has been serving up delicious comfort food since 1954.
At Swett's, you can expect to find all your favorite soul food dishes prepared with love and care.
From crispy fried chicken and catfish to flavorful collard greens and macaroni and cheese, their menu offers a tantalizing array of classic Southern flavors that will leave you craving for more. The restaurant prides itself on using only the finest ingredients sourced locally, ensuring that every bite bursts with freshness and richness.
2725 Clifton Ave, Nashville, TN 37209
20. Yolan
Looking for the best restaurants in Nashville? Look no further than Yolan! Located in the heart of Music City, Yolan offers a unique culinary experience that will tantalize your taste buds and leave you craving more. With its sophisticated yet inviting ambiance, this renowned eatery is a haven for food enthusiasts seeking an unforgettable dining experience.
Yolan prides itself on serving exquisite Italian cuisine with a modern twist. Led by award-winning chef Tony Mantuano, the culinary team at Yolan utilizes only the freshest locally sourced ingredients to create dishes that are both innovative and comforting.
From classic favorites like handmade pasta and wood-fired pizzas to signature creations such as sea bass crudo and roasted lamb loin, every bite at Yolan is bursting with flavor.
Apart from its delectable menu options, Yolan also boasts an extensive wine list curated by sommelier Cathy Mantuano.
403 4th Ave S, Nashville, TN 37201
21. Carne Mare
Carne Mare: A Culinary Delight in Nashville's Vibrant Restaurant Scene
Nashville, known for its thriving music scene and southern hospitality, is also home to a diverse culinary landscape. Among the plethora of restaurants in Music City, one standout destination that should not be missed is Carne Mare. This hidden gem offers an unforgettable dining experience that combines impeccable service with delectable dishes inspired by Italian and Mediterranean flavors.
Located in the heart of downtown Nashville, Carne Mare sets itself apart from other restaurants with its elegant ambiance and attention to detail. As you step inside, you are greeted by warm lighting and a chic decor that exudes sophistication. The inviting atmosphere creates the perfect backdrop for an intimate dinner or special occasion celebration.
Carne Mare prides itself on sourcing only the finest ingredients from local farms and purveyors, ensuring that every dish served is of the highest quality.
300 12th Ave S, Nashville, TN 37203
22. Hathorne
Sylvan Park's Hathorne takes cues from its building's previous incarnation as the former fellowship hall of a historic church — the restaurant, which also has a large heated patio, is warm, unpretentious, and encourages conversation among its congregants.
Chef-owner John Stephenson takes great care with the New American fare here, where vegetarian dishes like golden beets in a tahini-onion puree and sweet potato agnolotti hold their own against or even outshine their meat-filled counterparts. Similarly, beverage director Hayley Teague's thoughtful mocktail menu keeps things interesting.
4708 Charlotte Ave, Nashville, TN 37209
23. Black Dynasty Secret Ramen House
When it comes to essential restaurants in Nashville, there is one hidden gem that stands out from the rest – Black Dynasty Secret Ramen House. Tucked away in a nondescript alley, this intimate eatery offers an unforgettable dining experience. As soon as you step inside, you are transported to a whole new world of tantalizing aromas and mouthwatering flavors.
At Black Dynasty Secret Ramen House, their expert chefs craft each bowl of ramen with precision and care. Using only the freshest ingredients sourced locally, they create a symphony of flavors that will leave your taste buds craving for more. Whether you're a meat lover or prefer vegetarian options, there's something on their menu to satisfy every palate.
4101 Charlotte Ave STE E40, Nashville, TN 37209
24. VN Pho & Deli
The family-run, cash-only VN Pho & Deli offers can't-miss Vietnamese specialties in an unassuming Charlotte Pike strip mall. Grab bún bo hue, fried rice, or a piping-hot bowl of pho for here or to go. Anything fresh from the pastry case also deserves a spot in your order, as does the Sunday special mi vit tiem — a roast duck soup with egg noodles.
5906 Charlotte Pike, Nashville, TN 37209
25. King Siam Thai Cuisine
Looking for a taste of Thailand in the heart of Nashville? Look no further than King Siam Thai Cuisine, one of the essential restaurants in Music City. Nestled in the vibrant Gulch neighborhood, this hidden gem offers an authentic and unforgettable dining experience. From its warm and inviting atmosphere to its mouthwatering menu, King Siam has become a go-to spot for locals and tourists alike.
Step into King Siam Thai Cuisine and be transported to the bustling streets of Bangkok. The restaurant's charming decor features traditional Thai artwork and ornate wooden accents, creating a cozy yet elegant ambiance.
Whether you're planning a romantic date night or a casual dinner with friends, this establishment caters to all occasions. With its friendly staff and impeccable service, you'll feel like royalty from the moment you walk through the door.
907 12th Ave S #4705, Nashville, TN 37203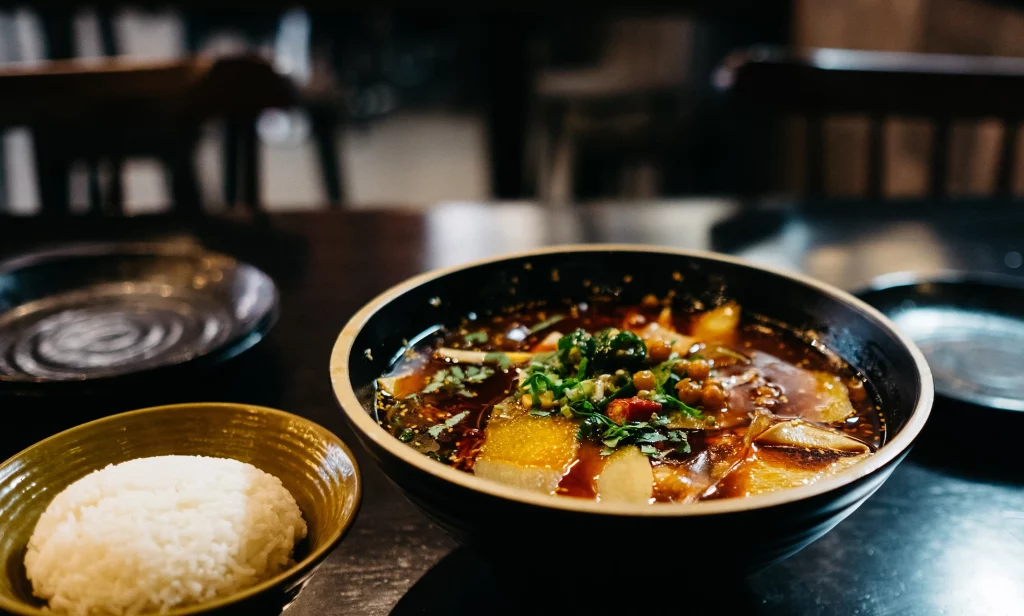 26. Bastion
Bastion offers two fairly distinct experiences: On one hand, it's a serious dining venue, and on the other, it's a lively bar. While the big bar on the side is known for its cheeky (literally) murals, colorful nachos, and daily punch cups, the small 24-seat restaurant helmed by James Beard semifinalist Josh Habiger serves a set tasting menu with whimsical interpretations of traditional dishes, from halibut with wild fennel and bee pollen to local tri-tip with salsify and brown butter. Somehow, it all comes together.
434 Houston St STE 110, Nashville, TN 37203
28. E3 Chophouse
There's no shortage of excellent steakhouses around Nashville, but E3 Chophouse in Hillsboro Village leads the pack.
This elegant, multistory ode to beef showcases some incredibly rare bottles of whiskey at its ground-floor bar, but go up one flight and you'll be treated to the likes of a massive 42-ounce tomahawk rib-eye, Dijon-crusted lamb, and bison meatballs. Word to the wise, though: Don't skip the veggies.
The roasted acorn squash and creamed corn gratinee are just as good as their meaty counterparts.
1628 21st Ave S, Nashville, TN 37212
29. International Market
International Market has remained a beloved institution since 1975, prompting dismay upon its closure and relief upon its reopening conveniently situated across from its original site.
Within this vibrant new establishment featuring both indoor and outdoor seating, the Myint family has introduced exciting additions like prawn crackers and pork rinds for indulging in alongside Burmese tomato relish enhanced with shrimp powder and shrimp paste.
Remember not to miss out on their highly sought-after Hat Yai Thai fried chicken – although it may sell out quickly, you can secure your serving by preordering 24 hours prior to your reservation.
2013 Belmont Blvd, Nashville, TN 37212
30. Locust
Looking to indulge in the culinary wonders of Nashville? Look no further than Locust, one of the essential restaurants that should be on every food lover's must-visit list. Nestled in the heart of Music City, Locust offers a dining experience like no other, combining exquisite dishes with a vibrant atmosphere.
Step into Locust and prepare to have your taste buds tantalized by their innovative and mouthwatering menu.
From their signature Nashville hot chicken sandwich, served with a side of crispy waffle fries, to their delectable shrimp and grits smothered in a rich and creamy sauce, every dish is crafted with passion and expertise.
But it's not just the food that sets Locust apart – the restaurant boasts an inviting ambiance that perfectly captures the spirit of Nashville.
2305 12th Ave S, Nashville, TN 37204
31. Josephine
Josephine's Andy Little draws inspiration from his years cooking in Pennsylvania Dutch country, the results of which are hearty farmhouse dishes you won't find anywhere else in town, paired expertly with wines chosen by general manager and sommelier Karen Van Guilder Little.
Menu highlights at this fashionable 12 South restaurant include the smoked beef cheek with whole-grain mustard spaetzle, the whole chicken for two, a stellar brunch burger, and apple pockets with salted caramel.
2316 12th Ave S, Nashville, TN 37204
Conclusion
In conclusion, Nashville's culinary landscape stands as a testament to the city's dynamic spirit, where tradition meets innovation on every plate. From the fiery goodness of hot chicken to the artful presentations of farm-to-table fare, these top restaurants exemplify the diverse and exceptional dining experiences Music City has to offer.
Whether savoring iconic Southern comfort food or exploring global flavors, visitors and locals alike are treated to a symphony of tastes and textures. Nashville's best restaurants not only satisfy appetites but also create lasting memories, leaving a delicious imprint on all who have the pleasure of indulging in their culinary delights.