Are you a coconut rice lover? Do you cherish coconut rice more than normal jollof rice as I do?
You are welcome to our platform where you will learn how to cook a different, delicious, and tasty coconut rice.
I so much cherish this recipe because of the coconut taste. Seriously, coconut rice was once one of the meals I found very difficult during preparation. Always confused about what to put first before another, a very funny period.
I actually learned how to cook coconut rice at Avalon Unique Catering School, where I studied how to cook different dishes. I learned about this amazing meal from the chief chef (the owner of the school).
She normally blends some with an electric blender and some with a mortar and pestle. (The very mortar one is for adding without washing or extracting).
Guess what?!!!!!
The very day I came back from school, I gave it a try at home and it came out better because of my method of using goatmeat instead of fish or chicken.
Should in case you want to know how to cook goat meat pepper soup, we have written a post on it. Click here and see our amazing goatmeat recipe. Coconut rice is a type of Jollof rice prepared with coconut juice or coconut spice always delicious and tasty.
It feels good to see your family or friends' faces when they think you are serving them normal jollof rice. Surprisingly, when the first spoon enters their mouth, you are sure to get a look of thanks.
While Enjoying a bowl of coconut rice prepared somewhere, never think is a difficult task make it yourself. We have prepared a guide to make you the latest Coconut rice chef in town.
Take a cup of Juice as we walk you through the easy procedures on how to cook coconut rice from the comfort of your home.
Ingredients Needed For Cooking Coconut Rice
Rice
Big Coconut
Fresh tomatoes
chicken or Goatmeat
Onion
Ground crayfish
Fresh pepper
Bonga fish or any dry fish of your choice.
Veggies (optional)
Garlic and Ginger
curry powder, thyme, and tiger rosemary
Mivina
Seasoning cubes and salt
How to prepare coconut rice.
Wash your goatmeat very well, I love seasoning my goatmeat with ground fresh pepper, chopped onion, curry powder, ground crayfish, goatmeat spice, and a little bit of thyme, mivina, and small ground garlic, seasoning cubes, and salt. (all of them in a smaller quantity).
Season your own with Knorr cube, ground pepper, thyme, garlic, curry powder, mivina first, Add a lit bit of water, stir and allow to boil. Add chopped onion, cover it and cook for at least 20 minutes.
How To Make Coconut Rice with Dry Fish.
Add enough water (allow the water to pass the level of the goat meat), and add the ground crayfish and salt to taste. Cover the pot and cook till tender.
peel the onion, garlic, and ginger. Wash them together then, blend the garlic and ginger at once. Chop the onion and set it aside for use.
Debone the Bonga fish then, wash and set aside. Wash and blend your fresh tomatoes together with the fresh pepper.
How To Crack Coconut.
Usually, If a recipe calls for coconut, we have to take coconut from the one we have at home. But do you know how to crack and open coconut before? If not we got it here.
This is just a trick that will help you to do it very quickly.
Step By Step Guide On How To Open A Coconut To Drink.
Use a Phillips head screwdriver and puncture the eyes one after the other than, pour in the water inside a cup. You can use the water and cook rice, soup, sauce, you can even drink it.
The easiest way to break the coconut is by holding it well then, use a hammer and whack the coconut. Make sure you don't hit your hand.
Hit it over and over until its cracks open. Use a knife or spoon to remove the meat.
Alternative to this other method is by removing the water first then, bake for at least 15 mins, bring it out, and live to cool before cracking. crack then, separate the meat from the shell.
How Do You Blend Coconut?
After breaking the coconut, cut it into tiny pieces, wash it properly, and put some inside your blender. Add a little bit of water to it cover and blend into a paste.
Crack the remaining ones (don't blend them into a paste).
How Do You Extract Coconut Juice?
Pour the ground coconut into a sieve, use your hand, and press out the juice. Pour the chaff into a bowl, and add a little bit of warm water. Squeeze out the juice well then, sieve again. Please don't add too much water because of the rice to avoid overcooking.
Don't extract the juice of the second ground coconut one out, get it ready to add just like that.
How To Parboil Rice.
Wash the rice with cold water about 2_3 times. Set your cooking water on high heat and allow it to boil.
Add the washed rice, and allow it to boil for at least 3-4 mins. Bring it down then, rinse the rice 2-3 more times and set aside.
Other recipes you might love to try
Cooking Directions.
Rinse your cooking pot and set it on high heat for the water to dry out. After that, add vegetable oil and allow to heat.
Put your chopped onion and fry for 15 – 20 seconds. Add ground fresh tomatoes and pepper then, fry together for about 10 minutes.
How To Make Coconut Rice From The Scratch.
Add the ground garlic and ginger, half of the thyme, tiger rosemary, and curry all in a smaller quantity than 1 full Knorr then, frying for 2 minutes only.
Pour in the goatmeat water and the coconut extract. Add mivina, ground crayfish, spicity, (optional), seasoning cubes, and salt to taste. Stir, cover, and allow it to boil.
Add the rice, the rough ground coconut, and the dried fish, stir, cover and cook till done. Garnish your coconut jollof rice and serve with any drink of your choice.
I really hope this recipe is very easy to make, kindly give it a try and thank me later.
We have also written posts on:
April 6, 2022 by betty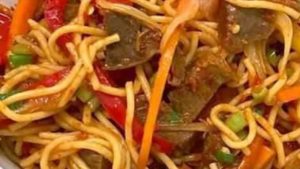 It is true that some tend not to like spaghetti because of too much starch and so on. But spaghetti is actually a great food for millions of Nigerians Yes, you might have tried cooking white or Jollof spaghetti and it doesn't turn out well. It is just a normal thing that happens to everybody the … [Read more…]about 5 Different Nigerian Spaghetti Recipes and How to Prepare Them [Yummy].
How to cook Nigerian rice and beans.
How To Make Party Jollof Rice Nigeria/(Ingredients For Cooking half bag of Rice).
How Do You Make Banana Bread From Scratch?
How to Cook Delicious Achi Soup with a Low Budget
You can still visit them and learn more. Your joy is our priority.