How To Cook Banga Stew
Hearty, healthy are some of the words to describe this African Banga Stew. It goes well with rice, spag, rice and beans and fufu of any kind.
Note this, a very tasty and delicious banga stew is not easy to make. To extract the juice takes a whole lot of time more than its preparation.
That was why making research or asking questions on how to cook any delicacies you don't know how to prepare is very important. knowledge gathered will definitely help you to bring out an a sumptouos meal in less time.
I'm a witness. I found it so difficult to cook any thing with palm fruit. Thanks to my lovely mum who thought me how to make ths delicacy. kudos mum
she thought me very well and now, i can extract the palm fruit juice perfectly well, and as well cook Banga stew, Banga soup and Banga jollof rice with ease.
Guess what?
Reading this post below is a very big gain to you because this content has provided every information you need to make your delicious Banga stew at home. This is the evidence of my Banga stew.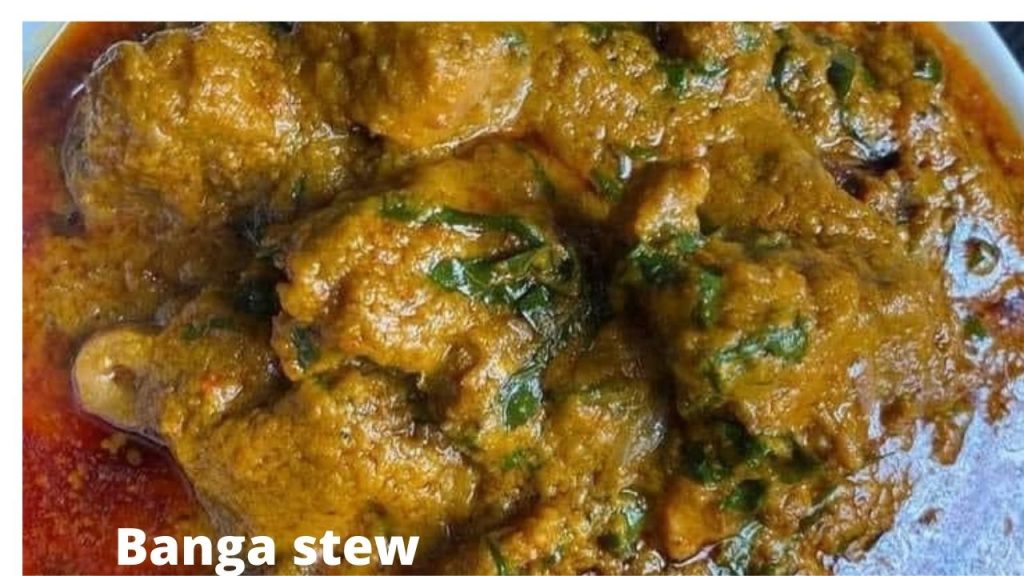 It is important you carefully follow our step-by-step guide and you will never regret seeing yourself here. You are loved.
Banga stew or Banga soup (ofe akwu) is a native food to the Niger Delta people, even the South-Eastern part of Nigerian too.
In the southeastern parts of Nigeria, Banga stew is known as ofe akwu. Ofe akwu can be cooked with bitter leave or scent leave even with Ugu leaf depending on the type of meal you are preparing.
Alright let's get to the kitchen.
Ingredients Needed
Palm fruit.
Catfish (optional).
Goatmeat.
Tinned tomatoes (optional).
Fresh pepper.
2 medium onions (big size).
Ground crayfish.
Stockfish head (optional).
Bang stew mixed spice.
Tiger rosemary and garlic.
Scent leaf.
Seasoning cubes and salt.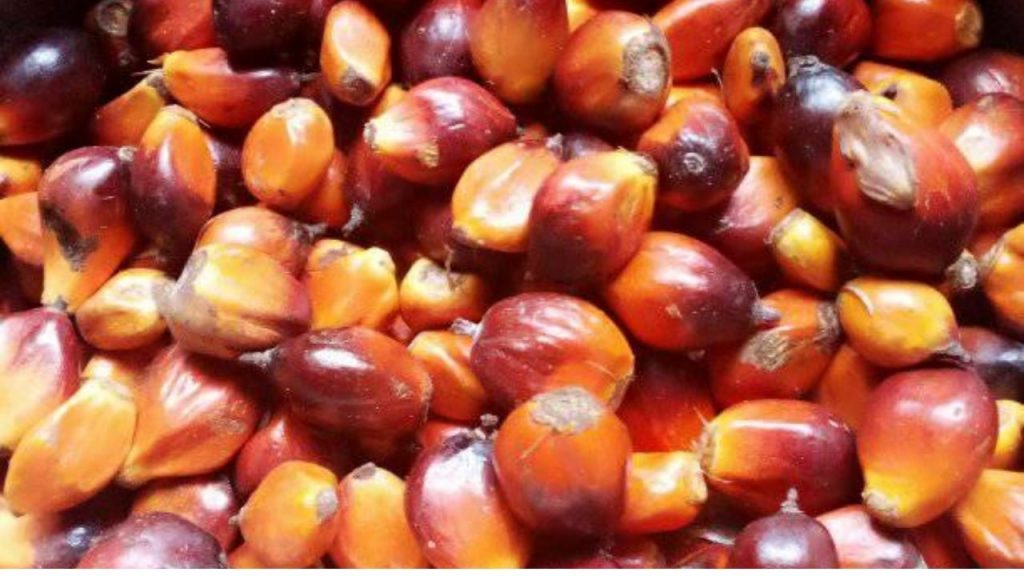 How to prepare Banga stew
Wash your stockfish with hot water then, rinse with cold water and for at least twice then, set aside.
Wash the fish properly for about 3times, put it in a bowl cover and keep.
Wash your goatmeat, put it in your cooking pot, add the fresh fish and the stockfish. Seasoning and cook till done.
Bring out the fish, cover it and set aside.
Wash and blend your fresh pepper with any blender of your choice, cover and set it aside for feature use.
Wash and cut your scent leaf as well.
How Do You Extract Palm fruit for Banga stew or soup.
Use at least 800g of palm fruit : Alright; wash the palm fruit properly , put it in your cooking pot, pour enough water to cover and boil until the nuts get soft .
Pound the palm fruit with mortar and pestle. Continue Pounding till the husk comes off the seed.
Pour little water to it then squeeze the palm juice out of the kernels. Use a colander and sieve the juice into a clean pot.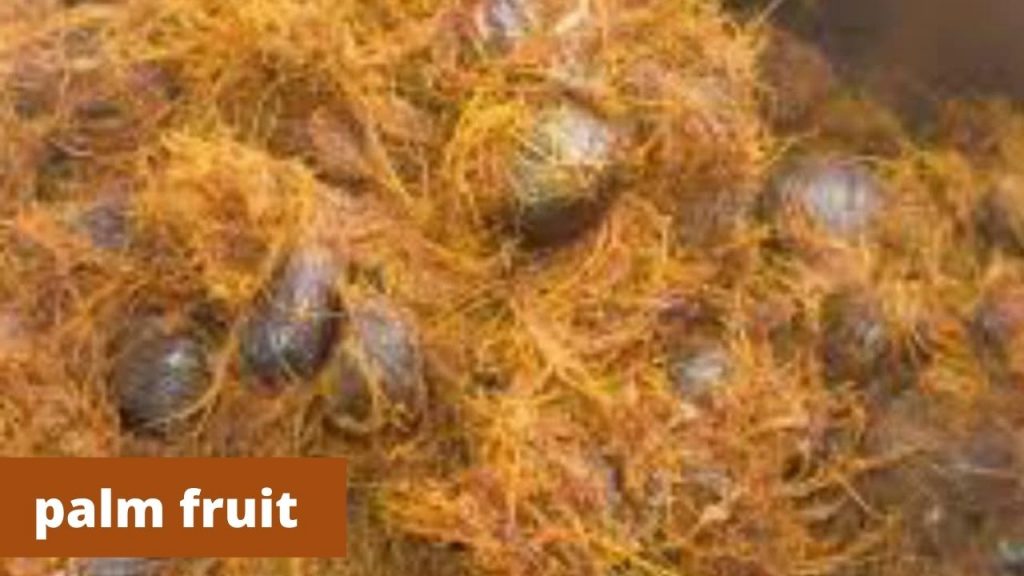 How to cook bang stew easy guide.
Pour the palm fruit inside the cooked meat, add your ground crayfish. Cover and cook the palm juice with a high heat, allow the water to dry up.
Fry the tomatoes with red oil and onion add it to the stew.
3. Add the Banga spice, Tiger rosemary, garlic. , onion, pepper, seasoning cubes and salt to taste. Cover and allow it cook.
4. When done add the scent leaf, cover and cook for 3mins.
5. Your favourite ofe akwu is ready, bring it down and serve with boiled rice, yam, plantain or boiled spaghetti.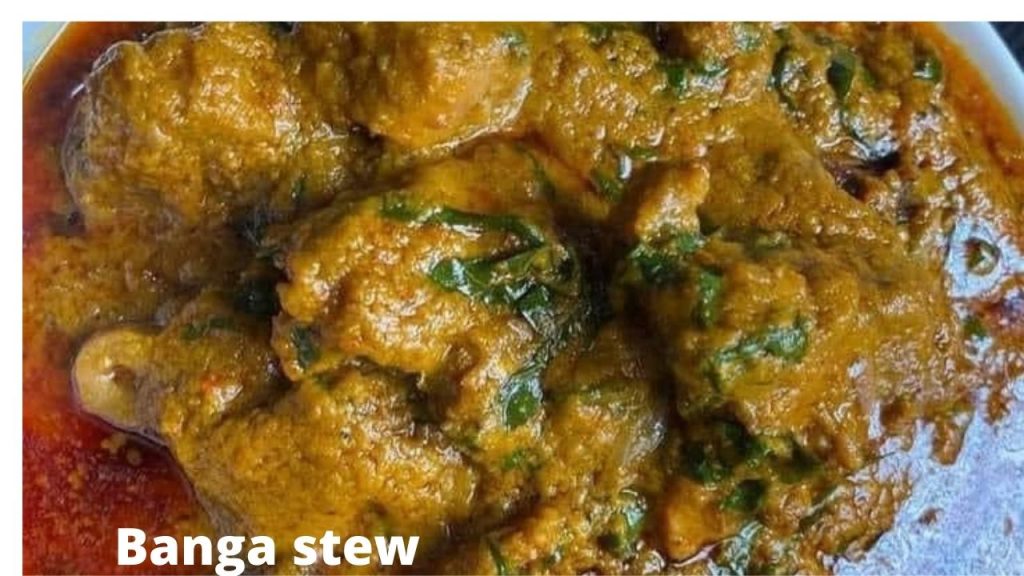 Health Benefits Of Banga stew Or Soup
It is rich in vitamin E, which helps to prevent cataracts, heart disease etc.
It gives vitamin A: These vitamin helps in reducing eye related symptoms.
Can a Pregnant Woman Eat Banga Stew.
Yes she can because, It is medicinal. Secondly, it helps to put a stop to nausea.
Conclusion
Banga stew is for both adult and children. It serves as an alternative to Nigerian normal sunday stew. Am sure by now you can be able to prepare your own banga stew at home.
Banga soup was originated from Niger Delta Nigeria singlelarly Itsekiri ethnic group.
The easiest way one can prepare Banga soup with starch. You have to you're your banga very well, boil it for at least 20-30 mins to soften.
Pound or mash the banga wash with warm water and sieve out the juice. Put the drained banga on the cooker. Add in the necessary ingredients and boil for 15mins.
Wash the fresh fish thorouly with salt if using, and water Add it into soup with a pinch of salt, Allow to boil for 20 minutes, Portion some into a native pot, Steam for 10 minutes, Put the native pot on top a plate, Fry pan add little oil rub inside, Put the starch add water mix very well, Little heat, stir gentle, till it solid, Put it in a bowl mix very well bring it down and serve hot.
Banga soup contains vitamins and minerals such as vitamin K, vitamin A, vitamin E etc. Banga as well contains good calories fat.