This waffle recipe is so easy, you'll be whipping them up on a weekday morning in no time! They're light and fluffy, with a hint of sweetness that makes them the perfect base for your favorite toppings. Whether you like them with fresh berries and whipped cream or smothered in syrup, these waffles are sure to hit the spot.
Easy Waffles Recipe Ingredients
1 Cup all-purpose flour
11/2 Tsp baking powder
11/2 Sugar
1/4 Teaspoon salt
1 large Egg
1 cup Milk
1/2 Tsp Vanilla extract optional
2 Tablespoons melted unsalted butter
Easy Waffles Recipe for 2
Mix the Flour, Baking powder, Salt, and Sugar together in a bowl and set it aside.
In another bowl, slightly beat the Egg, add the Milk, melted butter, and Vanilla extract whisk everything together.
create a well at the center of the dry ingredients and add the wet ingredients and mix together until it is lump free.
Preheat the waffle Iron and grease with Oil or cooking spray if necessary, spoon the batter into the Waffle Iron and cook for about 3 to 5 minutes or till golden brown. Serve hot or warm. Enjoy.
Nutrition Facts
Per Serving:
379 calories; protein 10.2g; carbohydrates 47.6g; fat 16.2g; cholesterol 112.8mg; sodium 899.1mg.
Fluffy waffle recipe UK
To get the full English breakfast experience, you need a delicious and fluffy waffle recipe. This UK version is easy to follow and produces perfect results every time.
If you're looking for a delicious and easy-to-follow waffle recipe, look no further than this UK version. Perfect for a full English breakfast, these waffles are light, fluffy and utterly delicious.
With just a few simple ingredients, you can have delicious and fluffy waffles on the table in no time at all. So why not give this UK version a try today?
Ingredients For Making Fluffy waffle recipe UK
250g plain flour
1 teaspoon salt
4 teaspoons baking powder
2 tablespoons caster sugar
2 eggs
355ml warm milk
75g butter, melted
1 teaspoon vanilla extract
How To Make Fluffy waffle recipe UK
In a large bowl, mix together flour, salt, baking powder and sugar; set aside.
In a separate bowl, beat the eggs. Stir in the milk, butter and vanilla. Preheat waffle maker to desired temperature.
Pour the milk mixture into the flour mixture; beat until blended. Ladle the batter into the preheated waffle maker. Cook until golden and crisp.
Is Pancake Mix the same as waffle?
Pancake mix and waffle mix may look similar, but they are in fact quite different. Pancake mix is made with baking powder and typically has a more pancake-like consistency, while waffle mix uses yeast to create a light and fluffy texture.
So, while you can technically use pancake mix to make waffles (and vice versa), the results will be far from ideal. If you're looking for the perfect breakfast treat, make sure you use the right type of mix.
What is the secret to good waffles?
What is the secret to good waffles? It's all about the batter!
If you want light and fluffy waffles, you need to start with a good batter. The key ingredients are flour, milk, sugar, eggs, baking powder, and vanilla extract. You'll also need some melted butter.
To make the batter, start by whisking together the dry ingredients. Then add the wet ingredients and mix until everything is well combined.
Once your batter is ready, preheat your waffle iron and spray it with cooking spray. Then pour in about 1/2 cup of batter (or more if your iron is large). Cook the waffles for about 2 minutes or until they're golden brown. Serve with your favorite toppings and enjoy.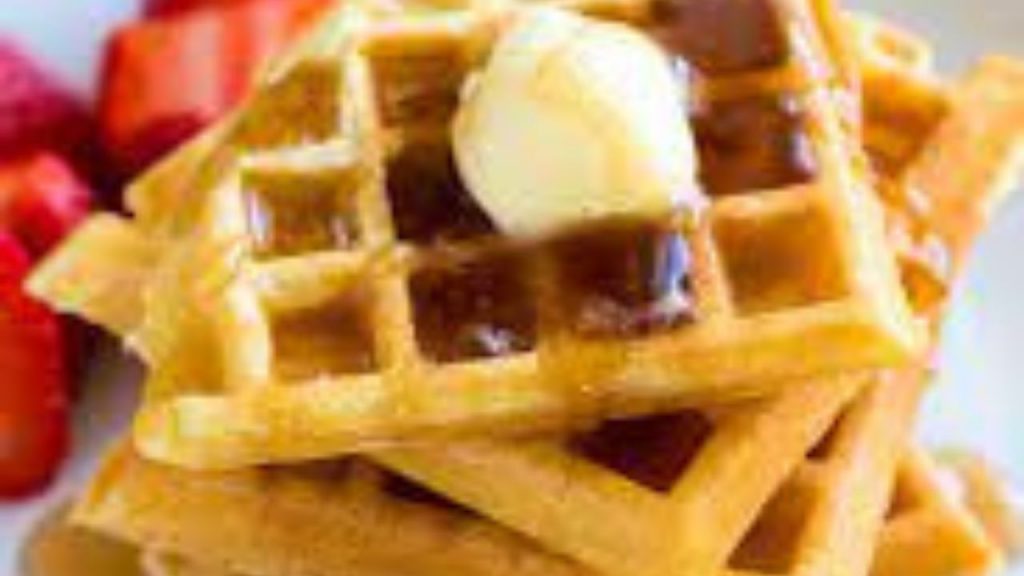 Is it better to make waffles with water or milk?
There's no denying that waffles are delicious. They're perfect for a weekend breakfast, or even as a dessert. But what's the best way to make them?
Some people say that using water is the key to getting the perfect waffle. Others swear by milk. So, which is it?
Well, it turns out that both methods can produce great results. It really depends on your personal preference.
If you're looking for a light and fluffy waffle, then using water is probably the way to go. On the other hand, if you want a richer flavor, then milk is the way to go.
So, there you have it! Whether you use water or milk, you can't go wrong with waffles.
How thick should waffle batter be?
When it comes to waffle batter, there is no one-size-fits-all answer. The thickness of your batter will depend on the type of waffle iron you are using and your personal preferences.
If you are using a Belgian waffle iron, you will need a thicker batter than if you are using a standard waffle iron. Belgian waffles require a deep pocket to hold all of the toppings, so a thick batter is necessary.
personal preference will also come into play when deciding how thick your batter should be. Some people like their waffles thin and crispy, while others prefer them thick and fluffy. Experiment with different thicknesses until you find the perfect consistency for your taste buds.
Why is my waffle not fluffy?
There are a few reasons why your waffle might not be coming out as fluffy as you'd like. The most common reason is that the batter is too thick. Waffle batter should be pourable but not too runny. If it's too thick, add a little more milk or water to thin it out.
Another possibility is that you're not cooking the waffles long enough. Waffles need to be cooked until they're golden brown and crisp on the outside but still soft and fluffy on the inside. If you cook them for too short of a time, they won't have time to fully puff up and will be dense and heavy.
Finally, make sure your waffle iron is hot enough before you start cooking. The ideal temperature is between 375 and 400 degrees Fahrenheit.
Conclusion
In conclusion,this easy waffles recipe is a great way to make a delicious breakfast with minimal effort. With just a few simple ingredients, you can have delicious waffles ready in no time. So why not give this recipe a try next time you're in the mood for something sweet and satisfying?